Moore Nature Reserve is a pleasurable place to visit at anytime of the year with always a reasonable list of species ready to be drawn up. Early January is the time to catch up with any fungal stragglers from the previous season and, if the weather has been particular mild, around 40 to 50 species can be had with very little effort. Combining the 'shroom snooping with a bit of bird watching will bring great reward and even though today brought nothing out of the ordinary a fine stroll was had in clear blue skies and with the chill factor at a minimum. Moore can be a popular place but imagine our surprise when the car park was full to capacity, the side entrance crammed with nose to tail cars and even the rough track on the opposite side of the car park without room for one more. We drove back and forth and pondered many spots before a Fungalpunk bladder break was needed - into the convenient Gorse (Ulex europea) I popped. The water fell, the steam rose but nothing could distract from the cluster of Collared Earthstar Fungi (Geastrum triplex) at my feet. Say what you will but some of our best natural history finds have been had whilst taking a James Riddle. 23 species of moth were once had whilst using some well lit public conveniences and many a new 'shroom has been located tucked away in those wild water closets. Zipping up and emerging from out of the bushes with a smile on my face I rejoined my patient ladies whereupon we squeezed the car on an obscure corner and wondered if some kind of big twitch was happening and what the special bird was. No need to fret - within minutes local naturalists Jeff Clarke and Paul Hill came in to view with a posse of 86 binocular laden tootlers all taking part in a general bird watching day organised by the Cheshire Wildlife Trust. Talk about escaping the madness of the masses - looks like we took a wrong turn boy! A chat was had with the two enthusiasts and after obtaining which route they were taking we informed them we would be doing our darnedest to stay out of their way (in a polite anti-social manner of course). We set off down the central track of the reserve that dissects the two main popular sections where one is most likely to encounter human life (not the top of our priority list). The dappled light and silence seemed heightened after encountering the cacophonous crowd and we enjoyed the sound of near silence before entering the hide that overlooks the tranquillity of Lapwing Lake. Never a Lapwing (Vanellus vanellus), in sight we expected wildfowl and that is what we got with a nice cluster of Wigeon (Anas penelope), whistling away to one another at the water's edge.
Moving on and the choice was taken to take the trail alongside Middle Moss Wood towards Long Moss Wood and the Birchwood Pool. Within the woodlands along this route is where many a fungal fruit can be found especially during the autumnal months but, as already mentioned, even this time of year can be profitable. First one found was the deliciously aromatic Fragrant Funnel (Clitocybe fragrans), a nondescript species with watery buff coloured cap and stem and white gills. The sweetish anise odour is the clincher but it is one you need to see over and over again to get the general familiarity with the jizz (like most species of fungi - harrumph). Going back to familiarity, this is one word I always place emphasis on when leading a Fungal Foray and insist my followers learn its importance as well as understanding variability. The saying goes 'if one is to understand variability then one needs to build up familiarity and the only way to do this is...get out there'. A simple equation but vital to making any progress in the murky mycological world.
The next few fungal finds were again expected with the ludicrously entitled Hairy Curtain Crust (Stereum hirsutum) found on many a log (do you have crustings on your curtains), the flippy floppy flaps of Jews Ear (Auricularia-auricula judae) grouped on the roughened bark of the Elder Tree (Sambucus nigra) and the common clusters of Candlesnuff fungus (Xylaria hypoxylon) sprouting from many a moss covered stump. The latter species has several other names such as Candlestick Fungus, Carbon Antler or Stag's Horn Fungus but I do prefer Candlesnuff as the similarity to snuffed out wicks isn't lost on me and I can envision the fairies, elves or whatever, after a hard nights jigging around the woodlands, snuffing out these flaming fungi and retiring to bed for the following day. As for Jews Ear - well it seems the politically correct brigade are on to this with the species being called Wood Ear or Jelly Ear which, in truth, lacks imagination and kow tows to these over picky purveyors of the asses law. Look, Jews Ear was coined in relation to the yarn that after betraying Jesus a certain Judas Iscariot hung himself on an Elder Tree (sambucus sp.). A quaint tale that is in itself total crap as an Elder Tree wouldn't support a potential wannabe corpse but the fact is that these harmless tales do help people memorise and recognise fungi - so what is the problem? Is Black Bulgar (Bulgaria inquinans) the next on the hit list or perhaps Humpback Brittlegill (Russula caerula) may disgruntle the likes of Quasimodo and friends. Crazy and just reminding me as a fungalised punker to keep unpolitical and utterly incorrect - bah!
Before just entering the trees of Long Moss Wood a scanning of a few Ivy (Hedera helix) clad trunks was had in hope of catching glimpse of the much mentioned, never seen (by us anyway) roosting Tawny Owl (Strix aluco). For years and years this dozing hunter of the night has been spoken of and each and every time we visit, we pause at the same old spot, strain our eyes and walk away doubting every spoken word cast our way. Today – well - bins to eyes, 1, 2, 3 and there right in view was a wonderful snoozing Owl, the soft grey plumage and aesthetic facial disk contrasting nicely with the surrounding glossy leaves of the Ivy. The Tawny Owl may be the species most often seen (with annoying ease) by the damsel in distress in those zombie laden graveyards found in many a late night horror movie but believe me, this is no easy bird to spot, and out of the 5 resident species one is most likely to encounter this stunning creature of the night is the least seen. The diet of the Tawny Owl is quite a generalist feeder with beetles, bats, birds and small mammals being the most frequently digested. These titbits however can only be caught due to the fact that the birds hearing and eyesight are all at a strong level and tuned on to a predator's wavelength. More views were taken, this time using our reliable telescope and we eventually moved on with reluctance wondering when our next encounter with a nocturnal marvel such as this would be.
Next stop the Birch Woods with extra fungi added without too much effort. Buttercaps (Rhodcollybia butyracea) were abundant, some of which were in remarkably good condition, Coral Spot (Nectria cinnabarina) was found clustered on the odd twig or two, Glistening Ink Cap (Coprinellus micaceus) and Sulphur Tuft (Hypholoma fasciculare) were both upon the same moss covered log that has been around for quite a while now and still produces the goods and Stereum rameale and Rutstroemia firma were both located on some fallen Oak branches. A call into the hide overlooking Birchwood Pool next with a sizeable flock of gulls swirling around, settling and then re-swirling making it almost impossible to go through and hopefully pick out the odd rarity. The Great Black Backed Gull (Larus marinus), was represented by a couple of individuals and it was noted just what a bold, powerful species this is. A real bully boy and scavenging devil!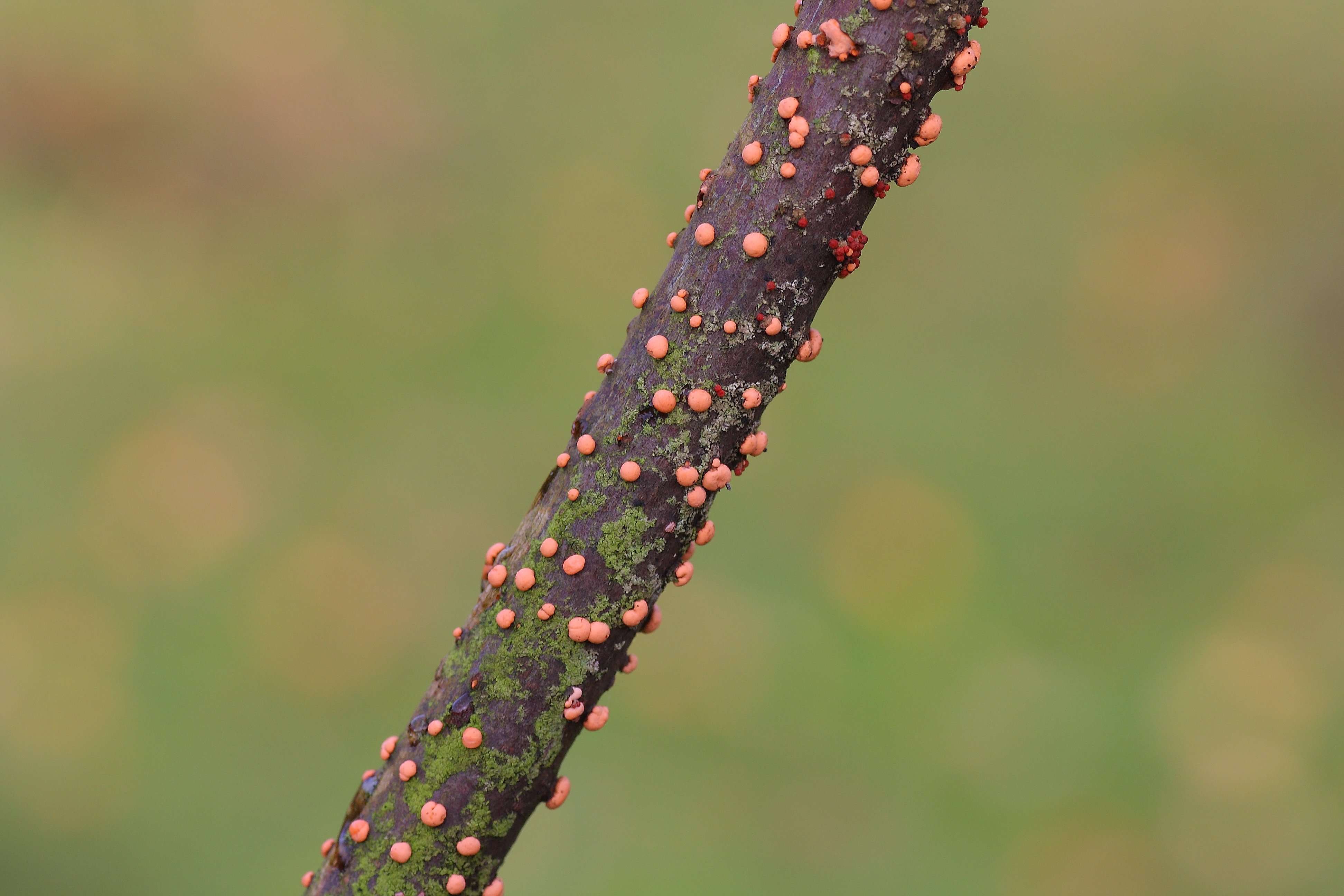 Coral Spot - It is coral coloured and comes in spots - simple hey
Mooching on and a necessary tootle around the Birch Strip that runs alongside the aforementioned pool was carried out with one early fruiting species particularly focussed upon. Ochre Cushion Fungus (Hypocrea pulvinata) has been located within this area before and although not uncommon it is quite difficult to find it in pristine condition. The species in question is an encrusting fungus that makes its home on the under surface of the common Razor Strop Fungus (Piptoporus betulinus) creating an uneven, slightly warted bright yellow growth. The bonus being that when leading a fungal foray you get two fungi for the price of one and all those OCD needs (as regards listing) are met!
A call into the second hide overlooking the Pump House Pool added nothing extra to the days bird list except a lone male Pochard (Aythya ferina) looking in fine fettle with his pure silver grey body, jet black rear and breast and eye-catching rusty-orange head.
At this stage it was decided upon a midway break so back to the car it was with a wander down the side of Dog Field along the opposite edge of Middle Moss Wood. Several more specimens of fungus were seen here the most interesting of which was a small Crampball (Daldinia fissa) on burnt Gorse (Ulex europea). This fungus is far from common but wherever there is burnt Gorse then have a nosey. The question arises – where does it come from – are the spores just playing the waiting game and if so, how long to they hang around?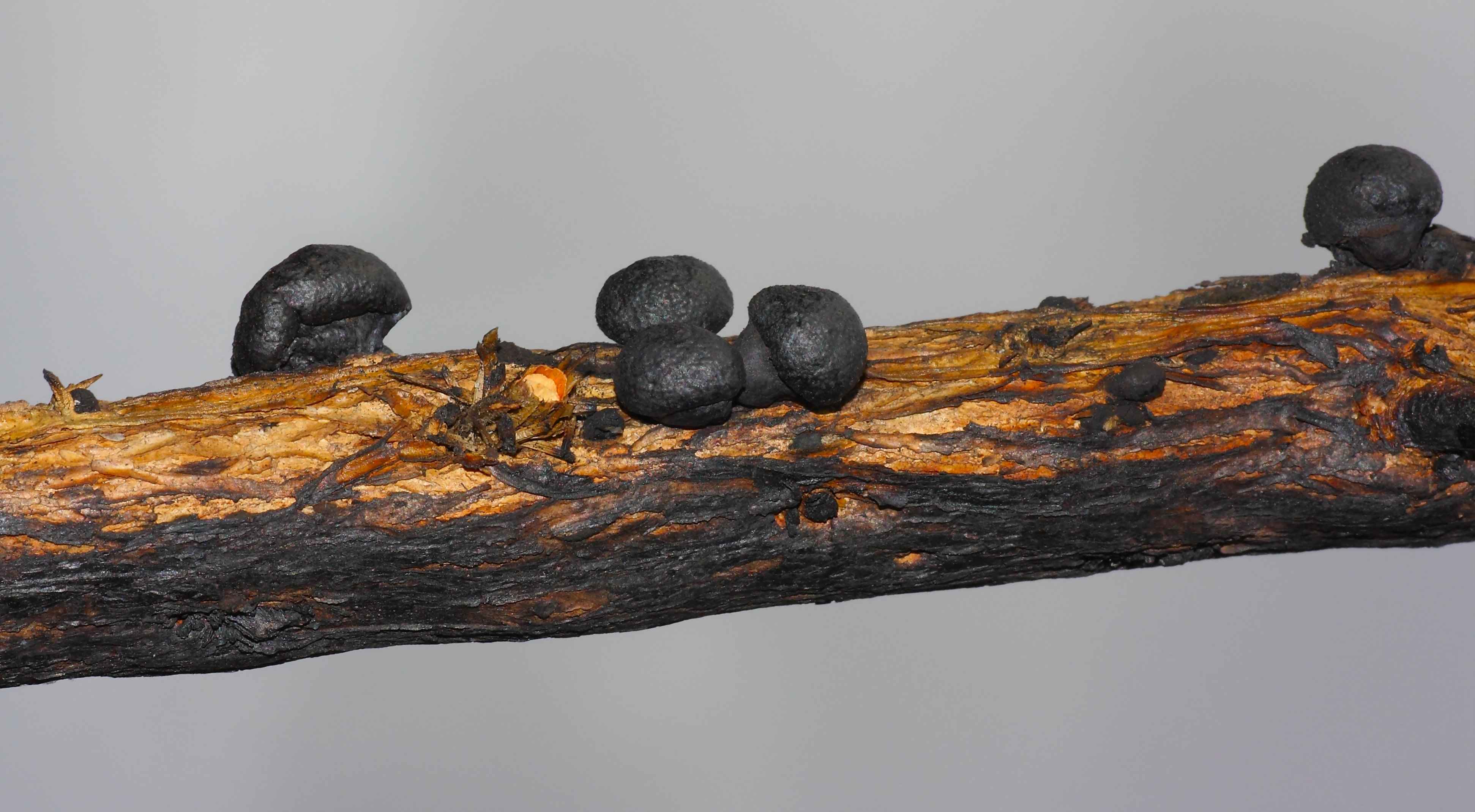 Daldinia fissa - a fussy fungus with a distinct preference for things burnt
A drink, a banana, a chat about what had been seen and then a walk around the pathway that surrounds Lapwing Lake. In truth nothing out of the ordinary was had except seeing Red Campion in flower and finding a few stunning cups of Scarlet Elf Cup (Sarcoscypha austriaca). Bird wise things were quiet but with the sun shining, the weather not too inclement and the general ambience relaxing it was with no great rush that we strolled on. Whilst rolling logs looking (unsuccessfully) for micro fungi 3 species of Woodlice were identified these being Striped (Philoscia muscorum), Shiny (Oniscus asellus) and Pygmy (Trichoniscus pusillus). I have a liking for these marvellous crustaceans whom quietly go about their business of recycling and getting on with their lives. Tough looking, happy to live side by side with their close relations and an essential part of the ecosystem due to their composting lifestyle and role in overturning soil you gotta give these guys a second look. There are many local names for these gems including Boat Builder, Chucky Pig, Butcher Boy, Cheese Log and Monkey Peas. Never underestimate the woodlice community and appreciate the wonderful character – go on love a Wood Bug!
A quick look in the Sedge Hide just repeated views of what had already been seen so it was back to the car and off home to catch up on some overdue list keeping (as well as the household chores). In retrospect Moore may have appeared quiet today but still enough was on show to keep one thinking and looking forward to further trips. This little gem is only going to improve over the years as trees become more established, further management is had and more wildlife enthusiasts expose what is really about. It has to be a local favourite and here's to many more fruitful visits. Let's hope the authorities recognise the areas importance and do what they can to keep it a vita refuge for many species!