A brief visit today due to life being extremely busy with punk rock duties piling up, the weekend chores awaiting attention and a spot of decorating about 2 months overdue. Chorlton Water Park is ideal for a quick wildlife fix though and although inundated with those jogging keep fit fanatics and numerous dog walkers (hey each to their own) we still find it a pleasurable stroll with many familiar species on show to uphold interest.
The basic walk one can take is around the main body of water which, as hinted at, is now a almost qualified as an Olympic running circuit as it attracts many purple faced wannabe's puffing their way to their own individual glories or, in my cynical view, physical breakdowns. The main attraction I suppose, on the wildlife front, is the wildfowl which are always reliable although seem to be decreasing in general numbers. And so, after a scanning of the feeding station our attention was turned to the sizeable main body of water. Today, as is the worrying norm, numbers were low but a few Goosander were present and really stood out on the sun-kissed waters, with both male and female looking quite smart in their own special way. The male is an elegant chap with his contrasting red sawbill, iridescent green glosssy head, salmon tinted white body, black back and grey tail - what a master of elegance. The female of course is more sombre but still worthy of attention with their largely grey body, with a reddish-brown head, white chin, and white secondary feathers on the wing - sweet.
Note must be made of the tree planting at Chorlton both in and at the waters edge which has encouraged the successful breeding of Coot, Mallard, Moorhen and Great Crested Grebe. However attempts at getting the Kingfisher to settle and rear a few broods seem to have gone awry with no sightings by ourselves being had for many a year now.
Attention was next turned to the dozing flock of overwintering Pochard and Tufted Duck where, quite often a lurking Scaup may be found, sometimes with a few friends for company. No such luck today and with the chill threatening to nip in each and every bodily cranny (oooh nasty) we strode on and unwisely decided to have a nosey around the reclaimed tip area that was more than a little bit of a quagmire and saw us emerge the other end onto the Trans Pennine Trail with muddied boots and a list increased only by a couple of species. In the past we have flushed Woodcock from this area and made note of the obvious potential it holds. For some reason though it remains as one of those birding quiet spots one encounters here, there and everywhere which for some unexplainable reason never attracts the amounts expected.
Cracking the whip, a dash down the trail and time for a few checks of some familiar logs for...you guessed it, some familiar fungi. There wasn't that much about but on one log, which had been clinging on for years and years and now looks almost in a state of full collapse, there grew a fine tired crop of the disgusting sounding Tripe Fungus (Auricularia mesenterica). A queer species this with the upper surface giving the appearance of wavy Turkey Tail (Trametes versicolor) and yet the lower surface turning out to be jelly-like and rubbery. Despite its name this somewhat common species is inedible so make sure you keep watching your fungal step.
Conifer Maze-Gill (Gloeophyllum sepiarium) was the second notable species encountered and was displaying what damage it has the capabilities of doing. The bench on which this species has resided for the last 3 years is now in such a state of disrepair it can almost make one afraid of going near it in case a stray spore gets transported home and sets about a trail of destruction that would leave a devastating hole in ones pocket to say the least. A trifle over the top I do agree but you just never know (cue dramatic music).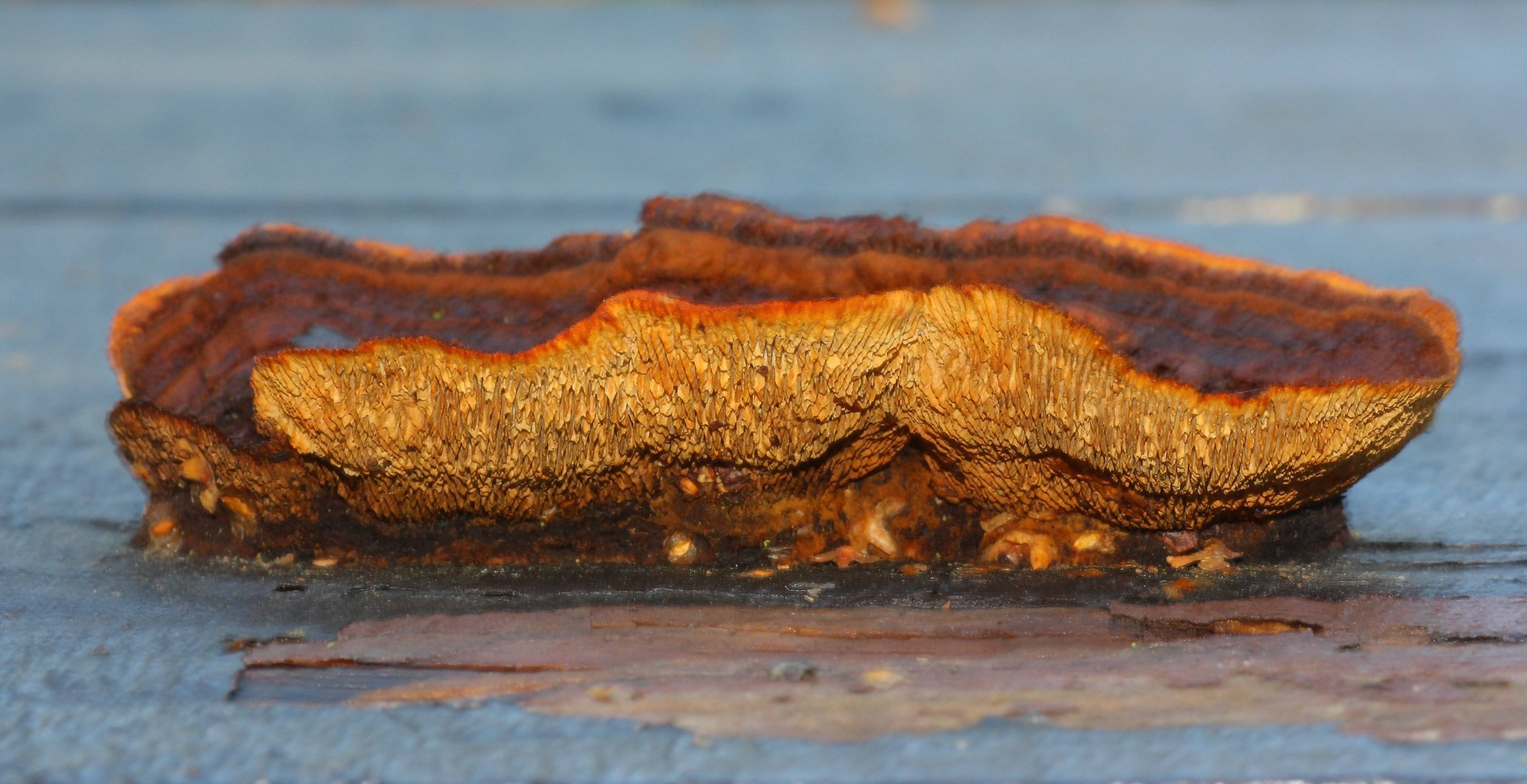 A wood wrecking machine - the Conifer Maze-Gill (Gloeophyllum sepiarium)
Around this spot there is a small area abounding in sticks and twigs and other vegetative debris and if one has a desire to seek out the smaller varieties of fungi then chance should be fully taken and a few bits and pieces picked up and duly checked. Common Nettle is as good a host as anything with two species usually predominant, these being the tiny orange blobs of Callorina fusaroides and the miniscule spirals of Leptosphaera acuta. Get a good warm damp spell though and many specimens can appear and leave one absolutely amazed at structures so small yet so perfectly developed. The problem is, as is with most types of fungi, is how to actually identify them. A real bug bear is that to make any progress within the fungal world one must invest in very costly literature and equipment, thus making the myco-world almost elitist (something that never goes down well with me). Starting off is a joyous time as using blissful ignorance and a cheap ID guide you can go out and rattle off name after name without consequence or fear of getting it confused with the numerous similiar species. It is only when one starts to scratch that one uncovers the true difficulties of the fungal arena and how many mistakes can be (and have been) made. One literary purchase leads to another with the feet gradually sinking further into the all consuming identification quagmire and ones mind slipping deeper into total and utter bewilderment. No longer can one flick through a bargain basement tome and look at a few photo's, make the due comparison and smile contentedly after an unknowingly wayward name has been given. I may sound bitter and twisted in the fact that I have taken a step too far - too bloody right I am! Nevertheless I am hooked and the joy one can get from the study of fungi is absolutely marvellous as long as one has a good supply of headache tablets, nerve powders and that wonderful elusive double act - time and patience. One can keep dreaming.
Crossing over the River Mersey a brisk walk resulted in not much else for the day although several species of thrush were noted which were the bold and rasping Mistle Thrush, the charming songster Song Thrush, the flighty Redwing and a single Fieldfare with his choice blue grey and chestnut brown plumage. Thrushes are a delightful family of bird with 4 resident breeding species joined in winter by the latter two all of which are easily seen except for the declining Ring Ouzel. In fact it has been quite a few years since I last saw this struggling bird with thoughts going back to a nesting pair found at the side of a heathland brook in the middle of a somewhat desolate landscape...
Cracking on and eyes and ears were on the look-out for any flocks of Siskin or Redpoll and although one of the latter birds was seen whirring overhead no other sighting was made. Strange this as Chorlton use to have a good resident flock of these birds throughout the winter months and although good planting has taken place of Alder trees the birds in question seem to be more elusive. Watch this space...
On the way back to the car park it was noted how the increase in people had happened which reinforced our belief that Chorlton is best visited early morning - especially at the weekends. However, I always feel that local patches should always be appreciated and given due attention when possible just to keep the reports going and to help alert people to what treasures they have at their feet. Chorlton Water Park is definitely one of those places that has more than you would give it credit for and over the years we have built up quite a respectable list of species in various categories. Think on and keep your eyes close to home!