Reliable Marton Mere
Up in the early hours of 2012 and out we three merry wanderers went into the sable January morn packed up to the hilt with necessary victuals and even more necessary equipment. As we progressed along the darkened concrete river known as the M6 the heavens opened and icy needles of rain bounced off the windscreen leaving me wondering if the year was to commence with a good old soaking - not the top of my priority list I must say and something which could earn me a couple of frowns from my fellow moochers. With a bit of skank rattling from the CD player a positive vibe was had and despite the bleak conditions good progress was made and chat regarded our estimates as to how many of the cars on the road had people driving them in a state of inebriation from the previous night's celebrations. Quite a few we reckoned and so extra care was taken so as to get to our target all in one piece. As always, given the toss up between spending a night in the company of fraudulent beer swilling goons, filled with unconvincing good will and quite happy to overload you with false gesture or, have an early night and get up at the crack next day to spend time with my girls and some unassuming wildlife then, as you may guess, it is a no contest. Don't get me wrong - this old Fungal Fruit likes a good slurp but not in a roomful of insinceres. Bugger em' bah!
At just after 8.30am we arrived at our first destination of the day with the rain having abated and the chill slightly decreased. Marton Mere has massive birding potential and can start off any New Year list with a feather laden flourish and so hopes were raised for a successful start to this annual adventure. Recognised as a Site of Special Scientific Interest, especially for its bird populations, this area has a good diverse habitat that is ideal for other wildlife such as Dragonflies, Orchids, Butterflies and even Otters. The footpaths around the site cover a host of habitats including open water, reed beds, grassland as well as productive pockets of woodland and scrub which more often than not hold good numbers of Redwing and Fieldfare as well as roosting Long Eared Owl. Believe it or not Marton Mere used to be part of Blackpool Corporations' rubbish tip so full marks must go to all those who have been involved in recreating this special area. Wellington boots donned, gloves, scarves, coats added extras for the lasses, bins round the neck, bags filled with snacks and tripod for the scope not forgotten and all systems were indeed go!
The slow crawl around the Eastern end of the main lake gave initial views of Teal (Annas crecca), Pochard (Aythya ferina), Tufted Duck (Aythya fuligula), Shoveler (Anas clypeata) and Coot (Fulica atra) but I always take time in this area to scan the surrounding fields and see what lurks within. No sooner had the bins gone to my peepers than a flock of Linnets (Carduelis cannabina) took to the air and landed on the accommodating overhead electric wires. Quite distant the scope was set up to secure the ID and half decent views were had of these sweet little finches that seem to becoming increasingly scarce in certain parts of the country. As the Linnets flew once more the swoosh of powerful wing muscles was heard and two Mute Swans (Cygnus olor) cruised into the fray and landed on the chilled water with casual aplomb. There is something so charming about the pure white of the Mute Swan against the leaden grey scenery of a winter's day and a feeling of pure resolute indifference to the elements does help oneself feel more resilient. Maybe it's me - I can be a romantic bugger at times when it comes to the natural world.
Moving on and as the next burst of rain began and the wind grew in stature a quick dash to the first hide was taken. Void of life this bleak sable space was very welcome and we took up our positions and set about scanning the water to see what we could find. More waterfowl of course but this time with a few wonderfully subtle drake Gadwall (Anas strepera) feeding along the edge of the phragmites stands, the pure shades of grey and black contrasting with the icy buff of the stems and creating one of the quintessential viewings for the hardy naturalist. Delicious birds these Gadwall and when one has the opportunity to get a good old lens full my advice is to please take it. Dabbling away as they feed on a variety of stems, leaves and seeds the chance was taken to pay due respect and refresh myself with the ID features. The intricately exquisite barring and speckling, the brownish wings, the sable rear end and the pure white speculum are individually pleasing enough but when combined make for a sincere winning combination - brilliant. Next and a distant flock of Teal caught my eye and immediately focus was switched to try and seek out a Green Winged (Anas carolinensis) variety. Sounds great but the only two major differences between this and our own Eurasian Teal is the fact that the white line on the flanks is vertical in the Green Winged and horizontal in the Eurasian and the yellowish edging to the facemask in the Green Winged is virtually absent whereas in the Eurasian it is almost complete and quite noticeable. Yes I know what you are thinking - a lot of time looking for a line that goes up and down rather from left to right and the absence or presence of a thin yellow line - such is the madness sometimes. Anyway, the usual plough through the flock was taken and...yes, you guessed it...no success. 100% failure rate to date - but that voice keeps on saying 'you just never know' - no, I bloody well do know but I just can't help it! I have seen a few Green Wings over the years but would love to find my very own - just one, nothing more, nothing less...please!
Next, as the Heavens really opened and had us trapped for longer than expected within the confines of the hide we turned our attention to the gathering flock of gulls. Rumours of an Iceland Gull (Larus glaucoides) were picked up on prior to today's visit and after seeing one last winter we thought it would be nice to view another. In fact I lie - in my addled headed state I particularly chose Marton Mere as a starting point to the years mooching because I thought an Iceland Gull would be a great inclusion to the annual list and...unbelievably so...would be an all time new bird for us. Why I had forgotten last year's prime viewing at Preston Docks beggars belief but there it is - enthusiasm sometimes clouds the mind and I am a bit of a keen un' to say the least (keen un' roughly translated as bloody nutcase in my wife's eyes but that's another tale). So, as the Gull scan took place and a nearby Cetti's Warbler (Cettia cetti) encouraged us with that familiar over zealous call and had us distracted now and again, although my wife swears she heard nothing, see what I mean about addled headed - now I'm hearing things. Numerous Black Headed Gulls (Chroicocephalus ridibundus) and Herring Gulls (Larus argentatus) flocked together and having the main flock concealed by the blowing reedbeds didn't help our cause but with a bit of care and a load of luck an off white gull caught my eye as it hovered in the gale and finally settled on the water. No mistaking - a 1st winter Iceland Gull standing out like a bandaged thumb and making me wonder how easy it would be to overlook this bird if one didn't realise it was there.
Gull watching is an art chosen only by the most patient and I myself am one of the guilty ones who scan a flock and move on before being 100% efficient. I am sure I have missed many a good bird in the past - not even worth thinking about is it? The Iceland Gull is one of the white wing gulls and contains no melanin in the tips of the wings whatsoever. Despite its name this avian delight breeds in the Arctic regions of Canada and Greenland and is only found in Iceland during the winter months. Almost a scavenger feeder this beastie will get by quite nicely on a diet of molluscs, offal, weeds, fish and even the odd stolen egg or two (naughty devils). The plumage on show today appeared to be dirty white but was in fact a delicate grey mottling that stood out markedly against the dark rippled waters of the Mere. As if the viewing we had wasn't pleasing enough the Gull eventually flew in front of the hide, settled and really let us get to grips with its finer points. Quite a pip I must say!
A brief respite in the weather saw us make a move catching up with a few finches and Pheasants (Phasianus colchicus), in the feeding station. A poor showing in truth as this feeding area can be quite busy at times and really top up the daily totals. 2 male Pheasants strutted around with their manic eyes keeping watch over their 12 bird harem whilst Coal, Great and Blue Tits (Periparus ater, Parus major and Parus caeruleus) flitted back and forth and the odd Chaffinch (Fringilla coelebs) and Reed Bunting (Emberiza schoeniclus) visited the tables as several Dunnocks (Prunella modularis) mooched in the nearby undergrowth. Time ticked on, cold crept forth and a mutual decision was had to crack on a bit and get to our second location of the day.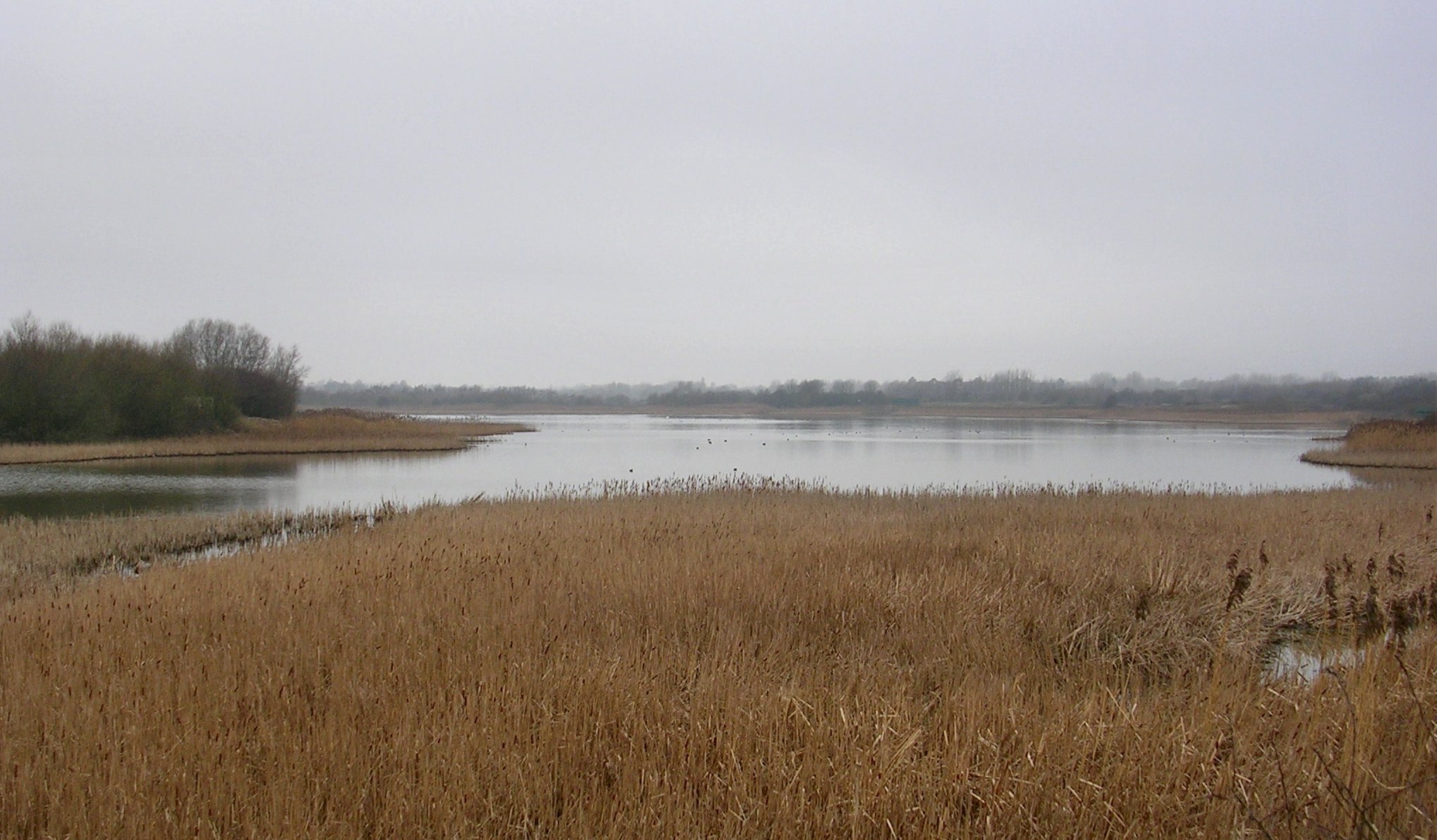 Marton Mere - reliably good, reliably cold at this time of year
The wander back to the car didn't produce anything outstanding with a Kestrel (Falco tinnunculus) not willing to hang around, a Grey Heron (Ardea cinerea), at the water's edge looking a trifle fed up and a brace of Redwing (Turdus iliacus) flitting from treetop to treetop seemingly trying to keep the old circulation flowing. Common Gorse (Ulex europaeus) was in flower but at this time of year seems to lack that delicious coconut aroma that is always enjoyed by our curious sniffers. I do like this shrubs alternative name of Furze - very archaic sounding and somewhat rural. Back at the car and a group of chattering Starlings (Sturnus vulgaris) finalised the list at an average 41 species but hey, things for 2012 were underway and that ain't a bad thing!
Mucky Lytham
During our visit to Marton Mere we had picked up some local info from a kind chap who had worked at the RSPB and was now leading birding tours abroad (with a trip booked to Florida that was only two weeks away - lucky swine)! The gen given was of a small group of Tundra Bean Geese (Anser serrirostris) and 1 Pink Footed Goose (Anser brachyrhynchus) showing well at nearby Lytham Mosses. Having never been to this area directions were requested and duly given and so our attention turned to finding this tucked away spot. Well it must be said, after only one wrong turning the directions given proved to be absolutely bang on and after approximately 20 minutes of leaving the Mere we arrived down a lane filled with some decent sized houses overlooking some largish fields that had me wondering where these gaggling geese may be feeding. Having parked up I was nominated to brave the weather and do a quick reccie run and see if I could locate the sought after birds and make life easier for my ladies (a form of sexism but I didn't mention it). As keen as ever I set off and scanned the nearby grasslands, oh dear things were looking a little bare out there. 2 Mute Swans were oblivious to my presence and as I squelched my way along the muddy track I felt the opening dip of the year was about to take place. The first droplets of rain began to fall as I looked out over the birdless ground until I noticed a raised strip of taller grasses cutting across one field almost completely dissecting it into two clean halves. Suspicion was aroused and I wondered if the grass was just tall enough to conceal some feeding Geese – surely not? Wrong again! Right at the back of the dense stems stood 3 feeding Beans and a beady eyed watching Pink Foot and for such largish birds it was quite impressive how they remained so concealed. A few minutes looking and then back to the car for my wife and daughter and the reliable Collins Guide Book and off we set to compare both species and nail the delicate ID points that could so easily be overlooked if the flock was of great numbers. The main differences are that the Bean Goose has a bill that is black at the base and tip, with an orange band across the middle as opposed to the Pink Foots which is bright pink across the middle. Add to this that the latter species has pinkish legs whereas the Bean Goose has orange legs and the fact that Pink Footed Goose are generally smaller and of a lighter grey in plumage and, with a little practice, one can easily tell them apart. A few fellow birders joined us for the show and as the rain once more threatened to fall we moved on and headed for the last destination of the day.
Fairhavens Freeze Fest
After leaving the car at Fairhaven Lake it was more than apparent that this was going to be a quick visit. The day was gradually dulling down, the wind was icy and blowing across the open sands with a venomous attitude and the birds out on the water itself looked to be few and far between. Wrapped up and ready to roll the initial march was a swift one until the first flock of idling duck were browsed through our parky peepers. Shoveler, Pochard and Tufted Duck were to be expected but a sweet female Scaup (Aythya marila) was an added extra although we have seen these birds quite a few times over the years at this tucked away haven. Scrutiny of this dozing lass highlighted the fact that if one is brief in overlooking a flock of duck one could easily palm this off has a female Tufted or indeed Pochard. The lack of tuft on the head, the richer brown plumage and the extensive white at the base of the bill all confirm the species but take care as the odd female Tufted Duck can show a fair amount of white on the face as well as a variation in colour. The head shape though should seal the verdict and when this dozing duck did decide to have a look around we appreciated the finer characteristics and made sure we got our money's worth.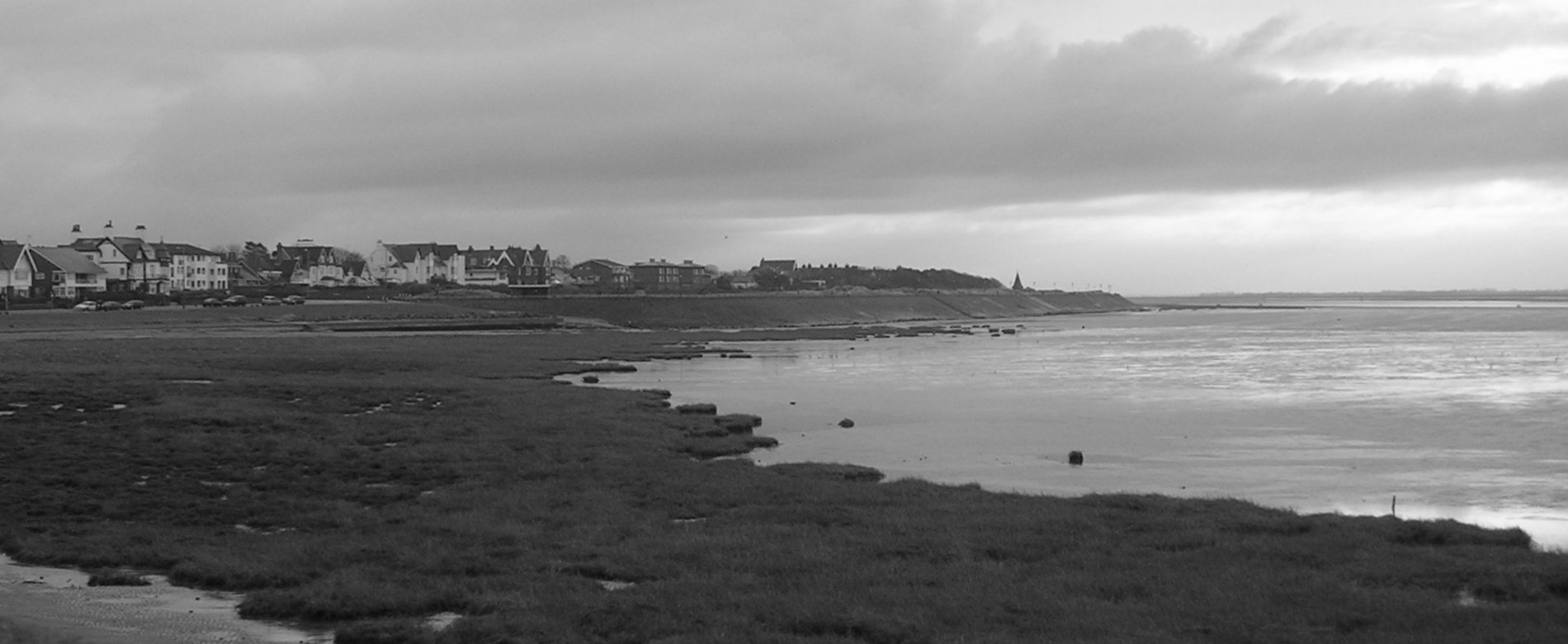 Fairhaven RSPB - the coastal area - it was a cold one today and a black and white picture to capture the chill seemed apt
Striding on and more of the same was on offer and only a search of the coastline brought anything of interest to the list. A Little Egret (Egretta garzetta) fished in the gullies and disappeared from view with a regularity that proved just how deceptive the size of these birds really is. Pintail flocked in the distance and were joined by several Shelduck and the odd mean-looking Great Black Backed Gull (Larus marinus). At the edge of the incoming tide were noted vast numbers of two tone Oystercatchers (Haematopus ostralegus), or Oiks as we fondly refer to them, small counts of Dunlin (Calidris alpina) and the scattered Redshank (Tringa totanus) and Curlew (Numenius arquata). Besides that we agreed the day was done and felt quite pleased that it was a fair start to another 365 day expedition. On the way home a bookshop we know about was visited with alas 3 more tomes picked up with a saving of approximately £80 had – now that is a bargain.
So instead of hanging around in bed nursing a hangover or indulging in the procedure of a new year walk for the sake of it we cracked on and had a quite successful day. The cold is soon forgotten, the memories of the birds far longer lasting. Onwards we move – the first annual step has been taken.