MOORE NATURE RESERVE
---
Contact:
Arpley Landfill Site; Forest Way; Sankey Bridge, Warrington, WA4 6YZ
Tel No: 01925 444689
Amenities:
None. Parking is at the end of Lapwing Lane just after the canal bridge and just before the reserves main entrance.
Opening and Closing Times:
Open at all times.
Area Description:
Situated between the Manchester Ship Canal and the River Mersey this 200 acre nature reserve has really started to come into its own. With 5 open lakes, extensive alder woodland, wet and boggy meadows and areas of scrub a variety of insect, bird, amphibian, plant and fungi can be found. 9 hides/viewpoints are strategically positioned to optimize birding opportunities. A network of paths can be followed and a full day is needed to take in all areas of this reserve.
Best times to visit:
Winter is the best time for ornithological interest but summer and spring have their own botanical and mycological specialities that add to all year round interest. Early mornings are advisable so as to take ones time and enjoy the full extent of the reserve.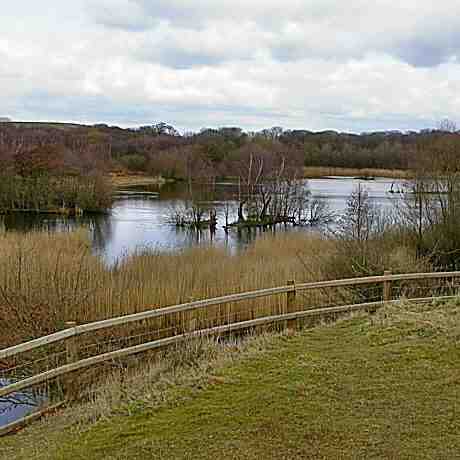 A winter visit to Moore can produce a nice list of birding delights.
Key Flora:
A variety of flowers can be found with yellow-wort, and common centaury noteworthy. Colts-foot and butter-bur provide early interest and the grasslands providing many summer species. The patches of gorse are an excellent sight when in full bloom and give off their typical coconut fragrance. There is a wide variety of fungi on the reserve as well as some very photographic patches of lichen and moss.
Key Fauna:
As one would imagine the bird life is very varied indeed with 5 species of owl, various finches, a superb selection of wildfowl and a nice selection of passage migrants all possible in the calendar year.Butterflies and dragonflies are abundant as well as lots more insect life with the grasslands and waters edge being particularly profitable.