Back to The Thatched House for another SAS gig this time a joint promotion with Slit Records thus changing the Spit to Slit for the day's entertainment. This gig was scheduled to take place at The Shay in Halifax but since the initial booking this fine gaff has fell by the wayside so a change of venue was forced upon us and this matineee slot was all that was available to our punked out minds. Myself and Dean weren't expecting much but tried our best and after the last two, less than successful turn-outs at this venue with bigger name bands, the signs looked ominous for a lowly crowd.
I arrived at the gaff at 12.45'ish and was amazed to discover that it was actually fuckin' colder inside the joint than outside. Ill Fated Riot and Stompin' Ground turned up and we pottered around awaiting a few punters. Dean arrived with back up guitar rig and time ticked on. Hardly any faces, all bands not in attendance and a late start already on the cards. Where have I seen this before...
Anyway at about 2.30pm (half an hour behind schedule) a few heads had popped in and the place had a nice initial buzz going so Stompin' Ground got the day off to, what was, a fine start. I like this band and they have the right attitude and commitment to do well although a kick up the arse now and again wouldn't go amiss. 3 likeable lads and with an ability that is really coming to the fore at the moment despite one or two loose moments today. The songs are really well crafted and have a good vibe running through them that highlights the many influences thrown in and the ability of each player. On home soil they pull a small crowd and the only snag with the bands progress is the transport issue. Once this has been overcome then Stompin' Ground should fly forth with confidence and belief in what they do because in truth - they are a darn good band. This was very enjoyable and it is always good to get a gig off on the right footing and this was just that. The bass rig problems were overcome with ease and full marks all round - just more rehearsals, a recording, other merch and then ready to roll.
Flat Back Four arrived in good time and Andy Dazzler (bassist) had a few familiar faces with him which upon enquiry came to light as the band, A War Against Sound. The previous viewing of this tribe quite impressed me so I asked Andy did they fancy jumping on the bill and rattling out a few tunes. Now anyone who knows this maniac will know what the answer was because this guy is one of the hungriest punkers out there and puts many an older fucker to shame. And so after a small break AWAS cracked on with a set that was technically superb, boomed forth on many a tuneful tidal wave and had Andy this time on drum duties (yeah I know talented bastard) backing up the stringed racket. This was very good indeed and although not a lover of technical tuenage I can honestly say I thoroughly enjoyed this. Punk, Skank, New School/Old School, Rock, etc. - it's all thrown into the tumbling waterfall of rhythm and splashes the crowd with mesmerising talent. Turning in numerous directions the dizzying heights are efficiently achieved and I expect big things from this band next year. A great last minute inclusion.
Now not many bands can produce a set that almost reduces me to tears but I'll tell you one thing - Flat Back Four nearly did just that with an output that lit up my heart with pride and belief. I have done a lot with this band and seen the changes and hassles of how a unit tries to grow despite pitfalls and unexpected occurences that just grinds a band into almost submission. Even though the road has been uphill this performance was the best to date by far and I thought they were totally fuckin' awesome (a word I usually don't use as it is one of those terms that is sorely overdone but is spot on here). This was totally mind-blowing and every song, yes every song, was a pure pleasure. I know this set inside out and see what works, what doesn,'t and when the band are functioning as a true unit. Here all fell into place and rocked the joint to the rafters. 'Locked Out', Dogs Actually', 'Thatto Heath', Jeff's Rock Night', 'If I Die Tonight', 'Psalm 23', 'Share The Wealth' etc. etc. etc. Need I go on. A set full of classics for the fan and outsiders must surely be drawn into the mix and embrace this band for the talent they are. Solid drums, quality basslines, two great guitars fuckin' eardrums with unity and a top vocalist - wow, this is everything I knew FBF could be and more. 2009 has many doors to go through and hopefully I can help Flat Back Floor kick a few off their hinges. Thanks lads!
Talking of bands reducing me to tears - RBH can do just that! Maybe with laughter or downright embarrassment these 4 fuckwits of filth are a sight to behold. Obsessed with genitalia, the masturbation of, and swimming in an ocena of sexual idiocy this outfit would have been burned at the stake in times gone by. Picture the scene - a second rate Woody Allen impersonator on drums, a 'pickled in cider' porn addict on bass, a metalised meat mauling hippy on guitar and a lunatic escapee fronting the band with a bag of delights that are straight from Clitty Clitson's sinister sex shop and there you have the band. All wear wrestling cum rapist masks except the drummer and all sport physiques that are borne through years of ill-abuse and over ejaculation. The noise they dish out is dark and unsettling with an overload of Northern insanity and tickles and torments in equal proportion. I enjoy them though and I hope this doesn't reflect on my own personal mental state. A song entitled 'Bodyform/Fishbits' is everything you could imagine and is Tampon tuneage of the most blood-soaked kind. 'Over The Thumb' has todge tugging inuendo, 'Beer gut' blares boozing bigotry, 'Wanking In The Woods' concerns those discarded porn mags you find whilst mooching in the trees and the temptation therein, 'Lollipop' has the front gut (yes gut - not a typo) dipping the said lollies in a plastic vagina and then throwing them out to the crowd and 'Wanking In The Window' tells a tale of a deviant watching his neighbour whilst dabbling with his digit. Witchfinder the singer seems to believe this is normal behaviour and is a man whose entire thinking process is submerged in the production of semen. 'Fluffy Pup' ended on a high note and with a blow-up woman on stage, an inflatable cock and discarded porn mags on the floor the show was a sickening joy one shouldn't admit to. They want gigs further afield - are your piles ready to be bled?
Ill Fated Riot next and they looked a trifle bemused after having watched the previous showcase of vulgarity. This is a band who I suspected that were full on for this and the recent CD held major promise. Little did I suspect what a fantastic performance was coming my way and the whole set was delivered with accuracy and passionate spirit - vital components in making punk rock meet the needs of the critical populace. The intro rammed it's head into the gut of the classic 'Let It Go' and from that moment onwards I knew the band were going to do the business. The set lacked any lows and one or two songs I was unfamiliar with promised to be of magnificent proprtions if the predicted recordings go to plan. 'Pirates' was class and the other stand outs were 'Shit On From A Great HGeight', 'Name And Number' and 'Anal A List'. Like I said there were no dead ducks here just a bevvie of quacking numbers (clever hey) and plenty of fuckin' bollocks. Concrete drums, smoothly controlled bass and guitar, and a lead guy who just fuckin' loves it and the band burned bright and I hope will blaze many a trail next year. It makes me feel good when I chance a band on a CD hearing and they prove to be be even better than I ever suspected and blow my mind clean apart. A big thanks - quality!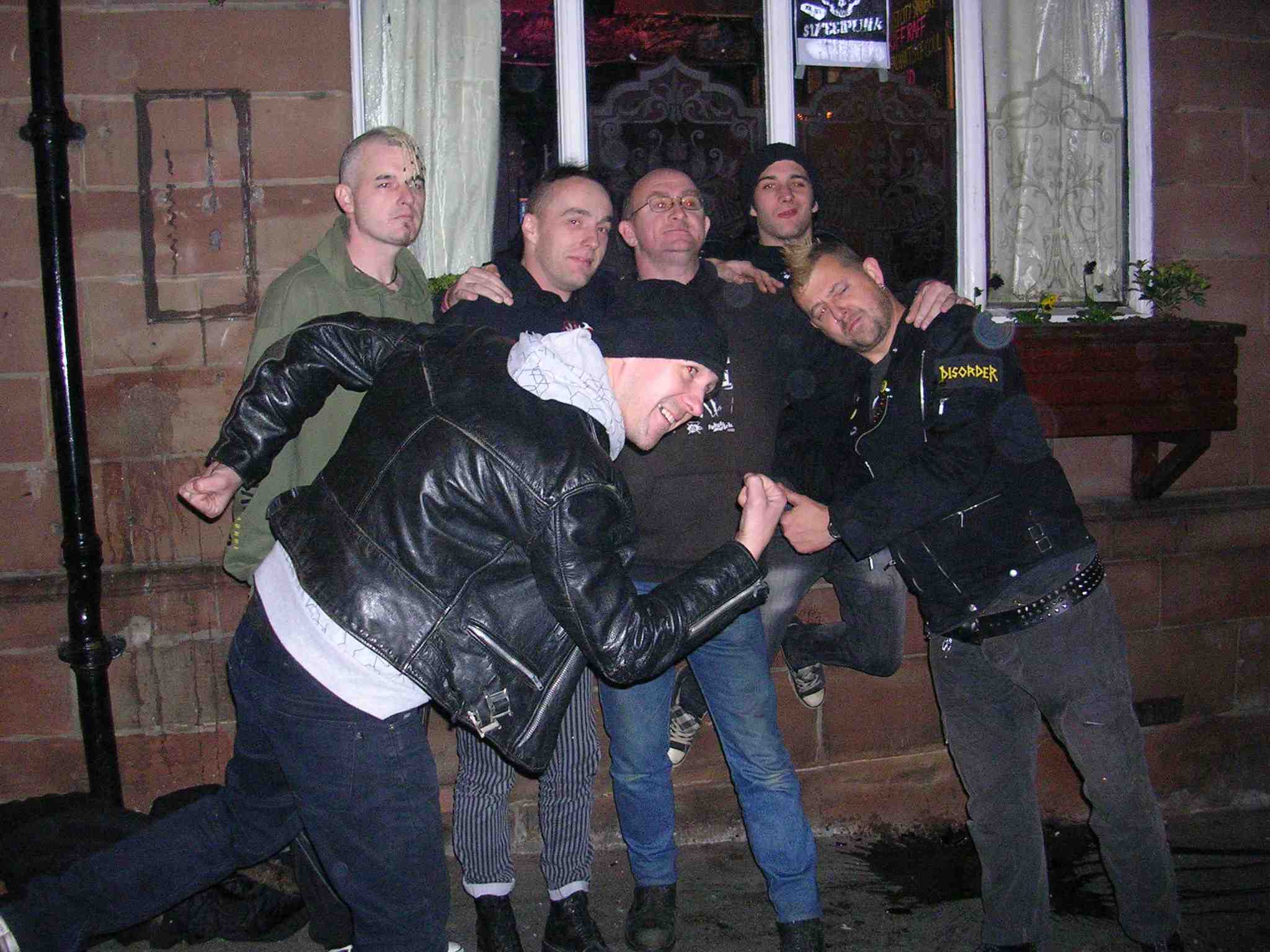 Myself with assorted members of Ill Fated Riot and Pandaz - a good day indeed!
And finally to Belgium Blitzers Pandaz - a band based on retro rage rather than modern day subtlety. A CD passed my way by landlord Banjo gave me great delight and when Banjo said these feisty fuckers were playing The Thatched on the 28th I immediately booked them for the 29th at the Shay in Halifax. As earlier explained the venue change was had and so I hoped today's outing would keep the lads happy enough in regards crowd and feedback. I wasn't to be disappointed and with a few pogoing 'erberts the Pandaz blasted out an orthodox punk rock assault that I really enjoyed. 'Hate Your Neighbour', 'Police Violence' and 'Killing Machine' were immaculate tirades from a whole set of hard-edged weaponry. The old brigade loved it and the younger side of the audience lapped it up too and I thought this crew capped off an afternoon matinee show in fine style. My missus and little un' came down for the last two bands and they both agreed that the standard was mighty high and both bands were good viewing - how can I beat that!
Well what can I say -a venue change and little interest shown in the build up and a gig that came to fruitition with a good crowd and good feedback all round. I sold all my CD's and had a blast and only wish that punk could be as consistent as this and the whole land over could be guaranteed good turn-outs. I've had my fair share of lowly turn-outs for no reason whatsoever so am going to savour this one and the recent Bradford one for a fair while. Real genuine appreciation to everyone who came to this and for making it such a pleasurable day - the 3 dayer is not too far away so get yourself down for a whole load more of the same. Cheers Dean for the joint promotion and hopefully another one can be done in the future.
by OMD