Well after the previous weeks 3 day madness at the SAS extravaganza I was wondering how many would be up for the nights 9 band action which would be again showcasing some of the countries best underdog talent that so many seem oblivious to. Early signs showed promise with a few heads in a good hour before the first band kicked off and after many salutations, a bit of stress covering the door and sorting out who was doing the sound a nice half pint of red wine was sunk ready for the first band to get the evening underway.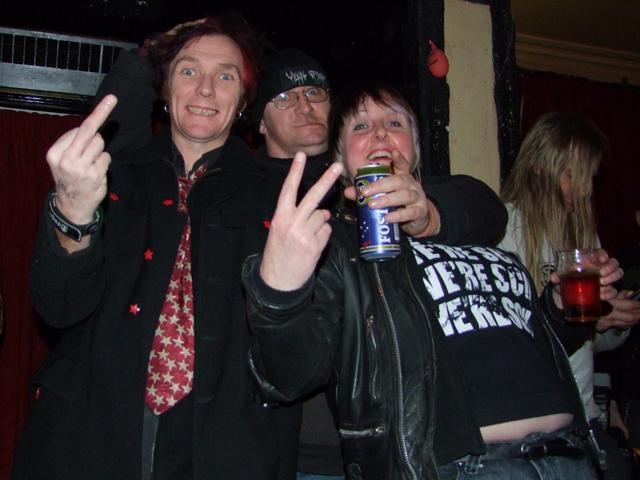 The perils of booze - Bri Barnes, myself and Karen
Rebel Conspiracy are a localish band and I am proud to say this was their debut gig. I say 'proud' due to the fact that this three piece is made up of three grand lads off the scene who have supported the SAS in all its grimy guises. The main style of this crew is hardcore but not such hardcore that relies on mania rather than melody. 7 songs were dished out with practiced ease and despite a few nerves, a few mis-timings I think this was as solid an effort as any band could wish for on their first outing. Everyone in attendance gave generous applause after each song and fully well deserved they were. Some nifty bass playing, organised drums and appealing thrashy guitar work and the unit took their first step with little fuss.
A War Against Sound came next and looked a trifle wasted after returning back from Scotland on the same day and suffering the 'driving' blues. Technically these guys are usually spot on and tweak and twang their way to a thought provoking set filled with about turns and unexpected derailments. The first three songs today were pretty crap due to some sub-standard timing and a sound which was not good at all that obviously knocked the lads out of their stride. Nevertheless things were soon corrected and the bad start was soon forgotten and the set travelled smoothly to the finale with no major hiccups. The drum kit change over also didn't help either due to the left hand/right hand quirk that gets on everyone's tits when it arises. So with tired eyes, a push on time and the aforementioned dodgy sound I think the crew pulled it round quite nicely and overcame odds that some bands would have been dragged down with.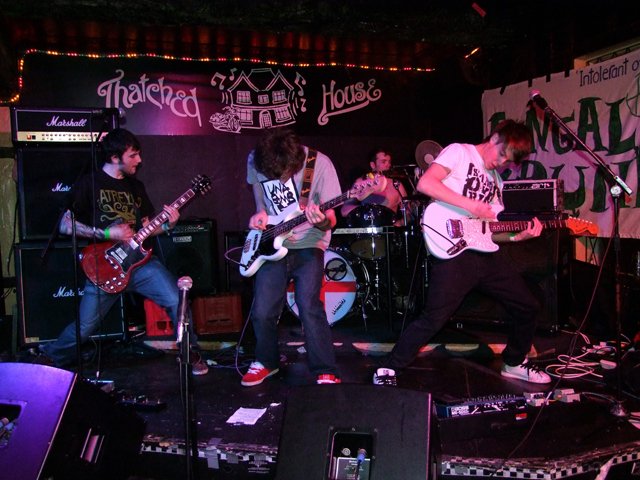 A War Against Sound - technically superb
The Distrakted came and went in the twinkling of an eye and I thought thrashed and bashed out their best set to date. I have seen these on quite a few occasions and taken note of how many times they open a gig in the Manchester area which I feel puts a slight taint on their obvious potential. These lot must be careful not to overexpose themselves with too many lowly slots and therefore suffer the indifference of the punter through tiring familiarity. The overall outpouring tonight seemed tighter, more structured and definitely more complimentary and the unit is finally coming together and making their first real waves. 'Heroes and Idols' always shines and the cover....ah can't remember...but was a darn good do which had the frontman involving himself in some good old crowd participation. I liked this a lot and had that satisfying feeling one gets when one sees a band making good progress. Good on yer and more to come!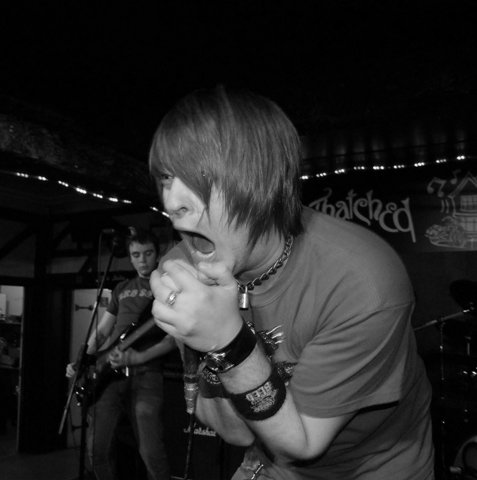 The Distrakted - staying on-line for bigger and better things
Freedom Faction are a band I was eagerly anticipating after the previous time I had witnessed them was of no use whatsoever after the PA they played through was a real piece of wank. Add to this the recent CD I have reviewed which revealed five pure punk rock gems and my punk jowls were salivating hard for a bit of retro melody. Tonight's performance really highlighted how bad the aforementioned PA was as the whole vibe here was upbeat and may it be said, fun. The band has a significant joy to their tuneage which I think adds to the appeal of each and every song. 'Vive La Punk' was choice, 'Blah, Blah, Blah' totally awesome, 'Come Up And Get It' as feisty as expected and the new 'Loser' a nice tease. I have found a right pearl with this lot and perhaps the crew may struggle to meet the needs of the new-skool brigade but old hearted spiky tops should adore this. The pointers for the future would be to work on the visuals a little with the guitarist being a bit more mobile and adding a tad more beef to the old six stringer. These are only personal opinions and not criticisms but being the passionate picky bugger I am I feel it only right to try and squeeze the best out of every band especially those I respect. Either way you take it this was still fuckin' great and I really lapped it up. My missus and young daughter came down early especially for this and weren't disappointed either - yeah - a fungal family feather in yer caps. Great frontlass, superb bass tumbles, nice simplistic guitar and some solid drumming all helped the final product and I want another FF fix as soon as.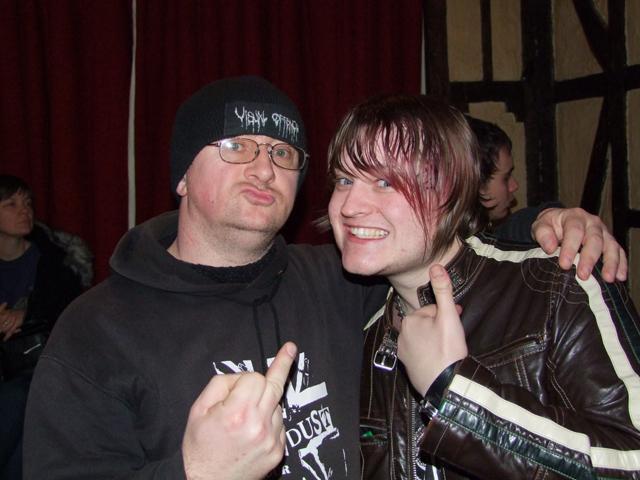 Myself and Johnny Talents enjoying the night
A break next as RBH spilled out their semen-stained sonics to a crowd that was both accepting and responsive. I went to the chippy at this point with my family as my daughter requested we keep clear of the noise as she had no desire to watch the vulgarity of the band under scrutiny. Eating our chippy tea outside actually made the band sound more insane than ever and flashbacks of a bad sherry experience where I collapsed in the pub car park for 5 hours and awoke to the cacophonous RBH playing in the background came flooding back to haunt me. Terrifying! Bassist Noz came out after the set and I explained my absence and he explained how all went well and the crowd gave good applause. That will do for me and next time RBH will be playing further afield - much to the relief of many a Stockport resident I suspect ha, ha.
The next two bands were both fuckin' brilliant with Stomping Ground just climbing upwards all the time and the Smack Rats being totally effective both musically and visually. Back to Stomping Ground and with care and practice this band has just got better and better despite a few financial hindrances that are holding the outfit back as far as releases go. The set held the audiences attention, had a few dancing and flowed from one track to the next with accomplished ease. Like I say - the next step is to get recording and then move further afield and start building the experience up and promoting the fine tunes the band have worked so hard to master. The comfortable way in which this lot perform at The Thatched House is expected but the test will come when playing to a neutral crowd with many a critic in the mix. I can envision no problems and the sooner they spread their wings the better.
The Smack Rats are idiocy incarnate and the antics of the adventurous frontman are both exciting and distracting insomuch as the band are a riotous well organised crew who get overlooked due to all eyes being on the vagrant vocalist who is here, there and every bloody where. Tonight was no exception as the gob at the front accosted everyone in sight and rolled about in a most humorous and good-hearted way with all and sundry. At one point he went behind the bar and tried to fill his mouth with a bucket load of beer whereupon a frown from the landlord was enough to get him back into the main gigging arena. There is a definite gusto about this band and the piston pumping backdrop of noise was made by a fine band putting on a very good show themselves and ones who deserve equal attention. All good on the Smack Rats front and surely more to come from this fungalised bugger and a bright future ahead. Oh I hate the Cock Sparrer cover by the way - not because it is played badly but because I hate covers of crap bands - ha, ha - you know me underdog arse all the way.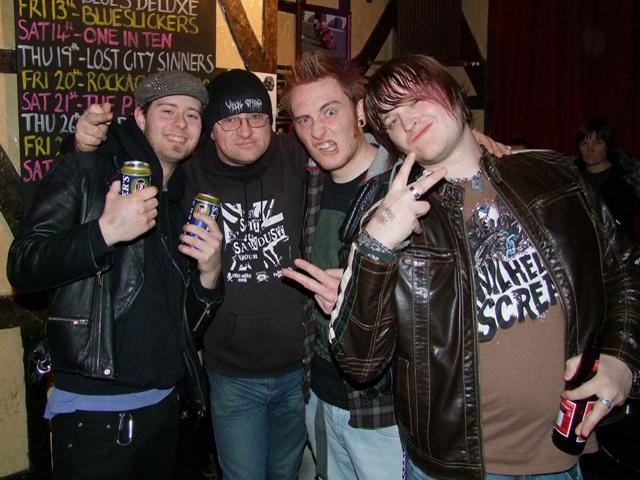 Smack Rats, myself and the two fingered Mr Talents
Kings of the Delmar were a very good band and really opened my eyes when I saw them about 4 years ago at Morecambe's Nice 'n' Sleazy Festival. After a split that would have finished most bands we have a 3 piece that isn't a very good band. In truth Kings of the Delmar are a fuckin' amazing band and this tonight was totally fantastic. All 3 components are supercharged and the tight, talented outburst was both tuneful and full of rockin' riffs. Song after song was met with gratifying applause and the dancing few had a blast as they tumbled to the noise of a band very much on form. 'TV Personality' is always a good do for me from a set that didn't have one dud number. A genuine cut above.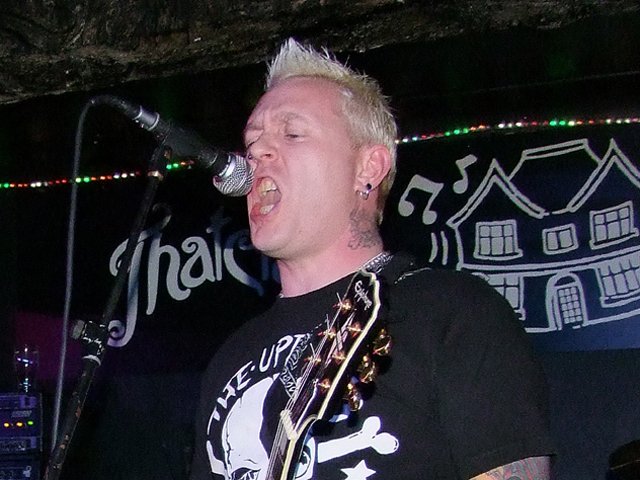 Kings of the Delmar frontman Wayne leading the way for a marvellous set
The Murderburgers came from Scotland and in all fairness - conquered. Pure swift pop punk with an urgency that leaves one breathless this was a fitting end to a top night of SAS punkology with one great tune after another being belted out to the now whipped up crowd. 'Phantom Maggot' was a blast and had myself and many others cascading and collapsing around the room in utter frenzied joy. 'I've Got A Plan' was class and the mesmerising 'My Baby's Too Far Gone' was indulgence of the highest order. I know the band are set to move up another gear as they have slated their own first CD which I truly rate and think the naiveté and rustiness all blend to give it character. If this stance of improvement is carried out then expect to have your mind melted with the next release. Best pop punk band in Britain - well on this evidence most definitely in with a shout.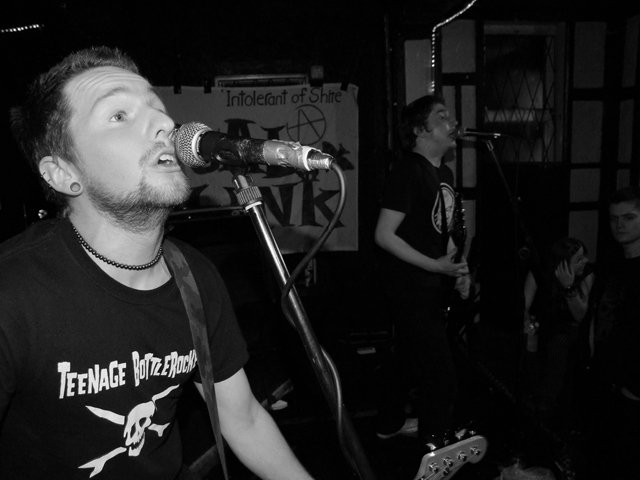 The Murderburgers produced a stunning finale of power pop punk
A good night and the last in the North West for the SAS Tour. There is only one option that would get me doing another and as I speak the wheels are in motion regarding that gig. I never say never but at the moment I am finished with Manchester, Stockport and Bolton due to many factors the most relevant of which is that I hate to stagnate. It is good to keep things fresh and push things on and the last 3 in Stockport have been very well received and I thank all who attended them. It will be hard as usual to keep the momentum going but after the quantity the time is ripe for quality. The SAS has done its initial wheat/chaff separation and now I am equipped with a set of solid bands to go forth and impress. The criteria of the SAS will remain as 'promoting the underdog and the new' so if ya want on - you'd best get in touch. A great gig indeed and one to look back on with utter fondness.
by
Fungalpunk/OMD - the shattered version
Pictures by Tim 'Punk4Life' Davies
Extra SAS Spillage pictures by Matt from Rebel Conspiracy can be found here