I have always maintained that Bradford is one of the best places to put on punk rock gigs and over the years I have had some fair success in this fine town. Occasionally the odd low turn out happens and that keeps one on their toes and avoids complacency setting in. Tonight we had a fair old turn-out for 5 great bands who deserved nothing less. My struggle to peddle the underdog is always going to be a hard one and it is nights like this that just keep that passionate flame fuelled and just reinforce my belief that the best is at the bottom of this murky pond.
We set off for Bradford in good time knowing only too well that the twisting labyrinthine road system can gobble up even the most orientated driver and leave them in no-mans land with only one way out. A few wrong turns are par for the course and a quick tour of the area always had but after a unified 'Fuck it lets stop and ask' we eventually located the gaff, parked up and entered. Great lay-out, helpful staff and with a few bands already there the usual easy free-flowing chatter was had whilst slowly preparing for the nights entertainment. Time ticked on, a steady trickle of punters came and Most Likely To Fail kicked off with the first set of the night.
Chatting with the lads prior to the set revealed that frontman Greeny had quit the band earlier in the week and it was now up to Dave the guitarist to carry the can. A real big shame Greeny has decided to pack in as he was always good company, a great frontman and just a fine fella to have at ones gigs. No matter, the show must go on and with Dave at the helm I didn't have many reservations about what would transpire. This was a fair outing and the lads all did a crackin' job giving the onlookers 9 tunes to savour. The crowd loved it and halfway through the set I was distracted as my help was needed at the door. A serpentine queue had built up reaching out into the street and all with very little change. Trying to help the door guy, acquire brass and watch the band was no mean task so forgive any oversights on my part. 'Innocent Eyes' always attracts my attention, the finale of 'Most Likely To Fail' is a bitter sweet classic and the new cover of 'Blood Bath At Burger King' is just beautiful. The new songs are fully fledged now and ready to fly our way on the back of a silver disc so lets hope the band get moving more freely with the fear of the benefit fraud squad on their tails now a distant memory as Greeny continues his underhand deviancies in pastures new. As always I'll be pushing the bands cause for two reasons - great guys, great band - not rocket science is it?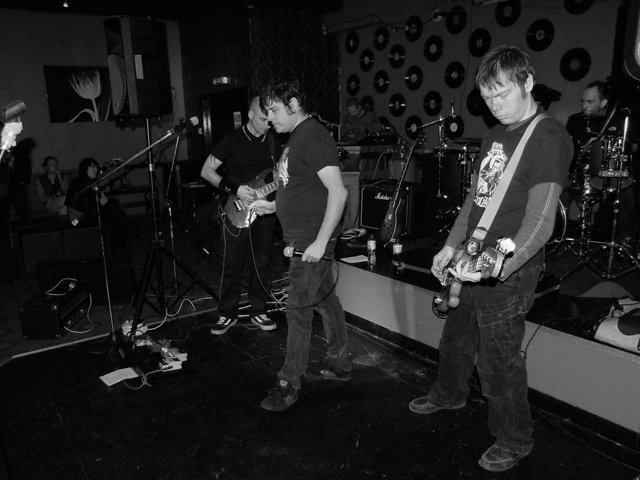 MLTF - down to four but still doing the business
Rising Strike brought a totally different slant on things next with their hybridised mongrel of metal/punk/ska snarling and biting with gratifying effect. This band are a relatively new squad who have played Bradford before on a SAS gig and got quite good feedback. Tonight the growth in stature and confidence was highly visible and several power surges throughout the set had this piece of fungal filth totally absorbed. The drummer played a stormer and really gives a hard working performance that literally sprays perspiration. The string players and vocalists at the front lead a merry charge and really are galloping in pleasing unison. I am due to see this crew next week which is surely my pleasure and I can only envision good things coming this lots way over the next few years.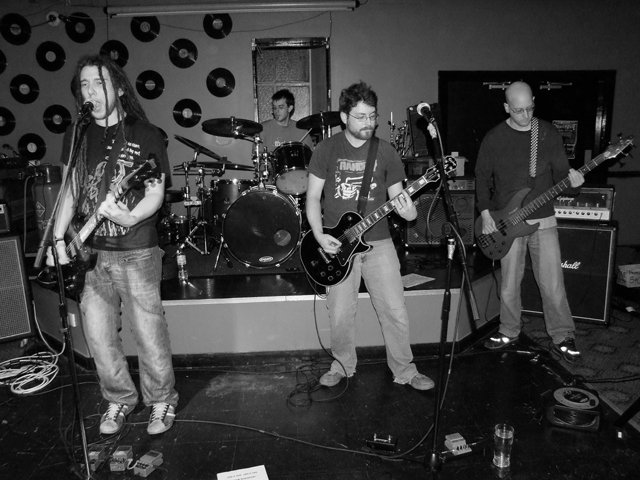 Rising Strike - these guys are getting more impressive by the viewing
The Mardi Gras Bombers are a well drilled unit saturated in utter class. The whole eruption pleases from first to last and anyone would be hard pushed to find any fault with what this crew do. This was my 4th viewing to date and I am just becoming more and more taken aback. Strong guitar players who know their punk onions, a connoisseur of a drummer regarding all things punk and a bloody good bloke who can bang with the best and of course the frontman who really is adept at his art and puts his entire soul into his performance. As per usual I wandered around and took time to admire each component and came away beaming with the quality on show. The songs test boundaries and dabble on the periphery of less orthodox punk and that gets my vote. No bad bunions and again 'Derelict Spiv Nation' is the notable big toe on this musical foot that kicks hard.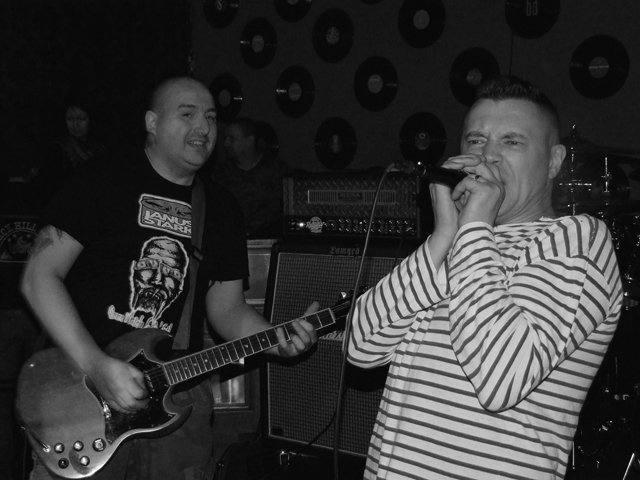 Gerard and Damo of the purely excellent - Mardi Gras Bombers
Sense Of Urgency are welcome to play any Fungal show, anytime. Great skacore played by passionate 'erberts liable to throw a spanner into the inner workings of any gig. The brass on the ass of this outpouring makes for an interesting listen and every time one goes away quite thrilled by the experience. Add to the bands attributes the stunning horror film knowledge of Dec and Joe and that will fuckin' do for me. The flow rate for this band has been a long time increasing but it seems the restraining bladder has been punctured and they can travel down the punk urethra with a one way ticket to the piss and party motel. A new release and with a new found life bodes well and once again Fungal will be pointing these buggers the right way.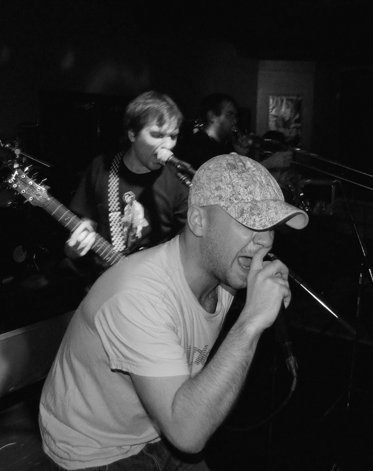 Sense of Urgency - oh the joys of beautiful Skacore
To close it was my pleasure to bring to Bradford the wonderfully melodic Murderburgers. I had seen this band twice before one of which was on a SAS Spillage venture in Stockport where they won many new fans. Before this my interest was kindled after reviewing their magnificent first album which just bubbled with pop punk energy and rockin' riffology. Tonight, as one expected, the numbers were rattled off with speedy energy and the whole band are obviously settling nicely into the role of highly respected punkers. Poses and tunes came and went in flashing brilliance with 'Double Take', 'Braindead', 'Stop Staring At Me', etc. etc. all juddering and jabbing at the crowds consciousness which they lapped up. A solid finished to a solid nights entertainment I was more than a little happy with.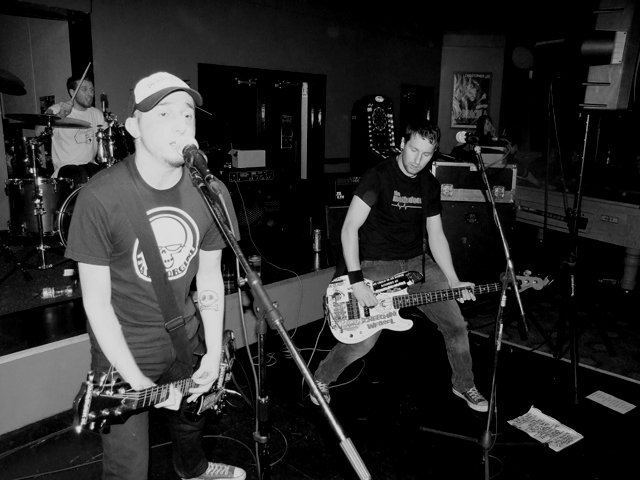 The Murderburgers - its pop, its punk and I love it
So The Zuu Bar has come up trumps and hopefully will do so again for the second Nasty Nobby gig which will be in April. Cheers to the fantastic work of the sound guy and the doorman and especially that Bradford hero, Alec Marlow. Thank you especially to all that got off their arses and came to this and gave the bands a nice crowd to play to. It really does matter that you support your scene and you should all be proud of what you have in Bradford. Plans are afoot to move in a bigger direction for the gaff so here's wishing all goes well on that front but for me the quality is always with the underdog and nowhere was that more than obvious than at this fine venue filled with fine players and punters. Again a big THANK YOU from Fungalpunk and family - keep it real dudes.