After the last adventure at The Mannville Arms and parading bands before a healthy and acceptant crowd I thought I was fully justified in looking forward to a good night of SAS punk rock. Having had the usual busy week I was more than a little tired when arriving at the gaff and initial gear problems didn't help with my general mental state to say the least. I have never had any glitches on this front before but I suppose the law of averages needed their revenge so all you can do is just get on with it. £20 to the soundguy secured the hiring of a rig and it may not sound like much but after paying the extra band out my own pocket and losing £20 in all the fuss it was turning into an expensive night. Cheers to Alec at The Mannville for persuading the venue to give me an extra £20 for band payments.
Anyway a shit start really but we all soldiered on and eventually The Stopouts opened up proceedings to what would turn out to be the best crowd of the night. I am glad they got a few faces in to watch them as I thought they were fuckin' excellent and the combination of smooth and swift skank really lifted my plummeting spirits and I thoroughly enjoyed every component about the band. Every player did their bit and with the guy at the front skanking around and vocally shuffling through his lyrics the show could be nothing less than a success. One of the best bands I have had open a gig and one I would dearly love to do a bit more with. 'Idiot Box' and one called 'Pretty Girls' I think (or is my mental state now becoming hallucinatory) were nice chosen highs but I was impressed by everything I saw and it seems so were the punters who asked for, and got, the only encore of the evening. Well deserved too and 'Mr Jones' was utter class and rounded off a great set by an obviously great band who now have Fungal has an admirer.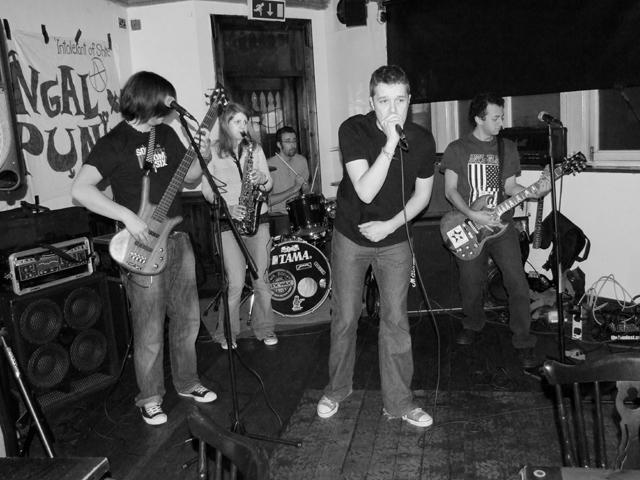 The stunning Stopouts - one of the best opening bands I have ever seen
Joey Terrifying next who had brought a small crew with them and went down rather well indeedy. Despite the bloody gear being a troublesome tinker the lads got on with it and were really well received all round. After reviewing their CD earlier this year (or was that late last year - pills please) I didn't expect a noise as rough edged as this but am in no way complaining. It made a nice contrast to the preceding smoothness and all in all with one thing and another the JT machine proved themselves to be a talented bunch with a fair amount of quality songs to keep the crowd interested. The bass playing was very good indeed and I really need to check these guys again when the show can flow more without the aforementioned hiccups. Fuckin' gear hey - who needs it? Good stuff and hopefully we can do some more at some point!
Ill Fated Riot encapsulate everything I expect from a punk band with likeable natures, great spirit and a willingness to test the boundaries as well as an ability to maintain the high passion and cultured musicianship. One of the best 'live' bands I have come across and their whole commitment to their cause is admirable. Tonight (Despite Denz being unhappy with his performance - fussy bloody perfectionist that he is) these guys filled me with delight as I watched them play a set filled with savoury songs and several fuckin' classics. Four friendly cunts just having a crack is easy to classify these guys as and when you look at em' you can be forgiven for thinking that you are in for a run of the mill punk rock show. No, this is quality in all departments and the songs are carefully crafted and flow with such ease that one can't help but admire. 'Anal A List', 'Let It Go' and the fuckin' stunning new songs all roared and the rock song that I can't for the life of me remember the name of was a sincere classic. What the fuck was it called - come on lads help me out! Anyway listen up, punk should look to bands such as this for salvation because given the chance they can take the scene forward with the right spirit and the right ethos and do it with a quality edge. Like I say about plenty of bands, particularly so here, if these guys would have been around in 77 the story would have been so much different and for me ...a whole lot better! As a footnote the drummers missus said they were shite by the way - ha, ha - told ya I'd mention it love - good on yer and nice meeting you by the way! (Denz - I am sure she din't mean it though)!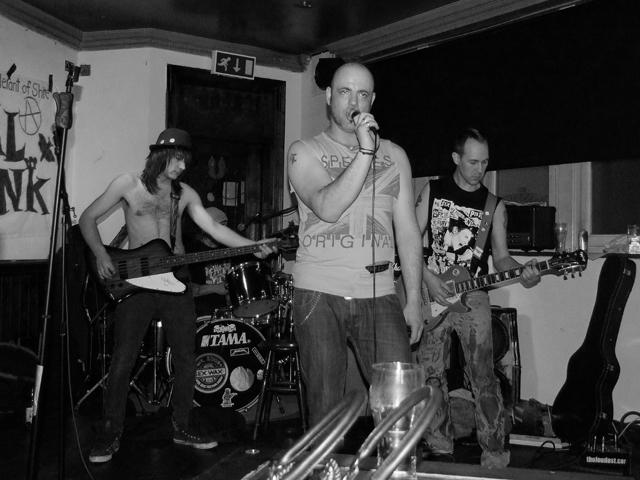 Ill Fated Riot - more cultured than given credit for and a bunch of fuckin' great lads
Rising Strike jumped in at the last minute here and provided a bass rig for the night which helped out no end and for which I am more than grateful. Bordering on several precipices most notably ska and metal with a cute punk essence eased into the slipstream this was a bastard to categorise which in itself makes it a full on winner for me. Unfamiliar with any of the songs I just lapped up this feisty offering and watched the intricate hotbed of noise unfold and blossom into a thorny bloom of belligerent rage. Again a nice fuckin' outfit plying their trade with solid intent and I am more than keen after this to see more of this well organised outfit. Can't fault it and a bunch 'o' nice guys too.
The Senton Bombs are fuckin' ace. I adore what they do and if one band are sorely misjudged and overlooked then it is these three 'erberts who again are difficult to categorise (unless you subscribe to the 'Wrestle Punk' ethos) and suffer as a consequence. Shame on all scenes for not embracing this crew but I am sure with a few prods and pokes here and there the SB machine may just start getting its true rewards. From first to last this was highly enjoyable and despite the guitarist Damien saying he was far from on top form (the hazards of being a perfectionist and ever willing pisspot) I still adored this grapplefest of buzzing bomb blasts. In fact my entire family always enjoy this crew and my young lass nodded her tired head in appreciation and gave me a confident thumbs up. 'Buy Me A Gun' is my fave and ' My Girlfriend Was A Nazi' is my daughter's fave and my wife just simply stated that these were the best band of the night. If ever a band was worthy of my utter attention then these are the boys. Just remember whilst you are reading this lads that anything the Fungal bugger can help you with just holler. One of the joys of being a promoter is dealing with bands of this ilk - and to think the first time I saw them I was unconvinced. Just goes to show one viewing is never enough!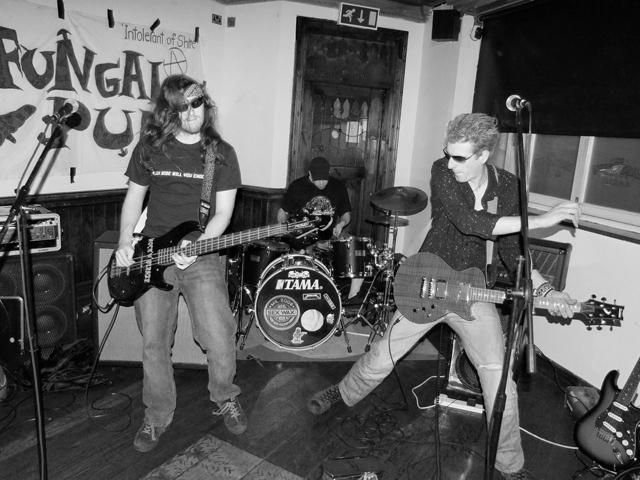 The Senton Bombs - one reason why Fungalpunk carries on - just class on and off stage
Finally Flat Back Four. A shit turn-out for a band who went down a storm last time they played at this gaff and why the lack of punters tonight I have no fuckin' idea At this point I was tired, not looking forward to the drive home and firm in my belief that I really am not putting no more than five bands on a gig again (after the ones I have already booked are finished that is). The more the merrier has always been my ethos but the fact is people ain't up for it. My enthusiasm overrides my common sense and I make no apologies for that. You really can go and fuck yourselves if you think enthusiasm is a bad thing. It is the way I am and yeah I make mistakes and fail terribly in seeing what the punters want rather than what I believe them to want, but after a long haul I realise there are more fuckers dead from the neck up than I ever deemed possible. Anyway I am raging again and detracting from the headline band. Flat Back Four are a good outfit at their best and played a fair set here which in truth was neglected by myself due to familiarity and tiredness. My ears pricked up at the new stuff but the old stuff I can now listen too on auto-pilot especially when drained. This was good stuff and I can't really add anymore than what I have written on numerous occasions about this band. They do the job and border on the over-technical but stay on the right side to always please my goodself. 'Share The Wealth' stood out tonight as well as several other personal faves. You always get value for money with FBF and on this evidence you will continue to do so.
So a testing night but one in which the bands proved yet again that the underdog scene is flourishing. Money down (despite selling all my CD's) and pressed for time we said our brief farewells and headed home. To cap things off the car started playing up and is now out of action. With our lifestyle commitments and financial strains it will be more stress and hassle but hey what can you do? Punk is a passion I thoroughly believe in and it really puts me through my emotional paces and thus takes its toll on the old noggin. It is easy to cruise on if you don't care but this twat does and so the up and down moods are part and parcel of the Fungal package. Hey ho - on with the SAS show!
by Fungalpunk/OMD
Photos by Tim 'Punk4Life' Davies (more pics at Punk4Life.)