So six bands became seven, seven became six, six became five and five became the final four. Exhaustive attempts at trying to get this back to a seven band showcase failed miserably and after numerous messages after various piss-abouts with gear I had to settle for a quartet of bands and thus make do. So me, my missus and daughter picked up Tim 'Punk4Life' Davies and set off in shitty conditions that did little to help my flagging mood. You can't beat a drive along waterlogged motorways on a dark rainy evening in November to dampen ones spirits and this was very much the case here. Piss, shit, bollocks, twat as they say. Arriving in good time and getting the last available parking spot we entered the gaff to find a drum kit already set up and the PA playing silly buggers. Where the drum kit came from I have no idea as after asking the gaff months earlier regarding gear I was told they had a box with knobs on (PA to you and me) and fuck all else. Apologies then to 2 Sick Monkeys who were kindly bringing their kit for the night - such are the hazards of poor communication and all I can do is work with the info I am given - aaaagggghhhhh!
The bands turned up in a steady trickle as did 3 members of Most Likely To Fail who were providing back up guitar rigs and mikes in case anything went tits up. Take note all you slackers out there who struggle to bring gear to gigs on yer doorstep - these guys stepped in and helped the cause with no fuss at all - like I have always said - a great band full of great unassuming guys who understand the crack - sincere thanks to Dave, Sean and Martin for coming sown - it means a lot lads - cheers. As the venue became quite busy it seemed, as I guessed, that Hospital Food (the first band on tonight) had done the business and dragged a few down with that wonderful punk Docker in attendance and bringing his much welcomed smiling warmth with him - always a pleasure! Due to being down to 4 bands there was no rush tonight but at 7.40pm I cracked and gave the go ahead for Hospital Food to get up and do it.
This was Hospital Foods second gig and the embryonic rustiness was more than a little apparent but didn't over corrode this set and left it still a pure punk rock pleasure. So fuckin' what if its loose, so what if it was a 10 song blast, so fuckin' what if the sound on stage wasn't up to scratch? The band ground out a fuckin' enjoyable racket and the feedback I got from the decent crowd in attendance was all good. This is SAS punk plying its trade and keeping it real, not some arty farty pretence playing polished turds for a living. Frontman Schoffa let his gob run riot, the belly was produced and the following fans lapped it up. 'Punks Not Dead' is a classic in the making and the cover of 'Cop Cars' and one about beer went down swimmingly, but this was a 10 trick treat that has some solid songs that will only grow in stature and please many a spiky head. With some good gigs coming up it seems the band know some reliable contacts and I reckon will do alright for themselves - watch this space.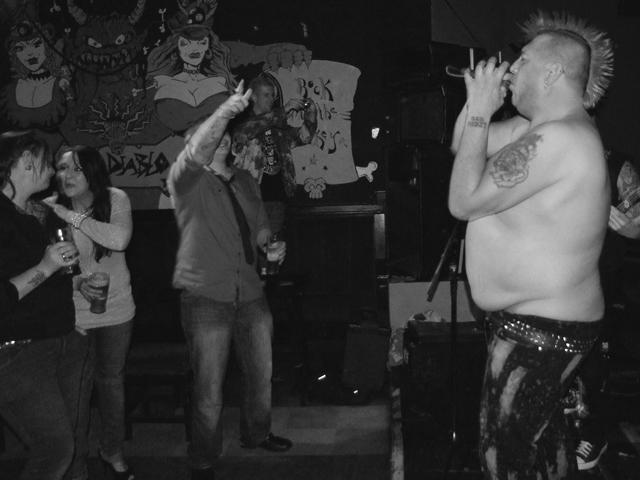 Hospital Food - what you see is what you get
Pop Fosters next and this was one of the bands that had previously played an SAS gig that unfortunately I didn't see due to the perils of hard sherry swilling. The day after the bender I was livid as I thought I had really missed out on a grand outfit and tonight's effort really brought home how it was truly my loss. Just a lass on drums and a geezer at the front playing guitar and giving some vibrant vocalisation this was a special set that I thoroughly enjoyed from start to finish, including the song 'Breaking Up' ha, ha. The garage punk rock pool is always nice to dip into and current bands that win my favour are The Despondents, The Spitballs, The Mome Raths and of course, the Pop Fosters. The energy and general vigour vomitted forth here was a delight and the songs retained the unwashed productive edge but retained a solid melody and rockin' rhythm. 'Myopic' is a peach but my fave tonight was the pulsating 'Dear World' that added some choice riffage and genuine shout and clout. The energy was maintained to the bitter end and I couldn't wait to give my thanks and appreciation to both players. Totally wonderful and again a big thank you to both. Go see this duo - class!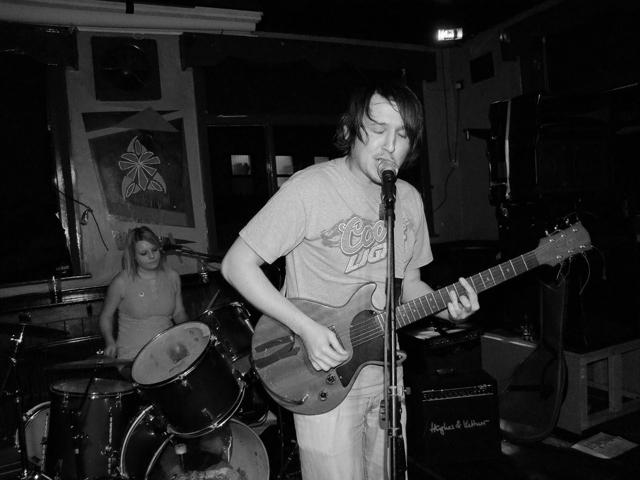 Pop Fosters - impressed - you bet I was
The Razor Cuts are another band that have played a SAS gig and missed out on a viewing by myself due to the blinding qualities of the bronze. In fact it was the same gig as I missed the Pop Fosters so don't go thinking I am a regular pisshead - well perhaps now and again! Anyway this was a different style with 5 musos' plying their trade and mixing a Mancy attitude with some well constructed rocking rhythms. Each song merged into the next quite neatly and the guys applied themselves to the sonic output more than adequately. This may not be punk enough for some (as feedback as already suggested) but I have no gripes. The construction of each song and retention of tune was spot on and in parts really hit some high points. Being unfamiliar with any of the tunes only enhances my neutral standpoint and on this evidence I have no complaints except that the Ramones cover was unnecessary and not to my liking. 'Drop The Bop' is my advice however it did wake one or two members of the crowd and so I guess served its purpose. I reckon the Cuts are capable of producing a good debut CD and I look forward to seeing these again on the next SAS jaunt.
The night was closed with a musical exhibition of bassism and drumming, and how to combine the two and rock some serious bollocks off. A simple lesson in words but musically you need to be a real artiste to master what the 2 Sick Monkeys rattle forth. This outfit, two-piece, duo, couple, pair - whatever you will - are a seriously good unit who work darn hard and are a total asset to the punk scene. This is the yardstick to judge by - does your band apply themselves so much as to produce a show of such intensity? Is your band willing to clock up 500 gigs in such a short space of time with a view to reaching the 1000 barrier in the not too distant future? A couple of questions well worth considering. This is the 7th 2SM appearance on the SAS Tour and in that time they have never failed to do the business. The drums provide a steady backdrop to the mesmerising bass work and both components work in gratifying unison and bring forth a punk treat. The songs excel in many areas with various intricacies and twists that add to the holistic enjoyment. The best tonight - fuck off they are all good! The banter was especially good with one heckler completely stumping Pete and leaving him speechless. Ha, ha - that'll teach ya to talk to strange women.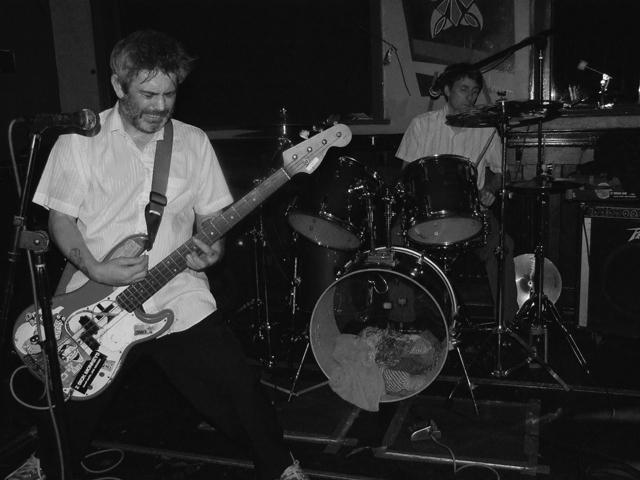 2 Sick Monkeys finding time to play a song between rants ha, ha
So a good night with an average turn-out that dwindled off towards the end thus in my mind insulting the skill and artistry of the incredible 2 Sick Monkeys. It still went well though and thanks to Noz and Karen, Steve from Phoenix, the MLTF boys and Ian from the Despondents for dropping by.
The SAS crawls forth facing its usual adversity and barricades with news of gig clashes coming my way and doing little to convince me of a healthy scene. Fakers and takers can carry on and it is the same as usual for Fungal and the ones who want to join in - real punk for everyone - enjoy!
by

Fungalpunk/OMD
Photos courtesy of admirable pisspot Tim 'Punk4Life' Davies - more at www.punk4life.co.uk