I had high hopes for this next venture at Bradford Zuu Bar and teaming up with top dude Stu Taylor of STP Promotions only increased my sense of confidence for a 7 bander filled with varied noise. Having said that I am also too wise now to realise nothing is certain in this untrustable scene where many talk a good story but very, very few are actually walking it. During the SAS Tour many a lying cunt has been exposed and many a fraudulent fucker who really isn't worth my time of day has been unearthed and I am at the stage now where I am quite happy to not even waste breath on them and just keep things at a cold and frosty distance. Nevertheless the SAS has remained real and uncovered some darn grand people out there who I am quite happy to struggle along with and help all I can regardless of how much of it is indeed 'pissing in the wind'. Failing with flamboyance and your ethics in tact is far better than sucking on insincerity, playing ball with cheats and this succeeding via selling out. Anyway on things go and here is a tale of another night peddling underdog punk rock.
With my internet connection down I did wonder whether I would have any messages prior to the gig informing me of a late pull out or gear problems. Not to worry - the day was here and nothing could be done so after a hectic morning we three merry fungal friends set off on a journey that was to be through pea-soup fog and a snow covered landscape that did little to raise the spirits. Good time was made and after picking up my mate Tim we arrived at the gaff at about 3pm. Mick the owner duly arrived and backdrops were up, general bits and bobs sorted and just after 4pm good old Stu Taylor arrived with his retail lasses in tow ha, ha. Stall set up and a time to natter with a good talk about the scene and the shite involved as well as the vast amount of good stuff still being overlooked was had. For your interest the result was still the same - myself and Stu are still both bewildered, disillusioned and sticking on in there - if we were a wrestling tag team we'd be known no doubt as The Barnacle Brothers due to having that 'clinging on' ability ha, ha! Mind you the thought of myself and Stu in leotards wriggling around with a couple of other blokes in the name of 'sport' is not one I care to dwell on so moving swiftly on...
Bands arrived slowly in drips and drabs but came a lot quicker than the punters - oh dear here we go again. The Mardi Gras Bombers were the first to arrive and after handing out the first in their new line of punk rock preserves 'Mardigrasmalade' they set about sorting the backline out. More bands arrived and after a short while we were moments away from the first band up. 1, 2, 3...
The Vagabonds came via a roundabout contact through a band I have done a few gigs with (and thoroughly enjoyed) namely Impact. Again the latter band were sorely overlooked and I very much hoped, and indeed do hope, that this won't be the same for this lot. Bloody nice dudes these and this set was a crackin' way to warm up the evening with a few cover songs and plenty of impetus the main order of the day. 'Pills' opened and was smartly executed with the bassist full of beans and obviously ready to rock and roll. Drums were hammered with insistence and precision and guitar was neatly applied to the mix with attentive artistry. The front guy, although static, played his part and had a good strong voice ideally suited to the band and held the stage with ease. The small crowd were lapping this up and great song after great song was issued forth. 'Chinese Rocks' was superbly done but I really couldn't find a duff moment and further listens to 'Glory To Music', 'Dear Heart', 'Tokyo Rose' and 'Highly Strung' must be sought. One viewing and consider me a Vagabonds fan - simple as ABC!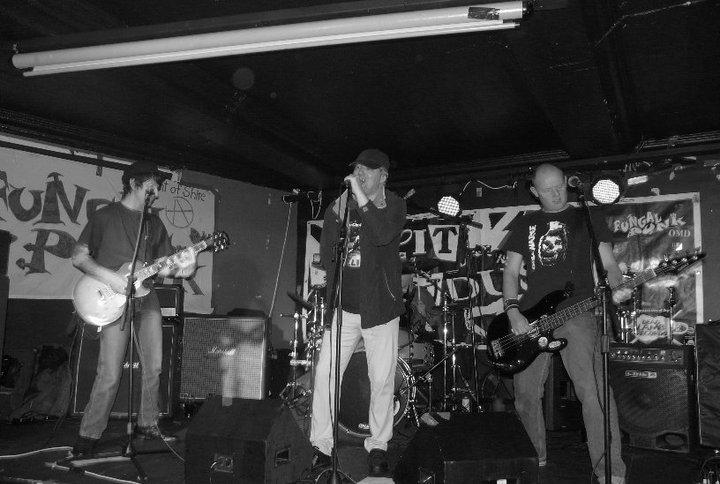 The Vagabonds - plenty of energy, experience and entertainment
Radicus next and the grapevine told me that a technical band was destined to grace the SAS stage although the crew would not get overly flash and remember that melody is the key to musical success. Up the crew got, the set was highly paced and delivered with sincerity and the people in the gaff seemed to thoroughly get where this band were coming from. Plenty of good riffage, numerous moments where the band moulded into one hard firing unit and a superfluity of sonic tangents to ponder throughout. What Radicus bring is youthful zest, eager and happy go lucky attitude and a good appreciation of the scene and how hard it is to make inroads. The odd blip was had yet you'd have to be sharp to notice. Overall I loved this, have no complaints and would be happy to do it again and recommend this lot to all and sundry. I hope Radicus stick at it and don't get disheartened by their hometown apathy and that which is beyond. Remember dudes a few genuine fans are better than an army of bullshitters - keep at it!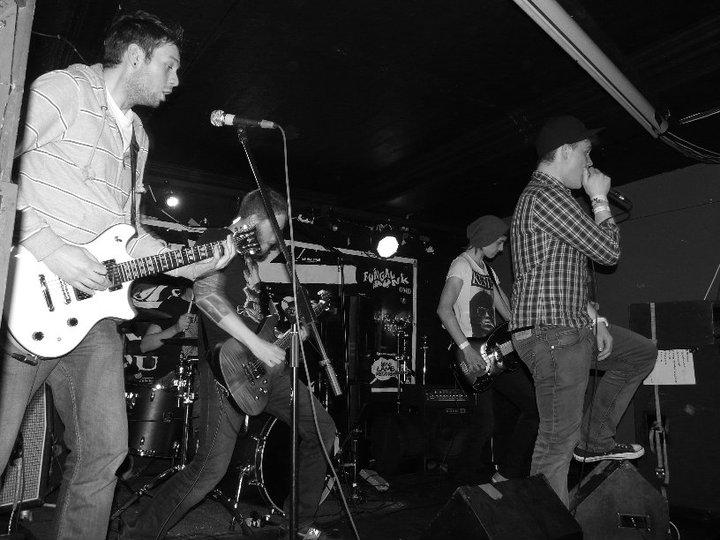 Radicus - zipping, crafty and a real treat
The Culprits came next and had taken the unenviable task of getting here from the charming Alan Partridge city of Norwich. I knew nothing of this band (which is always exciting) and put my faith in Mr Taylor who recommended them a slot. I was not to be disappointed with the main drive of the performance being a male/female vocal switch that drove many songs along on musical fiery wheels. Drums were slapped about in disdain, bass was skilfully applied albeit in an unobtrusive and non-vulgar way and guitar was persuasive and passionate throughout and added extra spirit. The male/female switch between vocals inspired songs to grow in stature and the ones that used this formula the most were the ones that achieved greatest success. Again a very talented crew with lots going for them and I suggest to all perusers of this textual appraisal to go forth and seek out a Culprit number or two.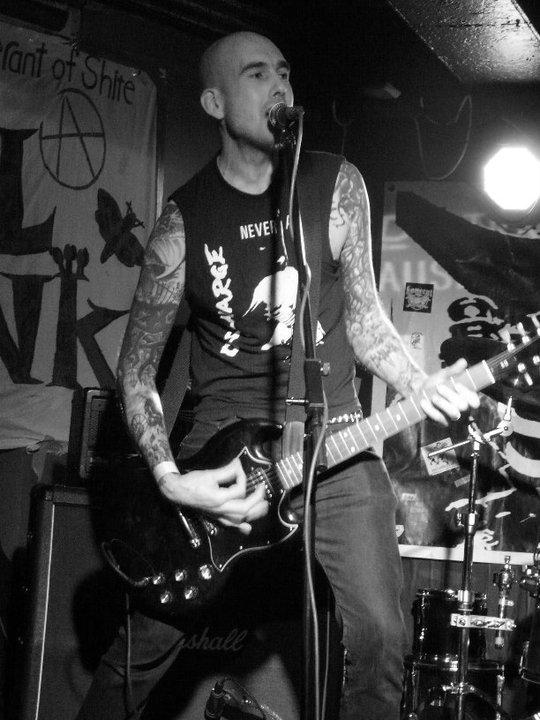 One of the Culprits guilty of making darn good NOISE
3 down and 3 great acts - told ya didn't I?
FUNGAL FACT: The Despondents won the Fungalpunk Album of the Year last year - did you buy a copy? Have you checked out these dudes? If not then you are missing out big time! Garage punk is where the scene has its roots and as me and the MGB frontman Damo questioned whilst emptying our pipes 'why do not more people get it'? An odd thought indeed and bands like The Despondents do suffer as a result. Tonight they hit the stage, did what they do best and played a poppy, punky, grimy set filled with quality number after quality number. The opening dedication of 'Got Nothin' To Lose' to yours truly set out a robust and stunning stall and the set just thrived from there on in. 'California' has surfing qualities but the ocean here is filled with lovely pollution, 'Stoned' excites as well as grooves, 'Get Outta My face' is virulent and vicious but ultra catchy, 'Schizophrenia' has a niggling vibe that just won't let go and from the opening personality change really pecks head, 'Advice' is busily addictive, 'Talkin' Bout Love' teeming with passion and the closing 'Dressed In Black' urgent and demanding. A fuckin' good basic band with intricacies easily overlooked but these guys are digging in and I reckon their day will come if they are willing to stick it out. Now go get these guys booked and please pick up a fuckin' CD.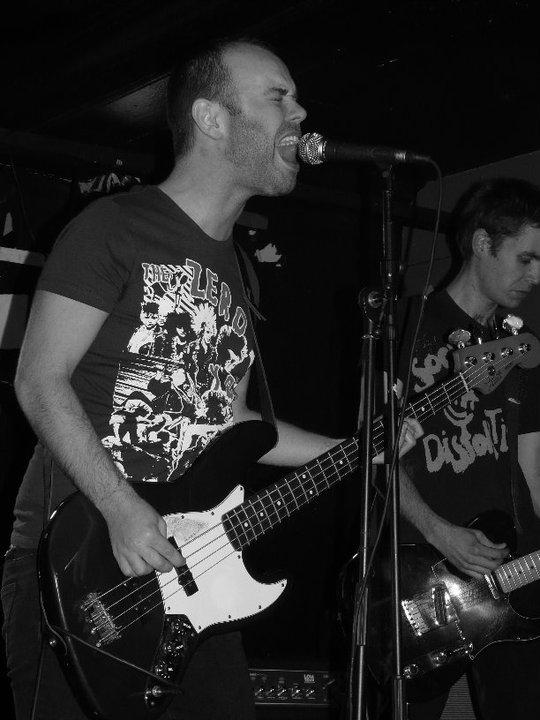 The Despondents - Really on top of the garage game
Freedom Faction are fuckin' A class punk. Unfrilled and as honest as the day is long. This is just decent noise to admire. The people are straight ahead and do what they do without pissing about, talking bollocks and pandering to the pretentious. Totally approachable stuff and - the band can play. I love Nicks bass and noise enthusiasm, but drums and guitar are just getting better all the time and contributing their share quite nicely thank you. At the front we have a lass named Rhiannon who, may I add, is a singer to be reckoned with. The switch from sweet to sour, saccharined to spiteful is done with such ease and was nowhere more obvious than in the grotted up Grease cover that was an utter joy. Every song though was thrilling for me and a few I am unfamiliar with are hopefully going to be released soon and so satisfy my FF fetish. It had been too long since I last put this bunch on and that sensation was heightened as I watched this spot on crew perform tonight. Need I go on? Do I have to harp on and on and on? Just ask anyone who was at this gig or who has seen Freedom Faction to give you their view then ask yourself why you aren't chasing down this band - crazy ain't ya?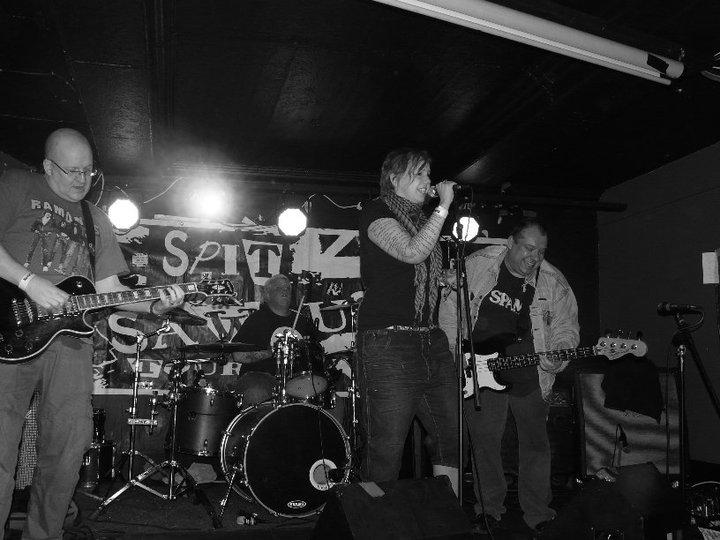 Freedom Faction - it is true that I rate these as one of the best SAS bands I have worked with
Mispelt 2.0 are a favourite band of mind, a fact I cannot hide and wouldn't fuckin' want to. Again 4 good people, all talented and committed to the cause. Progress yet again is slow due to the band not being 'mainstream' (whatever that means) and of a greater status (as if that matters). Musically much criteria is hit with big riffage, solid song construction and pick up and play melodies the main essentials of the crews acoustic attire. At the front is a chimp lady known as Jen who is a tuneful treat to behold and should never, ever be underestimated. Like a gibbon with a golden banana she skipped around the room with uncontrollable glee tonight and gave a performance we should all look at and perhaps take a bit of pleasure from. The main vibe you get from Jen and her fellow primates is 'just fuckin' enjoy it' and so as a matter of decency....I did! 'National Insecurity', 'Foxtrot Oscar', 'Petrol Bomb' and of course 'Junkfood Generation' grew tall from a heady forest of verdant trees of tune but a again no struggling saplings were found. Great band again deserving more and all we can do is watch the usual space. There is still a lot in the tank of this crew and I await future moves with high anticipation. Cheers to for the free T-shirt dudes but alas I am now only a large ye buggers and not a fat bastard as ye seem to judge me - bah. Cheers though and thoroughly appreciated.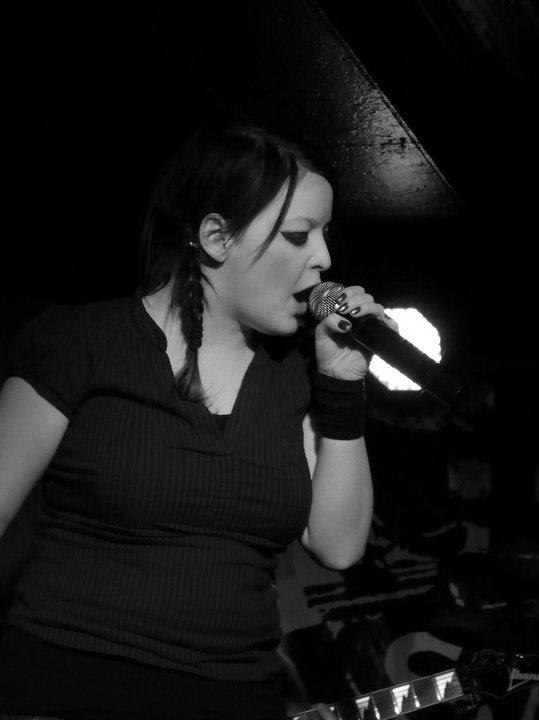 Jen of Mispelt 2.0 - Red Alert - The monkey is out of the cage
Finally to the headliners The Mardi Gras Bombers - complete with thieving rip-off merchant Gerard Hornby who gets great delight in ripping off peddlers of punk with the odd 5p coin. What can I say? The MGB machine have, if brutal truth be told, seemed to have become somewhat the whipping boys at local gigs with early slots coming their way aplenty and nothing much else on offer. For me you have to keep it real and this lot are thoroughly deserving of a headline gig and here was such a situation. I had no qualms about them doing the business and that is what transpired with a set achieved that was accomplished, booming and just growing in conviction by the minute. Individually the components are sound with penny pinching Gerard tighter than his own financial budget and always happy in his work. Bass and drum work can be often overlooked and I suggest to anyone watching this crew to pay attention to these somewhat hidden areas - jolly good stuff I'd say. Damo at the front is an accomplished performer and bloody likeable chap and he really does tie all parts together and give the band a certain 'completeness'. Favourite songs - well from 'Girl X' and 'I'll Be The Devil' through to 'Thought Police' and 'Derelict Spiv Nation' to the finale of 'I Just Can't Be Happy Today' this was all good although a brief distracting chat halfway cost me two songs that I never found out about. No gripes and the final cover, which is one of the better Damned songs, was solidly applied and why shouldn't it be - a good fuckin' band these tha' knows.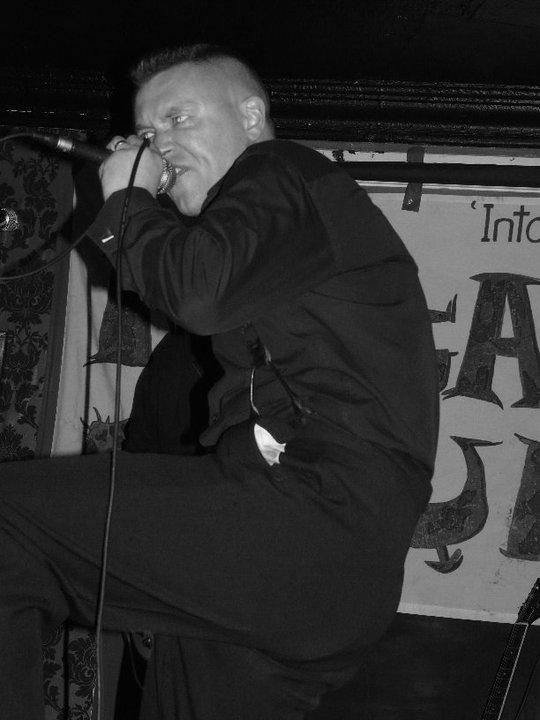 Damion of MGB - nowt wrong wi' a bit o passion lad
So there you have it - 7 bands, all quality and all for a fiver. And what did we gain from it? Well a fat head, a hole in the pocket, a poor turn out and a long awful drive home through thick fog and snow covered fields with a tired family. The questions are still there to be answered and I know my own personal answers which I am not thoroughly happy with but know they are right. Enjoyment was had but how much longer can we pull if many are tugging the other way - you have to wonder.
Thank you to all who did make the effort, bands and punters alike and of course to my good ladies and Stu Taylor - see there are a few good un's.