And here we go again - back on the SAS Trail with a new batch of bands hoping to make a statement and work together to make some headway and have plenty of fun. Triumph together or fail together - let's see what happens this time shall we? It is a lost cause never ever destined to be flavour of the month but one thing it will be once again is built on a sound punk rock ethos - have it! Perhaps an appropriate name for this tour would be 'Diary Of Some Nobodies' - know what I mean Damion!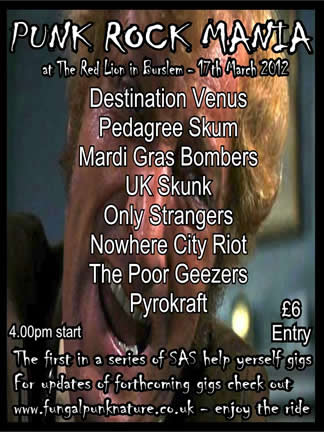 I was picked up at 3.30'ish by Mardi Gras Bombers bassist Mark and drummer man Trev and immediately set about tackling a good bottle of red and a tin of lager. The journey down was swift enough with Trev exposing himself to a passing hunchback and Mark showing how easy it is to drive with a downward facing erection - bizarre stuff but it passed the time. At the venue gear was unloaded and we arrived to find today's chosen organiser (Katie Phoenix Dodd) and her Pedagree Skum pirates on the way to having everything set up and ready to go. The venue offered great promise with a raised stage area and a good low ceiling - all ideal for decent acoustics. Another ale, some chits and chats with many a deviant, a photographic session for a forthcoming flyer (I have no idea what that will entail) and the first band were tuning up and in and getting ready to go.
Tick, tick, tick...
Pyrokraft are a band I had never heard of and who were chosen at the last minute by the aforementioned Ms KPD and came with the freshness of youth and the honesty those early years bring. As ever the SAS Tour welcomes all who want to keep it real and have no hidden agenda and so I had no gripes at all about having the youngest band of the day open up and chance their arm. The first number they offered had an immediate catchy pulse that was overlain with the front lasses crooning tones which somehow complimented, albeit in a totally unflamboyant way. The band looked a trifle static at first but as the set progressed so did the sanguinity and despite not being punk (in the pedantic sense) and leaning towards the more rocked up genre the band fitted into the bill quite nicely and I would be more than happy to offer them a few more gigs here and there. The second song highlighted the industrious drummer who seemed more than a little capable with the structure of this ditty suiting his style exactly. The build of the song was 'positioned' and it added strength to the half decent opener. The visuals were uniform which struck me as a band who work well together and when they do hit things right some good musical moments can be had. Unfamiliar with their set list I did make note of a song (about the 5th one played) which had some deliciously liquid moments - I did mean to chase up the title but alas many things buzz in this Fungal Fruits noggin! Yes - not bad at all - the Tour was underway - well done Pyrokraft. Extra note - would I ever have believed that one day a band would plough out a cover of 'Paradise City' on a SAS gig - aaaggghhh! Hey but there ain't no rules!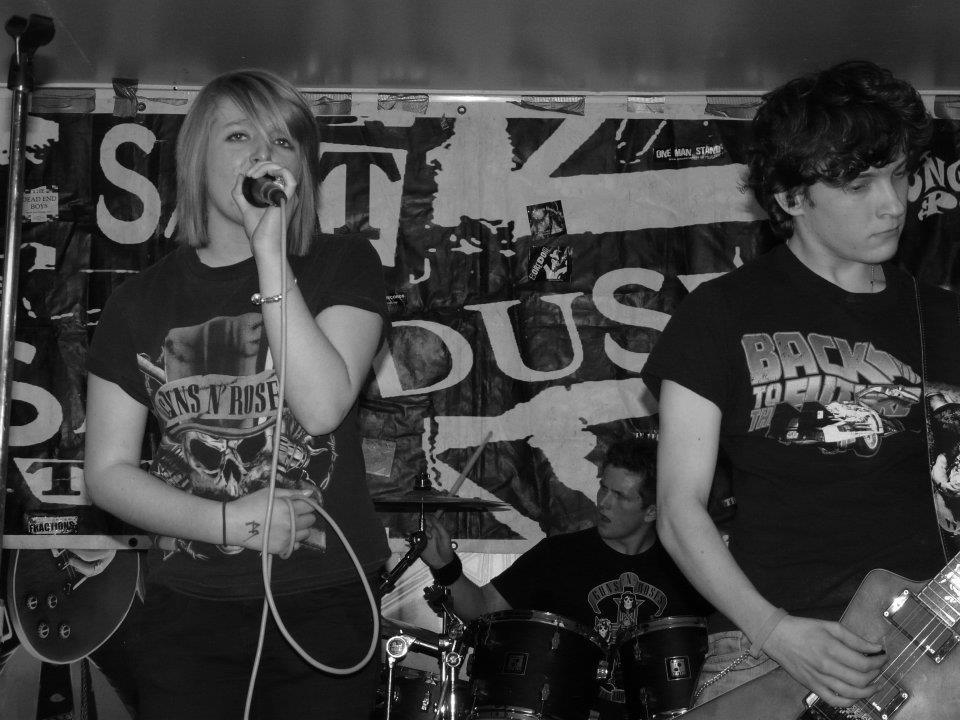 Pyrokraft - metalised and willing to do their bit - a very welcome band in to the fray
Next up a cut of true SAS sonica and spirit with a double act known as The Poor Geezers who just get up, cobble together a performance that is haphazard in parts, thoroughly enjoyable in the main and delivered with true 'this is how it is' honesty. This is my style of noise and of an ilk that is utterly without pretence or affect. With Eagle Spits on poetical gob duty and Dean Riches on strings and lone tub to thump this was simplistic, natural and of a chosen mood. 'Chip Shop Fascist' was an ideal example of the unkempt approach that drips with character, the botched up 'Warhead' stunk of easy ad libbing and the art that is patchwork punk, 'Patio' was a lesson in DIY composites that stick in the hungry noggin. Eagles new lady was requested to jump on board and she duly delivered a ditty entitled 'PMT' that gave a sure fire warning to all men with the rest was a montage a controlled mayhem but a picture painted that was very much loaded with messages and beliefs. This is why I am a punk - for moments such as this - if you don't get it you never will - it is your loss.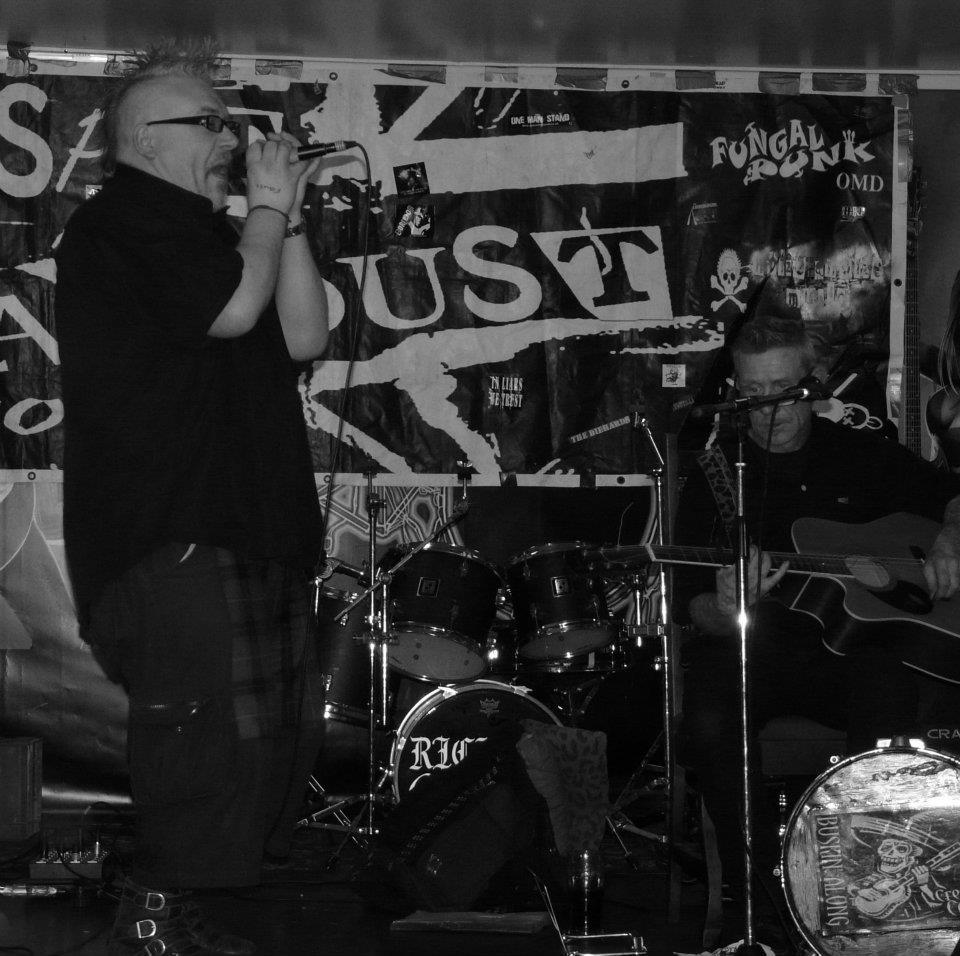 The Poor Geezers - Professors of Patchwork Punk
Nowhere City Riot came next and changed the tone of the entertainment thus far with a blistering beefed up blitz of powerhouse punkage that went at it from start to finish and left the ears ringing with delight. Hurtling in with a powerful signature tune there was an obvious intent to stamp their mark on the day and with me they certainly did that. 'Outlaw' kicked a bit of arse and 'Our Generation' hammer whacked the attention of all in the building and spilled away with a Clash-esque feel. The Rancid inclusion did nothing for me but I hate that band anyway but overall this was a well muscled lesson and again contributed heavily to the overall mix of the day.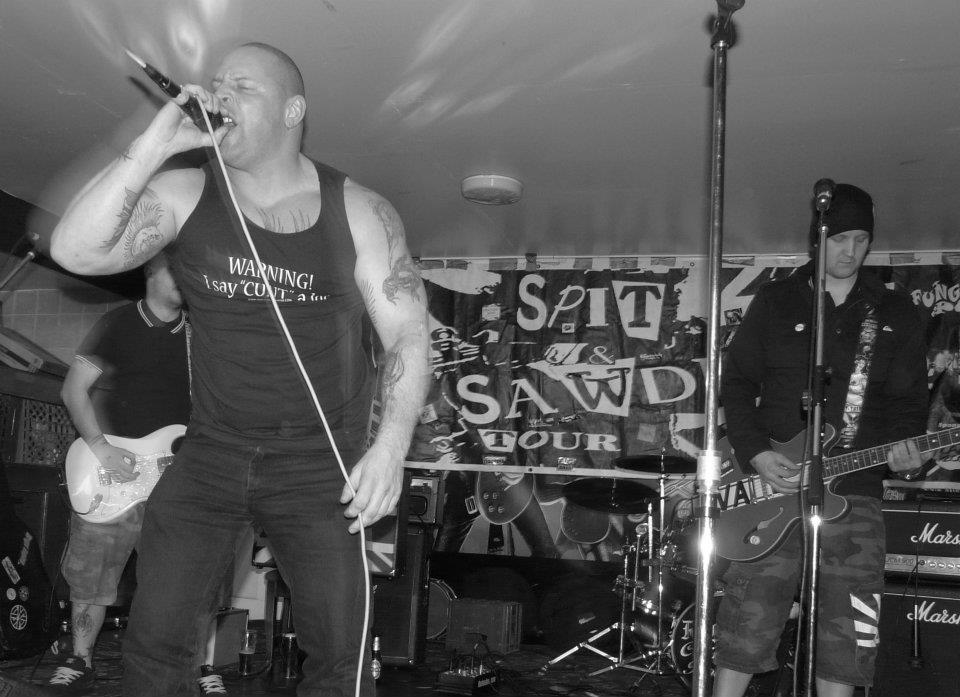 Nowhere City Riot - class brutality
UK Skunk continued the day's activity with a set that has much promise but for me is not fully tapped yet. Don't you worry though these guys have plenty in the tank and this was far from bilge. In fact it was a good honest offering and perhaps it is just old Fungal again still trying to squeeze the best out of every band - gotta be done tha' knows. The band threw in 2 covers which I felt were both run of the mill and both were followed by their own material which was bloody well good enough. In fact the track that followed the Anti Nowhere League song was a fuckin' corker and slipped into the memory banks has one to watch next time. I am now in possession of a CD for which thanks are offered and I am very keen to hook up with these dudes again and watch them turn up the style and quality. Good band - watch this space.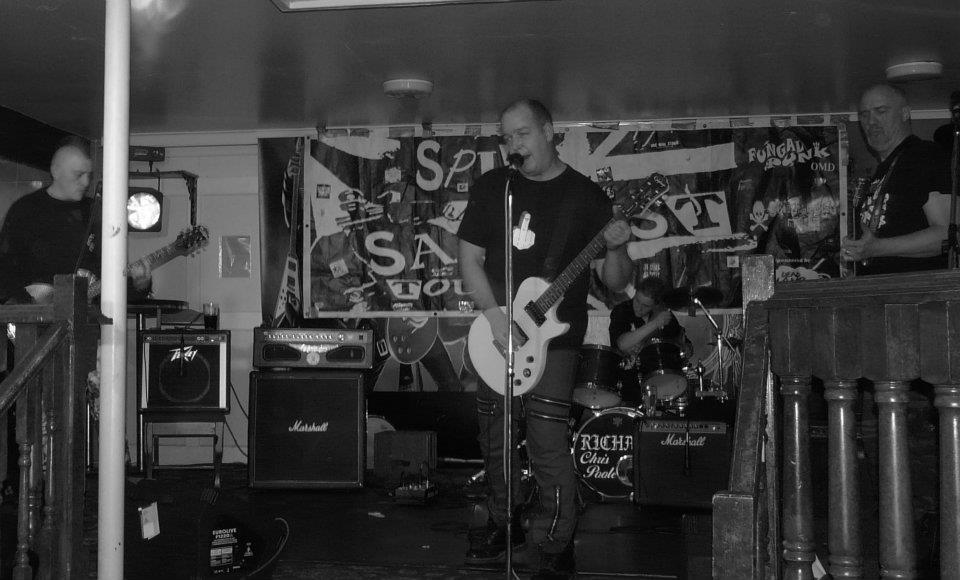 UK Skunk - good band looking to go a few steps better
Next The Mardi Gras Bombers and what a fuckin' performance. 4 areas produce the noise and all 4 areas do it amazingly fuckin' well. This band have worked their noxious nuts off to make a stand and after their recent CD release need to follow up with some big fuck off showcases. This was the first one and really was a black edged outpouring loaded with passion, tight deliveries and unorthodox song writing. There is an underlying tension within the racket and I suspect that mainly comes from the uptight frontman who struts his stuff with utter passion and belief. To do this he needs 3 good players at the back and that is just what he has and so we get treated - treated to an avalanche of bold riffage, cute unexpected turns and consistent big hitting. 'Girl X' and 'Resurrection Gang' remain my favourites and I would be hard pushed to tear out a bad un'. Class A today!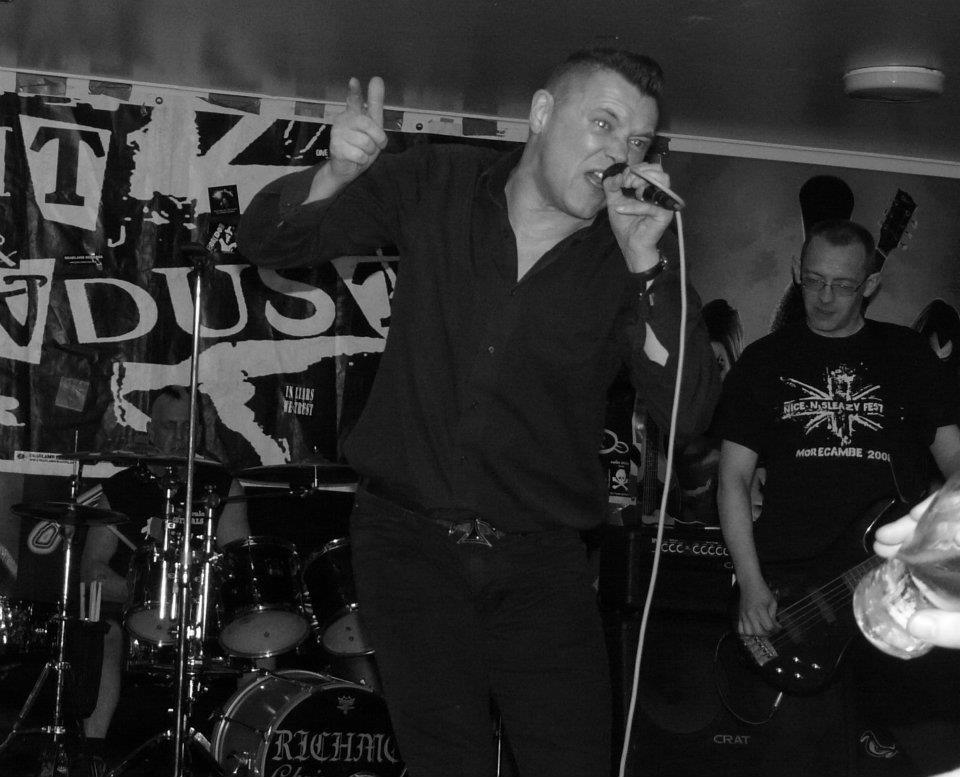 The MGB machine - the wheels are turning all the right way
The ale, the ale - oh why doth thou addle my head so...
and on we move.
'Only Strangers' offer something different to the Tour and come at ya with a noise on the precipice of much but never really committing to anything. The band are still in their infancy and played their very first gig on an SAS show only a few months prior. They were good then but by heck how they have come on. Suddenly the bold factor has been jacked up, the band play with a comfort and very often hit some solid highs that leave the jaw hanging. They are making quite a reputation for themselves and it is fully justified by a crew who have no affectation and just wanna play some good music. I got distracted during this by a few wagging chins and so will make point to do an in depth review next time - wait on!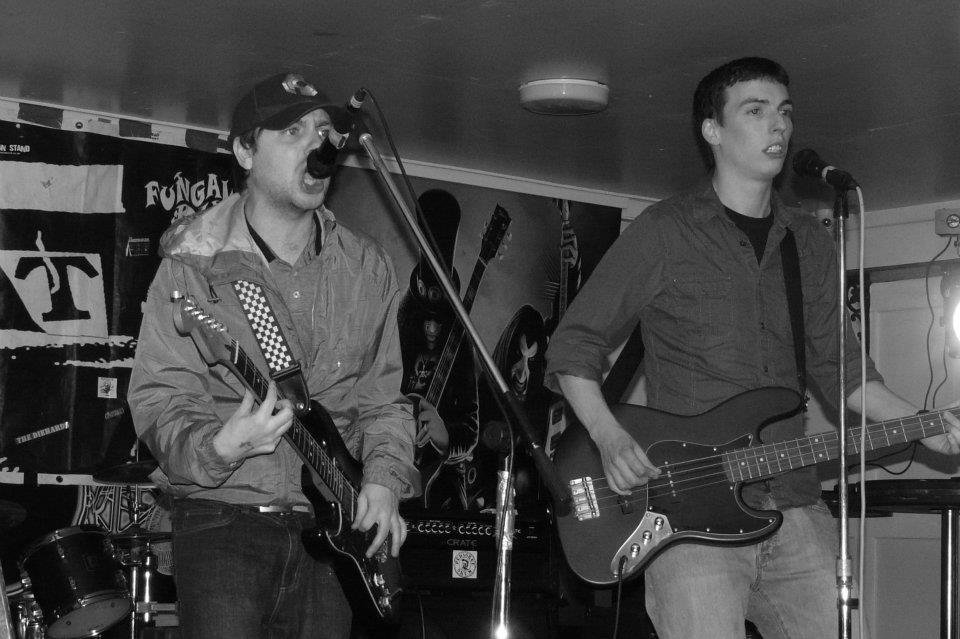 Only Strangers - some cute twangings going on in there
Pedagree Skum next and they are a band who keep things very raw and rough around the edges but when finding their groove do produce a well thought out noise that does indeed make a good impression. The initial viewing I had of this unit left me a little cold and 'none the wiser' due to a piss awful sound that did the crew no favours at all. Now they are on the SAS Tour I can take my time with the overall assessment and build up a better and more familiar picture. Tonight the band produced the goods with stringwork harking back to an industrial sound of yesterday, the drums adding their own hard laboured approach and Katie up front adding good visuals and some nice vocal variation. Ideally I need to get some stuff on CD by this crew and ponder the flavour a little deeper but what I witnessed here proved that they are going to be a worthy and essential element to the tour as a whole. On stage was nicely efficient, off stage was wonderfully approachable and understanding of what we are trying to do - an all round pleasure and give me more please.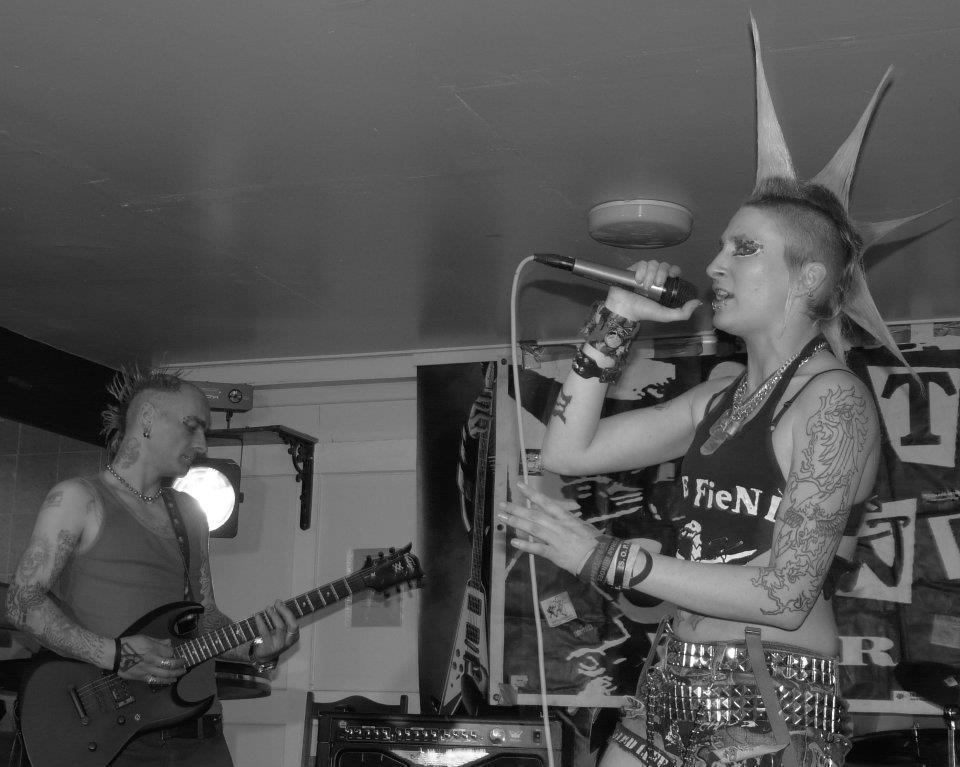 Pedagree Skum - yes - attitude and acoustics are all fine by me - enjoy
More ale and finally to Destination Venus. Another local band who deserve untold support for their excellent attitude and fuckin' great song construction and delivery. For me this is a very smooth running band who just crack out one top tune after another with very little fuss but with a very applaudable impact. The dude at the fore is a sanguine chap who moves with the melody and produces a good oral warble to compliment the somewhat poppoid output. All string work is seen to with high calibre efficiency and stick work is dusted down with aplomb from a darn decent fella who does it for the right reasons. I have to say that Destination Venus are one of my favourite bands of the moment and find it quite bizarre that many in Stoke are allegedly calling for more punk and yet fail to support what is on their doorstep. Hey ho people are a funny breed! The crowd got involved with this and it was good to see the ones who had made the effort enjoying themselves so much. At this point the Red Wine and ale was taking effect but I just managed to scrape through and appreciate this fuckin' fine unit. Best song - all of em' - like I say one of my current faves.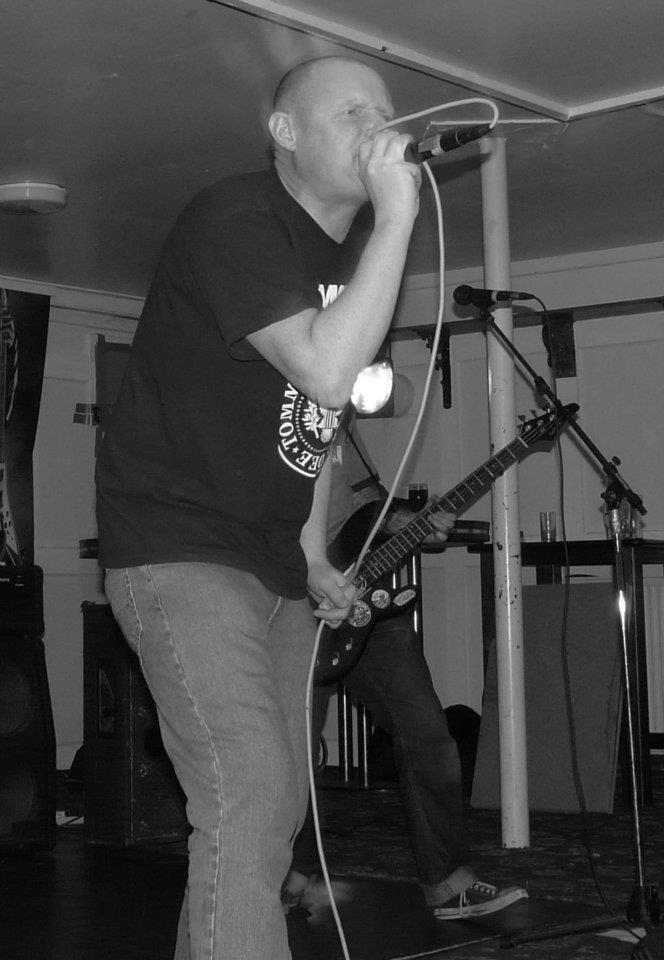 Brett of Destination Venus - great frontman at the helm of a great band
And there you have it. We still roll on! Big thanks to Katie and the Skum Brigade for doing more than their bit and getting the show on the road - really appreciated. Sincere thanks to the bands for taking the time to play and also to the punters who came, supported and enjoyed. The Red Lion is a choice gaff and a real good set up and hopefully we can do another there sometime soon. Where will we go to next is the question - many options are available and hopefully we can get the next band organising and doing their bit. Remember this Tour is about everyone - think on. A good day? Of course and lets build on it and try and get some recognition for the genuine underdogs.
Review by Fungalpunk/OMD
Photos by Laura 'Click-o-Matic' Gillett