SATURDAY
The fight continues - the Underdog should never lie down. Today your forever feisty Fungal teamed up with Stu Taylor of STP Promotions and Gary Eagling the champion of the homeless (a veritable fruitcake I have much respect for). The terrible trio had a quest and to raise money for the homeless and Butterfly Conservation was the priority but also to showcase the quality of the underground noise and keep things fresh, moving and for everyone - but, would everyone want to help things run smoothly?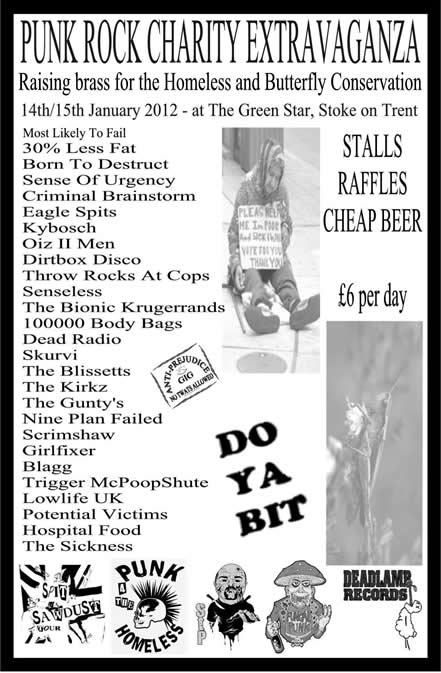 Arriving at The Green Star in good time I have to say at the start, all the way throughout and to the last minute the staff were accommodating, polite, hard working and very helpful. A real pleasure they made this and despite the expected hiccups I just want to go on record as having giving them due praise and thanks - thank you. So we arrived (me, my good wife and equally good daughter) at 11am with the first band due to jump up at 12 noon prompt and start the day rolling. Stu of STP was already there with Sam and Barbara who patiently do the stall, chat away and judge everyone who enters the gaff (ha, ha - only joking there). Salutations, last minute tweaking and drink were had and 12noon arrived. No bands, no gear - (well 3 dudes out of Skurvi were here) but the opening crew were nowhere to be seen. What to do - aaahhh yes - sit it out! So a late opening band and add to this the call on the way down that informed me 2 bands were pulling out due to the same bassist being out of action and the same old, same old was well and truly kicking in again. Shit happens and one has to just get on. 12.15pm, 12.30pm, 12.45pm, 1.00pm - lo and behold the first band arrived - namely Hospital Food. Traffic Problems had been the cause and after a small rant from Fungal we all entered the gaff and let things be - like I say shit happens. Still no gear but by the good kind hand of Lady Fortune we bumbled something together with Skurvi providing a combo and someone else providing the rest (alas I have forgot but whoever it was thank you). So 2 hours late off the gig did set. I don't want dwell too much on bands but just get the main points across - I am utterly snowed under at the mo and just want to highlight what the bands did and what you missed if you weren't there.
Hospital Food - it is what it is - good honest wholesome punk without pretence. The songs are all there and even though this band had recently lost their lead singer I thought the bass dude stepped up and did a great job and was assisted by his fellow twangers and beaters in fine style. In fact I'd be so bold as to suggest Hospital Food stick as a three-piece but it seems the band are set on becoming 4 again - not to bother. With yer skinbo on bass, yer Hawaiian calypsoid melody maker on strings and that fuckin' irresponsible Clit (yes I spelt it how I should) Eastwood wannabe on drums this was as expected with rhythmic punk noise the order of the day. 'Down and Out, Get A Wash (Fuck Off), 'Cop Cars' and 'Oi For England' were all enjoyed but again - no real duffs. With a good old 'Fuck You' to finish (aimed at anyone and everyone - especially all football teams who aren't called Derby County) the band came, went and in some way conquered. That's all we can ask! By the way - the alarm clock and sun-dial time keeping devices are in the post ha, ha - (sorry couldn't help it) - well played chaps.
Skurvi - what can I say? They had a high slot on the Sunday and sacrificed it for an early slot on the Saturday - and didn't even bat an eyelid, Two of the band, as stated were the first there on the Saturday and let me just emphasise were the last two there on the Sunday evening - you want attitude - this is what it is all about. The explanation by these two beer swilling fruits as to why they were in a band was succinctly put as thus:- 'We just wanted an excuse to have fun and drink heavily and so...we formed a punk band!' Utter class! So the band got up, the frontman donned his rapist mask and the explosion that came was impressive (despite constant guitar niggles and a few beers already sunk by the inebriates). High wired, dirty, sub-garage with youthful zest spilling its guts all over the dance floor for the goggled-eyed fucks to feed upon. 'Let's Start A War' was a sub-shambolic delight, 'One Night Stand' a thrashed out pollution to swill and become infected by. The guitar gear refused to play, the band refused to be beat and kicked, fucked and whipped their way to a triumphant end - blossoming with belief and hey 'this is how it is' spirit. Great stick work, sweet whirligig bassism - Skurvi - I applaud thee.
Next I call upon the name of the Welsh reprobates (wankers to friends ha, ha) Trigger McPoopShute! Organised it may well have been, the riffs may be steadier, the output more deliberate but the fun, the vulgarity, the general off the cuff response was what won here and from the first to the last this band didn't want taking too seriously and hey - it turned out to be very sound advice. The attitude of the band and the warriors they brought with them was admirable and they are always on my hit list to get gigs for in future times. Song wise - well some good carving riffs were noticed, an abundance of cocky songs and many a lewd addition. This was a grand inclusion but...as things transpired The Triggers would be required to play again next day and so the review will continue there - I'll keep thee intrigued!
A change of style next with the metallic brilliance of Dead Radio creating a sonic sunburst blinding all and sundry with the sheer heat given off. The most intense band thus far with a full sound captured, excelling in areas of riffage and overlain with a taut vocal style adding to the cutting execution. Punctuated and peppered with smart switchbacks this was a really solid offering and added that all important extra flavour to the day as a whole. I do need to see again - watch the Fungal webspace.
The Kingcrows are getting too many good reviews off me so here's another - bastards. You know the score - a Fungal fave. 'Magdalene' opened and from there it was a case of 'don't look back'. 'Down For The Count' was a stand-out moment from the chasing pack with the party song swinging in line and keeping up the joyous beat. The rest was of the usual exceptional standard with 'Gonna Show Up One Day' and 'Don't You Know' a memorable brace. First time in Stoke for these guys - entirely your pleasure I am sure. I reckon they will be back!
The most misbalanced band of the day next with two slender chaps being outweighed by a couple of real fat bastards who in no way need to cut down on the cacophonic calories. I ain't gonna let these 2 loveable lumps get off lightly here so if I can't fault the music I'll victimises the tubby ones - now that's prejudice. Nowadays Born To Destruct are a much rawer sounding beast and so enter more into the Fungal realm. The other main change is the new incessancy with track after track hammered out in well practiced style and with a consistent identifiability throughout. A flaw or an essential ingredient - I don't know but just take it for what it is and enjoy the punk puke that spills. 'This Is Not Nostalgia' is a nice grind and has a mean theme which is similar to several of the bands offerings. I like it when questions are asked and BTD do that well and in my humble opinion should become a nastier machine - their call but I still enjoyed this.
Brocker next and standing in for the shell-shocked Blissets who had the bad news, days before this event, that their drummer has a ticker problem that needs immediate attention. Being of a true punk ethos The Blissets didn't just pull out but went to the trouble of finding a replacement crew - what a class act. Thoughts and prayers go out to the drummer and his mates and here's to getting you up this end soon and, if you are as good as your replacement I can't fuckin' wait! Brocker played a stunner and even though of a technical leaning kept everything punked, surging and separating in equal measure. Any fuckwit not watching this was missing out on a efficient, progressive noise that gave me the impression of the tidiest band of the day and one with perhaps most immediate promise. The highlight was the skanked up moment which, in the main, most others agreed with but could any fucker remember its name - come on now. The song was called...hold on...errr - well it doesn't matter - what a beauty and a high of a very heady set of songs indeed. More, more, more!
The gaff was filling nicely at this stage and after a gruelling day thus far with equipment worries, a few bands just not showing etc. we were all in for a treat - Dirtbox Disco style. At this point I made sure my lasses got good position as I really wanted them to see this very entertaining bunch of deviant melody makers. These guys are climbing the fence of punk at an alarming rate and I encourage them to be quick and jump into a different sonic garden before their acoustic underpants become ensnared on a typical barb and they hang in limbo (with under-rehearsed genitalia on full show) at the mercy of critics aplenty. Be careful lads! Tonight was another great showing with the foreskin back and the bell ringing for attention and duly getting it. The array of songs is forever on the increase and each one oozes quality moments. Where does one start - well nowhere as this was all solid shit from perhaps the band with the biggest chance to breakthrough (to wherever)! The crowd indulge, a few attained the heights of the set stage and the night moved up another notch. Thank you and keep on 'Burning'!
Girlfixer came forth, blasted outward their hybrid squawk fest with unerring accuracy and displayed what a consistent bunch they are. The busy frontlass is the immediate focal point with her all action style, torn vocal output and punked looks. The strings are strummed and manipulated with artistry and the drum work is stable, slamming and quite often subtly more effective than given credit for. The presence of this band is strong but for me the flavour seems to be capable of dividing the crowd and I do wonder if Girlfixer will become a victim of their own safe talent. A few risks may be needed, a few eruptive flow breaking episodes that reveal a danger, a threat - I don't know in truth but it is a niggling sensation. Sound band though and perhaps my worries are unfounded - there ya go.
The Bionic Krugeraands hopped up and at it next and with tired, sherry addled eyes and ears, creaking back and bunged up nose I tried my best to stick with it and be fair (knowing only too well that no other bugger would - well except Moose Man of course but he ain't no drunken swine like me). This was a more rocking sound with a cultured essence the band weren't going to sway from. Slightly bluesed, slightly Billy-oed this intriguing recipe had me on the back foot and it was apparent from the off that I would need more than one viewing. Safe, different, consistent and would be welcome back by Fungal. Hey rattle that tambourine!
Finally for this day it was the turn of Kybosch. I was really struggling at this point but thank you to this crew for keeping me going and closing the day's proceedings in a good honest way. The song I was most familiar with was 'Sunday Afternoon Drinking' and so after watching the crew nail each and every number with their close sound I listened and watched with greater intent when the aforementioned song started kickin' in. Marvellous is all I can say and when I get more familiar with the bands other efforts I hope this is the end sensation I will get. Kybosch have a sound confidence in their midst and this single factor (well along with the obvious talent) is what got them through tonight. Feedback was sweet and I reckon Kybosch may be getting a few more offers.
And what a day - the usual punk excursion, slow start, built up nicely with some bands letting me down completely and not showing up and some just shining bright and doing more than requested of them. A few people snuck in (incredible isn't it) but I was so out on my feet with a bad back and a cold I really couldn't be bothered to chase up the thieves. Overall though a small success and with tired eyes and legs we three 'erberts headed home.
SUNDAY
So with hardly any sleep and still 'full of it' I was up, fed, watered and sorted and awaited Stu Taylor, Sam Mason and Barbara Taylor to pick me up and head to the gaff. Easy journey down with great company and we arrived in good time and awaited entrance to the gaff. Eventually we roused the dozing dudes inside and prepared for the second instalment and what would be a very trying day. A few bands never showed again today and gear was a real struggle as a result but we got there - by hook, crook or luck we got there and at the end of it took more positives than negatives and that is what counts. Take a bow Eagle and Stu - we did it dudes, we fuckin' did it!
So whilst the wait was happening Eagle got up and rattled forth some venom to get things rolling. This was the second storm to blow from the poetical one this weekend and so one summing up shall take place here. Vicious invective, clever wordage were all dredged up from a soul filled with many colours and many experiences. The delivery was as unprofessional as you like, the moralistic ravings well founded and the intensity building all the time. Eagle has issues with the world and here he let them rip. Having spent a good deal of time with the guy over the weekend I can let you know that this entertainer is one sound bloke and a real fuckin' pleasure to be around. The patchwork lifestyle he leads with many layers is intriguing but his good heart always shines through. A wicked sense of humour, a winning laugh and always willing to chip in - yes he gets my vote. I enjoyed this but by this time I was biased - who cares anyway - give the bugger a gig and help him out on his quest to assist the homeless.
A slot to fill, the band booked to do it not present - stand up once more Trigger McPoopshute and be counted. Despite a day on the lash the day before and already having sunk a few the lads got up and showed true SAS Underdog spirit and played an even better set than the day before. A good piss about this and despite the aforementioned over-indulgence of the ales the band kept fairly organised and nailed one or two tunes with ease. 'American Manc' was a great catchy sing-a-long song and 'Nob Rot (a tale of the front mans ex-wife and all the men that fucked her apparently) was a comic gem. The latter was a nasty song indeed but had plenty of spunk in it as, it seems, did the aforementioned lady - oooh nasty! You'd go a long way to beat this bands attitude and that of The Gunty's this weekend - please book em' both - you will not be disappointed.
Pisspots extraordinaire next as The Dole Queue Heroes hit the stage and rattled out a fouled set that was all racket, little rhythm and very much needed to wake up the dead. Laced with hardcore elements, tattooed with screwed up mania, loaded with pain inducing riffage - this was mania and all fuelled by the potions known as Port and Whiskey. The song about Brian Blessed was a lark and the one that ended in a sub-droning fart was quite a titter. Again the attitude to get up and rip it was there, they jigged and tumbled when other bands did their bit and although they couldn't stick around for too long I feel they did their bit as best they could - cheers chaps. Must do it again!
100,000 Bodybags next and the band who divided opinion the most over the weekend. Some didn't like this some enjoyed it - I was caught in the middle and came up with a feeling that some of it rocked hard but some just flat-lined a little and left me still a little thirsty for a deeper drink. The style was a grinding persuasion and I can see how many refused to be drawn in but hey, have you ever heard as good a cover as 'Video Killed The Radio Star'. What a tasty treat and I am sure anyone Buggled up enough would have loved this to the utmost. I lasted until about three quarters the way through and then my attention was gone but let's not be harsh as this was an initial viewing yet again - let's try it again at a later date!
The Gunty's followed and gave a rousing racket that may have been the best of the weekend. A very tight output and although distracted by a half dozen waggling welsh widgies (a tale that involved 6 of the invaders dropping their trolleys and bobbing their cocks up and down trying the darnest to put The Gunty's off their stride) the band played one helluva set. All songs enthralled, all action was lapped up and the drinking challenge set failed to impede the impetus of this crackin' set. I wanna see more, I need to see more - come back please.
I was fizzling at this point and the back pain increased, symptoms similar to flu began to appear and my throat was afire. A few slurps and back at it with Criminal Brainstorm arriving after quite a few had decided to leave. Bad timing and luck but it didn't stop me from enjoying a real god old fashioned punkoid set filled with hints of yesteryear that were brought forward into the modern era and made just as relevant. Front man Agg is a very capable dude and creates a scenario for the others to work within. The rest do their bit and contribute to a fine end noise and although I had seen them a couple of months prior and thoroughly enjoyed, this set just seemed 100 times more on the ball. The guitars were sharp and shadow-glassed in parts, the visuals worked and each component was deliciously clear. 4 songs stood out with 'This Is London' a nice repeat beat and 'Captain Scarlet' a delicious morsel but the two winners were the punky arousals of 'Aggravator' and 'Skin'. 'Lurex Lucy' was fun and 'Terrorists' solid. I like this band and the mix of old and new appeals - have it and get out there and support ya set of bastards.
Nearly there and next it was The Kirks to plough away at the fizzled crowd. The band were as per and as I wandered in an out trying to clear the crust and stretch the pegs what I witnessed was decent enough but severely impeded by some ropey gear. Max waffled on as he does about this, that and t'other but even this chirpy chuffnut couldn't save the ass of the band from what was an acoustic beating. A shame but sometimes shit happens and there ain't nowt you can do. At this stage I was too fucked to care - well nearly...!
On to Death Zone and after a short break they jumped up and hammered out a very efficient noise with a drummer who'd been off the stage for, if I remember rightly, 18 years, fuckin' hell he didn't do half bad! With an epileptic frontman, two good string wobblers and an angle that was a raw throwback to things more brutalised the DZ boys pulled out a fair old set and won more favour from me since last seeing em' in Birmingham on another SAS jaunt. Not much more to add - I was on the precipice now.
Senseless came and well and truly conquered. I watched in a trance and really couldn't find fault and one has gotta ask - How good is that fuckin' guitar maestro? Mesmerising stuff and as a three piece you do wonder where all the power comes from. My criticism - too good, too efficient, too fuckin' intense - no they ain't digs just sincere compliments. A rock steady band who know how to rock it and on a self-created crest of a wave and riding like fuckin' good un's. I do need to get some shit by these guys - why am I missing out? Twat!
And at last - after a bit of idiocy on my knackered part the Potential Victims got up and gave a lesson in old school noise that had been polluting the airwaves for a very long time indeed. A shoddy start was soon amended and when the band got into their stride they played out a fair old set filled with nostalgic streaks and look back moments. Having reviewed a couple of this units CD's I can say, with hand on heart, that the songs today were instantly recognisable and of the chosen flavour. Not a bad way to finish the day at all and although I thought we would have done 2 hours prior to the closure I am happy I hung in there.
Chits, chats, goodbyes and a gathering of the gear and off we went. When at home I sat in silence for an hour - drained, hungry and in need of my bed. Imagine my disgust at not sleeping and waking up with even more aches and pains. The question is would I do it all again - well two more have been booked in, a tour beckons and a few extra gigs in Bradford are nearly here. I gotta slow down and am pacing myself better but can I leave it alone - you decide - I love it but I just wish many more had this sort of passion and make that extra effort. Hey ho - right there you have it - what more can I say. £400 was raised for the charities and that was the main aim. More would have been better as would have been more punters but no matter what I'll always have my doubters and the ones who think they know what punk is about. Look this is done with honesty and the right intentions - at this stage if you still don't get it please keep away! Up the fuckin' underdogs forever!
by Fungalpunk/OMD