And still the SAS gigs roll on at venues that are considered 'out in the sticks' and are not regular names on the punk rock circuit. As per usual the ethos is about moving about rather than being static and showcasing noise to the same old faces in the same old places. It may be failing miserably but better that than to succeed without making any effort at all and being a complacent cunt happily satiated on your groomed ego and worthless flimsy morals.
Again the task is mine to review and review I shall despite the odd critical snipe that reviewing ones own gigs is a crime. No - the crime is that hardly anyone else is reviewing gigs and so someone has to and yet again that someone is me.
Today was set up under the banner of 'Punks For Animals' and despite a great response on the back of that media communicative slut Farcebook I had reservations about how many would make the effort to turn out and support a cause that doesn't tick those fashionable boxes that enhance ones moral status in the eyes of the less discerning. No bother - the fact is the 4 charities chosen matter and are doing a grand job and any money thrown their way would be more than a little well directed. The natural world matters and if you have no respect for it, no belief in it then get the fuck out of it. Go live in your concrete castle and choke on your own self-created depression please.
After a shite drive to the gaff that did nothing for anyone's mood myself and 2 grand lasses hit the venue at around 1.15pm to be greeted by co-promoter and genuinely solid egg Stu Taylor and his 2 escorts and wonderful girls Sam and Babs. Mr Rossi who runs the gaff was next to welcome us and from the opening chat the greeting was warm, enthusiastic, friendly and very much what was needed. In fact Stu Taylor's and Mr Rossi's efforts throughout the day were absolutely bob on and untold thanks must be given to them both for helping man the ever unstable SS Underdog!
Bands arrived slowly and gear was unloaded and at last we had the first rumblings of noise. With a Colin Compton style intro via that fellow Rossi again Only Strangers took to the stage for their first ever gig (and of that I am very proud).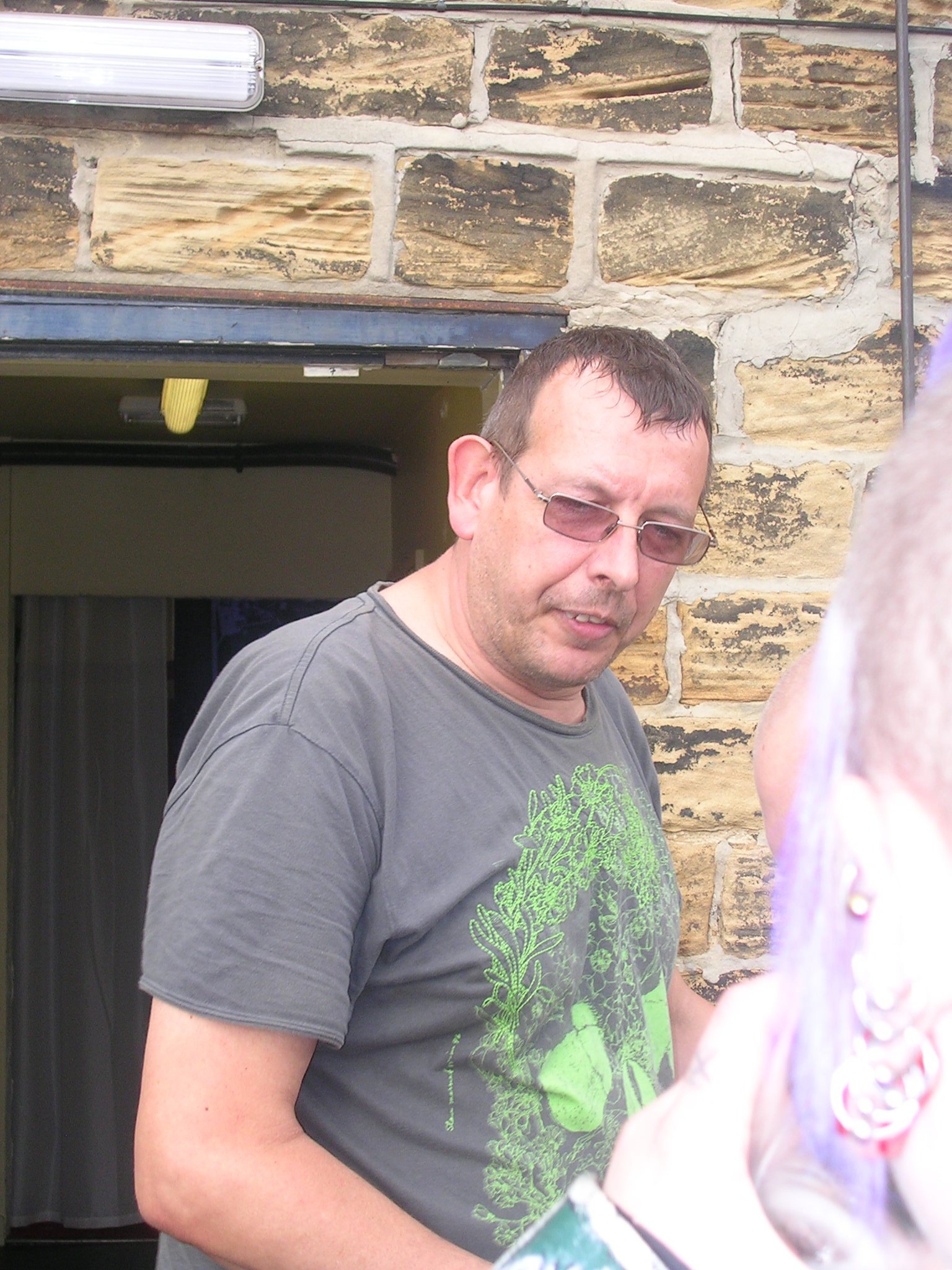 Your host for the day - the gent that is Andrew Rossi
It is always hard reviewing a band first time around especially when it is their first showing too. This embryonic offering was riddled with potential with frontman Dec providing the main drive and focus of attention and the drum dude adding a sound level of stability. The opening track shone bright as did the classic final offering with the in between layers providing much to ponder. The other two participants plied their trade well and hopefully will step up their style and showmanship a little to increase the bands presence. The dual vocals worked well and one or two intriguing intricacies were thrown in to add flavour. My young lass and missus both enjoyed the set and that for me reflects that this is a band that don't deserve a punked pigeon-hole that can only cause hindrance. Loads in reserve but this was a fine opening gambit and it gave me great pleasure to be able to present this crew to the tidy crowd that had made the effort early on. Only Strangers - watch this space!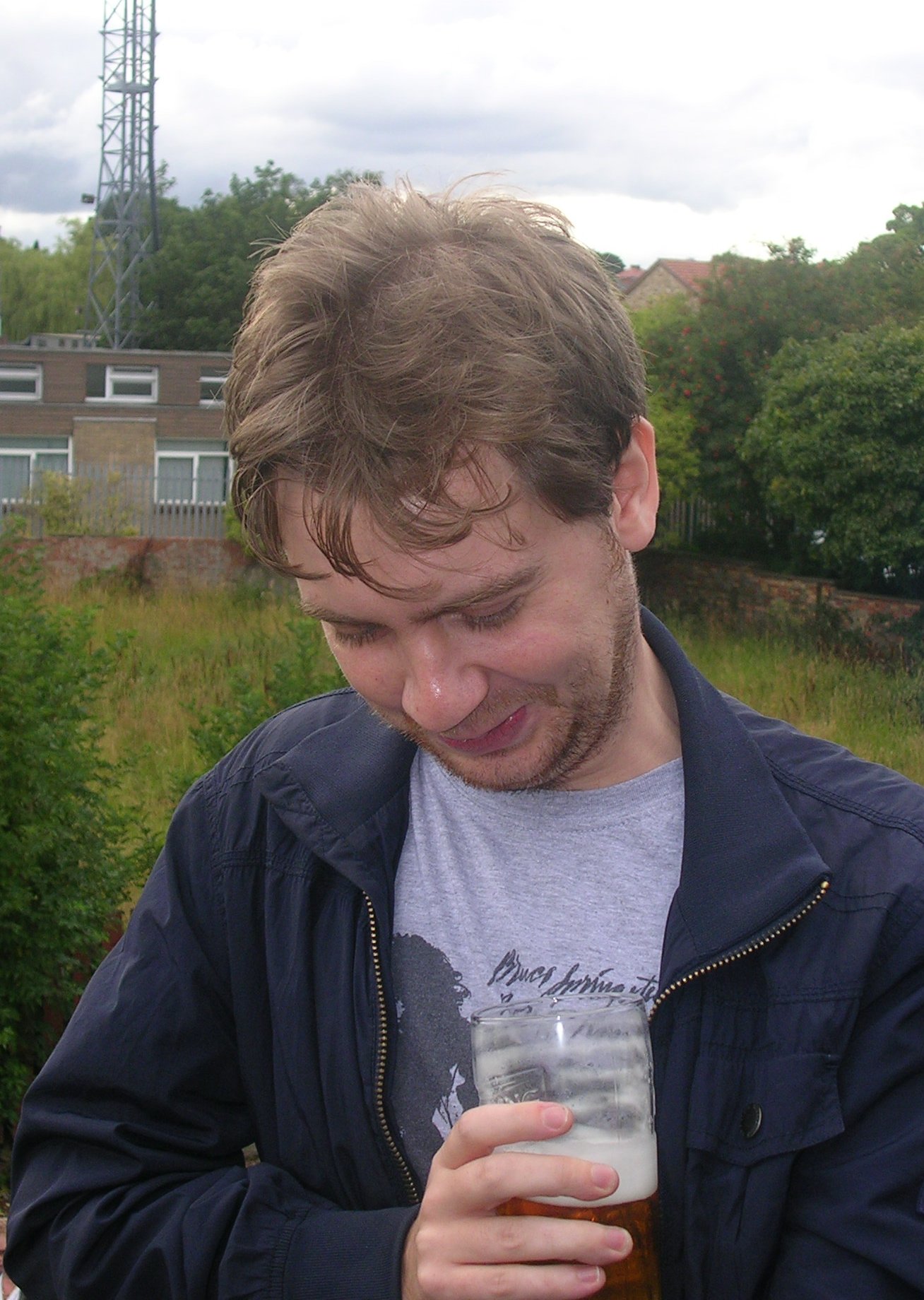 Only Strangers Frontman Dec - a man happy with his beer
Next up The Distrakted, a band I have done a bit with over the years and happy to have done. Today was a new line up and despite the odd slippy, sloppy error the set was impressive and heavily laden with big 'fuck off' power surges that burnt and blistered with aggression. Of particular note was the resident guitarist who is really growing in stature and skill and the drummer who sits upright and bangs away with well timed accuracy. The two new recruits bring the band more venom and are thoroughly into what they do which drips from the stage and duly infects. Johnny is an amicable frontman who only now needs to 'nasty' things up a little and assist the power foaming forth. 'Bloodshot Eyes In Polaroids' was the pick but there were plenty of other titbits to admire.
Hospital Food are a bog standard punk band with no allusions to be anything more. 4 soiled 'erberts up for the crack singing songs about themes we spiked fuckers are more than familiar with. Good solid chaps who mix it up this shouldn't be anything more and what you think you will get is certainly what you will be served up. Exploited-esque with definite retro feel the punkage puked up is highly likeable and done with such honesty. Of course 'Cop Cars' won most crowd interest but for the first 3 quarters of this set I was highly entertained especially by the idiot antics of the stickman Kev. You gotta love this dude. Towards the latter end things fizzled a little but this was down to the band trying out a few new songs and for me that is only a good thing. I am sure Hospital Food will be on another Fungal show at some point and welcome they shall be.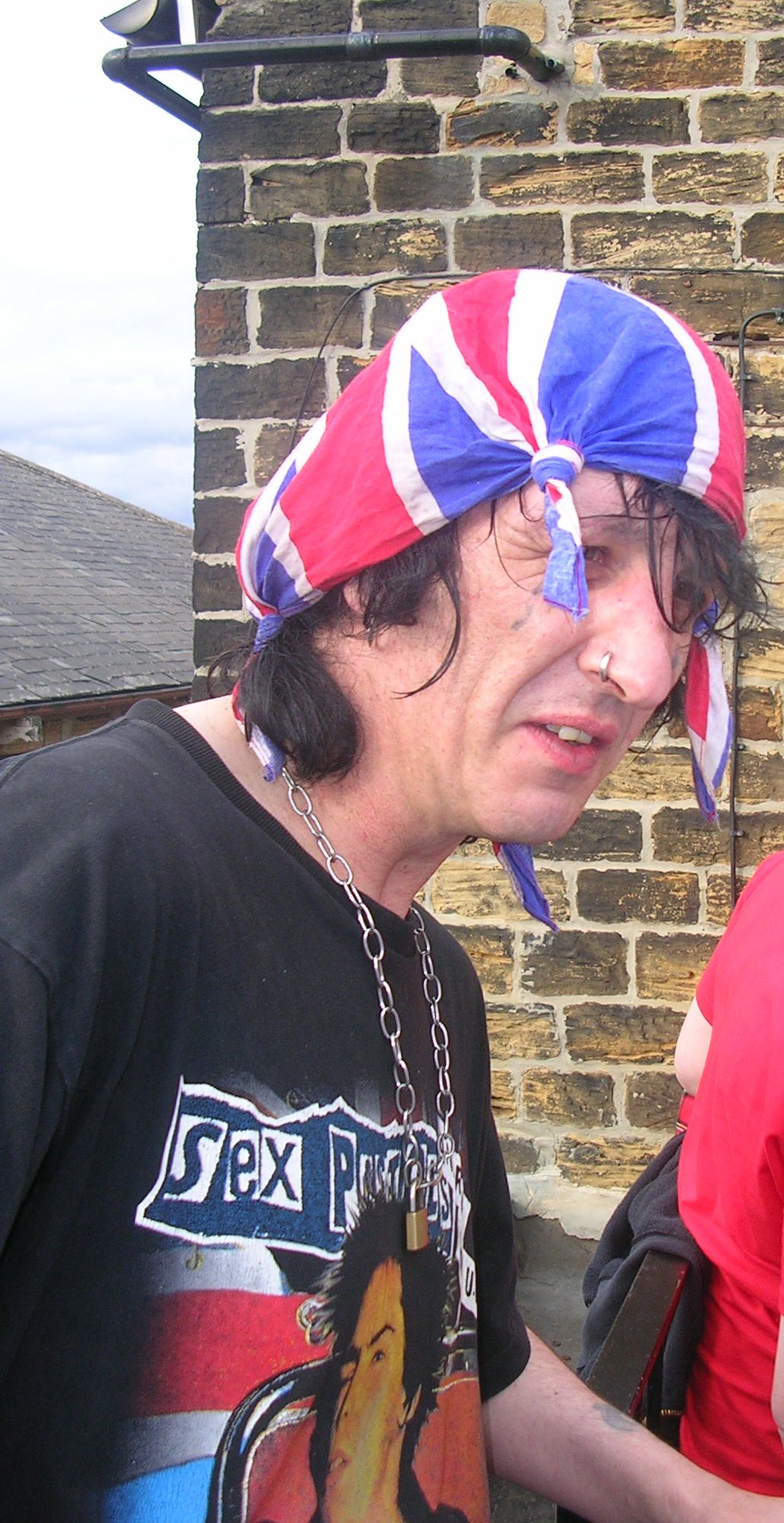 Hospital Food drummer and Derby County fanatic Kev - what a guy
The (Sic)ness next and only the crews third outing. Despite this I expected much due to the band containing 2 thirds of that ex-outfit The Bullet Kings. Talk prior to the set was confident so hopes were raised and I'll tell ya something - they were in no way dashed by what followed. The set was lapped up by myself and despite the guitar straying slightly out of tune it didn't really matter one jot. Fine bassism and gruff backing vox by Wilfredo, articulate and well grounded guitar work with oodles of character, slam and wham drums intermingled with machine gun speed bursts and hepped up vocals that were sung rather than just hollered made this a treat and within the weave a couple of giant numbers leapt forth. 'Infidel', 'Another Day Another Dollar' were two but 'Some Days' and 'Just Another Day' were remarkable and 'yes' I wanna see these dudes again very soon. Hey and get this - they were a guitarist down on the day - fuckin' hell - can we take it?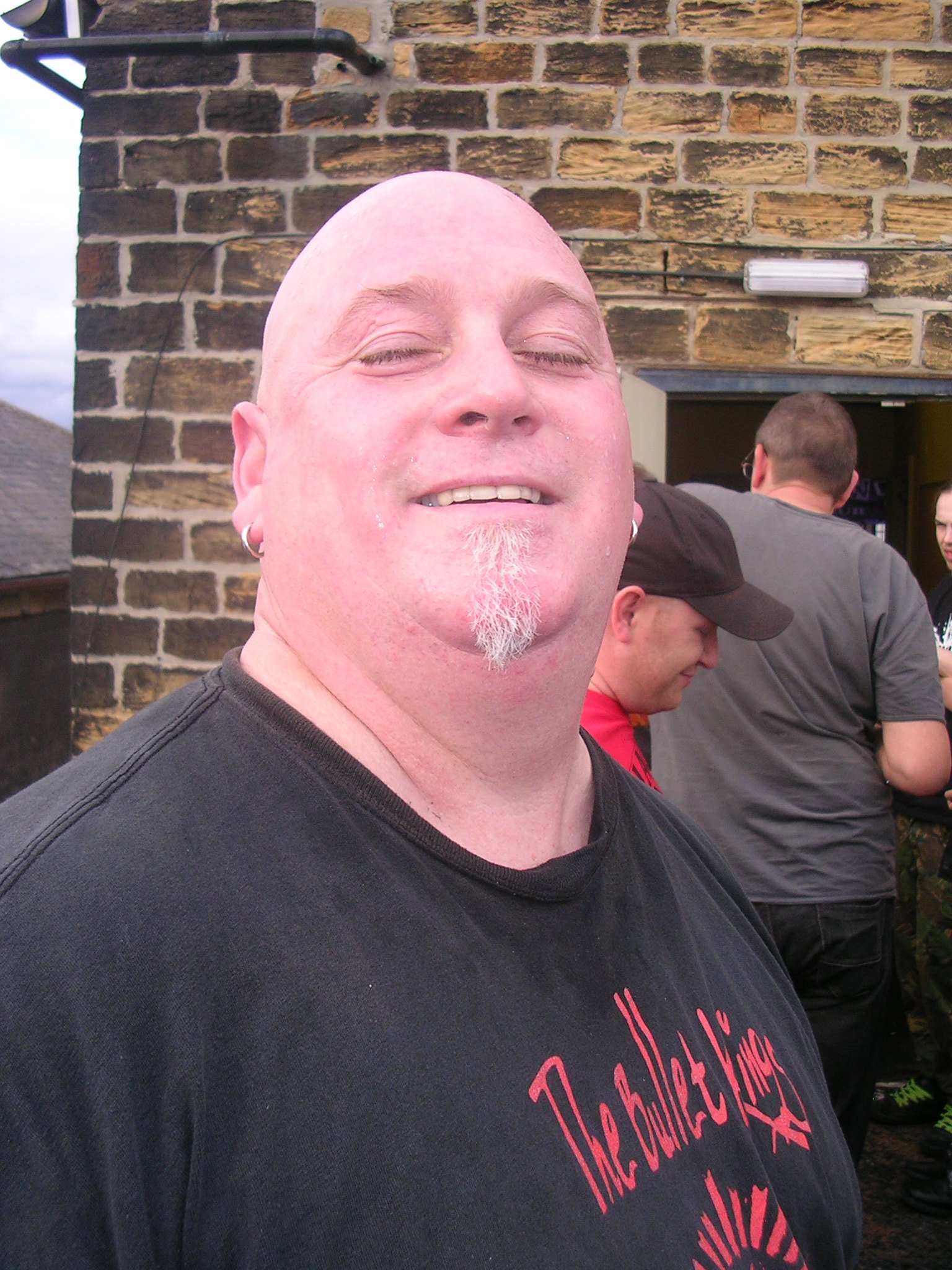 In his own mind - Gods gift to the fairer sex, in reality - a fat puddin' - (Sic)ness stickman Big Andy
A mini break and a chance to natter was duly taken.
Next up The Kingcrows. Now then if any band encapsulates the spirit of the Underdog then this is it! Marvellous company, superb approach to what they do and most importantly what a crackin' outfit to see and hear. Visually the band put the work in and they do this also in equal measure with their sound and for me payment from the punters is due big time. 'Magdalene' kicked things off and is a choice classic with the band nailing the notes and posing things up just perfectly. More juicy treats followed with 'Renegades' a cracking coarse sounding song with an almost hidden inner tribal tub-thumb adding interest. 'Stiletto Groove' is one of my daughter's faves, 'Don't You Know' was dedicated to yours truly and was momentous and 'Sex Oui' is just an unadulterated joy I could listen to all day. The band look the part, sound the part and are the fuckin' part - so where are the bigger gigs people. 'One Of The Boys' does the crowd pleasing bit in obvious style but if you really are disappointed by any of the crews output then you need to get your lugs checked immediately. Here is an address in case you need the treatment:- Dr Auralshafting, 69 Lobe Street, Tonedeafeness Hill, Tooting, 5EX 0UI - appointments by mail order only!
Rising Strike popped forth next and gave out a hard driven beast of ska-core with many a new track thrown in and many a riff loaded to the max. This is an incandescent sound that burns the aural retinas and makes one helluva imprint on your rhythmic cerebral matter. The coals are lit, the fire builds and as the acoustic heat intensifies one is transfixed by the inner flickerings and profusion of high energy colours. The vocals switch around, the strings are bent with precision and occasionally brutalised and the drums are beaten with a sadistic villainy that is utter delight to the primitive streak we all have within us. The main source of joy for me is the strength the band show and the unrelenting noise they make along the course of the set. Again a great bunch of unassuming gentlemen and this offering turned the day's proceedings around nicely and showcased the fact that the punk scene has many facets.
Sense of Urgency are a collection of noodles one just finds irresistible. Their whole approach to this murky scene is charming, their friendly natures are magnetic and the fact that they are so darn idle when it comes to releasing their admirable material is frustratingly pleasurable. 'Beyond hope' perhaps best sums up this crew but when they get up there and play they do it so fuckin' well. Chaotic, cheeky, tuneful, aggressive, spirited and definitely not giving a toss the SOU Ship blew out its sails, rolled around on its self made waves and left many a man overboard due to sheer bewilderment and passionate stagecraft. Crowd surfing seems par for the course for frontman Joe and with head addled he led the team to another successful set that gave the gig new life at so late a stage. I love em' - you should too and then we can all have a big skacore gangbang! Preferably wearing rubber stiffies sponsored by Hammer Studios - gotta be done - remember everything revolves around the erection ha, ha!
Back to the traditional side of punk with a red hot crew known as The Septic Psychos up next. Fronted by ex-Riot Squad madman Chiz this was set to be a treat and so it turned out. Sinewed, well defined, overflowing with good old fashioned 'clout' this one clobbered hard and a few punters responded with dancing shoes. The two string men worked hard at keeping it tight and they did so with natural aplomb. Drums were clattered around and kept tempo and were noted to be of a more than adequate standard. Chiz had his usual ant infested pants on and kept moving throughout and pouring forth the invectives with genuine punk rock belief. As I say this lot look like 'they should know better but can't help themselves ' and I think that really sums up what the crew are about. 'I'm Not A Racist I'm Just Bald' is genius as is the 'Two Wrongs Make A Riot'. Classic! 'The Thatcher' is a rehashed oldie that needs further mention so I have - like I say - classic! Fist pumping power punk - that's how to do it folks!
Criminal Brainstorm travelled all the way from Kent for this shindig and immediately won my respect for that fact alone. That's some drive my good friend. 'Lurex Lucy' opened and almost at once I was addicted. Even though a few covers went into the mix I cared no less and lapped up this retro episode of melodic punkage with glee. The ingredients thrown in were exactly right for today's recipe and I was only too glad to have the band included. The Killjoys classic 'Johnny Won't Go To Heaven' and the Wire cover '12XU' were enjoyed' with 'London' a particular fave as well as the closing 'Terrorists'. All songs did their bit though and the band looked as they were having a ball which is always essential. I wanna see more and as they are booked on my next gig it looks as though I may just get my wish granted - yippee. Post punk has its place so get a piece now!
Finally the Mardi Gras Bombers. Bassist Mark and drummer Trev had been in attendance all day and full fuckin' points are given for their efforts. The rest of the crew turned up fairly early too and if anyone doubts this crew's commitment then get yer head out of yer festering arse. This is now an accomplished outfit with solid drumwork, ever-improving bassism and guitars and a front man as polished as you like. I have reviewed the MGB machine on numerous occasions and there is only one thing to add and that is - 'Ditto' oh and with nobs on! It just gets better and rather than go on again I'll leave it there and if you ain't convinced read a few more reviews on here.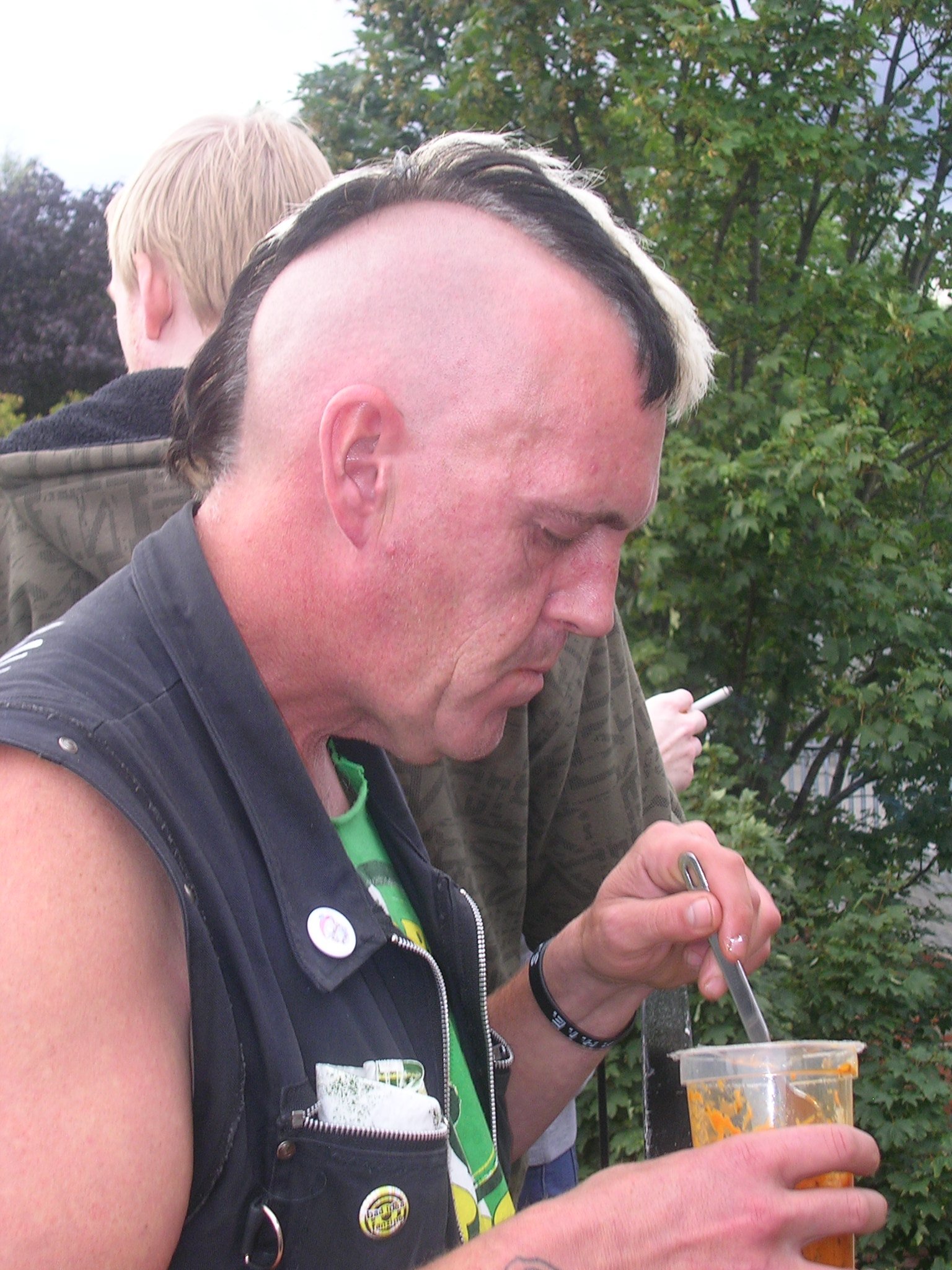 Defecation taster and top chap Travis McTucky of stick duty for the MGB's
The day was done and in truth I had fuckin' loved it. The drive home was wanky due to a wrong turning and getting in at 2.45am ain't no joke for a burnt out dude with heaps to do. Was it worth it - of course it was.
My hopes are that Bar Axis builds on this and gets itself on the map. A crackin' venue filled with crackin' people. The people who made the effort today get my sincere Fungal thanks and for those who didn't - well would I want these idle cunts there anyway. The week before Rebellion pulls thousands and yet a week later for a gig at a quality gaff costing 50p per band and raising cash for a genuinely decent and important cause we can't pull above 50. Says so much I think and if you ain't embarrassed for this mockery of a scene then I do wonder...
Quote of the day was by Gary Preston - a learned man who takes all in, assesses and spits out the filth. When asked what punk is the response that came was off the cuff, from the heart and very apt - 'A fuckin' disappointment Dave' - how's that?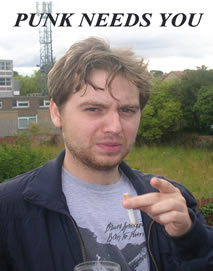 The glimmers of light though do hold us on in there but in the main Gary's words ring true - get up and change that now or...well you know the crack!
Total raised - a meagre £160 - more next time coz I ain't giving in!
by Fungalpunk/OMD