Alas Fungal back in Bradford again - and yeah I have no complaints whatsoever. I love doing gigs over this end and The Zuu Bar is swiftly becoming one of my all time favourite venues. A 7 bander tonight that has swapped and changed over the last few weeks but eventually came together and looked set be to a real treat for fans of underdog music. Arriving at 5.30'ish after doing a Fungal Foray at Delamere Forest in South Cheshire and then rushing home to pick up my daughter and the arriving Tim 'Punk4Life' Davies we arrived at the gig in fine time both shattered and overwhelmed by the fumes of the stinkhorn. As this was promoted via the 'shroom Phallus impudicus a specimen found at the aforementioned foray was taken to the gaff as a symbol of all things myco-punk. Have it ya buggers!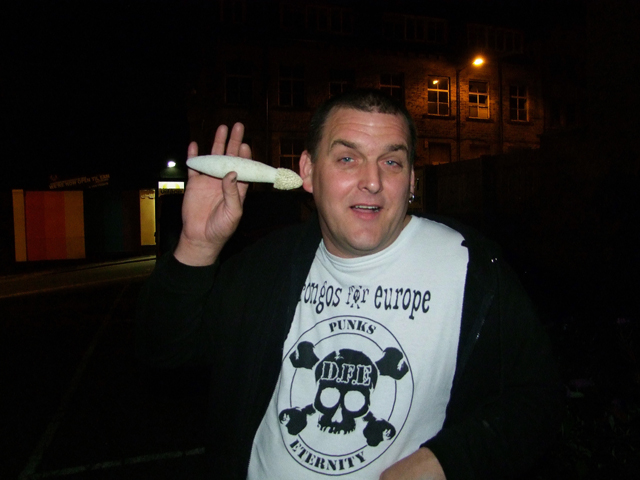 Gary Preston proving that ears can be used as vaginas
Upon arriving many usual faces made for good greetings and a pleasant atmosphere with top punk peddlers Sam and Stu of STP Promotions already there, set up and smiling - love this pair and the more success they get the happier I'd be. Bands arrived in due course with a few already in attendance and chits and chats came as a matter of course. A few photographs were rattled off and time for the first band arrived.
The Liberators are a new band to me and got booked via bassist Cayn White who I have come to know after many excursions to Yorkshire and a few viewings of his poetical mayhem. A good lad this who knows the punk rock crack and for me that was enough to give the band a go. The set contained several covers which really didn't do the crew justice and in truth came across as a quite disappointing discordance. A cunt would harp on about this but what would be the point - where the bands future lies is in the really retro sound they produce with their own material and that is where I base my review. The songs perspired with a cold harsh delivery and throwback style very much amiss in today's scene. Think Magazine/Wire and you won't go far wrong and in truth how many outfits can you think of puking forth this sub-generic racket? I think if the band work hard and define their sound further there is definite niche market out there they can truly tap and achieve fair critical appraise. It won't be easy but the basics are there and as with most things hard work is the key. One point to make is that with two guitars emphasis must be made on maximising the 12 strings - one for power, one for polish - worth a thought! Plenty of melody, a bit of cheek, a nice bunch of 'erberts and 'erbertess and yeah the curve is upward and I am happy to push em' along. Next time will be better I am sure and if you are thinking will I give em' another gig then the answer is 'yes'. This is punk and we are in it to help each other and encourage with the right intent - think on!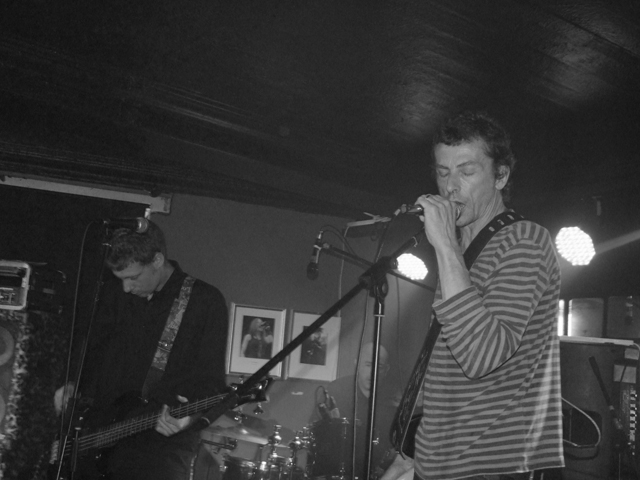 The Liberators - more of your own stuff please

St Tantrums next and if ever a band has recently encouraged me that the underdog way is the best and when viewing an undiscovered gem and seeing them become more and more polished is truly satisfying then this is a crew to consider. Loving this band and tonight was a fuckin' crackerjack set that blistered with unadulterated advancement. I am so glad Stu of STP was here again to view these dudes as his initial thoughts concurred with mine and I really didn't want him missing this. These guys need a trip out of town and this is gonna be sorted in the near future - be warned. Glammed, slammed and whammed best sums up what the crew do and what pleased me most tonight was the fact that all components shone equally and played an epic part in a solid performance. The bass was accomplished, reliable and absorbing to watch, the drums seemed to have a heavier smack attack and the guitar was both effective and subtly flamboyant. Is there any need to mention that androgynous 'erbert up front who slides, grinds, crawls and bawls with utter showcase sincerity and effortless effect? Each and every song was complimentary to its siblings with 'Call The Nightmare' a close winner and the one I know best. Brilliant!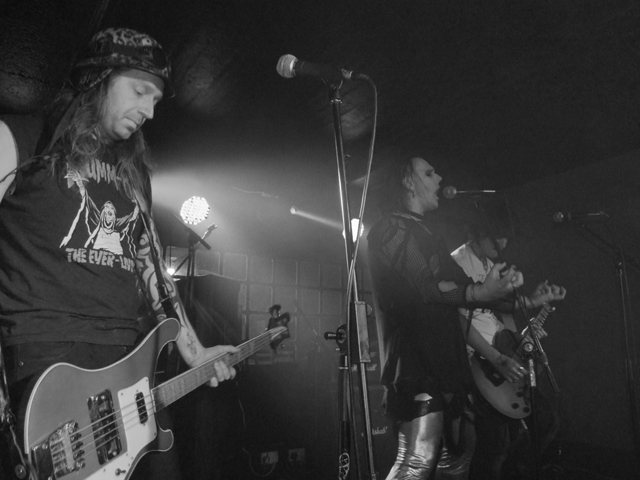 St Tantrums - a massive turn upwards and more to come
Thracia have played a gig for me before where I was in attendance. Amazingly I couldn't tell you a thing about them as I had just lost a tussle with the old QC machine and lay unconscious outside the gaff at the side of a parked car - rough times indeed. That was a major loss on my part and despite a few boneheads feeding back that Thracia weren't punk enough I still had an urge to see these guys (and gal) and satisfy my curiosity. What I'd heard sparked a flame and as you may guess when I have little flicker I must see it through to the full blaze. This was fuckin' brilliant stuff and yes it was slightly 'rocked up' but who the fuck cares when the racket is this effective. Gen the front lass is always high up in the Fungal ratings and her voice and sweet demeanour are truly worth their weight in gold. Despite pre-set nerves she gets up there and gives it her all and when backed by a good band it really does make a solid spectacle. Mispelt 2.0 are a solid unit which Gen does her bit for and it seems she ain't no bad judge because Thracia are right up there too as regards quality. With pumping riffs, a general watertight delivery and some mean mother fuckin' numbers Thracia really should be achieving more. It is such a shame we live in lethargic times as regards music with the few passionates overwhelmed by the many frauds. Close to 3000 people were invited to this gig via facebook with over half not responding and 140+ saying they were attending. Well where were you? You missed out here and I just hope the ones that did come will stick in and help Thracia and the other bands along. I was mightily impressed by this and so far the night was a blazing success. More please - MORE!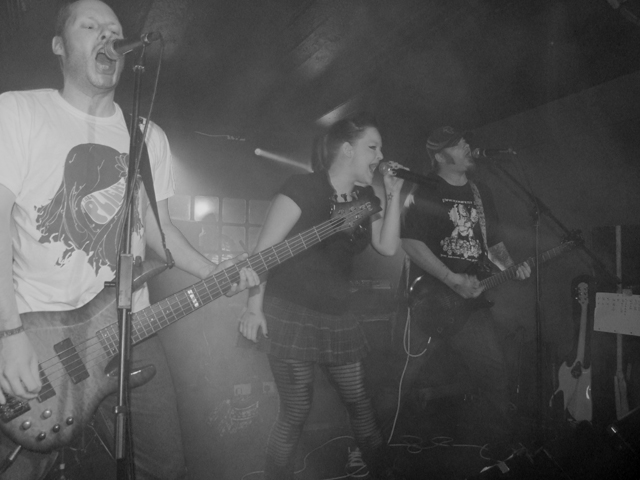 Thracia - crackin' hard rockin' crew I just gotta see again

The Distrakted were late additions to tonight's gig and added further spice to an already smouldering dish with their forthright melodic hardcore style that is really on the upturn and winning new fans everywhere. Of course this is an acquired tipple that divides the opinion but my verdict is of a very good band, digging in and coming up smelling of thorned roses. The new stringman did the business but to be truthful the entire band are functioning with force at the moment and also producing the goods on CD too. Each and every aspect is growing in stature and I just hope the band find the right market wherein they can truly thrive. Frontman Johnny is a top dude and always a pleasure to have around with the only advice I feel the need to give is that he gets out into the crowd and really gives it to em'. Overall a noisy treat and of course I'll be seeing them again real soon.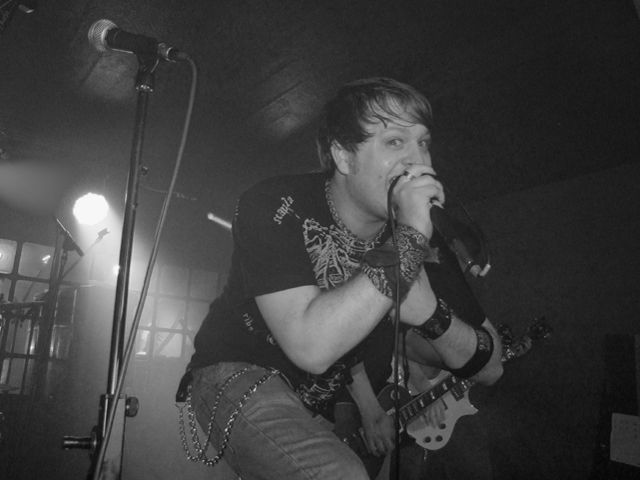 The Distrakted - the confidence and talent grows

The Kingcrows are nothing short of fuckin' marvellous and are in the shake up for Fungal's 'Band Of The Year'. 4th viewing so far and it really is getting better by the gig. 4 great 'erberts with an approachable attitude and with a set crammed with one 'bingo' winner after another. The band make the effort in both look and noise and this is paying dividends at the moment with more and more interest being provoked. If you need to see one new band this year then make sure it is this bunch of regal corvids. 'Sex Oui' is masterful, 'One Of The Boys' streetwise and 'Magdalene' catchy and the one many will pick up upon. This was a full feathered set with front dude Phil looking more like a proud confident peacock rather than a scavenging crow. Brilliant stuff and again the more I get the more I want - promoters get booking now!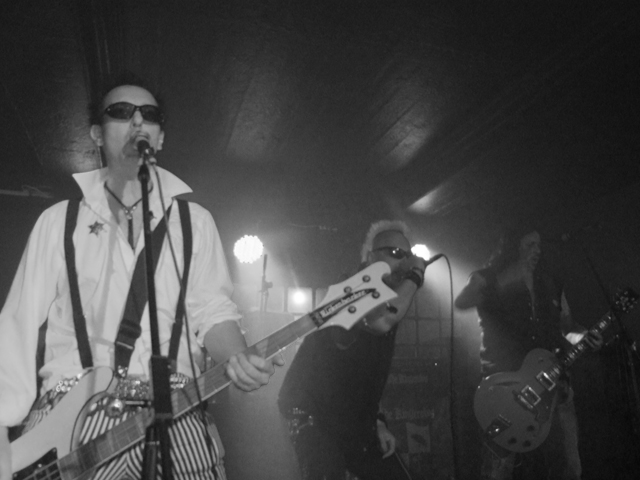 The Kingcrows - one of my favourite bands of the moment

Last Rough Cause are a cultured streetpunk band who have many smart twists and turns within the noise and thus weave some fine old songs for us to adore. Grand lads I have only seen these dudes once before on a gig I'd wangled them on a few weeks before where they played really smartly. One hang up I have with this sound is that it does take a little thought and that is something many are not prepared to put in and want basically instantaneously pick up sounds they can get into with little effort. Let me tell you that if you are of this leaning then you are missing out as over the last year or so I have had the pleasure of reviewing the bands entire CD output and have truly been impressed by what I've heard. There is a bit of ringcraft and know how here and I hope true justice is done for a band who are trying to cling on in there. A couple of covers tonight were hammered out with aplomb to which the crowd responded more than the crews own stuff (see what I mean) but for me the whole set was a delight despite one or two concerns regarding the general sound. Personally I thought the noise was OK but a few punters did say it was a bit off for the band - best get me lugs checked I reckon? Once again the lads are good company and rather than fill yer gigs with pretentious wankers get some real folk on who know the score, have a grand sense of humour, are happy to do their bit and can fuckin' play. I enjoyed it and I hope I can make the cause not the last and a little less rougher.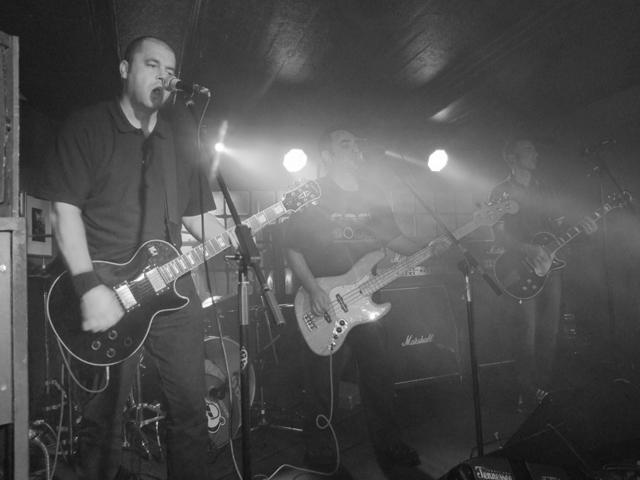 Last Rough Cause - Very intelligent street music deserved of bigger success

The raffle was done next and the winner Travis Mctucky of Mardi Gras Bombers fame staggered forth and accepted his 9 CD's and bottle of bronze. A wonderful disgrace he was and point here must be made of thanking the Mardi Gras Bombers crew and pals who all made the effort to come over to this gig and support the cause. Magnificent stuff and like I've always told you all, and the band, 'great lads but what a bunch of cunts'. And that is very high compliment indeed - and yes they will be headlining the next show due to their spirit and musical ability. Also big up to Dave and Sean of MLTF who made the effort again – a cut above!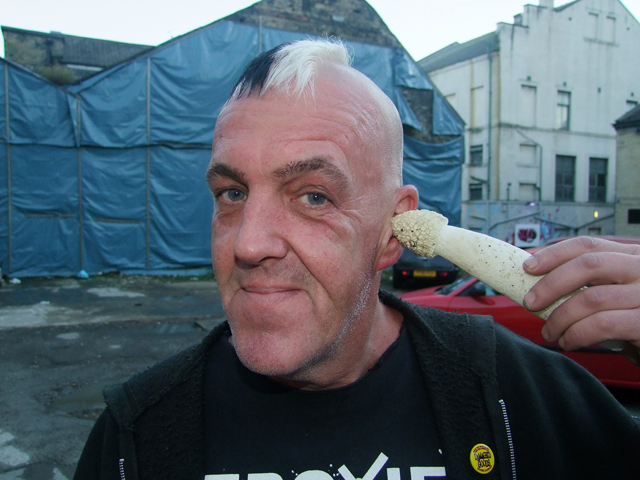 Raffle winner Travis McTucky trying to contact planet X via the Stinkhorn of Love

Finally a band I have spouted off about for the last 12 months or so and been proven right every time. Leather Zoo are not a punk band so are ideal to headline a Fungalpunk SAS punk rock gig - the paradox is pure and the finale fitting to all what I deem to be unrestricted and not as you would expect. This was a class closure and although not fully concentrating on a couple of numbers due to rolling around on the floor with two veritable pisspots (Mr McTucky and Mr Davies take a bow) I had enough about me to appreciate a genuinely good set. 'Fleur Du Lys' got things going and is an epic piece and the set didn't falter from there on in. 'Serial Killer' is the most emotive piece and a real pearl and tonight was done superb justice but I really shouldn't select one song as the best as all were strong and individualistic. Each component of this unit has its part to play and is given enough freedom to shine rather than just become part of the end discordance. Vocals are choice, guitar work knowledgeable, bass vibrantly sturdy and drums remarkably effective and too often overlooked. New fans were won tonight and so the job is a good un' and I was pleased that tonight's gig fulfilled the criteria I had mentally set.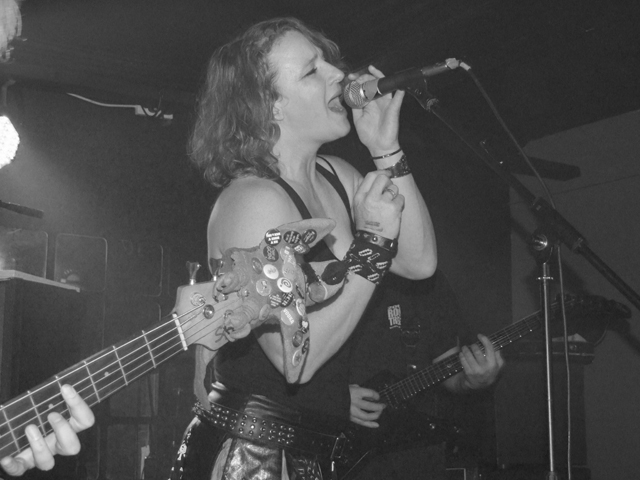 Leather Zoo - turning on the style and sonic nouse

So another Bradford jaunt done and the worst turn out for an SAS Zuu Bar gig yet. Ok I suppose but not good enough although a bit of juice money was given to all bands at least. I know I was up against a few same old, same old gigs tonight but even if nothing was going on there are many who claim support but still wouldn't have been there anyway. Again let me just thank the ones that were there - magical stuff and thoroughly impressed by your efforts.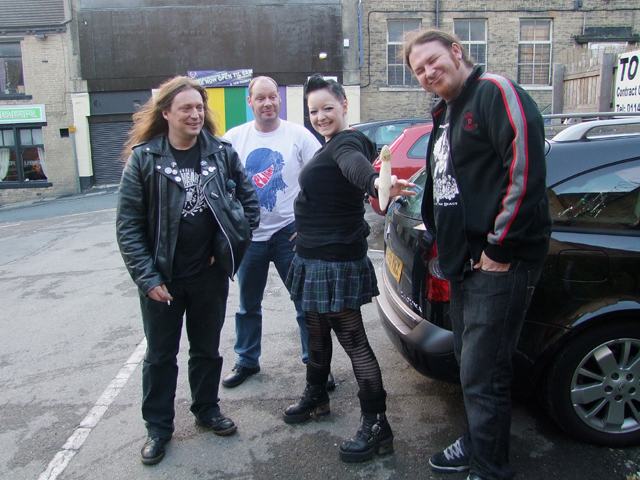 Hello we are Thracia - would you care to smell our horn

The Zuu Bar is a class joint and yes I'd like to do more and hopefully Fungal's excursions to Bradford will continue. The venue and the staff exude a good vibe and special thanks must go to Steve, Mick and Alec who all help the scene immensely.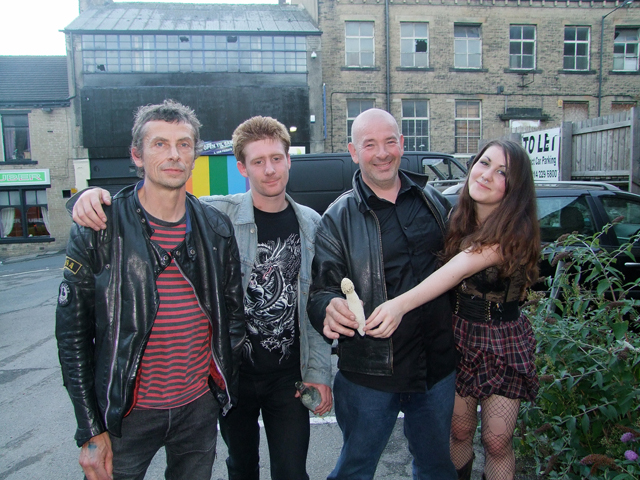 Come liberate the dead man's nob

We 3 wanderers got home at 3am by the way and that after a day 'shrooming and gym and with a busy week ahead. One tune I seem to be having in my head at the mo is that old ditty 'There's a hole in my pocket dear Liza, dear Liza, there's a hole in...........etc' - but on we must go. Think about it!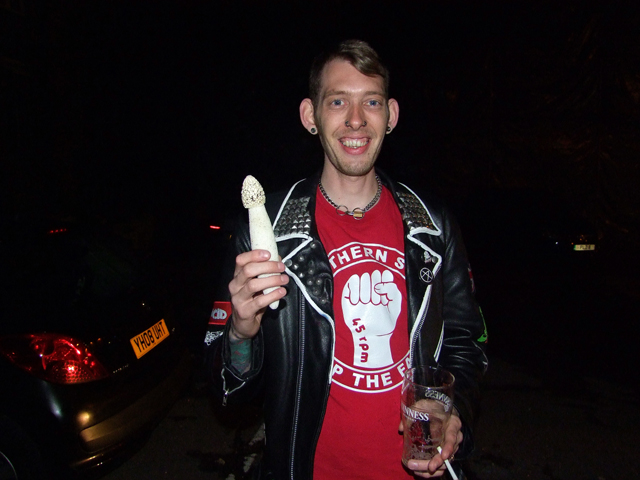 Honestly chief I just found it up me arse
Oh by the way - I ain't becoming static I am just cruising as my family needs to come first now and again you know - I am fishing for new areas to pollute with underdog excreta - watch this space or don't bother - either way and like I say 'on we go'.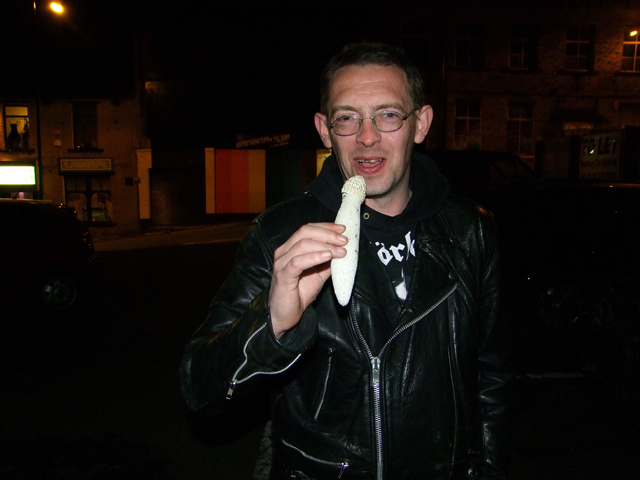 You mean if I just suck it I'll never need to wear glasses again