Darwin tried to discover the missing link. Howard Carter sought King Tutankhamen's tomb. Dr Frankenstein sought the essence of life. Ken Dodd still seeks out the art of comedy. Me – I just wanted to find The Bradford Exchange. Despite numerous trips to this secreted venue it still remains a mystery to where the fucker actually is. I suspect Bradford is a giant jigsaw puzzle with some deviant overlord moving pieces here and there to confuse the visitor. How do the people who work there maintain an acceptable standard of punctuality. Surely even they must get lost. I may have a lie in on Monday morn and try the old Bradford Exchange excuse – 'Sorry Governer but I couldn't find my way here!' Perhaps not.
Anyway after a heavy slice of logistic lunacy we got there with the kind assistance of Eddie Starr the renowned drummer of Suspicious Stains. Several bands were yet to arrive, gear was building thick and fast and the PA was not even at the gaff. Surely a quick trip outside for some fresh air and then off we go - home. NO – let's stick at it. Andy NA arrived in his usual unflustered way and with crack of arse on show unloaded gear and got things a rolling. Good lad.
As time crept on and a stage gradually took form a quick natter with all concerned about set lengths was had. We could just scrape by depending all runs smoothly from here on in. Here we go then.
Ambush UK first and to be honest they were rushed on and thrown in at the deep end and really got the crap end of the stick. I missed them because of farting about here and there and it seemed that the set was over in the twinkling of a tadge! Sorry lads and I owe you one.
Next Flat Back Four who were bunged on this at Andy's recommendation and a very accomplished album I had reviewed several month's earlier. I think both myself and Andy can really say we produced a cracker by including these lads because this was highly inspiring. Upbeat, technically superb with two great frontmen and a solid bassist and drummer this quartet were a pure pleasure to behold. From first to last I couldn't find fault here and the sheer attitude and feel-good atmosphere this lot gave off was memorable. I really do get a kick out of seeing a new band that makes me buzz off their music alone and this was one of those moments. 'I Told You I Was Ill' was great and my personal fave was 'Psalm 23' as it does so much justice to a band who really know how to produce startlingly excellent songs. Fuckin' bruilliant and yet again a SAS gig was producing the goods. It's amazing how one stroke of genius can turn a bad day into a good one – Flat Back Four I thank you. Hey and my good lady and little un' enjoyed it too so there is a very definite seal of approval. Well played.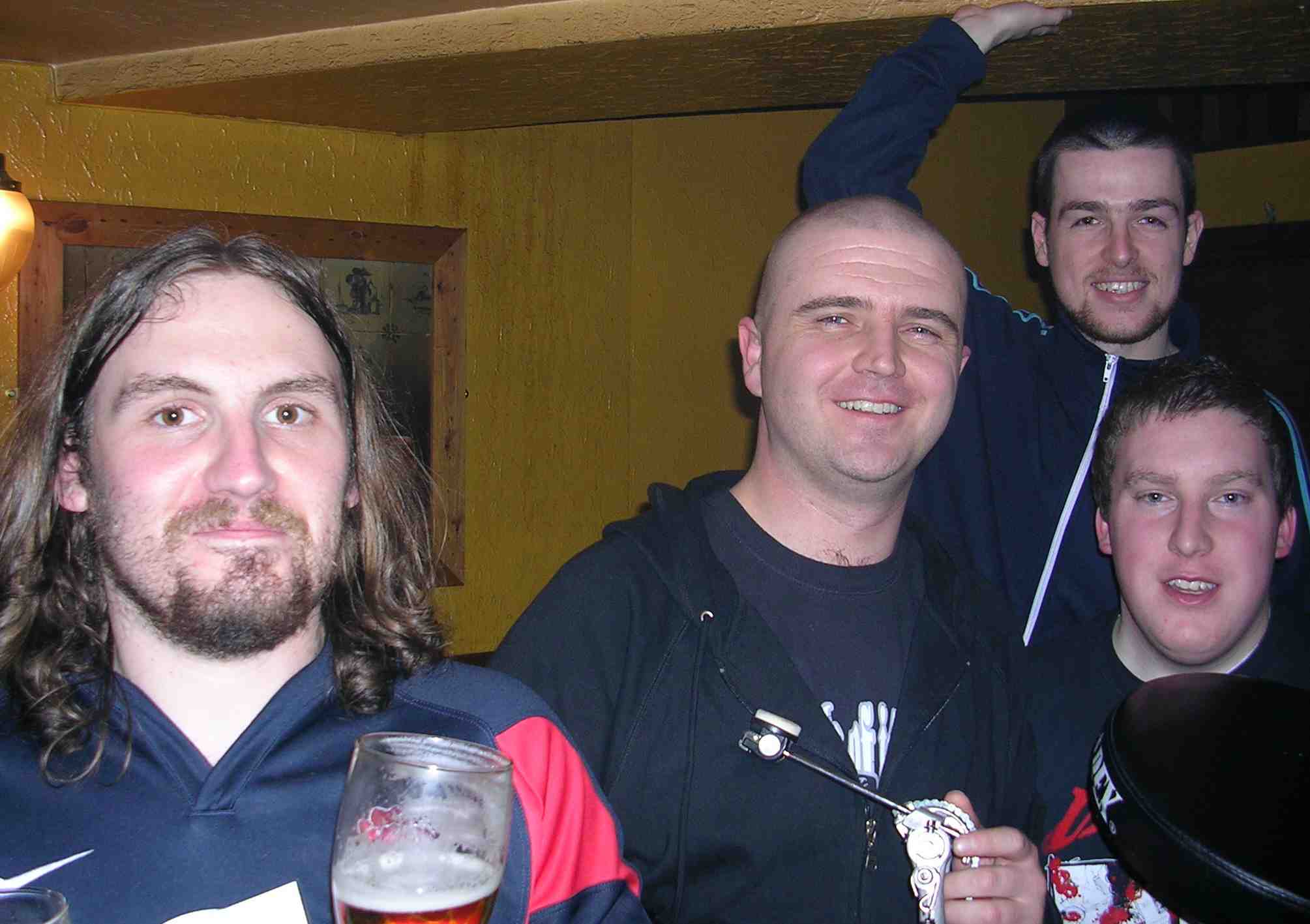 Next the deviant quartet known as Barnyard Masturbator who bring their own unique brand of SAS to the tour – Spunk and Sawdust no less. Very up tempo with Scarlet Da Harlot at the helm backed by a solid guitar maestro, a bounce 'n' bash drummer and an ever increasingly confident bassist the masturbation machine is always a pleasure. All songs are catchy and unflustered with 'Plastic Surgery Nightmare' forever a winner. A pleasure to involve and a band that sticks around at gigs to support all other acts the BYM's must surely progress further and win new fans. A studio visit is long overdue and all the hard work will pay further dividends when recording time is dealt with. Another great band.
So with 3 good un's down and 4 to go how must the next band be feeling. Well on the evidence at the finish of their set – well fuckin' pleased. Most Likely To Fail ooze quality and style and the latest 2 track offering (see CD reviews you bastards) is enough to make any promoter want to book these lot. Apparently they are struggling for gigs? A travesty and oversight of all concerned in the punk movement. This set was a masterclass and was everything I expected from a bunch of sanguine performers surely guilty of underachieving. Of course 'Killing Time', 'American Jesus' (I said see CD reviews) and 'Innocent Eyes' were marvels in a marvellous set that was indeed marvellous (that's five pounds the society for the promotion of Marvellous owes me). I loved it and although some songs are a bit too long for some punky dudes this style and ability can transcend into other genres. If you put one thing on your must do list this year then its 'Throw a brick at Ken Dodds groin' If you put two things on then make sure its 'Go and see Most Likely To Fail'.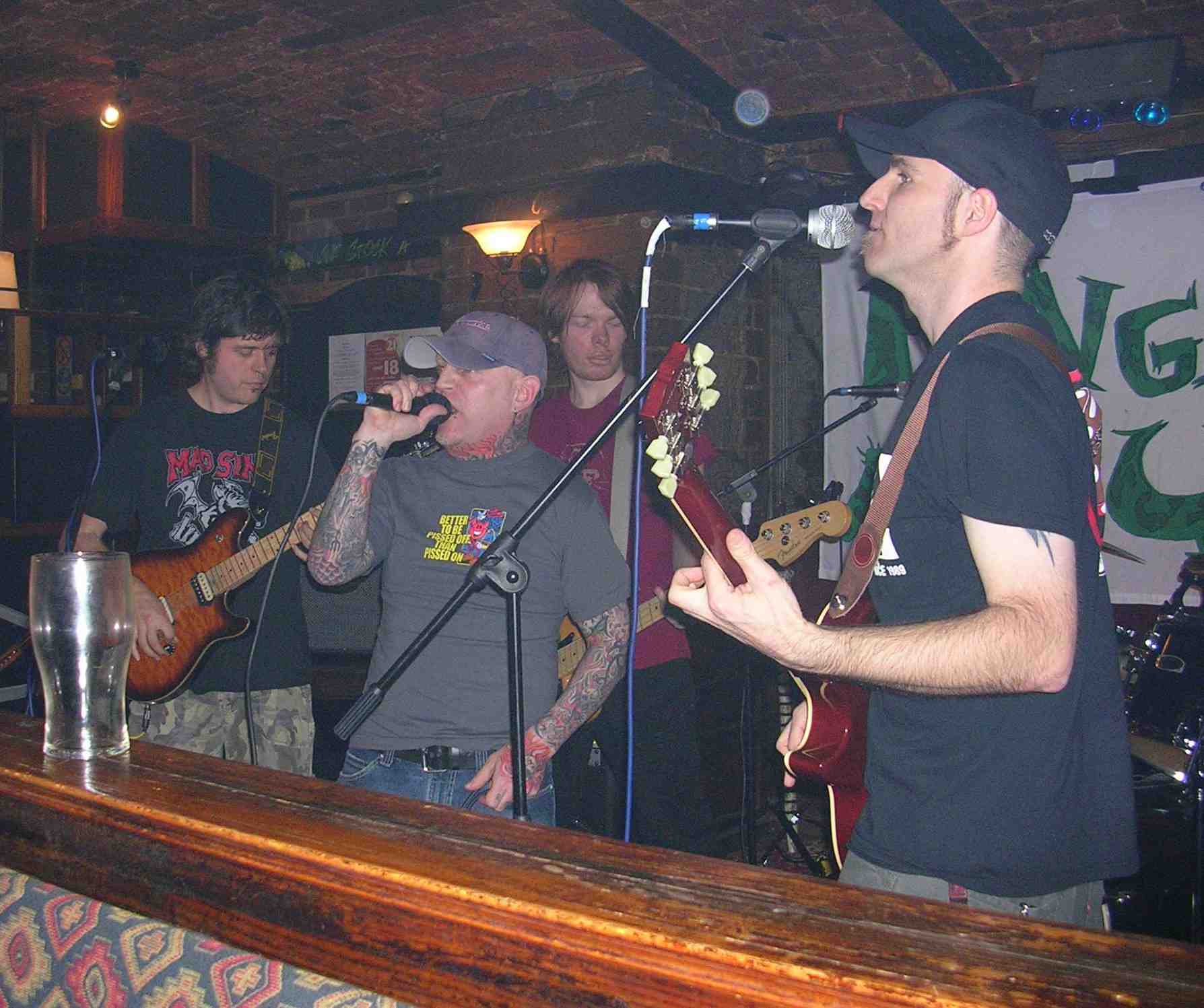 Boredom AD next with new frontman Brian Barnes aka Slutcher. Was this going to be good or just some punk rock nomad going through the motions just to pay for his spoon collection (you ask him). No way. Barnes is reborn here and really threw in such an enthralling performance has to leave several jaws on the floor. The band responded to Bri's antics by upping their game and this resulted in a classic. Like a primate on heat Barnsey jumped from pillar to post and strutted his stuff in ham and glam style second to none. 'All About Me' was an excellent opener and if anyone can take the piss out of themselves then Brians the man. 'Vincent Price' is a gem and the invasion of the elderly gentlemen and his horror trivia was just a peach and added to the fun atmosphere. The set was a classic and Boredom are a real force to be reckoned with. It was good to hear a few Slutch songs thrown in there as they a really too good to miss out. 'Scared of Lisa' was special and it's a pity 'Love is Dead' was missed due to time restrictions. How good were Boredom – the best yet – and I rated this band anyway so that really is a compliment.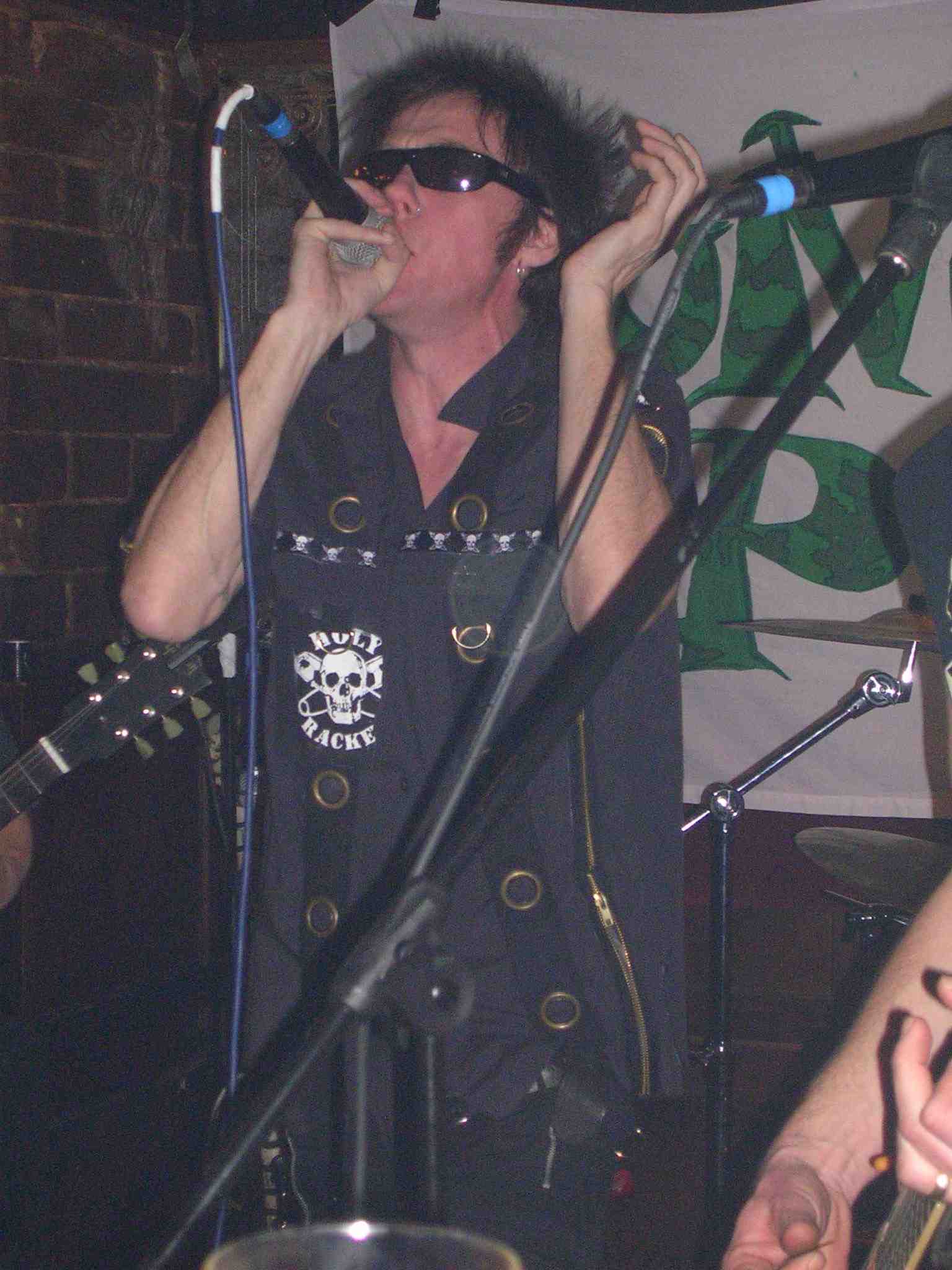 Steve Scab looked at me after Boredoms performance and a wry smile with the words 'How do I follow that?' were all he could offer. Go on lad and give it your best.
The Scabs are a solid unit who are growing in stature all the time. Steve is the focal point due to his in yer face antics but this shouldn't detract from 3 great performers behind who always show an excellent spirit to the SAS and punk in general. Bloody good company too which always bodes well. Anyway the Scabs did their stuff and produced the goods yet again which for me, as a fan, was very satisfying indeed. High points – it was all good but 'Gutterscum' and 'Blades Beat Fist' shone. With the talent on show previous to this performance the fact that the Scabs held their own proves this lot are getting better by the gig – long may it continue.
Lastly Suspicious Stains who very rarely let the listener down. Again a good un with 'Asbo' the choice moment and 'OCD' obviously another potential classic. You can't fault the Satins on their diversity of sounds and songs and the new guitarist Graham (of Fractions fame) really slotted in nicely and played a stormer. The set was too short for my liking and this was partly my fault for not rushing other bands along. A shame really because this lot have an abundance more to offer, a fact that I will do my utmost to rectify next time. Still a great finish to a classic SAS day.
Well what do you have to do – 7 top performing bands for free at a real SAS venue with a great atmosphere between all concerned. Any doubter of this tour need think again and check these gigs out for themselves. If they still miss the point and the fun then so be it – my sympathy goes out to them.
Finally a big thank you to all concerned and for giving me, my good lady wife and my lovely daughter a great days punking and a SAS standard to be proud of. CHEERS.