So, here we are, Fungals last SAS gig for a fair while and one that I hoped would run well and cause me as little fuss as possible. Flogged hard beforehand I was expecting a good turn-out but am old enough and wise enough to know that this scene is a fickle fucker and very few mean what they say. The day started with an early rise so as to get my daughter to Morrison's and do a 6 and a half hour bag packing stint with her fellow gymnasts to try and raise some money for them to go to Los Angeles next year. We had had another busy week and the early start coupled with the prospect of a late finish didn't sit well with all concerned. Whilst our daughter was doing her 'stuffing' me and the missus went for a 4 hour wander around Marbury Country Park. Perfect weather, 51 species of bird seen, a few micro fungi and flowers and I really could have done without the nights gig. Why couldn't it be freezing and pissing down so the cosy environs of The Zuu bar would have been much more appealing. Anyway a mad rush, home, pick-ups, quick food, my mate Tim arrived and watched his horses fail miserably in the Grand National and off we set. A few delays on the motorway we still arrived in good time and chitted and chatted with all and sundry. My young lass was already flagging at this point and my good lady was slightly tired to say the least which both added to my conviction that a break from the promoting game is very much needed. Punters still ask why I am taking a break and the simple answer is that we need some 'Us Time'. Right, less digressing and on with the review proper.
8.15pm was the kick off time and on time the gig did start with those wonderfully overlooked and mistreated St Tantrums doing their stuff. Why can't these dudes draw a crowd? Why is the scene not paying these guys due attention? Disgrace! The first time they played for me I was impressed and like any decent band the second time viewing is a lot more comfortable and pleasurable as was the case tonight. From the slag-glam antics of the front dude down to the strong bassism, simple but effective screwed guitar work and the busy beat of the drums this worked for me and reinforced once more that the underdogs do it and do it fuckin' well. Several of tonight's songs exuded a promise that as a viewer I can't wait to see bear fruit. My only concern is that the band do a rush job and don't maximise the potential. Some really melodic moments copulated with some sincere sleazy promise which made for an exciting listen - capture it boys and please the punk appetite. 'Call The Nightmare' was my pick as well as another that was a fuckin' rhythmic stormer (whose name eludes me bah) but all in all no wrinkled prunes in this fruit basket of citrus sonics.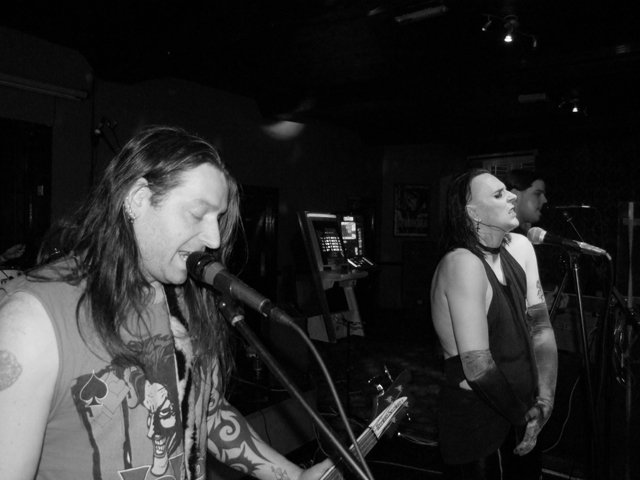 St Tantrums - a pornographic punk mixture to enjoy
Mmmmm - the Pop Fosters - just 2 regular people, out of the car, in the gaff, on the stage and they let you have it as natural as you like. What this duo bring into the pit is a pure unaffected attitude, an awkward noise that divides and for me is a fuckin' good do that avoids sticking to the expected. My approach to gigs is, and always will be, mix and match and expose many flavours within the nights recipe. I am merely the cook and if people are fussy eaters then that isn't my concern. The ones who pick can go choke on their stale fuckin' bread whereas the few that like to savour are welcome to partake of the Fungal flan anytime. Tonight the PF duo were a bit out of sync and seemed under rehearsed but why shouldn't punk be like this. I enjoyed it nonetheless and the frazzled fringes around the main melodic fabric only enhanced the natural nature of the expulsion. 'Myopic' is a gem as are several others with 'Breakin' Up' sounding good tonight. Take it or leave it - the Pop Fosters are what they are and are welcome jam between the regular sonic sponge and get my vote every time. Chatting afterwards the couple are assessing the future and as always I encouraged them to do what they do, keep it real and never give in. The choice is theirs and I wish them well in all they do but for me punk has a place for obscure noises like this so long may they continue.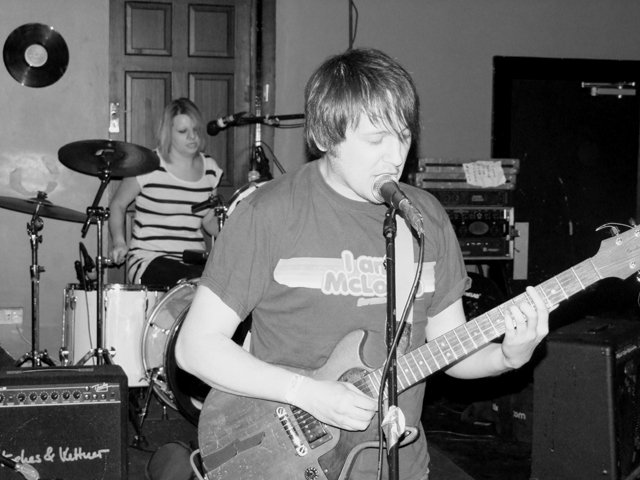 Pop Fosters - an awkward sound that is full of punk rock spirit - I love it
Suicide By Cop are a band I am long overdue seeing and tonight was my pleasure although I missed 3 songs due to arsing about on the door and other distractions - aaagghhhh! What I did see though was a well oiled unit fuelled by good song writing and attention to detail with many a fine tune in the mix. Alec Marlowe for me represents what the scene lacks as his passion and drive for his local scene is admirable. He knows a fuckin' good tune too and has a band who I am sure will serve him well. All components here apply themselves well with Kaz a good frontlass with a fair gob. Best tunes, well 'Cellophane' for one but 'Tin Boxes' was a real ear catcher which I need to check out again fairly soon. Well happy with this and more please.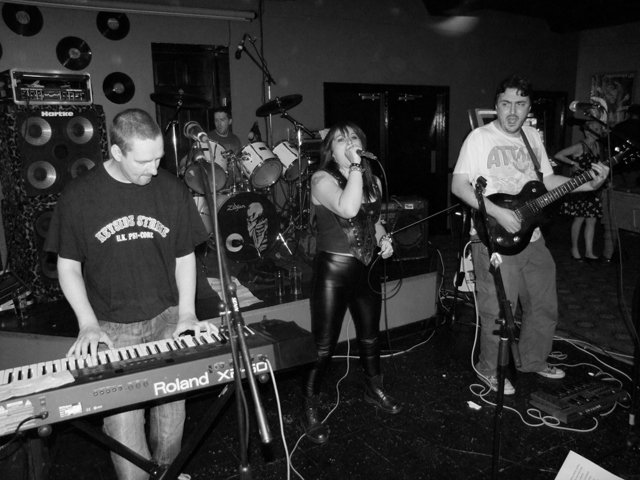 Suicide By Cop - music magicians pulling out some real delightful doves from a brimming topper
Acid Drop are what I deem the ideal underdog band and these fuckers are really on the cusp of pissing with the wind and drenching many with their quality songs and high energy output. Ok tonight a few blips may have hindered things for the critique but I loved it. 4 rock solid components who nail the noise and don't let a few slips and loose wires spoil the flow. One song, two song, every song - all fuckin' belters and on this second viewing by myself I am left in admiration. There ain't no rules as regards professionalism, no guidelines as to how the racket should be blasted forth each night so anybody got any gripes go fuck yourself. One of the most interesting discoveries for a long while and if the punters play ball expect these to hit many a home run.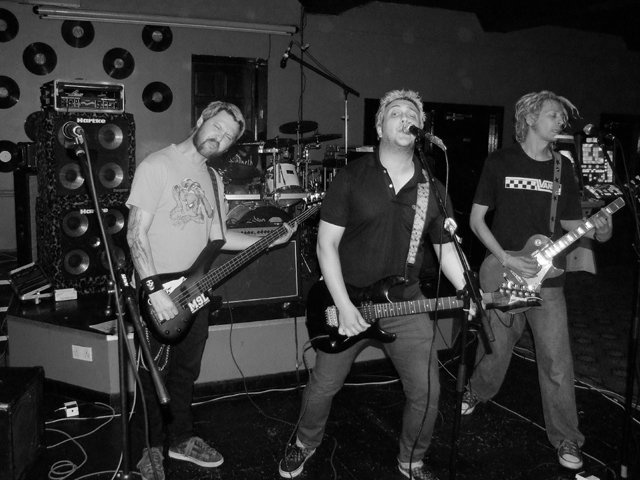 Acid Drop - oozing class and surely going places - come on now don't let em' down
The closure of the evening's jollities came via the talent that is The Junk. A poem - 'The Junk are full of spunk' - short, rhyming and very apt. What a vigorous bunch this lot are and what a fuckin' joyous noise they issue. Brassed up, boisterous and bang on the button I couldn't pick fault with any of this and despite having 2 recent gigs pulled and having a new stand-in bassist the crew pulled off a great headlining act. The frontman does his bit with a jigging delivery liable to attract attention anywhere they play. Ska-core is a choice dish when served well and that is what The Junk did tonight. Slippy and sloppy in parts for sure but when nailed - nailed good. Whenever they are in town I will be sure to check em' out - make sure you do too - I guarantee you will not be disappointed.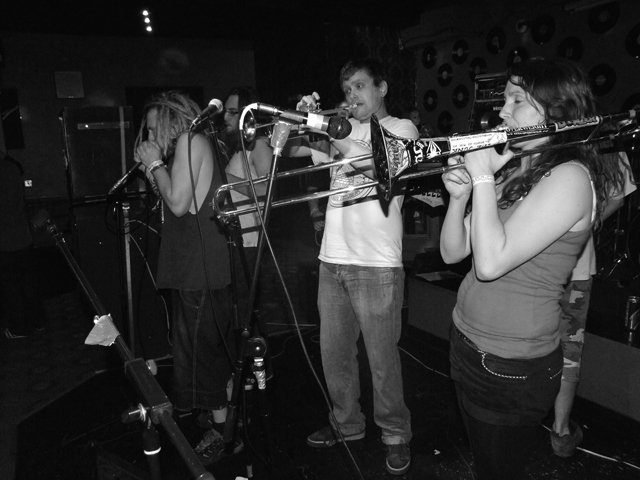 The Junk - far from it my friend - far from it
So gone midnight it was farewell and off we headed. Back home for just shy of the 2pm mark we three wanderers were tired out to say the least. A tenner down on the night wasn't as bad as it could have been but not as good as expected - hey ho. That's me done with promoting for a bit - too many lies, too many deceptions, too many frauds if you want the truth but also me and my family need a rest. Fungal ain't finished and never will be for that matter but a good break is being had from 'in the field'. I will scramble away in the background for the deserving underdog and hopefully get them many a good bone to chew on. Cheers to all who came tonight with the right attitude, fuck off to all those that didn't make the effort or did and stunk of a real wank spirit.