We drove across to Bradford through a mixture of rain and fog with the sides of the motorway sporting a decent coating of the impending white stuff. Along the way we listened to a couple of episodes of the Radio 4 classic 'Fear On Four' just to enhance the chill factor a little and keep our heads ticking. The dark tones of Edward De Souza introduced two tales of terror, one regarding prophecy and the doomed child found therein, the second about an artists obsession with a country lass and the degradation he uncovers on a local farm. Stunning stuff and the right kind of nostalgia if you ask me. A wrong turn, a minor piss about and we arrived at the gaff whereupon an immediate dash to the karsi was made to relieve the ever niggling bladder - there be a stone in there again - aaagghhh!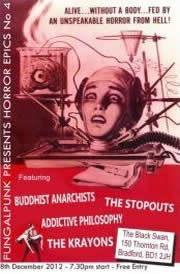 Drums were there and so that meant the headline band had arrived but alas the drums weren't set up and the buggers in the said band had indeed - 'buggered off'. No sweat - a few kind souls set up the kit and so soundman Harry could get underway with his tweakings and twangings. Other bands arrived and brief chats were had and a few punters also arrived - only a few mind you which was, as said, expected.
A beer, a chat with my lasses and the gig got rolling with the feisty Krayons putting in a performance that had one or two slack moments but which was very much a cracker and slapped one in the face of anyone not taking full note. A three piece consisting of a good drum man who does more than first given credit for, a bassist who manipulates the frets with easy attention and a skinbo frontman full of spunky spirit and natural gob and guitar ability. Having recently reviewed a CD of the crew and considering if the disc did them justice or not I am now thoroughly convinced it didn't as this was a billowing blast with a acute passion and, I thought, from first to last (despite the loose bits which were just blasted through - a sign of confidence) was an utter pleasure and sincere wake up call. The band closed with 'Plastic Piggy' and spiralled upwards after rattling many bones. I need more of this outfit and can hopefully prod em' into a few more unlikely areas and get them further notice. For me though a solid start and a band highly recommended for the old and new school punk gig.
Feeling quite pleased with the gig thus far (even with not many heads in) it was the turn of The Stopouts next, a band playing their first gig back after a lengthy lay off and a band I am thoroughly taken by and would advise anyone in their right two-toned, skanky reggae mind to check out. From the opening charm to the final strum I have to say this was downed with relish and is a toned tipple to get utterly inebriated upon. The band have a likeable nature and come across as a nice bunch of folks just happy to potter along and make merry music and this is very apparent both on and off stage - a very important factor for me and the lifeblood of the noise making scene. I hate pretension, ego, affect and here it seems we have none! Classy and vibrant with most tracks off the new album. 'Pretty Girls', 'Bully With A Pen' and 'Crusades' stood out but the set was loaded with quality. The switch between seeming serenity to hard edge then back to mellower moments works and with all components working so effectively together you can't help but applaud. We must do this again!
Next and as the wind picked up a bag of minstrels floated my way and out spilled a plethora of opposing styles making for one hell of an intriguing mix. Addictive Philosophy have no real routine or predictable nature and I like that! They throw in a whole array of chordage and tones as well as living ideas and the end result is totally enjoyable and thought provoking. As a 5 piece you get much to ponder with one guitar and bass working as a unit in harmony with the other side of trumpet and guitar plus gobs. At the rear drums command attention due to some good slam and slap moments and the songs that drip forth are wonderfully varied. 'Telly' is a song about moving yer arse and not stagnating, 'Super Natural Race Fiend' is full of life and gets the 'buzz' factor rising, '(G) Rave' is experimental and off kilter - a nice touch, 'Stop It You'll Ruin It For Everyone' a nice plea filled with passion and good hard-hitting urgency. There is so much more and I was thoroughly absorbed with all that transpired. The band have a good reputation on the scene and all it needs is for everyone to make that little extra effort and give them due support. I loved this and so did all in attendance - go get a Philosophy you can think about and get Addicted too - it ain't no bad drug! Just to add - there is a certain fun element here with the band obviously happy in their work - worth noting I think!
And lastly - the Buddhist Anarchists - a fine band from Manc Land and one that seem destined to perplex the punks (whoever they may be). This isn't regular punkage (if punk at all) but I don't want to be trapped by a label that finds its head right up its own arse at times and doesn't know what the fuck it is. For me musical freedom and alteration of tones is what gigs should be about with the only rule being that bands are spirited, passionate and up for mucking in and making a musical racket. I like variety and dip in to many flavoured arenas and usually come away with some great finds - hence the reason the BA boys were on the bill tonight. Awkward, with gushing many jilted and tilted tangents, cheeky, alternative and very fuckin' convincing the set rolled around, erupted in frenzy, almost broke down into mayhem, fractured ones preconceived ideas and finished the night off in super fashion. Constructed on clattering drums, a weaving, wandering bass line and quirky plucked and fucked around guitar work as well as uttered, muttered, screamed gobbage the Buddhist Anarchist lads concoct a strange sonic dish that has many zeniths. With no set list the crew roll along with the feel of things and splashed forth a series of efforts such as Please, 'Damaged' (a particular highpoint of mine), 'Freedom', 'Hasbeen City', Barb Wire Playground, Day Upon Day, Mollies Lips (Vaselines/Nirvana) (another nifty snip) etc. A new song with no name about the strangeness of the fear of the end of the world was well taken and all in all this was a rockin' fuck off to full stop the nights noise. I am keen to push and prod these guys into many unexpected arenas and hopefully showcase a talent that could easily be cast aside by the limitations of each sub genre. Keep scratching against the grain, keep pissing up river - one word - great! Oh one more thing - 'SHOW US THA' WANG AND LOOK AFTER YA PUMPKINS!
So swift farewells and sincere thanks (John Bowman and Lee Terry your continued support and attitude is immense), another day another doughnut, another gig done - I loved it, it seemed the few in attendance did and the many, once more, missed out. Keep kickin' against the pricks, keep passion the top of your priority list and keep it very fuckin' real and varied. Screw procedure, rubbing people up the right way, currying favour and playing the game - just flow along, question, prickle, point out and believe - I know I do.
o you put a gig on and are up against shitty weather and a Rebellion gig that takes all and sundry (despite many claiming to be 100% underdog supporters - I ain't stupid though). You know attendance will suffer and feel guilty on behalf of the gaff and the bands but...one must still carry on and believe in what one does or one can be washed away in an ocean of nostalgic conformity and same old, same old routine. I am in the minority in my passion for new, up and coming noise and it really goes against the now set punk rock grain to be so resolute and determined to keep this music scene rolling. Well in ususla truth I have to confess that before and after tonights gig I still believe 101% in what I do, the ethos behind the dabblings and that the best racket makers are the ones generally overlooked or abandoned as others get their fix of big band, 'I was there', 'oooh look at me I am ticking all the right boxes' bollocks. Fuck that and here is a review of a poorly attended gig in a great venue, with hospitable and supportive hosts and with 4 diverse and fuckin' highly enjoyable bands on show. Say what you will but I am convinced I was at the best gig in the country on this wet and windy night.
Review by Fungalpunk/OMD (9 December 2012)