After a shite week at work and being full of a cold plus having a recurring problem with my ankles (wear and tear through tennis, badminton and walking no doubt) it was a struggle to get to this gig. Add to this the fact that I am skint the persuasive factors to get me out of the house had to be very strong. With Glue Ear, Billy Club and Kings of the Delmar all worthy of support and a chance to see a new band (Certified) I thought it was worth the effort to pop down and do my bit (however miniscule it is). I arrived as Tim 'Punk4Life' Davies, Jason, Jordan, Spud and Oldham Mark were hitting the venue and entered to a room that lacked any real crowd. As per usual several other gigs were going on not too far away and I was wondering if the payers on the door tonight would exceed 30.
So after a few beers and some white wine local new boys Glue Ear commenced the evenings entertainment to what was now not a bad turn-out. How many of the faces in attendance were actual payers is anybody's guess but at least Glue Ear had some worthwhile attention. Tonight the band was pretty loose in parts and pretty organised in others and in truth were what you would expect from a new band. I like this trio though and there is quite a diversity of noise emitting from the players which in many instances works and in a few were it doesn't. 'DSA' is basic and to the point, 'Beer And Curry' is belligerent and macho, 'Not A Friend' a curious tangent that mixes skank, Oi and straightforward riffology and 'Border Parasite' a very effective song that reflects potential. The last couple of songs raised the standard with the Millencolin cover delivered quite well. More rehearsals and a few tweaks with the more accomplished songs and Glue Ear will do ok fort themselves. Gigs should never be in short supply has frontman Scott has an abundance of contacts and, like his band mates, is a right amiable chappy.
A good start and when I saw Kings of the Delmar setting up I knew the evening was about to get a whole lot better. The intro set the scene and the first highpoint was had as 'Hate And Lies' rocked the joint to the rafters with its high calibre arrangement and all consuming chorus. From here the set just got better and better and the momentum towards the end was mesmerising with 'TV Personality' just one helluva fuckin' delight to watch, hear and join in with. For a 3 piece this crew don't half make waves and this was another high energy performance with all 3 players being a vital ingredient to the end product. The bass-lines throughout were electric, the guitar strokes well executed and exuding a new found glory and gusto and the drumming both efficient and mightily effective. 'So Easy' and 'Talk Sideways' were both from a recent EP that I reviewed and gushed over and tonight they were absolutely spot on. A set to savour from a band on the cusp of surely attaining more credit and one who may just be the biggest movers and shakers of 2009.
Certified were a new band to me and went about their business in a totally unfussy manner and straightforward style. They looked 100% punk and sounded 100% punk with no intention of being anything else. All songs followed the same vicious formula and despite being completely traditional and predictable I fuckin' enjoyed it. More and more punkers these days take it upon themselves to wear a cloak of affected criticism and try and elevate themselves to a position of knowing better thus giving them an excuse to spout off about the progressive nature of punk and what is deemed relevant or out of date. Well I don't give two flying fucks for views like this and for me if passion and spirit are rife and the output noxious then that will do for me. Certified are what they are and that my old sunshine will do for the fungal one.
Finally to Billy Club. A shit band made up of 4 shitheads who all contribute to an overflow of shit songs. They have always been shit and always will be - total, utter, shitty, shitty shit, shite! Now for the truth! Well what can I say that I haven't said before? One of the best bands on the circuit who always give 110% and never fail to convince. The songs all batter and bruise and retain a deep rooted melody that doesn't get lost in the final mayhem. Precision punk is how I see it with all participants fully focussed and always on top form. You never see them out of step and every show is exciting and filled with top notch tuneage. Surprise, surprise - tonight was no exception. All the songs were a blast and for once I won't pick a favourite because there really is no need. Quality entertainment capped withy a UK Subs cover thrown in for extra titillation that pleased the crowd and gave Brian Barnes the chance for a brief slice of exhibitionism. A crackin' finish to a crackin' night and heading home I was more than happy to have made the initial effort.
Whether or not the number of payers fulfilled the bands petrol costs is a question to be answered but even if it didn't the night should be remembered has a success and a great showcase for punk rock. End of!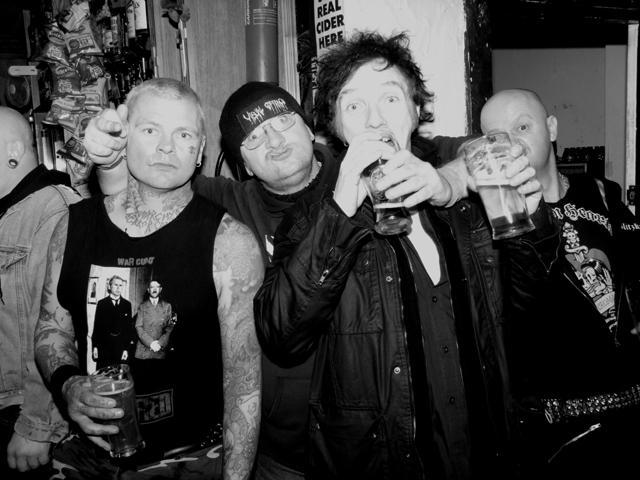 Sean of Certified, Me, Bri Barnes and Damo of the Kings of the Delmar
review by OMD (8 February 2009)
Photo by Tim 'Punk4Life' Davies