Apparently the nicest day of the year thus far and here's me and my lasses doing a gig instead of out in the sticks – darn that climate. Leaving home at 10.30am we tootled to Chorlton to pick up my good friend Steph (Aka Bee Lady) and her fella Paul and then set off to The Green Star in Burslem. Traffic problems, 1 wrong turning, a stop off for a Fungal piddle and we got to the gaff at approximately 12.15pm. First bands were there (good stuff people) and a few local heads and loyal supporters (big respect). Eagle and Rachel were there too and warm salutations were had – a pleasure to work with these people. Chits and chats and after deciding that Paper Town would go unplugged and the weather was so darn nice it was agreed that the band should do their set in the car park – acoustica alfresco no less. And why not!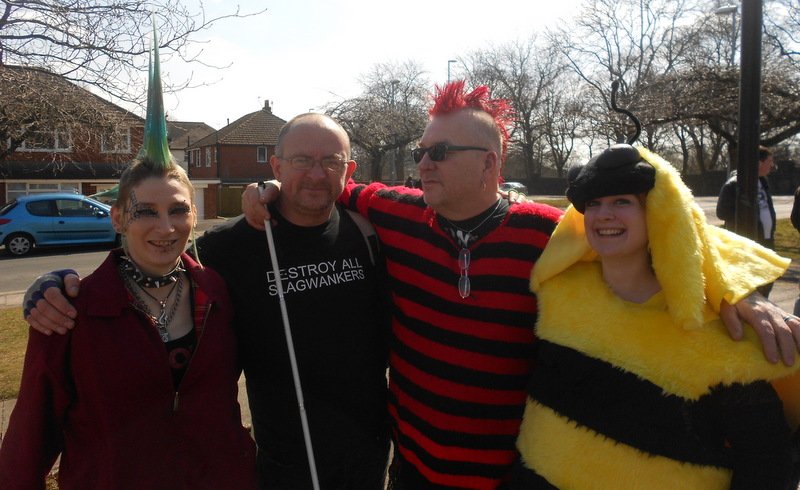 4 early birds - Katie, my Fungal self, Eagle and Steph (The Bee Lady)
This review shall be to the point and not dawdle too much on bands as myself and Eagle are gonna do a bit each and I am opting this time to just get the essence across of what transpired rather than flounder on the technicalities of each band. Today was more about attitude rather than application.
So Paper Town opened up to a small gathering outside The Green Star in Burslem and gave an absolutely wonderful performance filled with neat and tidy tones, threads of melancholy and underhand fun and emotive textured sonica all of which floated on the breeze and kissed the fortunate onlookers who I believe really respected this moment.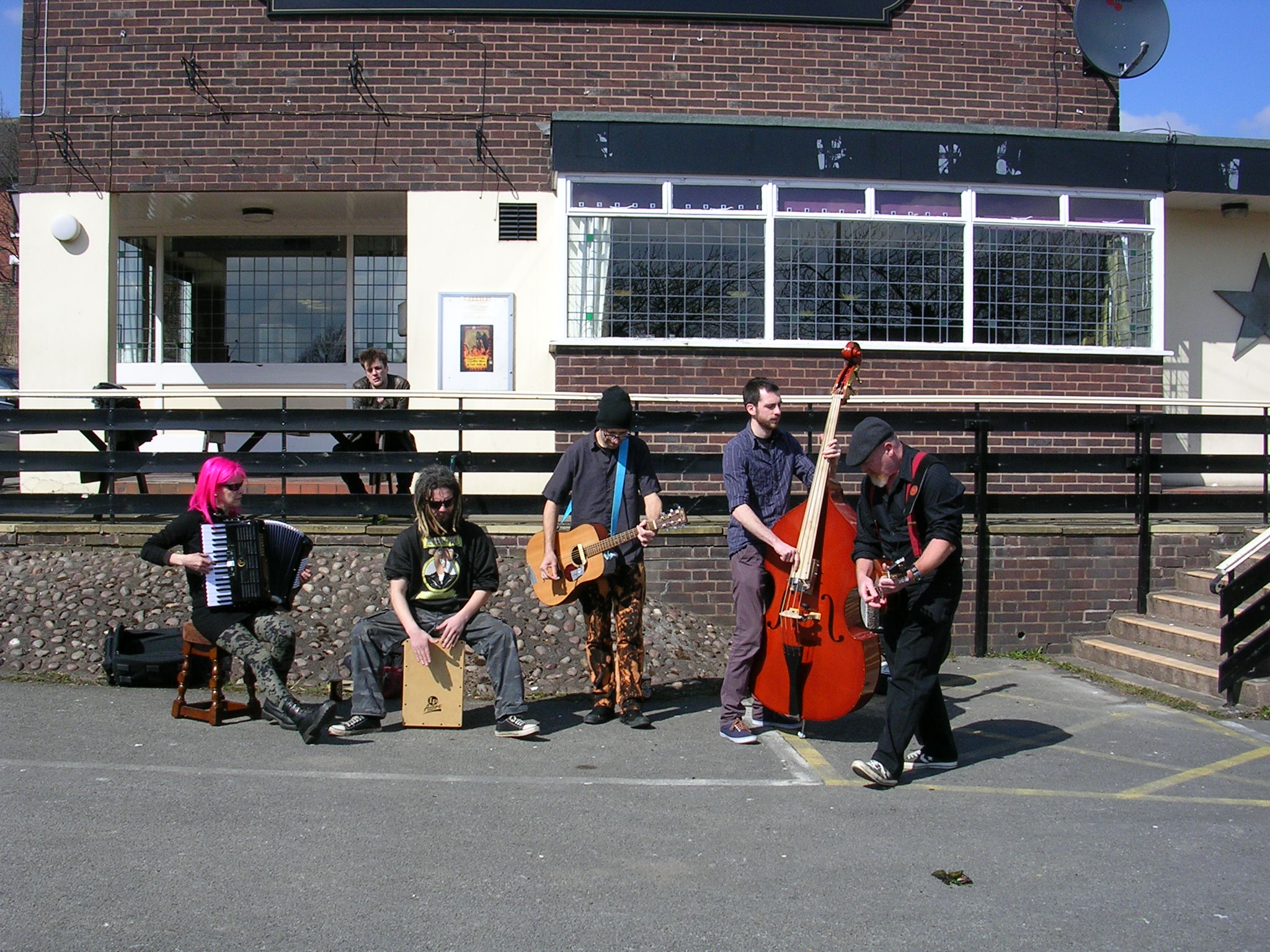 Sometimes it is nice to do it outdoors
The vibes regarding Paper Town had been good and despite several planned visits to see them lately I had somehow missed out and this was my first viewing – what a treat! The acoustic portrait painted in this en plein air style got richer and warmer as the set progressed and the last two ditties's finalised a stunning end creation. 'Paper Town' and 'What A Life' were memorable as was the whole shebang – thank you and let's hope we can replicate this at some point. Just to add – whilst the band were playing a Peacock butterfly whizzed past and showed a bit of support – quite apt don't ya think?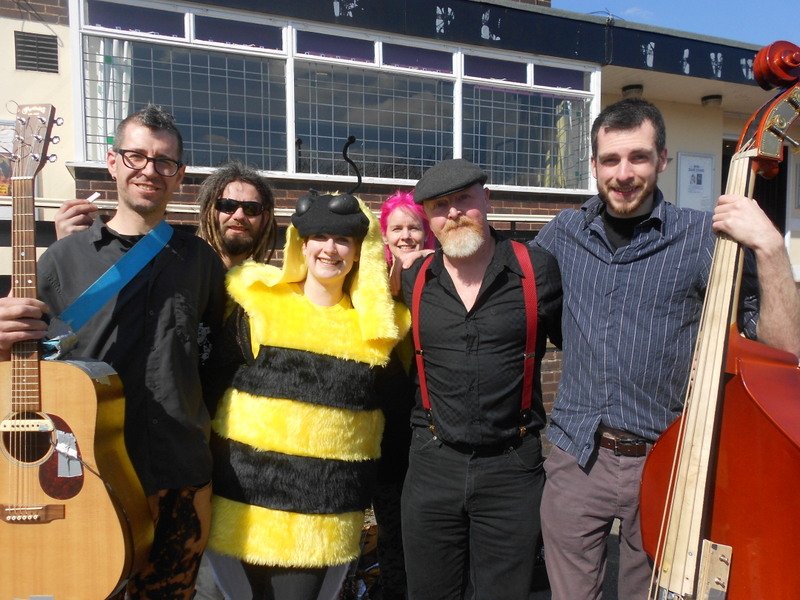 Paper Town - with the omnipresent Bee Lady - all were buzzing
Buff next and despite the gig already over-running Rick on bass asked if they could wait for another 20 minutes whilst he chatted with an old mate and enjoyed the sunshine for a bit longer. Ha, ha – love it and who am I to deny someone a natter and a bit of Vitamin D – fuckin' have it. So a little longer in the rays and the wagging of the chin in many directions and then…Buff.
I like Buff, I like the heavy riffs, their hurtful bass lines, the sub-psychedelic tints they splatter so haphazardly all over the canvas. Sometimes they make a mess but I can't help finding something joyful within the disarray. This is DIY to the bone, with a phantom masked singer roaring amid a maelstrom of racket made by his 3 comrades.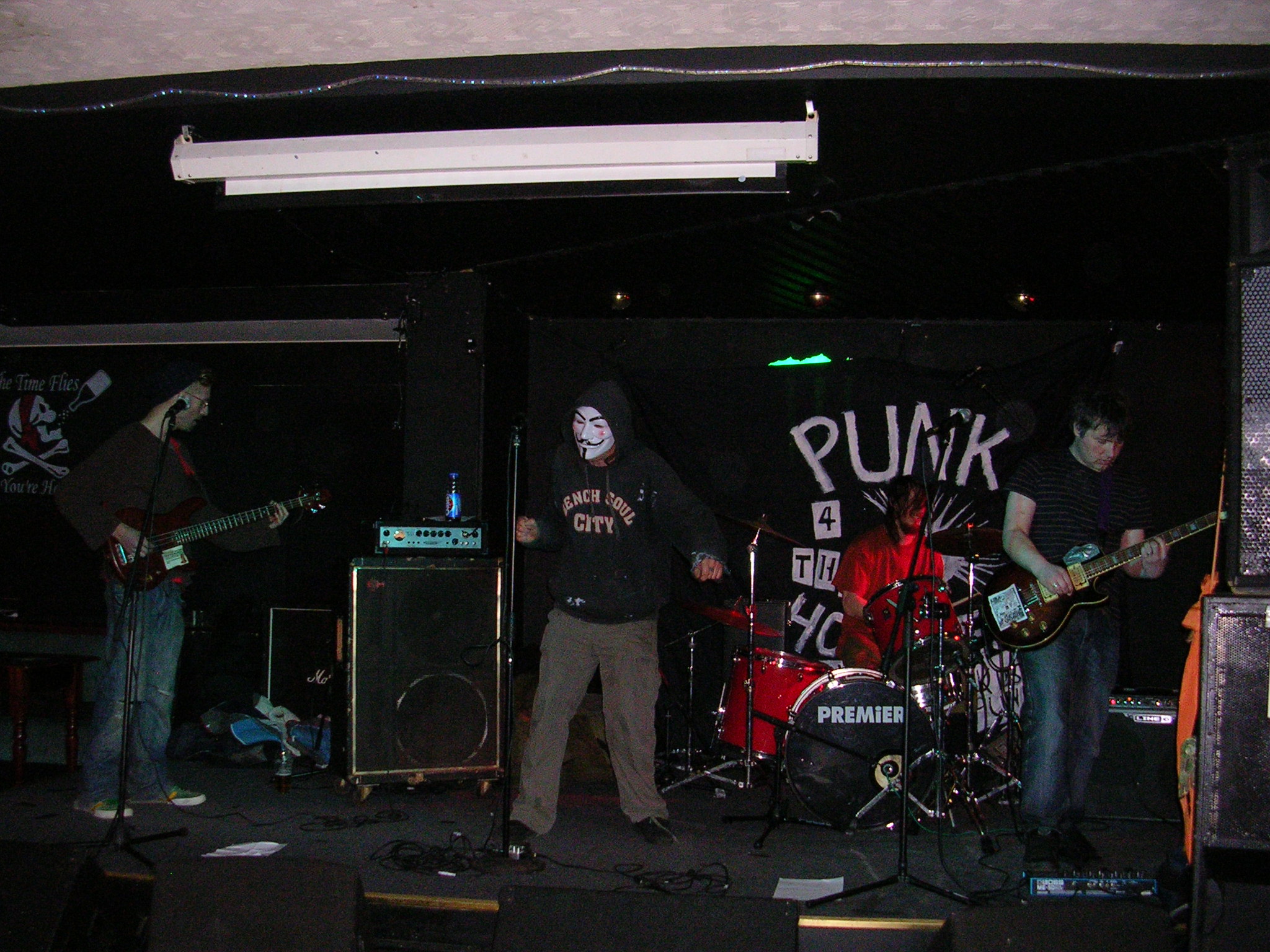 Buff - playing fully clothed thank goodness
Throbbed bass, sawing guitar, absolutely battered and bruised drum work and laden with echoed overtones to tilt the inner equilibrium. 'Tribal' is basic, raw and fuckin' spot on and 'Dirty Old Town' was a clashing and colliding episode of filth – fuckin' love the style, the approach and the no nonsense delivery – book em', enjoy em' and spread the word!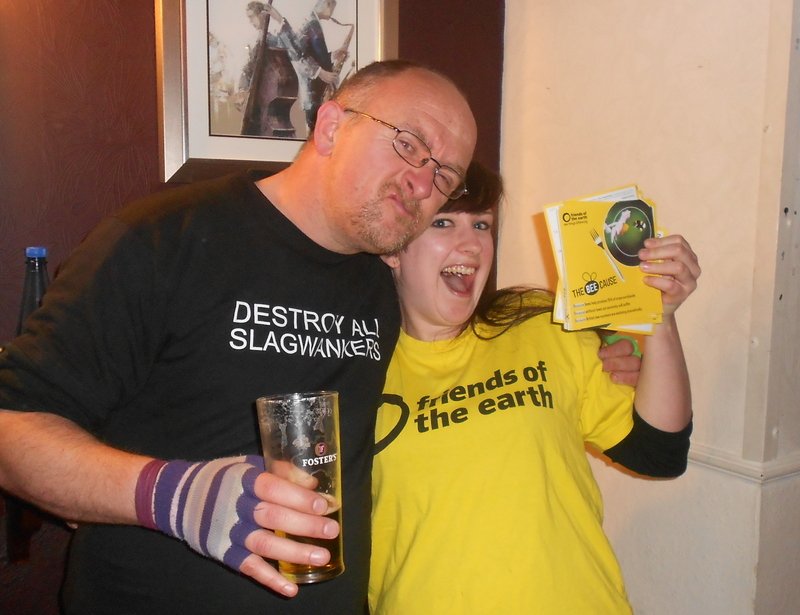 Ye old Fungal self and the Bee Lady - one good un' out of two ain't bad
A little more fannying around – what the hell – we ain't professionals, we ain't on a mission to Mars.
Evil Eye are a band that are just growing on me all the time and once more laden with a host of dudes who just can't leave it alone and stop making a discordance. The last few viewings have got better and better but I thought today, with the exact sound (cheers sound man – excellent services given sir), they fuckin' busted through a new musical membrane and made the ears bleed a little more urgently. Real heavy handed damage this with the essence without apology and reliant on all areas of the soundscape being completely crammed. I like these guys and they bring something definitely old school to the table with a deep underscore of 'we don't give a fuck' and 'anti-rules'.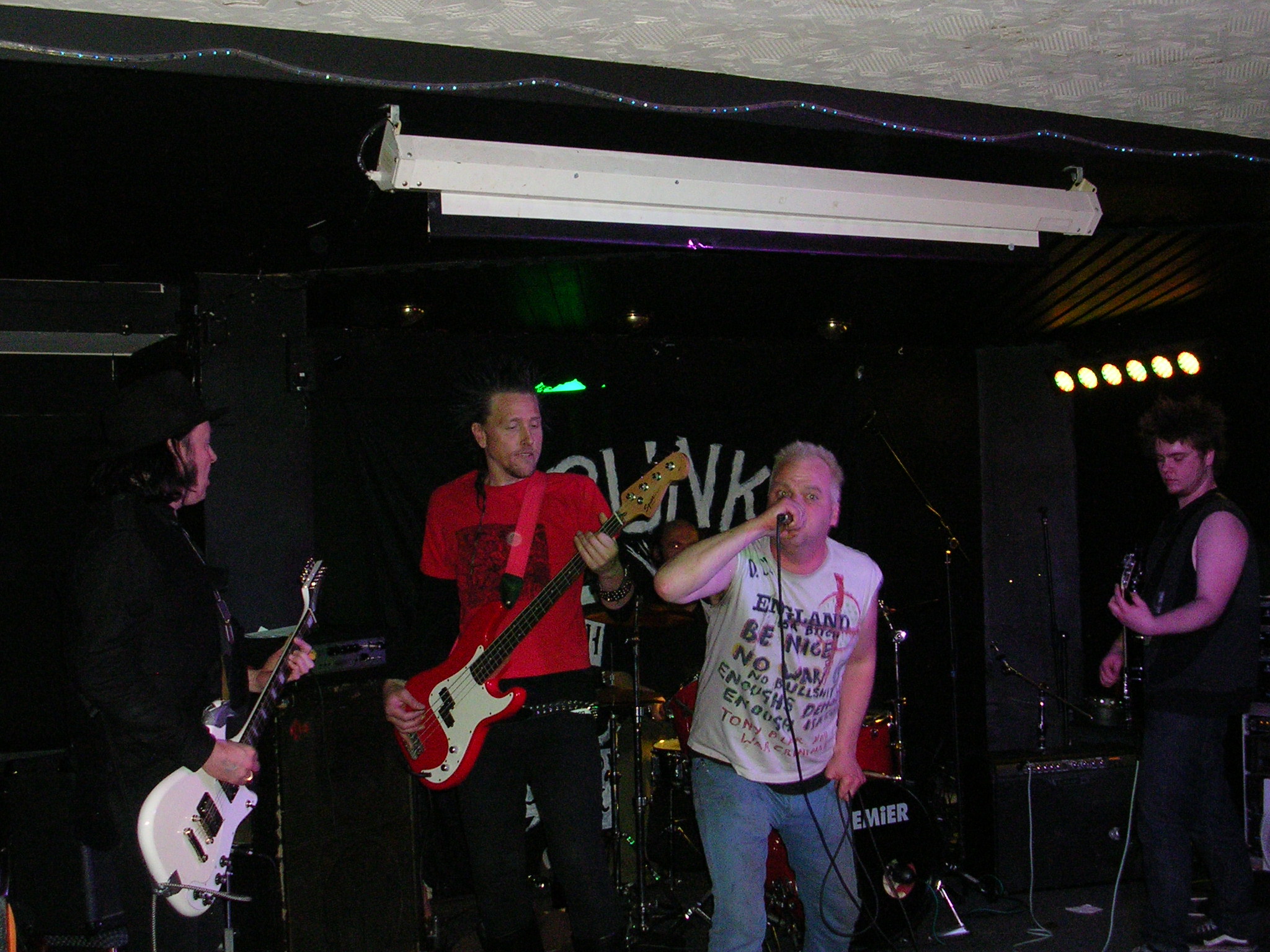 Evil Eye - no bags of shit in this set
All string work melts together and creates a full on sound with drums splattered with conviction and the frontman pouring in every last ounce of mania and desire. They got grew in stature throughout and the crescendo for me, as per, was the mighty popping of the inflamed acoustic pustule known as 'Shit Bag'. Have it – great stuff all round and hopefully we can do some more together – what a great opening trio of bands!
Some time to chill next and 'THINK'. Yes it does happen tha' knows. Instead of Eagle Spits doing a full 30 mins we decided that we would do 3 ten minute slots with Eagle, Dwane Reads and A-Sole spouting off some wordage. Once again it is DIY, off the cuff and without rule – like it or piss off (and if you do indeed piss off you will miss out).
Eagle spewed up his ravings in disordered fashion, stopped,started, orally farted and then departed and left one with a feeling of a man who just fuckin' means it. He'd been attacked the night before (a sordid tale) and yet he still turned up and did his bit and did it without pretension – he is a fuckin' diamond chap and I lapped up his words. Dwane Reads was more orderly, more prepared and threw in sharp text laden with cute humour, pertinent points and acidity. 'The Poo Tree' was my favourite –dealing with foul habits in a subtle, funny way but getting the point across. Nice. A-Sole next and a more moody, complex approach with tangents aplenty and a considered style that didn't get wasted on me. A gentle thank you after each delivery got welcomed applause and once again I thoroughly enjoyed this varied mode of entertainment. I think all three complimented perfectly and should make this a frequent occurrence – I'll certainly be asking em' back for more. Just to add that Eagle Spits' missus popped up after his 10 minute outburst and gave a sweet rendition of 'PMT' – nice one lass – love it and don't be too harsh on the old fella ha, ha.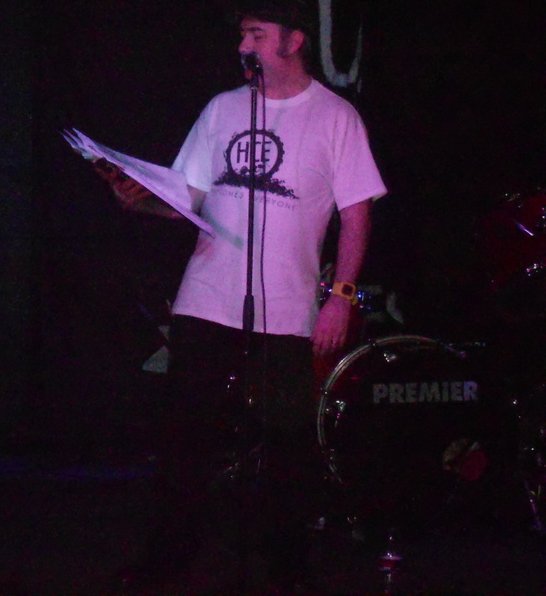 Dwane Reads - a great chap who is called Dwane and er Reads
Here is some extra wordage from Steph, the Bee Lady:-
As newbie to punk, I was surprised that I found the day spoke to the activist in my heart. I care a lot about the economy, the food system, natural resources and nature. I was so impressed by the words of all the poets that day. Dwane Reads spoke of the devastating events our fast food culture has on this modern world and how it is crippling us within. Such true words spoke with such distaste as Dwane informs us that this is the world his son is to grow up in.
Eagle Spits told of the sufferings of the homeless, something he clearly feels strong about as he actively fundraises for them. A caring soul speaking up to let all those who will listen about those less fortunate but still living side by side us.
A-Sole and the Evil Eye dude again spoke passionately about their beliefs with harsh words and brutal honesty. Words that make you wake and want to be part of a change. I may have been a punk virgin that day, but it certainly won't be my last gig!
Cheers Steph
Back to the Fungalised stuff:-
Mispelt 2.0 – nuff said already – fuckin' class band I absolutely fell in love with the first time I heard em' and then when frontlady Jen joined – whoosh – glorious noise to my ears. Great people, great sound – what more can I ask for? It was good to see the frontlass back on form after some time out with stress related bother – she be a sweet thing with a big vocal gob – talking of which…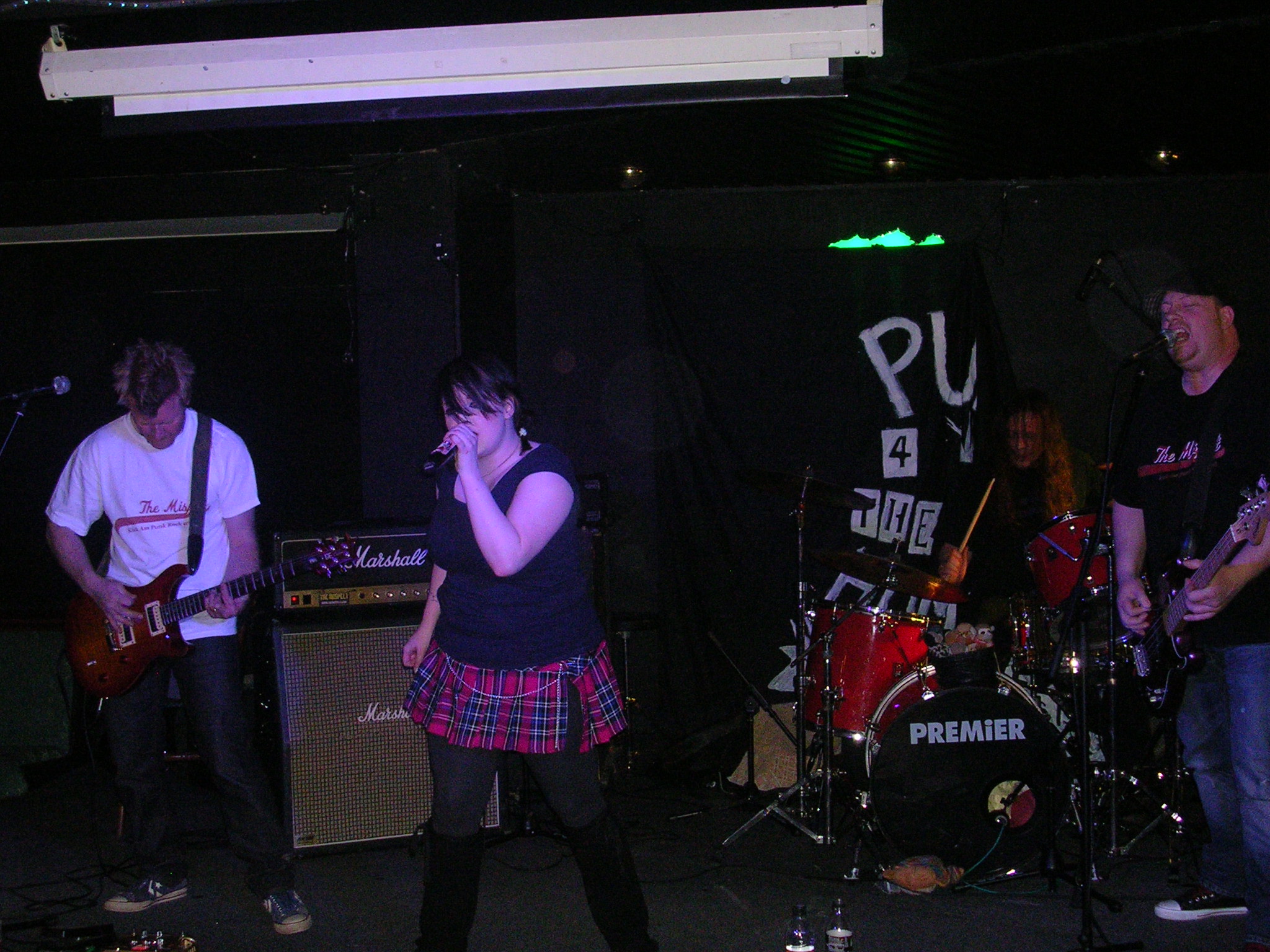 Mispelt 2.0 - I really can't fault em'
Jen duly led this band from the front and did her usual tootling routine flitting from hither and tither and kept the peepers of the crowd well and truly alert – they seek her here, they seek her there that ever elusive Mispelt Imp! Song wise this was a masterclass with the band seemingly finding a new lease of life and really grinding out a more meaty, harder punching affair. Stickwork is always spot on for me and has a certain flamboyance whilst bass and guitar combine excellently and provide balanced power chords aplenty. Today's set was made up of a new forthcoming album which will be a concept effort telling a tale of Jen's and Dunks (bass man) experiences within the mental health arena ( I think I have that right) and has a few old faves of mine such as the wonderful 'My Therapist Sez'. My jowls are certainly salivating at the prospect, even more so after this – most choice indeed – I want more!
The 3 aforementioned poets got back up next and were joined by the Evil Eye frontman who decided to throw in his two penneth worth as well – 4 convincing fuckin' acts if you ask me and keeping the crowd on their toes as to what will come next – even I was beginning to wonder and I'd organised the fuckin' event. The only way!
Burning From The Inside – what can I say – best performance to date – you bet. Tightest set yet – without a doubt. A full on energetic delivery – I wouldn't expect anything less. This was a hefty barrage of top notch weaponry delivered by 4 'erberts who are welding into one bruising machine set to move further and deeper into this all consuming sonic vagina. They fuck hard and deep with rigid riffs and hot spunked chordage that ejaculates into the lap of the listener and from there produces embryos of admiration and intrigue. The big man on drums wallops away with accuracy, the bass is grumbled and rumbled by the other large lout Wilfredo and the guitar is scorched a whole lot more by the ever intense string man. At the front is a lean dude pinging and popping this way and that and with a good conviction in the gob work that makes all tracks listenable. 2 efforts always stand out 'Some Days' and 'Just Another Day' but like I always say about this crew – no duff material is had. Fantastic.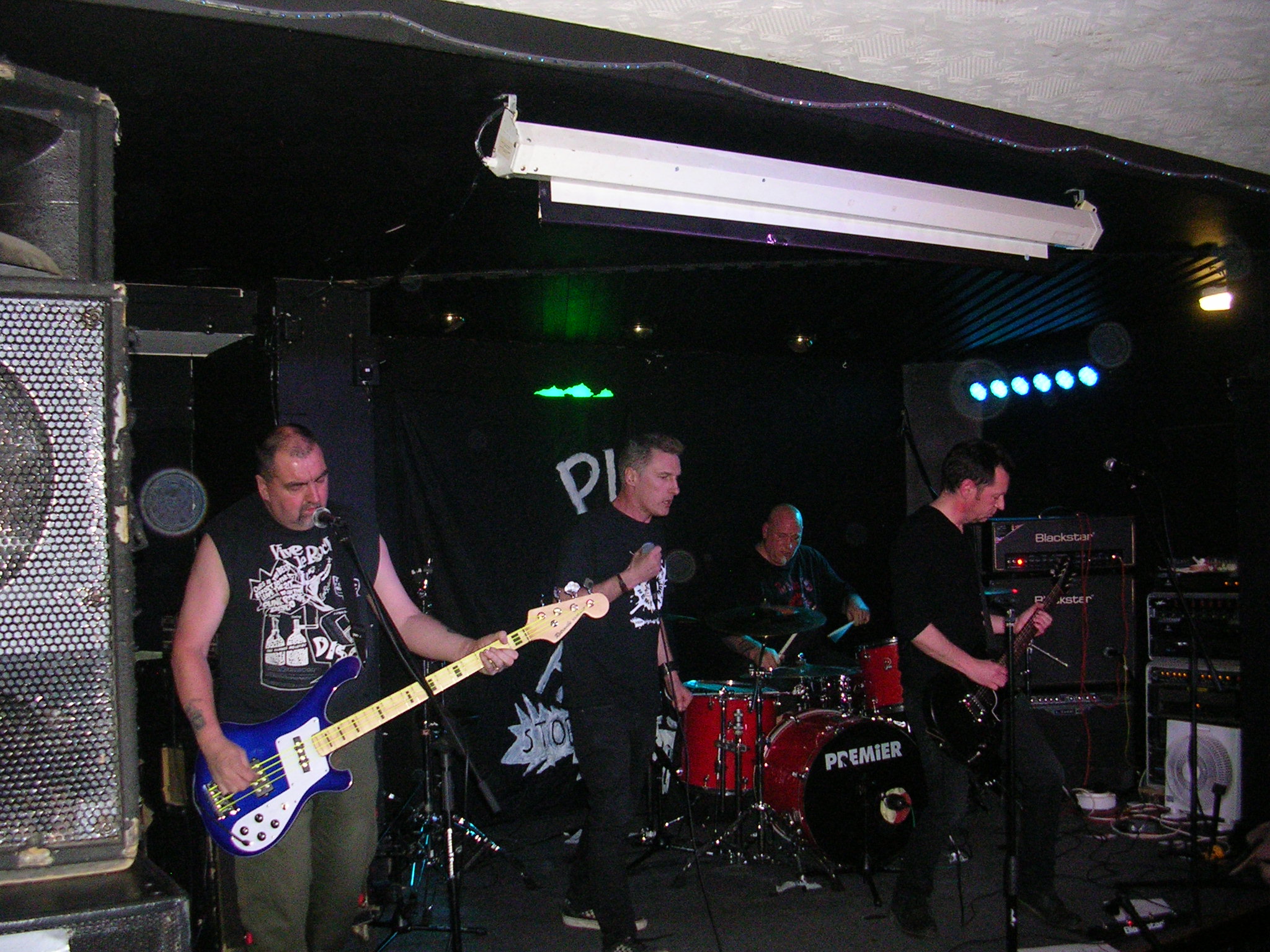 Burning From The Inside - and scorching anyone who gets a little too close
Outside – the head was getting frazzled. The beer was flowing too easy – a few salad butties, a swill of juice, oooh I need a beer.
The Jackhammers have musical muscle, they have big spirit, they like an adventure and so this combination led to them appearing tonight with clear intent on their faces. I talked them up big to the ones who hadn't seen em' before – the buggers came, flexed, fucked and fuckin' flew high with their solid set of blasting juggernauts that bowls everyone down who gets in their way. There is no need for detail here – just a embracing of the brutal noise and granite riffery this lot produce – massive man, massive.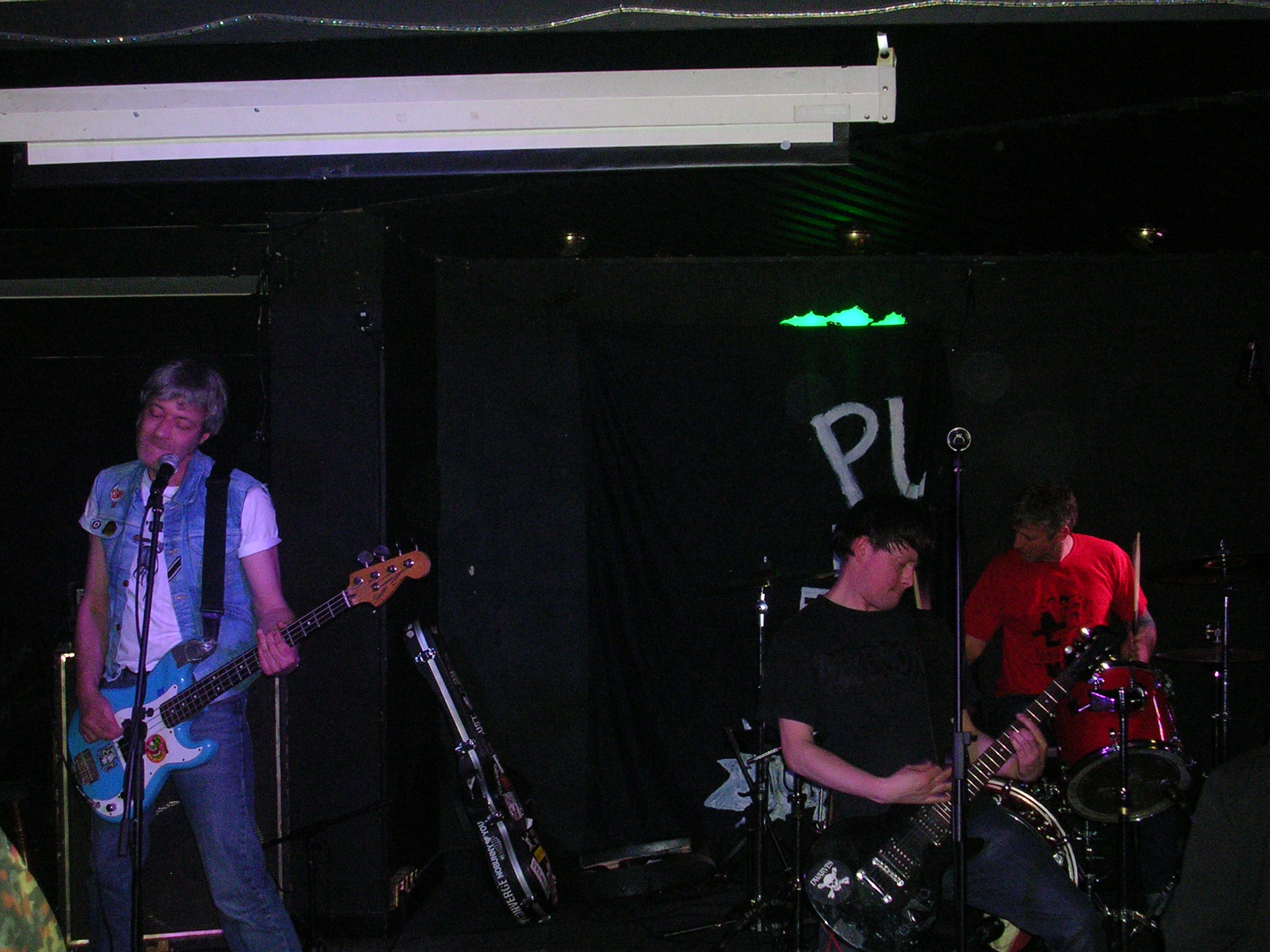 The Jackhammers - they came from afar and made a hefty hole in the sonic wall
The songs swagger and rock and roll with aplomb, the reputation had is fine and dandy and it is just getting better by the gig. There is a garage-esque underscore, a certain grime and an obvious love for the vibe and that undoubtedly adds to the overall feeling of conviction one gets whilst viewing these Scotch sandblasters. The proof is indeed in the pudding – the band sold a good amount of merch afterwards – if you ain't convinced it is because you weren't there – entirely your loss. Every track was a joy – and again I say – more please!
Brocker altered tempo and gave a touch of classiness. I have only seen em' once, same time, same place last year on another Fungalised jaunt – this episode of noise shows what 12 months can do to a band who want it. Most choice and despite getting distracted by a bouncer to calm a dude down and a few heads who wanted to chinwag I saw 90% of the set to realise this is a band to be considered for bigger and better things in the immediate future. They have the X-factor, that elusive ingredient that just gets you loving the noise and wondering just what it is that makes it so good – apart from the choice musicianship, ability to compose a good song and the willingness to dabble in several genres.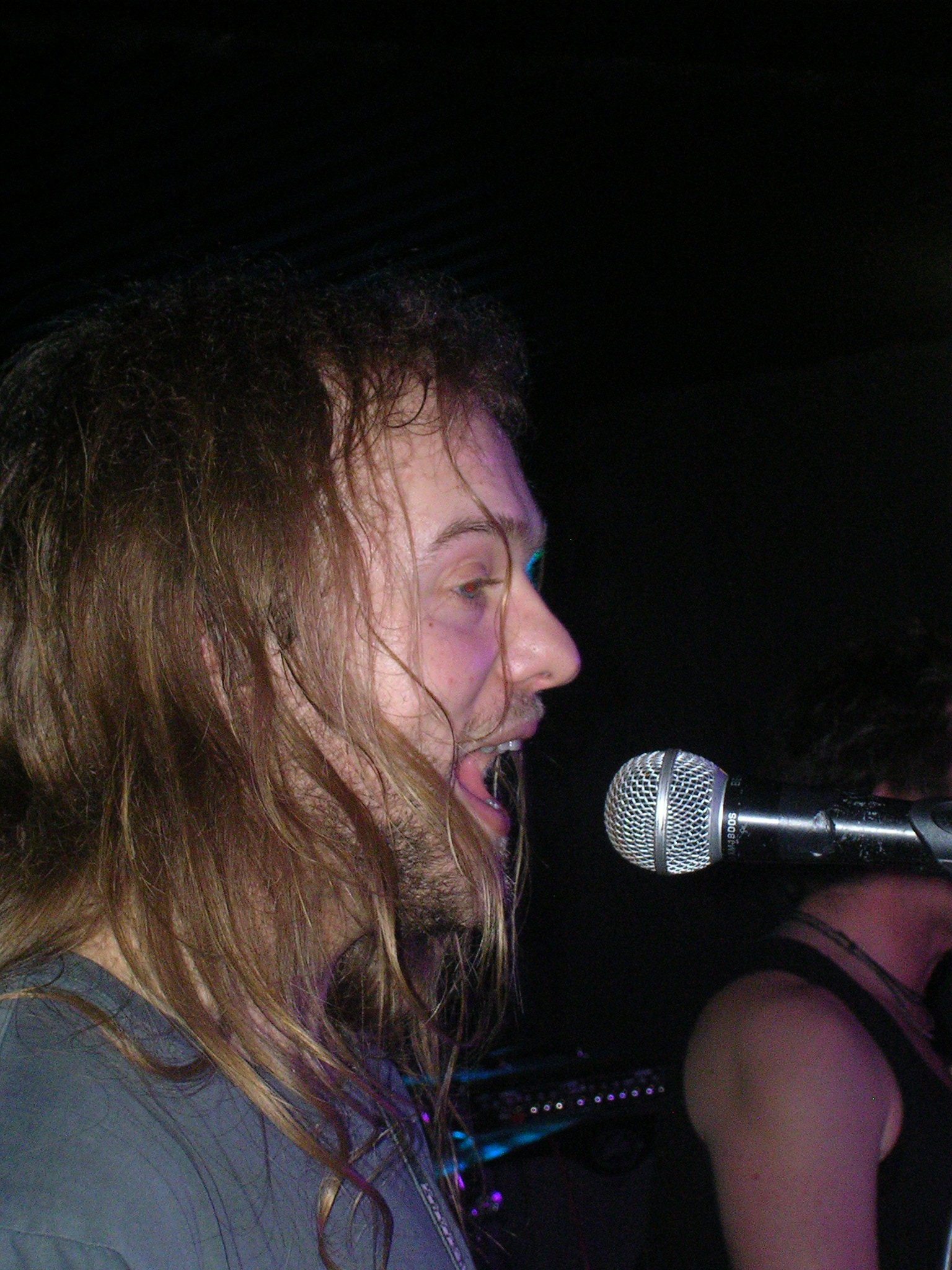 A bad man from Brocker - a touch of class for sure
Again another band to absolutely adore and comprised of decent dudes with the correct attitude – no frills, many skills, loaded with thrills – knowing apathy kills! Why are people missing out on this kinda stuff all too often! Keep going Brocker – ye shall be back! That 'Gangster Ska' song is still a peach!
Destination Venus – absolutely warm, fun-filled, sing-a-long popped and punked vibes aplenty and bafflingly a local band who very few deem worthy of support it seems. For me a long term casualty of the addled headed scene and just totally mind numbing as to why this lot aren't attaining far greater degrees of success after so long in the scene. I am absolutely full on for this band and tonight with songs like 'Fruit Machines' and 'Let's Go' just scratch my head in disbelief why the room wasn't packed with local heads. Am I really missing something here – I think fuckin' not! The crowd seemed to love this and why not – articulate in every area, zipping through quality song after quality song and all done with a smiling essence and such spirited pleasure – real sincere thanks for another delight!
The Septic Psychos are in no need of an intro – they should be known by all and sundry. Bull dozing, ball crunching, head blistering energy from high wired, utterly inspired demons of din making that just fuckin' cracks on and never lets up until the last blast. It is a 'get off yer fat arse' lesson and one that highlights that you are never too old to let it rip until yer lungs burst. I have yet to meet a punker who doesn't agree that this lot are class – but I have yet to meet a punker who will actually make the travelling effort to see em' (you get my drift – and yet if they were called Rancid etc.), mind melting ain't it. Not to worry, they have a few fans who do their bit I am sure and let's hope this army grows. You get 100% jam packed punkage here, no breathing space, no excuses, no settling down – songs about buying shit, rights and wrongs, baldies with no right wing leanings and such like – assorted and aggressive and fuckin' high octane – swallow it all, it tastes delicious.
Somehow this gig had got back on time, somehow myself and Eagle were still standing, somehow the day had turned into a success and somehow we still believed it was all worth while. We two crumbling desperadoes are still riding our lame horses into the piss stained sunset and hopefully whipping out something to consider, kickin' up the turf, running into the fences and dropping piles of dung wherever we go – it is what we do.
And so to the headliners The Blissetts – what a fine bunch. Having had them booked before and missing out I was glad to at last catch up with these choice players. Their behaviour throughout the day had been spot on with a couple having a ping about and getting into the spirit of things. Add to this the material I had reviewed of the band before had been highly likeable and sweetly politically niggling it was a matter of course that they played a Fungal jaunt at some point (especially has Eagle had been singing their praises). I wasn't disappointed, in fact I was mildly surprised, as I thought I would get a set filled with cultured songs played with middling power and with emphasis on a careful structure rather than a ram-rodding gamble. This was in fact a very potent set loaded with large, looming power and the gamble it seems is no such thing as this is regular riffage and how they usually ply their trade. What a choice finish with the guitar man actually playing some of the set whilst out of the room on one of his many soirees. The rest of the band cracked on and played a stormer with the frontman's accented delivery clear, identifiable and perfectly complimentary to the surround around sound. Best song – too many to name but I do like 'The God Delusion'. Concrete!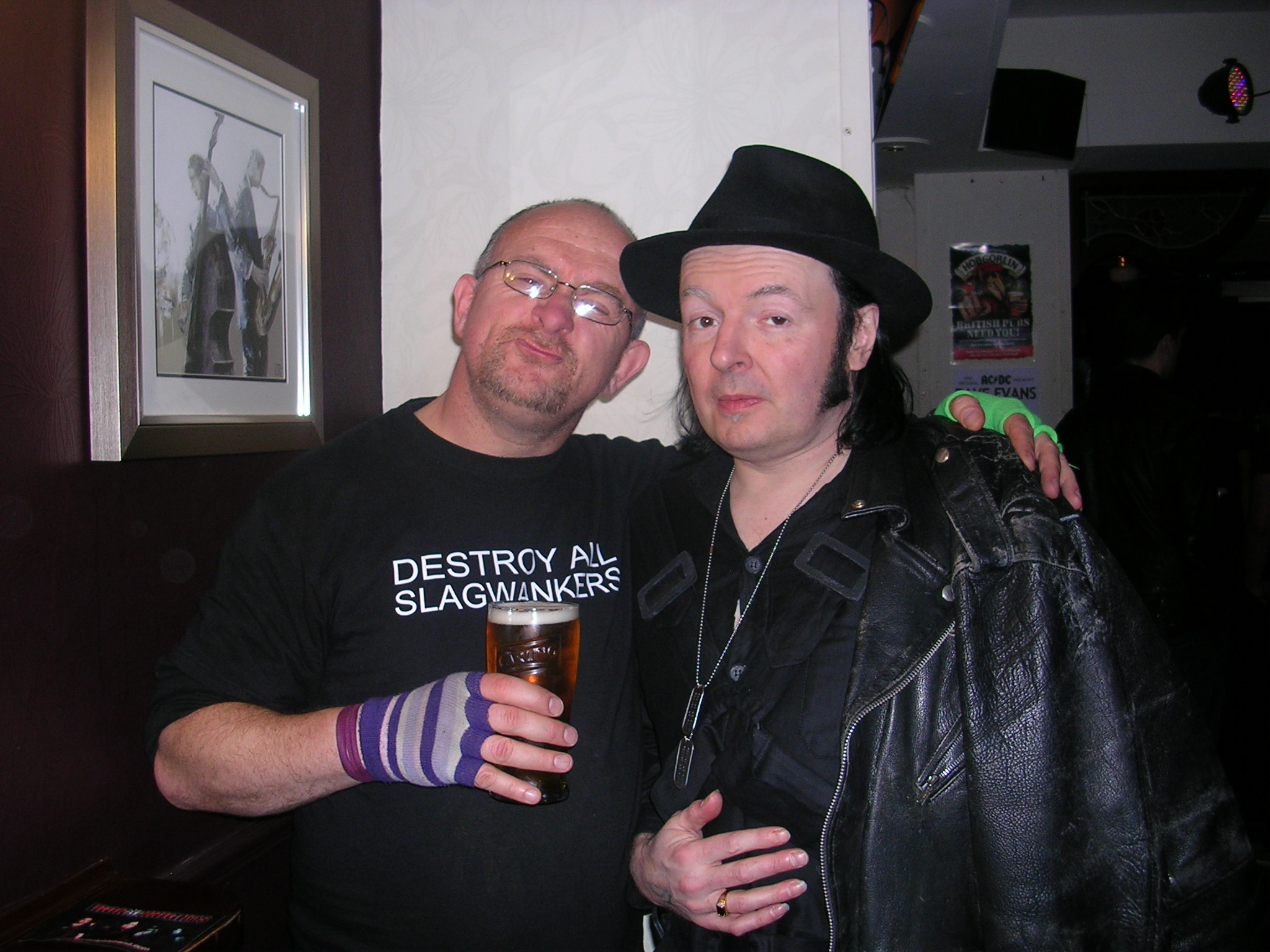 Myself and Ticker of Evil Eye at the end of a long day
And that my good reader was that. Farewells, acknowledgements of some good sets and equally good supporters and off we fluttered into the ether on a cold and dark night with the masses tucked up at home or supporting some utter toss they can't relate to. Myself and Eagle threw our arses into the melting pot, the Bee Lady came and helped keep the buzz, the bands played wonderfully and a few stalwarts supported the lot (or bloody well tried to) and my grand lasses stuck by me and helped me create another all day underdog showcase. Thanks to them all and where we go from here is anyone's guess. I liked the ad hoc feel today, the suggestion of 'fuck it and see', the obvious DIY approach that me and Eagle are seeped in. We speak of stopping but we both know we can't, it is in the blood and that's what makes it so bloody annoying when you see so many who simply just don't have 'it'. There are quite a few that do though and on those we concentrate – we shall all most undoubtedly fail but what the heck. But remember this – if one day I win a few million pounds then the bands and people who have stood by me will not go overlooked. They are all noted and respected and will get looked after and we'll railroad the whole music scene and get some overdue notice – just don't hold ya breath though. Saying that – the odd dream ain't no bad thing. As always – ON WE GO – maybe in a different format but onwards it must be!
review by Fungalpunk (7 April 2013)