Noise For Nature/Homeless day - the last one, other things need attending and I need to crack on. If interest were high then I may change my mind but it isn't and I won't change my ethics and sell my arse to the devil to meet the needs of the ones who want big names, the same old, same old, and in my opinion, less convincing attitude. Shove that up yer arse and regurgitate it!
So off myself and good lasses set to arrive 1 hour 20 minutes later at the gaff, a quick hello and then off to Chasewater for a reccie and a spot of birding. Not bad - back to the gaff and the bands were arriving and setting up. Eagle and co arrived and many fine faces I utterly applaud for making the effort so early - warms the cockles of my ticker it does. A beer, some sherry (of course) and onto the first band. I ain't fuckin' about here, a zipping assessment to pay homage to some stalwarts and to record a day I enjoyed and a few others did too (I hope).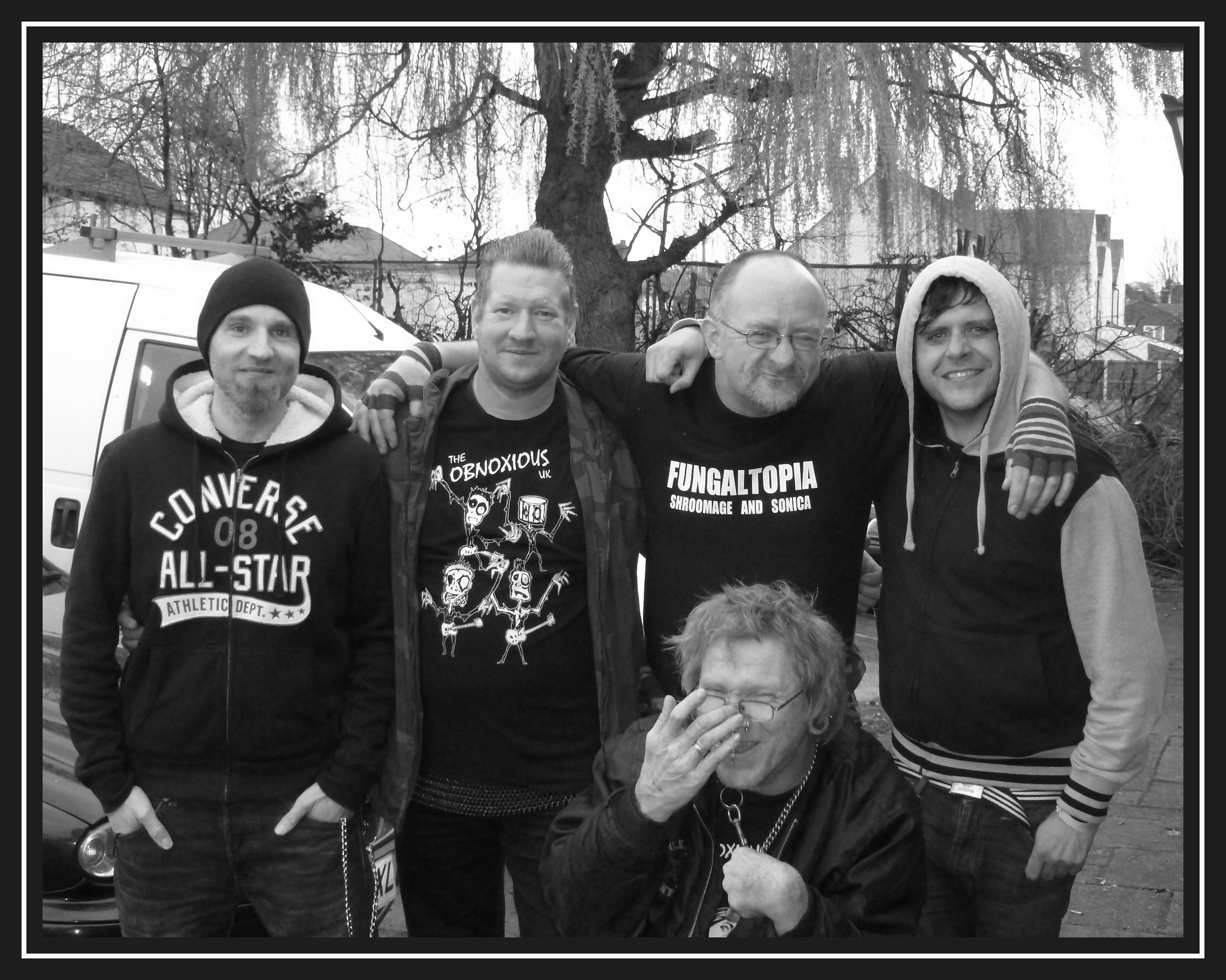 A few of those guilty of attending the gig
Government Death Epidemic were up first, a 3 piece with a new line up so indulging us with a quick set to get their ball re-rolling. Immediately noticeable was the clashy, trashy guitar and wire wanked bass with the stickman settling in despite being at odds with the kits set up. 'Go' had an old school beat but was blown through with a total freshness, 'Why Me' was a whole lot gruffer and whilst retaining the ancient thread had bigger impact in different ways. A semi-instrumental with no name had good swing and a stop start momentum whereas the closing 'It's The Governments Fault' appealed to the cruder primitive side of the sonic spectrum and for me was the best of the lot - a real cracker. Afterwards I thanked the bands and stated my pleasure at the said set, the buggers weren't overly happy with their performance and the self-critical approach was duly accepted - honest, pushing and decent chaps - can't argue with that. Oh and a big thanks for turning up prompt, setting up and getting the day rolling - very decent of ya and thoroughly noted.
Next up a crew who I thoroughly believe in, who are a fine bunch of chaps and who really need to get rolling again and showcasing their intelligent noise. Most Likely To Fail had been out of action for 2 years due to bad luck and personnel problems. Today they were back with new bassist in tow. Straight away they were in and at you with their cultured melody, superbly worded songs and crisp melodic sound. The signature tune of 'Most Likely To Fail' opened, a personnel classic for me with a deep set irony and up front honesty riding along on the captivating melody. The band cruised on and pissed through the set rekindling many fond memories and hopefully moving on to create many more. The band have a classy cut to their rhythmic refinery and songs such as 'One For The Kids' and 'Killing Time' emphasise that fact and the ignorance of the scene. Surely these guys are set to get a better deal! I shouldn't hark on about the injustices of a cruel and bent arena but this cacophonic loving cunt has feelings, cares about the faithful and so feels the need to kick back against the pathetic and the insulated idiots in their sickening circles - ooomph - another hole in the wall! Next up came the sub-skankage suggestion of 'Innocent Eyes' a sheer gem and played with an approach to highlight the sweet articulation - massive. 'Waiting' next and a peach of a song however I missed half of it chatting to Eagle (ya bugger sir). 'Fake' followed, first hearing for me, 'Reach For The Sky' closed, a choice cover - 2 strings gone, who cares - I loved this and what made it better for me was a few others did too and further bookings were promised - the job is a good un'.
By heck I best crack on, I am getting carried away here.
3 Stone Monkey next, choice crew, loads of energy, capable of really firing a gig up. Masked villainy, hectic paced busy showcase with dual guitar work this was a fun and fucked bout of fine noise with whistle blown bursts, incessant driving stick and strings and a raucousness not to be denied. Don't be fooled by the mania though, intricacies abound, delicacies are there to be had and 3SM know their stuff. These rough rhythm creators wear a subtle melodic perfume and the sonic scent radiated attracts the real din loving perverts. I was more than happy with this eruption and really do need to book em' again and give em' a more in depth going over - ooh err missus.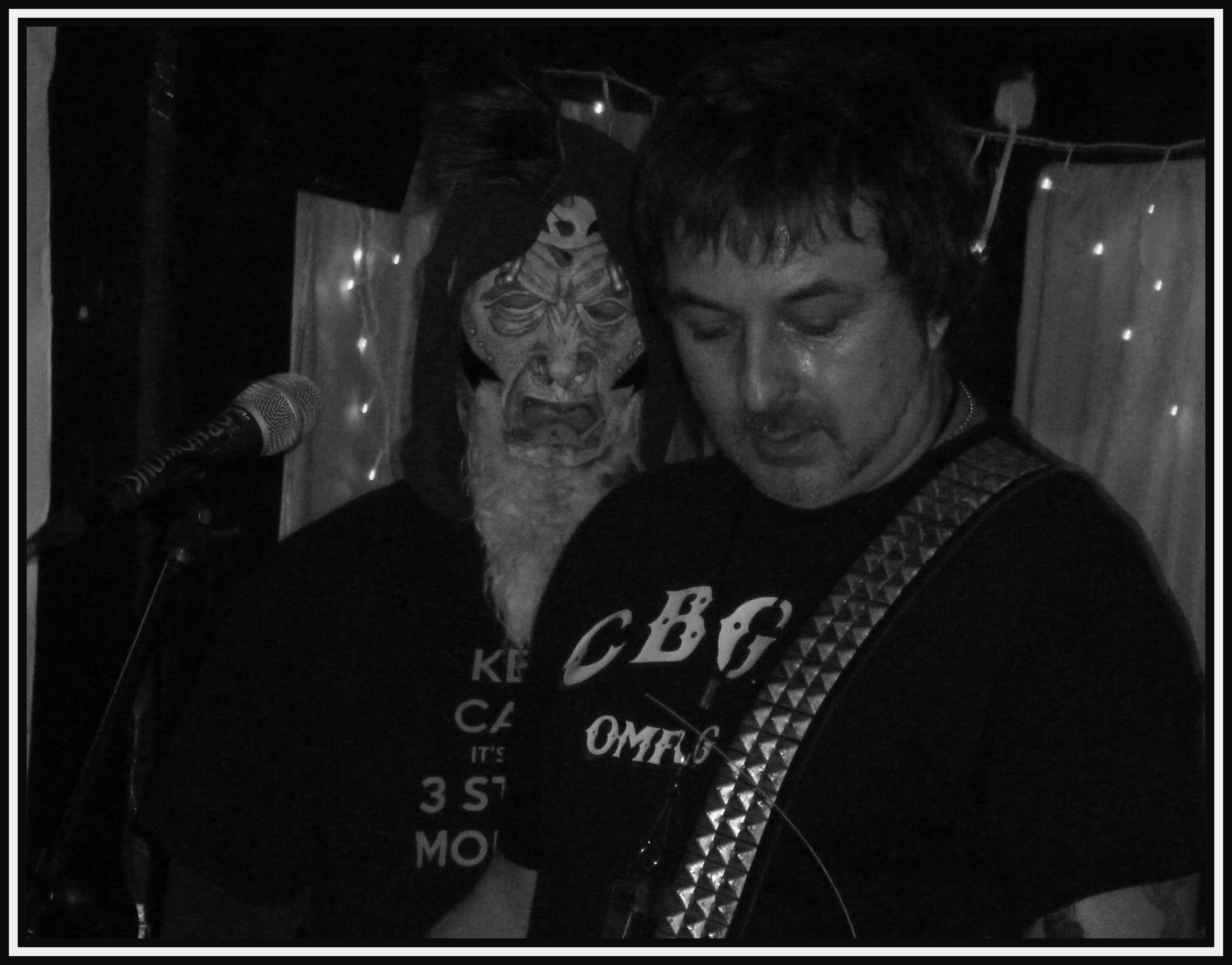 3 Stone Monkey - primate noise with a banana up the jacksie for those that don't pay heed
Spitune are making me ill, 3 times in four weeks is not good for any man especially one struggling with anxiety issues - why oh why am I doing this. Broken, choking, disgusting, offensive and putrid and...oh forgive me dear sensible music lover for saying this...enjoyable too. This mish mash of mis-melody is a big fuck off to the dim wit rapists of the punk scene and somehow provokes a purity to come and fully manifest itself. It offends because it breaks rules, it annoys because it doesn't' tick boxes, it irritates because it defies. Of course its abstract, of course its gruelling, of course it is borne from dangerous minds - you really should get this tribal tinkering, this lewd immersion into anal waters where the stench is crippling - I like Spitune, stink on.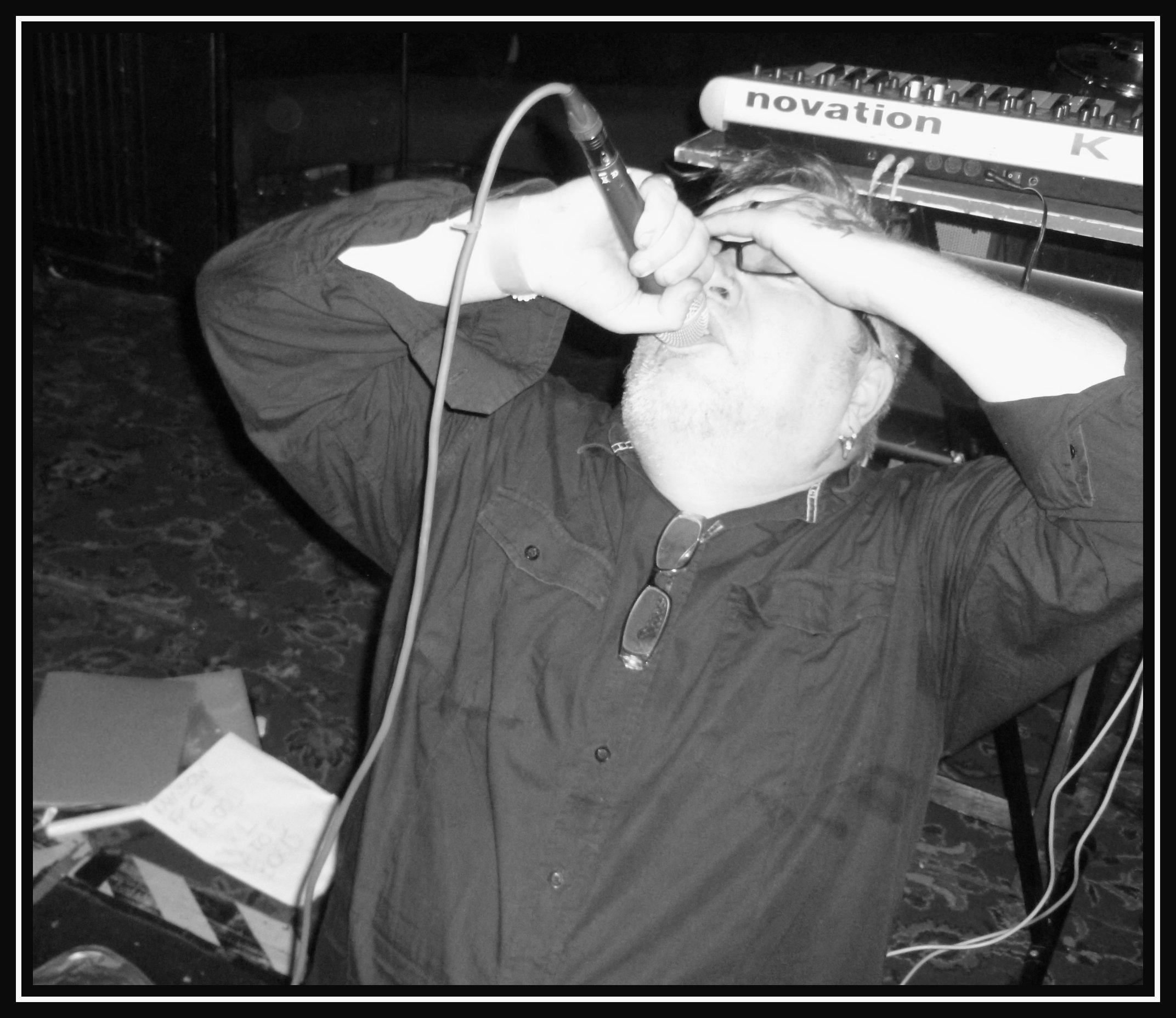 Spitune frontman Eagle - a moment of inspiration it seems, what the fuck am I doing he screams
Burning From The Inside - perhaps the most rehearsed and professional (no insult intended) band of the day and providing a real athletic pedigree of sound that I feel should get more note.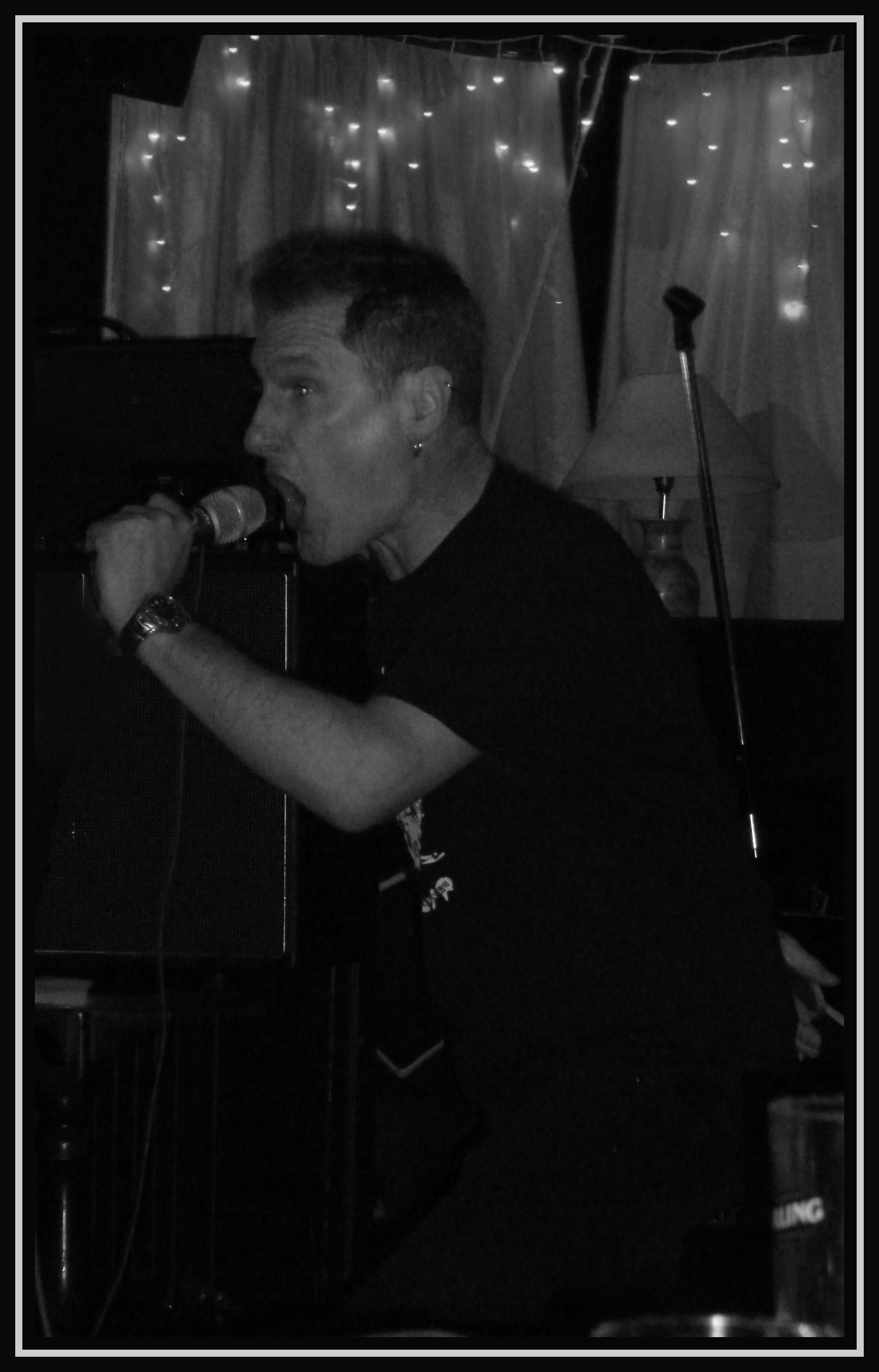 BFTI frontman - he doesn't half get worked up
This lot are exceedingly good and my 2 lasses certainly agreed. Thoroughly disciplined, rattling it with a non-stop pressurised urgency and really stating their case with authority. Over their short existence the crew have become a settled and accomplished beast with many a fine song - 'Some Day' for me was a highpoint today - absorbing and highlighting all the fine aspects of this piston pumping machine - yeah.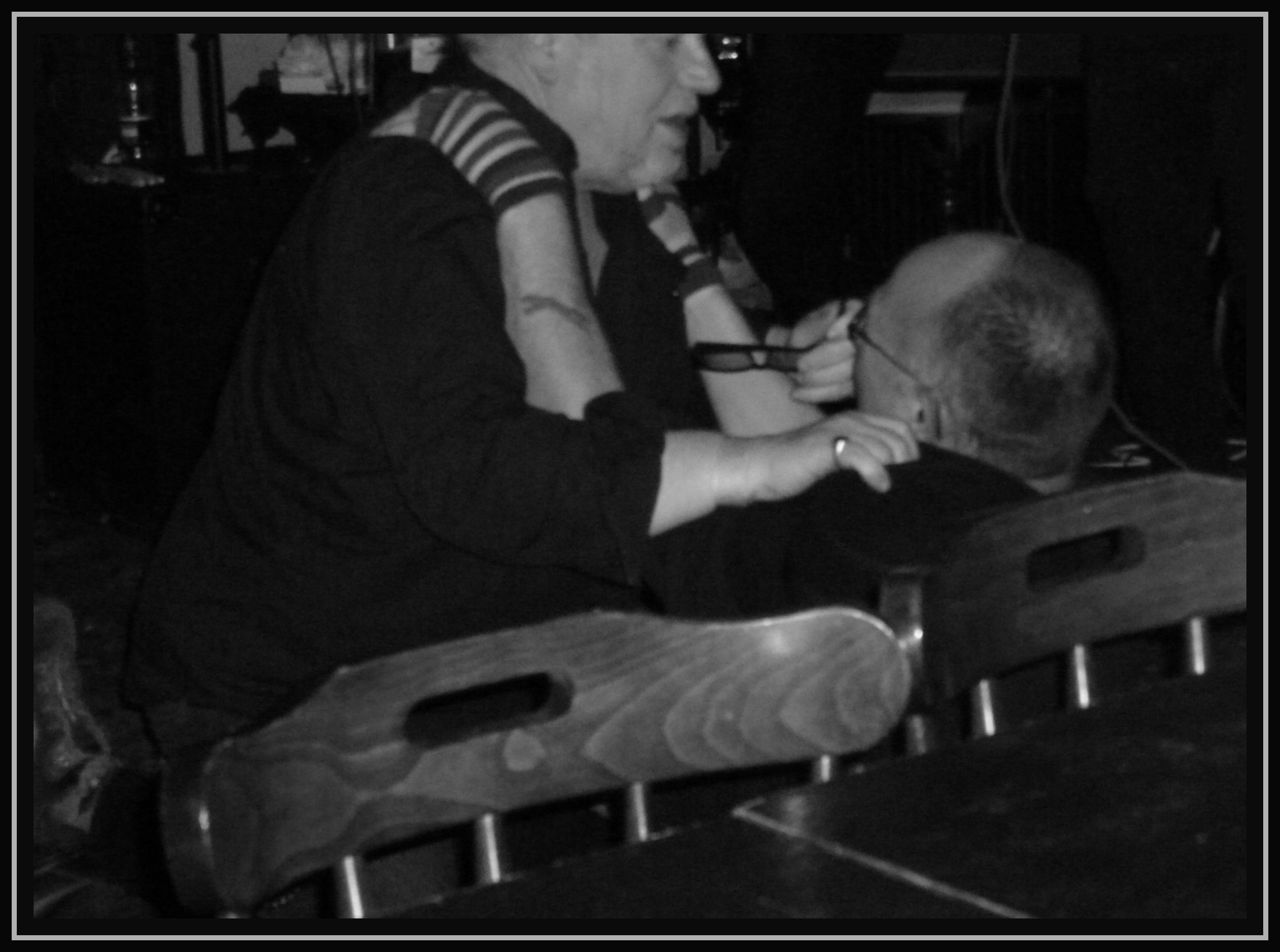 Emotions spill over as the 2 promoters feel the need to make love in public
More sherry, more ale - I think so - cheers to Daz Leake for the bonus bottle of bronze too - choice.
Unune - what can I say, the man is now on a hit-list and the recipient of numerous death threats - well deserved they are too. Totally blinding white light energy emitted via torrential electro horror that poured forth and filled my head with descriptive words such as troublesome, mentally deranged, disparate, vulgar, angular, awkward, satanic, challenging and molesting. This wired up noise is harsh created by a fine gent who is a joy to let off the leash. A few seemed disturbed, some bewildered, I was intrigued. Maybe my perverse ways know no bounds, maybe I want to self destruct - but this fuck punk, here's the minority attitude is surely the way to go - yeah. Crush yer balls, burst yer breasts, bugger a 3 humped camel - what else is there to add.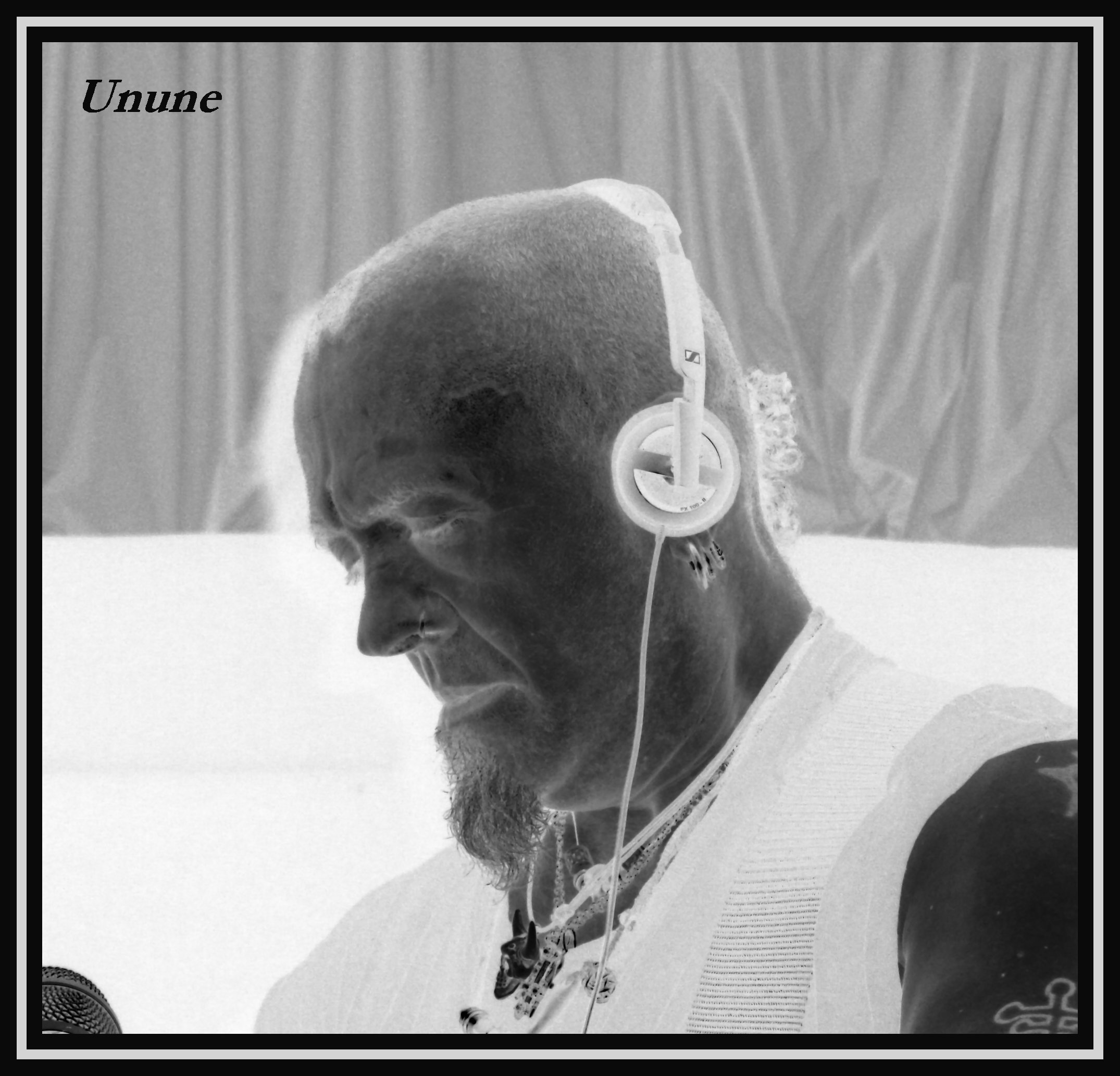 Quote - 'I just want everyone to hate me' - Unune ambient and in the zone noise maker Stephen Skumring
The Senton Bombs leave me speechless with every outing. Once more a band with the fuck punk attitude and swinging their arses in an ever increasing arc with each show highlighting what damn good noise is all about. These blistering rock and roll urchins know how to slam it down yer throats and pump out their stylish semen until you become impregnated by a sincere devilish disease that will forever peck at your sonic soaked soul and force a reaction.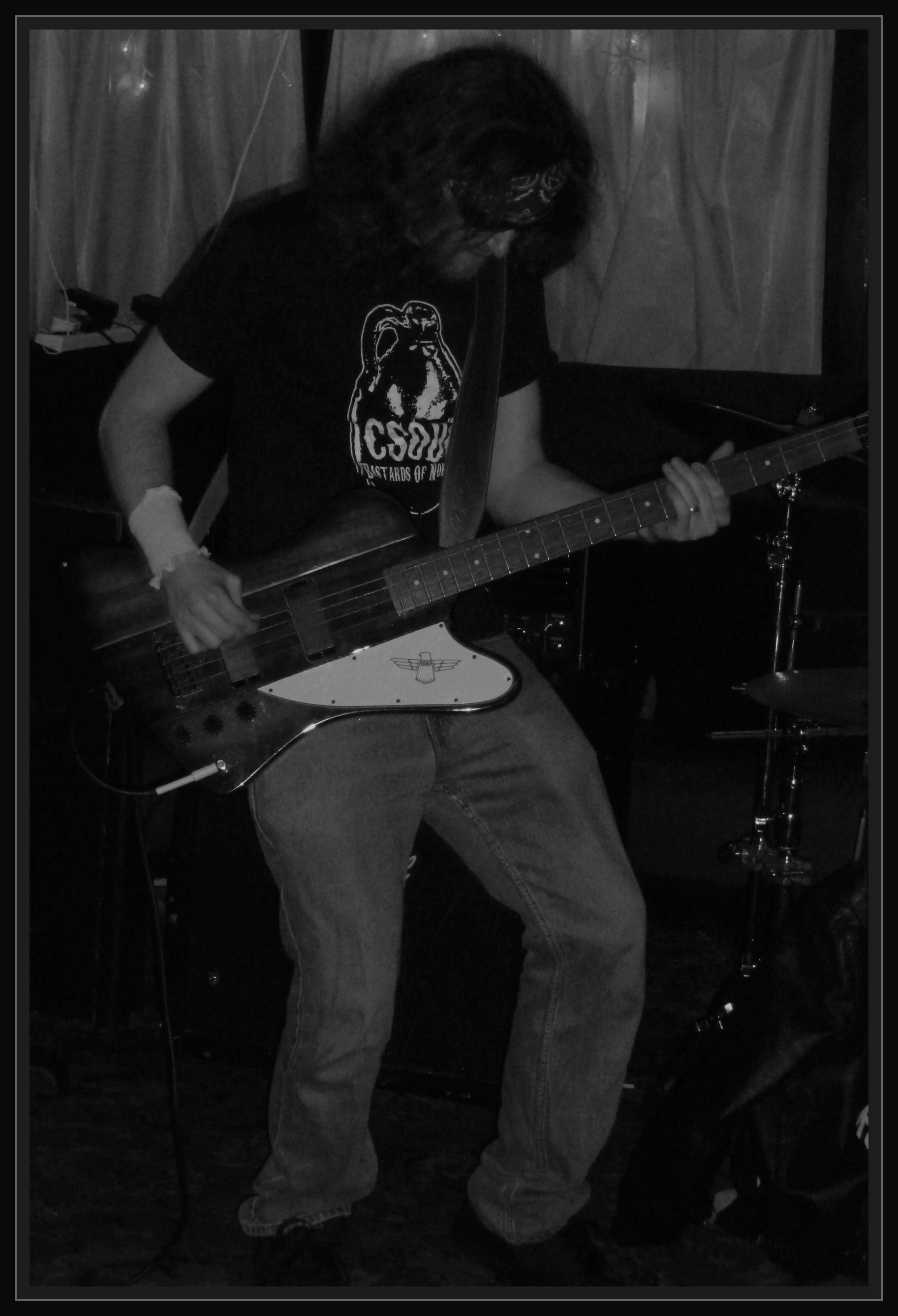 Joey Class - puking on punk and doing his own thing
Throughout the set the flames rise higher and higher and culminate in a highly intoxicating roasting only a suicidal arsonist could dream of. Burn the boundaries, ignite the resistance and watch it char - these brutes are creating a conflagration to consume all in their path. This is the real fantastic four - flame fuckin' on. Best song - there isn't one - they all tear it up and blaze it to glory.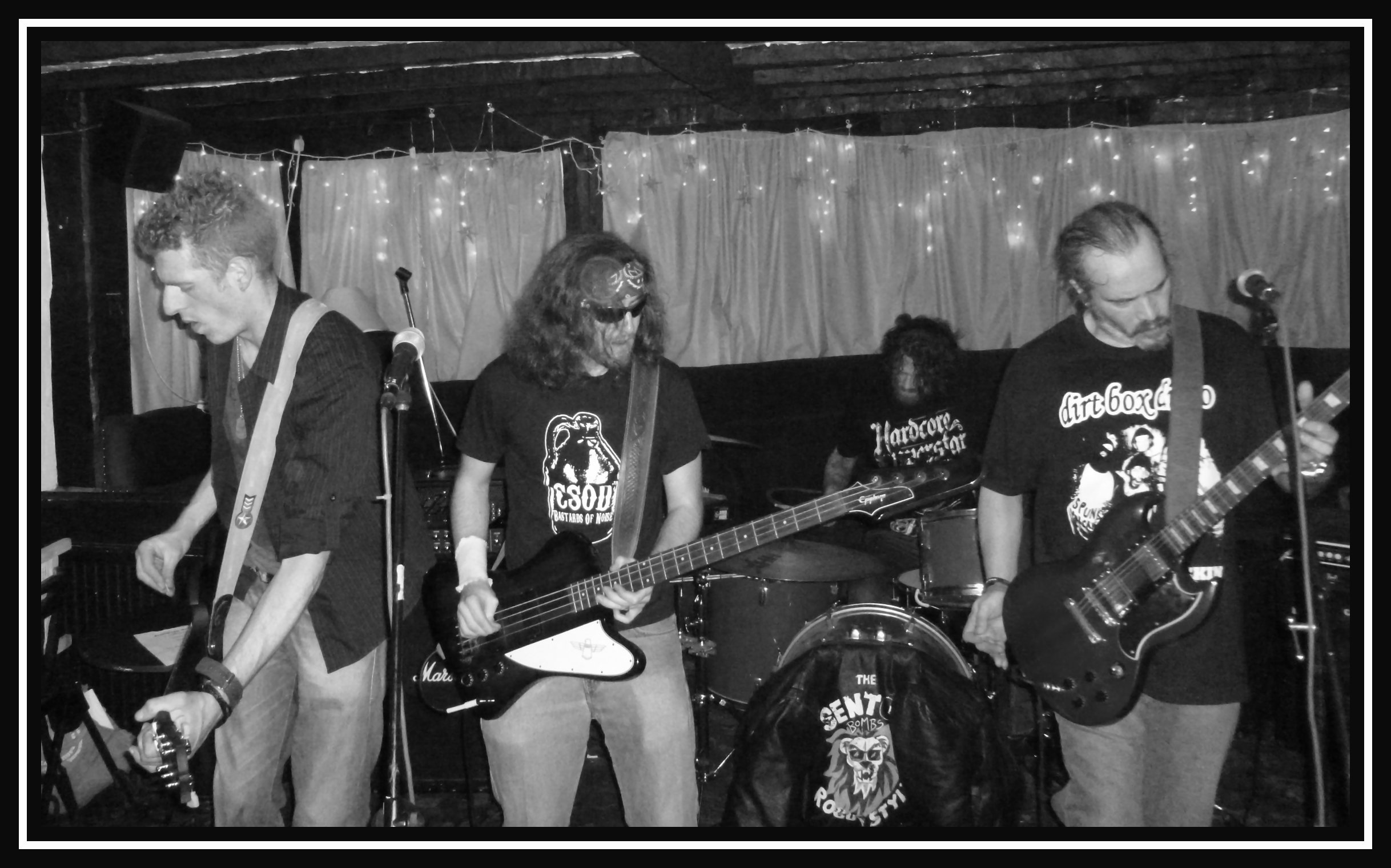 Kaboom - The Bombs blow it up big time
Danger's Close next, a band yet again deserving of more. What a fantastic vibe they emit even with a lovely tubbed up front lass with a golden voice full of convincing tones and captivating lilts. This lot are more than efficient, they are capable of holding their own in the most exalted company and over the years have doggedly stuck at it and produced some stunning songs. Tonight we got some old, some new and a excellent Penetration cover which highlighted the many excellent facets of this well versed, well rehearsed band who seem to go unnoticed by so many - the damn fools they be. It had been a long time since this lot last graced a Fungal stage and it was such a pity to see them play such a quality set to a poor crowd. That old curse of punters saying 'we've never heard of any of these so we ain't going' once more came to the fore and just reinforced my belief that the punk rock scene is utterly foul, unconvincing and in the main, a farcical parody of an ethos that should be much more liberated, unaffected and so welcoming to the new noise. Anyway I fuckin' loved the set by Danger's Close tonight and hope, at some point, I can do them justice and push them into the laps of those willing to promote solid sonica.
The penultimate band - Hostages For Smack - a mix and match crew who play it with fervour, push it to the max and have undoubted fun whilst doing so. I was fagged out at this point and just sat back and took this in my stride. Impressive stuff of a more blatant kind with the rough house approach and raucous filthy edge very much in keeping with a certain sub-genre (despite the variation - paradoxical hey). The band have a good thing going here and their greatest strength is the passion and off the cuff essence that sits on the edge of disaster but somehow always wins through. Again another band I want to see again in a fresher state of mind to give a more intense low-down - no gripes here though.
And to close - Dischord - one of the best of the new breed. Lovely people, putting their all in, getting on with it and throwing forth an art drenched melody filled hardcore that has much clout and much conviction. When bands like this get overlooked and passed by I get a really sinking in the gut and cough up severe disgust at a scene so false and insincere. We were pressed for time tonight, people were fucked but the band gave their all and I was duly given a second wind down to nothing more than the noise emitted, the bands gusto and the overall spirit shown. This one rattled past way too quickly and was no sooner started than done and I was left unsatisfied. Take note please of Dischord - a talented bunch who turn me on no end.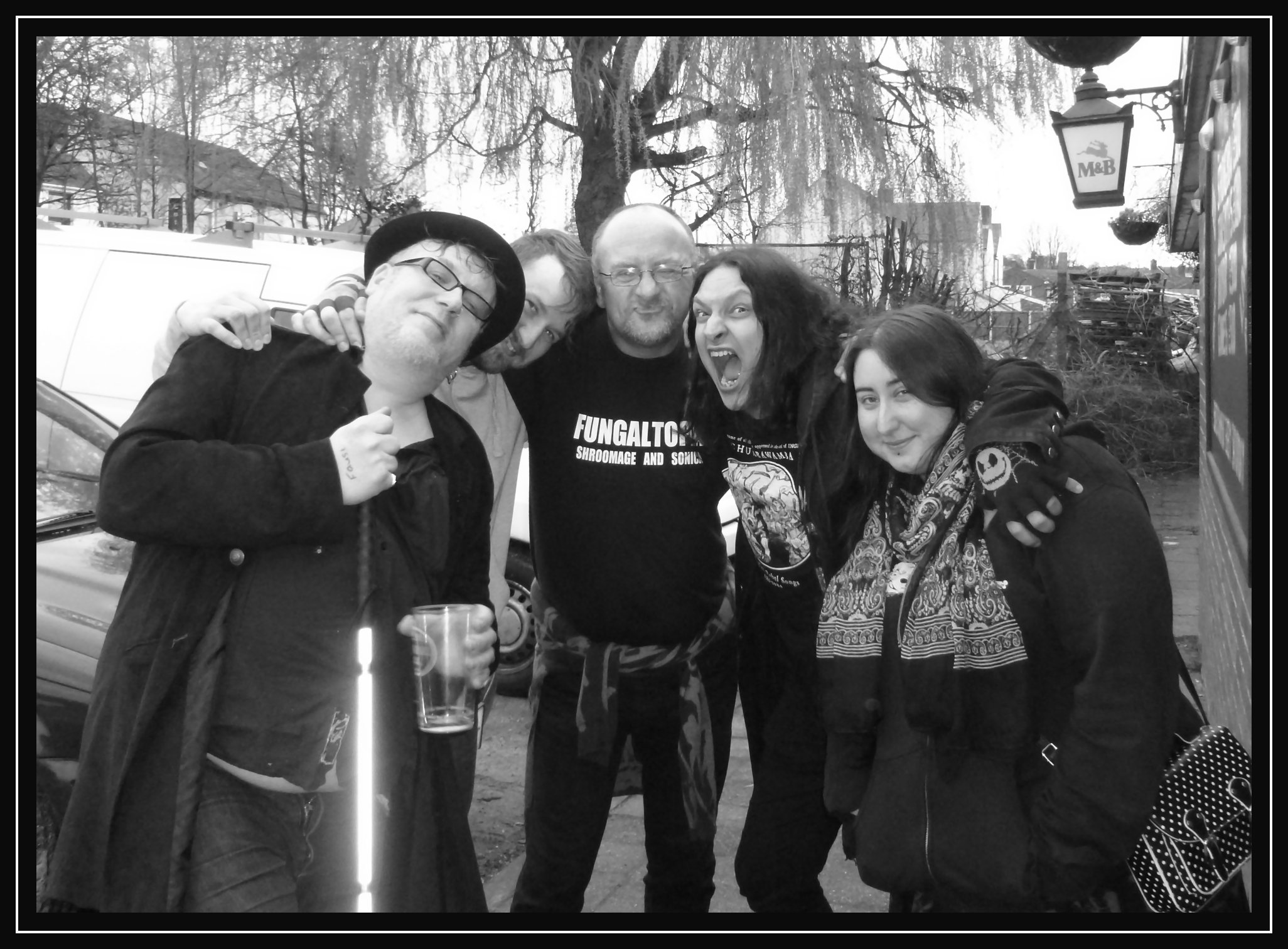 2 promoters with 3 members of Dischord - well 3 decent people out of 5 ain't bad
That's it, farewells, fuck offs and off into the night. Jaded, gripped in a tortuous state where I am on the cusp of walking away for a goodly while and leaving this scene to fester...then again!
Cheers to all who made it, Jacko for his generous efforts, Eagle for his aid, all players and slayers of procedure and my good lasses for bearing with me. No more lengthy all dayers from Fungal, no more charity gigs, no more wasting time on places that really don't want to know and require the same old, same old. I shall plough on, more paced, still as passionate as ever and now again enjoy the small successes bands have. For me failure is what I embrace but if I can push a few on along the way to better things and getting their own brand of sound heard I will be happy with that. Fuck all ego, personal kudos and gain - never been my thing, never will be - cheers and keep the faith.
review by Fungalpunk/OMD (6 April 2014)
Photos by Katie HT