By heck man its a sizzler. With the crack of the arse like a river, the genital area akin to a cellophane wrapped chicken I headed to the Star and Garter for an STP gig and to support a fave band of mine. It looked like a slow crowd tonight and whilst I chatted to many a fine punked nut I noted that many were leaving proceedings late and only turning up for the main band - daft buggers, Headsticks are fuckin' ace don't ya know...talking of which.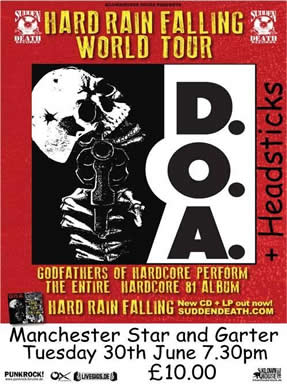 Upstairs into the darkened tomb of perspiration and rifling racketology I went with a small hang around before the Headstick crew ascended the stage and, as it transpired, clambered upwards to many tonal heights. The well-worn fabric of my sonic soul was delightfully breeze blown by the charmed cadences and cacophonic kisses proffered by a band very much at one with their delicious output. Although the crowd was paltry in regards what was deserved the band paid no heed and professionally delivered a stunning set with one pronounced high after another. 'Mississippi Burning' did indeed blaze with those ambient tongues the crew so readily stoke with such minimal effort. Brushed skins, twinkle guitar, womb music bassism and heart torn throat work combine and strategically rise and fall in unison whilst culminating in an easy pick up and join in chorus that is sweetly delivered (with essential harmonica to boot). 'Every Dog Will Have It's Day' followed, gave breathtaking hope whilst mesmerically entwining itself around a stout shaft of immovable musical dedication and heel dug decisiveness that highlighted yet more rhythmic delicacies in a genuine more up-beat way. A strong-willed resolution emboldened the utter faith in the constructs donated and at two tracks in, this noise junkie was well on the way to another major zoned in zenith. As if things couldn't attain loftier heights, the perpetually wondrous beauty of 'Paper Flowers' cascaded from the stage and magnificently aroused all sensors with strong, unyielding emotive pollen delivered from 4 acoustic anthers swaying in a self borne zephyr of the most tranquil yet politically acute order. This song is a gargantuan configuration of persuasive passion, an inescapable monument of overwhelming elegance, graced with blinding inflection, lullaby lilts and, as a contrast, angry, unsettled exasperation. It is a glowing reminder (as if needed) of a unit flowing on the crest of an unstoppable wave.
The exhibition of grand sonic gifts continued with the ensnaring sing-a-long of 'Fanatics', a new ticker touching gem known as 'Cold Grey English Skies', another new delight for the Fungalised flappers 'Go Move Shift' (my sentiments as always) and the ever rewarding whip up of 'World Away', a song that starts with whispered majesty and gashed open-heartedness before firmly rocking onwards and blending several stances into one cemented pose. Again the slab of aural art is signified by the use of Chiaroscuro enhancement - totally spellbinding.
Travelling on and all aglow with intrigue into the final three we went with more pleasure and another newbie called 'Every Single Day', a song that had the edge taken off it due to me creating several mental comparisons to that 'Buck's Fizz' anti-classic 'Making Your Mind Up'. Shocking I know but there ya go, it really brought me to my cerebral knees and the thought of any of these members twirling around and having short skirts whipped off was a little too much to bear but, and a foul invasive but that maybe indicates my mental health problems, I still enjoyed it. The closing brace were class and well drilled into my noggin 'Killing Me America', and 'Flatline Town' are epic inclusions and added that quality gloss to a darn good layering of sound - now then young listener's - have that!
A minor break of the events of the night and D. O. A. got up, started in whizzing flamboyant style and truly nail-gunned a set of the highest animated order and blew away any misgivings I had beforehand. I suspected a below par performance (just a hunch) but was fuckin' put right with almost a full hour of high end sugar and shit rush artistry that was incessant, dazzling, intricate and fuckin' kick arse solid. Hailing from Vancouver this high-octane crew have been on the block for closing in on 40 years with frontman Joe Shithead the only remaining member. One could expect a tired old sound with a band relying on experience rather than well rehearsed accuracy - you better rethink that idea, this band were watertight and obviously well-drilled in the delivery which is down to nothing more than fuckin' hard work and dedication to the discordance - big respect! The crowd was bulked up by this time and fuckin' sucked in a whole ejaculated globule of well-aimed sonic spittle - uurrrgghhh! Lightning fuck fast flashing struck down the onlookers and I for one was happy to be bowled over by such confident and cranium-crippling cacophony that was a pure 'get up and do it' masterclass of gifted glory. The old and new thrusted through with the mentally abducted taken to acoustic wonderland where rhythmic raping and musical molestation were pleasurable appetisers to indulge in. The songs were intercut with pronounced wire and skin collisions, sonic statements that slam-dunked indifference into the ragged net of 'unwanted' - and we could offer nothing to the contrary to criticise this state of play. Wham, wank, wham - here and gone and back for a superb encore that was utterly deserved and punctuated a performance not to be taken lightly and not to be forgotten anytime soon (if at all). D. O. A. - I salute you.
So, a two bander that brought as much as what many an all-dayer can bring - ear-crippling noise, variation, high end talent and much pure discordant pleasure - excellento.
Massive up to the STP brigade, the punters who made the effort, the gaff and the two bands on show - both exceptional, both worthy of continued support from far and wide. What a dandy do all round!
review by Fungalpunk/OMD (1st July 2015)