The 2nd in the new Horror Epics sequence of gigs and my 100th day of delivered noise to the music loving fraternity. All was looking hunky dory for this gig until a 24 band free event came to my attention the day before - aaagghh! Apparently this big family freebie (held in Bradford) was going to consume the majority of musical interest on the day and so, as a result, it was looking that my humble (as ever) effort would miss out once again. After a discussion with the gaff the gig was agreed to go ahead anyway and so we set out at 4.30pm prompt with hopes low, but confident the bands on show would play a cracker.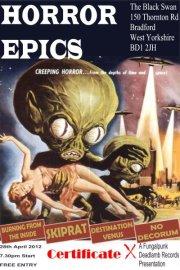 Arriving at 5.40pm I jumped out of the car with a spring in my step and a twinge in the bladder so as to enter the gaff and quickly expel the loaded liquids before slashing my pants and starting the night off on a dud and soggy note (or a soggy duds note if you prefer). Imagine my worry levels when not one single person, other than the bar guy, was in the venue - mmmm - what to do! Having off loaded the golden waters I went and got my lasses and we all re-entered whereupon I threw a few arrers to pass the time and my good lasses played an addictive Ipod game which involved those devilish anagrams. A few tons and ton forties later the first band arrived, namely Burning From The Inside and due greetings were had, chits, chats and a game of darts with the ever charming bassist Wilfredo Jonesh. It was a low calibre game to be honest with Wilfredo just missing out on a 103 check-out and duly being beaten by a solid double 16. Drums were set up, bass rig brought in and a few more heads entered - we may just get by on this one after all.
The opening band arrived next and with gear set up it was good to catch up with ex-Section 47 minstrels who now cavort under the name of No Decorum, complete with new frontman. Nice people and always a pleasure. A few bods from Destination Venus came next and yet more familiar faces and general punters, many of whom had been to the aforementioned all dayer and opted to come to tonight's gig and see some more Fungalised punkage - a wise and appreciated decision lads and lasses. Eventually all bands were in residence (except that darn diddly dude who twangs the strings for Destination Venus - Rob) and things were ready to unfurl. Let's crack on and apologies to all for the brief chits and chats that were broken off halfway through due to the usual distractions - one day I'll do a gig were we can just sit and chat - no music - just dialogue ha, ha!
And so to the first band No Decorum. Having dealt with these dudes and dudette in their previous life I was keen to give em' more gigs even though the last unit never really found their footing and remained somewhat loose throughout. How can a band and the musicians found therein ever progress though without good 'live' experience and musical miles on the clock? Answer - they can't - so come on and keep people who want it rolling! Tonight's set was a good blend of ska and punk with a bit of street based material thrown in and although the first three songs looked somewhat rigid and lacked a bit of cohesion the band eventually shook off any stiffness, relaxed and set about a grand upward curve throughout. The first song to grab attention was a number entitled 'Hooligans' which required a good power shift, duly got it and thus made a good contrasting noise that absolutely worked. The band were obviously chancing their arm and that is all I ever ask. 'No Pride' pursued which I considered to be the best of the lot tonight due to once again a good power level and perhaps the most impressive liquidity. This song is the route that the band should primarily take and work upon I feel and use simplistic skank to rupture the rhythm and make for a greater effect - just a thought. 'Unity' was another choice cut with a good intro, a rallying edge and with the most cobble-stoned essence. There was another cracking ditty too of which I missed the name but it did contain that familiar two-word punk phrase 'fuck you' quite a lot - any answers! So what to add? A decent opening set for the night, the band visually enjoying it and so helping the crowd to warm to them and another step in the progress of a new crew on the busted block - result!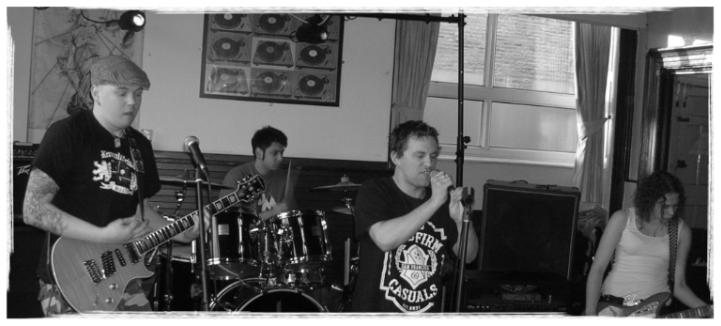 No Decorum - worthwhile openers
A delay, the next bands stringman is lost on the motorway - apparently it's a usual occurrence - what to do - have a chat and chill methinks - there isn't any rush. A swift chat with Russ from Skiprat was enjoyed albeit once more fractured due to them darn distractions (next time for sure mate) and eventually Destination Venus were a full unit and the gig carried on - yippee.
This band, for me, are one of the best on the circuit at the moment and are just nailing their set with utter ease and genuine skill. The songs are fuckin' wonderfully melodic and delivered with such precision and gusto as to make for a memorable event every time. What you get with the DV deviants is a set filled with excellent tune after excellent tune with each one dripping with delightful melody and smooth flowing riffage. 'My Baby Was Taken By A UFO', 'Jukebox', 'Let's Go', 'Fruit Machines', the perennial favourite 'Spaceman' as well as 'America', 'Saturday' and the solid closures of 'He Goes' and 'I Don't Wanna' all contribute to a marvellous display and listening experience and with the band visually effective and well into their groove this has got to be essential viewing for any self respecting noise fan. When you next check em' out take note to consider each component too - each one a valuable ingredient to a choice mix - that vocalist has got to get some good credit too - singing rather than shouting and doing it absolutely spot on - nifty work. Great band, great set - have some!

Destination Venus - now that's just darn class
So a bit of skank, streetpunk and some pop punk - what next I hear ye ask? Well how about a reggaed masterclass by a band who have their place well and truly guaranteed on the Fungal carousel. Skiprat are a good reliable band who add a new essence to most punk shows and so cater for the punters who like to chill a little and be a trifle more political. The band settle in to their chosen mode well and the first song to make an impression was a ditty entitled 'Relate To This' a song that had a few flavours that were all gently swirled around and re-made into a satisfying end indulgence. 'Squat' followed and had a good regular riffage within with a nice obscure quirkiness to the sub-chorus that I just couldn't quite classify - crucial indeed! The punk components of tonight's set were good but true success lay in the reggae segments that were well bassed, strung cool and attended by the roguish and rappish drums. I found a new classic tonight to tickle my aural taste buds 'Politician Man' - what a great new inclusion - fuckin' superb. The only thing missing tonight was a good spliff but hey that is only a peripheral addition and the music is just fine for me. Yes, yes, yes - more Skiprat on future Fungal jaunts for sure.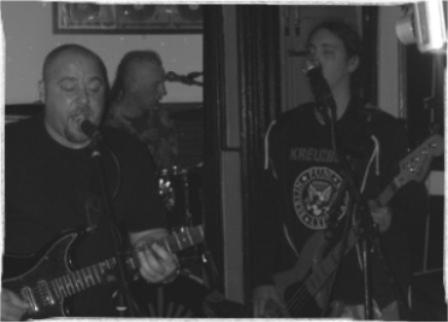 Skiprat - a turn of direction and a choice inclusion
And so, at last - Burning From The Inside. I had seen these guys before when they played for me under their old name of 'The (Sic)ness' and that was a fuckin' good do to say the least. Tonight I expected more of the same but the game was upped, the general excitement, tightness and belief was increased and what we got was a spellbinding blast of relentless power that packed big riffs and rhythms in equal balance. From the first boom to the last bang this was all heavy artillery in between with the onlookers absorbed and bewildered. What another crackin' band on the saturated scene and here's hoping these guys can burst through and start unloading their fire power here, there and everywhere. 'Another Day, Another Dollar' is exceptional class as is the addictive quality of 'Some Days'. 'Just Another Day' and 'Stop The Bus' closed and already I am picking up on new favourites from a gargantuan band (in many ways). The boys play it mean – it is meant to hurt and it dies! Thunk - the gig was over!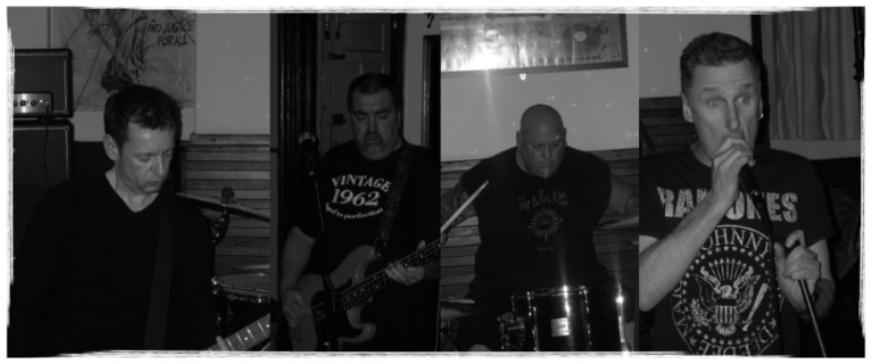 Burning From The Inside - Well versed, well organised, big hitting
And so at 12.10am we were done. Farewells (or fuck offs if you are of a nasty slant) and we were off. Sincere thanks again to all bands, to some faces who always make the effort (you are priceless) and to the venue and their accommodating attitudes - not a bad night after all.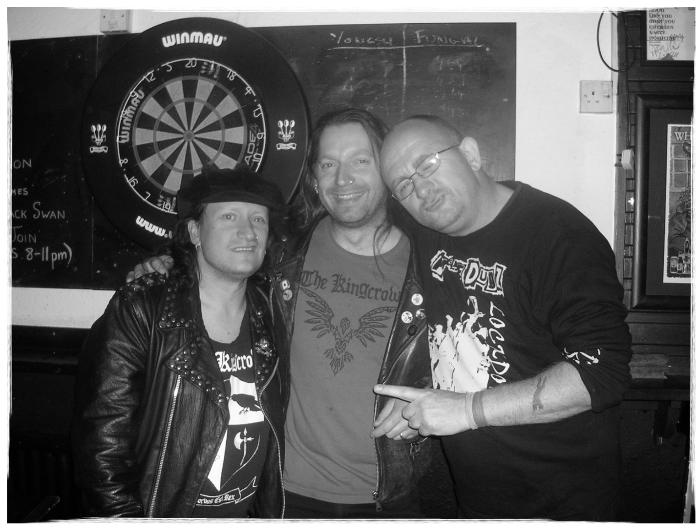 Talking of loyal supporters - My toxic self with two fine music makers and followers of the Fungal giggage
review by Fungalpunk/OMD (29 April 2012)