Fucked! That's how I feel at the moment with a 101 health issues grinding me down and making me feel absolutely, without doubt, totally and utterly...FUCKED! Nevertheless I had a gig to see to and so to Bradford I went with my two great lasses for company. The weather had been kind all day and I really could have done without this gig today due to the aforementioned wanky feeling but sometimes you just gotta plod on. We arrived at the gaff with very little effort which is a surprise when doing gigs in Bradford as experience has readily taught us. I reckon this is closing in on my 50th gig over this way and tonight was my 4th different venue. For me, the people sum up the essence of the town with a casual amiable approach that I always feel comfortable in - no 'big town' mentality here! The Black Swan reflected my thoughts on the area with a good atmosphere and a somewhat honest Spit and Sawdust feel that made it ideal for a usual Fungalpunk Underdog gig. Throughout the course of the evening we would be joined by many familiar and friendly faces who I have come to know over the years and that for me only heightened the success of what was a darn good do.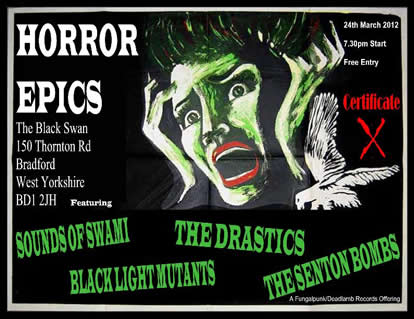 Bands arrived and chits and chats were had in equal quantity and gear was eventually sorted and set up. Saying that, Kurt Wood's (lead singer of Sounds of Swami) question regarding microphone leads still leaves me perplexed and I am just glad someone could decipher the techno speak and come up trumps with the said wanted wires. In fact point should be made how relaxed and easy the bands were with one another and how well they got things together and left me to just mingle as it were. I feel all gigs should be sorted well in advance and on the night no real hiccups should occur - thanks to all players for their efforts.

And so to the first band...

Rising Strike tap a deliciously rich font of thick gooey ska-core and draw it forth then proffer with utter belief. The band donate a complex mix of varying degrees of intensity and when people tell me they just don't like it or get it I can truly understand why. For me though it is always bang on the button (hence giving them gigs here and there) and I recommend that each and everyone of us should give the whole cacophonous mush more than one listen so as to fully appreciate the shit that is going down. The two six string strokers (Wiv and Tom) are at the fore of vocal duties and really let rip with all their might and duel nicely for the most searing of moments. In between these hollering louts of loudness we have a bastard of the brass who blows and bellows with equal intensity and so adds to the overall heat that emanates from the stage. To one side we have a bassist who plays it cool and applies just enough 4 wired wobbling to hold steady the blazing rhythm from burning itself out a little too quickly and the sticks at the rear are exemplary and should be noted the next time you watch this crew (mighty impressive stuff) - and if you come away questioning the talent on show then I, in turn, must question your sanity. Tonight, just maybe, was the best outpouring I had seen from these dudes and at a strict 30 minutes the timing was just right too. Things are progressing for the Rising Strike brigade and fully justified it is - check em' out and give them time - always worth the effort.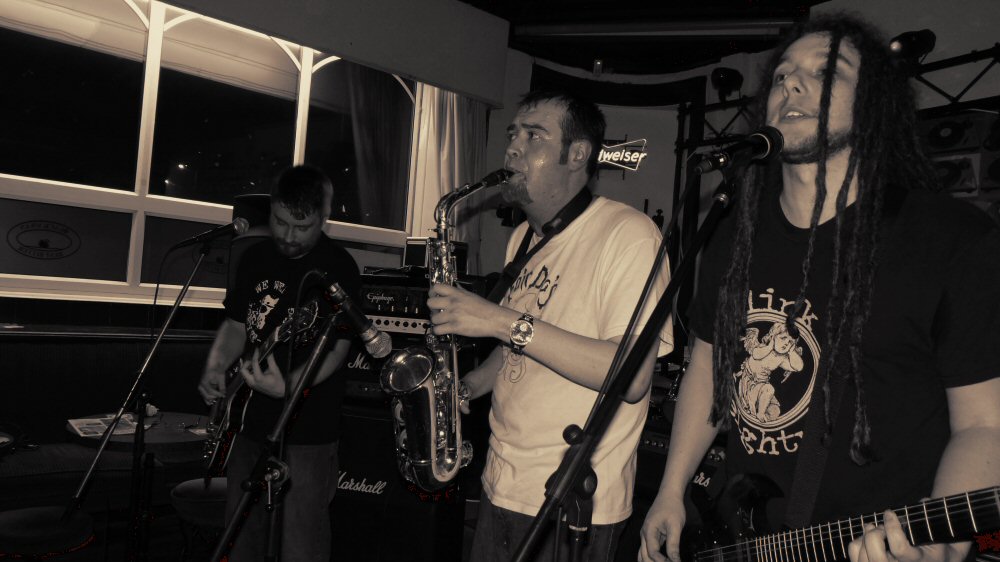 Rising Strike - Superb Skacorians

Next and some rhythmic rockin' and rollin' 'erberts who are indeed some of the best chaps I have met. A great chinwag beforehand covered many topics such as Marvel Superheroes, nervous tics, the scene, the guitarist's forthcoming sprog, relationships and Joey's impending breast implants (all great stuff). Apparently Joey wants to be a real bitch and get down and raise some money for the local grappling hermaphrodite community from were he was raised as a budding jumping jive ass (yes I know it didn't make sense to me either but still, what a nice chap). And to the set - well what a fuckin' grand do! Stringwise this was a pure masterclass with another two guitarists really turning on the style and grooving up some choice riffage that was just purely delicious. Frontman Joey controlled bass duties as well as sneering out an oral performance that was sung rather than shouted and had thought rather than abandon. The drums once more caught my eye with that fuckin' great chap Mason producing a stormer and brutally issuing out one helluva lesson to his chosen tubs - feel the pain you bastards, feel it. In turn I watched each and every player and with hand on heart I can say this was just beautiful. 'Jersey Dolls' stunk of real sound wonder and all the tracks from the new album are sounding real mean stuff as well. Faultless and yes I want more and I reckon Bradford will too.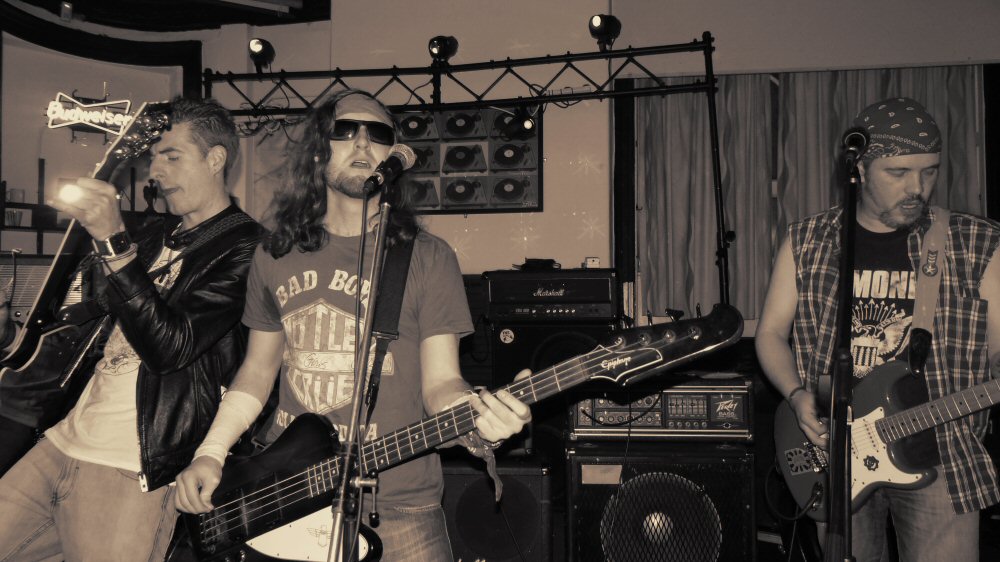 The Senton Bombs - a fuckin' great bunch of dudes with great tunes to boot

I am hammering on here - the sun is shining and I wanna get out - aaaggghh! Next band is...

The Drastics. Local and vocal and just getting better and better all the time. There is no pretence here, no underlying 'we wanna be this' - just good home-grown honesty that has been tweaked and twanged and metamorphed into something totally enjoyable. A few minutes of the set was missed due to jaw wagging distraction but enough was watched to appreciate and assess. 'Drinkin' Solid', 'Squat Bike', 'Shitty Zombies' all hit home into the nerve centre of the responsive crowd with two covers (disappointingly) raising the interest levels and getting a few movers and shakers. I say disappointingly because the band have their own quality material and so don't need any covers but my main gripe is that every time a band throws in these songs the crowd respond which, is a reflection of how hard it is to make an impression with people hell-bent on paying homage to the past. I don't mind covers but they ain't the be all and end all - aagghh! The two tonight by the way 'Suspect Device' and '53rd and 3rd' were really well played so one has to be fair. Yes - I enjoyed this and just a case of anytime, anywhere. Good simple songs, two ever improving stringers, a good lively frontman and a cool dude drummer who is a top man - what more can I ask for?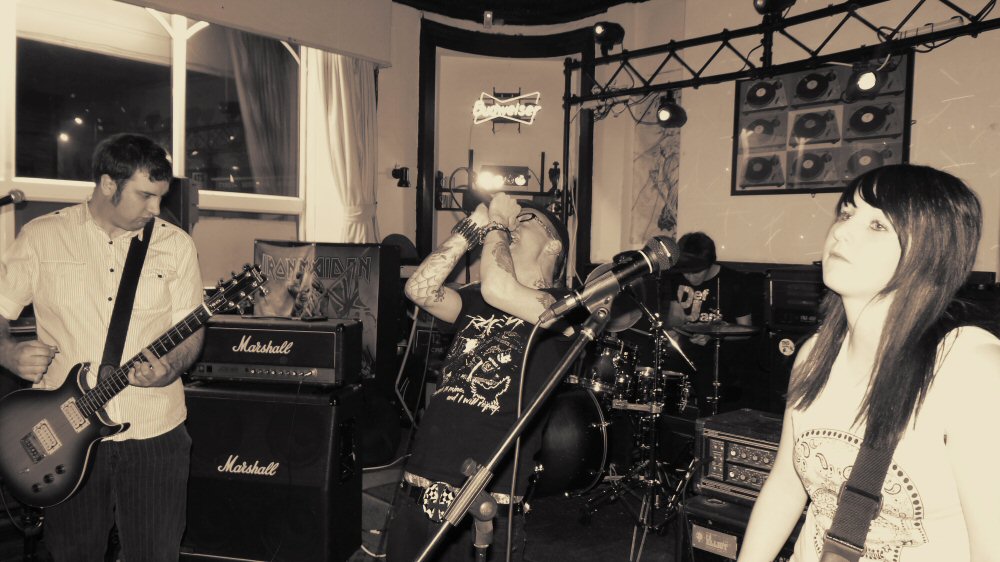 The Drastics - honest and on the up-turn - I love em'

And at last...

Time for a real sound blast via the advanced talent of Sounds of Swami. I have been doing stuff on and off with these dudes since their embryonic days and chatted earlier with frontman Kurt about the initial contact we had (yes non sexual ye set of foul fiends) and the Breene CD he sent my way. Time flies (and cymbals crash) and 5 years and something later we are still mooching along on our journeys through this musical void. It had been a couple of years since I last viewed this riotous bunch and things have changed…incredibly for the better. This band were hot but now the temperature is above critical and beware a real singeing if ye get too close. All strings were again in unison and with bass manipulated and masturbated with ease, strings strummed to high hell and drums kept adequately in check the show piece the crew put on was sheer class. Luke on guitar seemed exceptionally up for it and blazed around as though his condemned arse was on fire. Kurt at the fore maintained something close to composure although he let rip several times with episodes of technical explosive flamboyance. The set tonight consisted of somewhat shorter songs than I am used to and it thrived as a result. Thumbs up were given all round and the result was – 4 bands, 4 contrasting class outfits.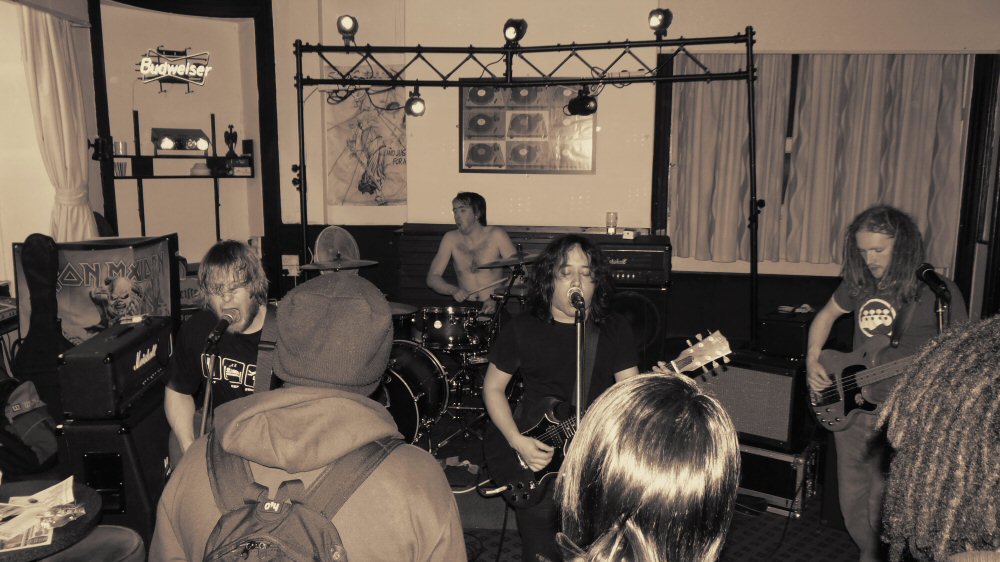 Sounds Of Swami - Phew - now that's class
And that was it – the first of a few perhaps. I hope so but all in good time. Sincere and generous thanks to the staff at The Black Swan for giving cash to the bands and a few ales for us three thirsty scholars of sonica, keeping things real and working with me on another punk venture. More thanks must go to the faces that turned up especially Kev Grainger, John Bowman, Steve Phoenix, Luke Hogarth, Andrew Rossi and the Beat Holes from Italy, John Bowman, Stu and Babs, Paul Britannia, Steve from the good old days at The Exchange, Travis, Babs, Graham and of course the Most Likely To Fail Lads – Dave, Sean and Martin (plus good lady). Your support doesn't go un-noticed. And to the rest of ya that helped make it a good honest punk night – let's do it again shall we?
The drive home was in a pea souper and although I was still on the edge of madness I am just glad places like Bradford exist – a cauldron of character!
review by Fungalpunk/OMD (25 March 2012)
Pictures by Dave 'MLTF' Melvin