Feeling mightily drained it was out a sense of support to Flat Back Four, The Fractions and Dean of SLlit Records that I attended this one. My recent busy schedule of leading fungal walks, travelling here and there in pursuit of new specimens, gigging, walking 40 miles a week, tennis, badminton, constant updates on the site, work, family life, etc. had caught up with me so on weary legs and with lidded eyes I set out for Jacksons Pit with my good wife.
A new venue for me this one and in truth a twat to find. But we got there and after descending the aged steps we were greeted by a ludricous discordance as The Fractions soundchecked. Fuckin' hell this was way too loud and my internal organs literally vibrated at the sheer accoustic bomb blast. In fact if anyone in attendance had been struggling of late to reach an orgasm then the shaking walls and floors here would put and end to that - a real nob rattler.
Anyway the soundcheck finished and I chatted with Dean of SLit and Ste of Flat Back Four with the latter relating the details of his recent drinking exploits at the German beer swilling Octoberfest. Crazy bastard - 44 litres of beer in 3 days.
With a lowly turn-out The Fractions opened and despite the first 2 tracks still juddering the genitals it levelled out and these fine young sprouting skankers dished out the usual excellent racket. Its quite pleasing to see a band who have been around for ages really benefitting from years of commitment and hard work. These lot deserve everyones support for their dedication and damn fine attitude.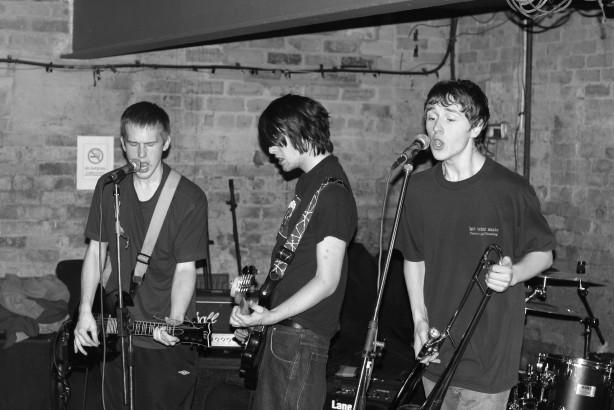 The Fractions - Skanking along in the pit
Ok Joe is a 100% deviant and Graham's Angel Dust addiction is nothing to be laughed at but you gotta take your hat off to a fine band. 'Sirens' was the pick but I didn't hear any duff ones when the sound got sorted so alls well in The Fractions camp.
Next Flat Back Four a band who have been on a few SAS gigs lately and vary rarely put a foot wrong during their live excursions. This again was first class with the only complaint that they opened with their best song, namely 'Psalm 23'. Its a bit of a shit gripe really but as a reviewer I try and keep things balanced. Anyway I couldn't find anything else to moan about so come on ya bastards, give me a break.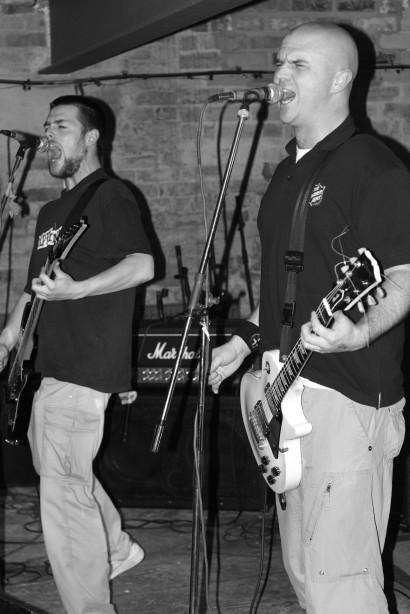 Kev and Ste of Flat Back Four - bootiful musicianship
Other highs were 'Thatto Heath' or 'Cheadle Heath' if you come from down that way, 'I Told You I Was Ill', 'The Fallen' and the Iron Maiden cover of '2 Minutes To Midnight'. Whacked out in lovelty fashion. The other noteworthy moment was the long instrumental who's fuckin' name has slipped my mind yet again. A real stomper this and like a Bernard Matthews Turkey Testicle - full of meaty goodness (allegedly). Another grand do.
Lastly Flat Caps and Boddingtons a band who were no way up my street but worth a look anyway. With the clock ticking towards my leaving time I squeezed in the first 4 numbers 2 of which I enjoyed, one I loathed and the other I was indifferent to. The crowd swelled at this point and it was obvious that most people who were in attandance had come for this outfit but it wasn't my thing and it was indeed time to go.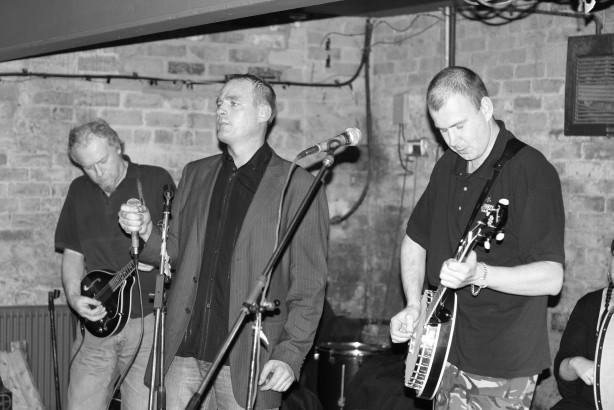 Flat Caps and Boddingtons - a required taste that seems popular
Having said that though if this is your thing then I would recommend you check em' out. So living the jigging few we headed home.
Not a bad venue that needs a little work to balance to soundscape and get the crowds in but it could well turn into a nice little haunt. Dean is a true DIY 'erbert and a very amiable geezer who is giving it his best shot and I for one hope he does well. As a fellow promoter I know the crack with punk gigs at the moment and realise what a tough ride this bugger is in for but with a slice of stubbornness and a smattering of stupidity then he should stick at it and just enjoy it. I think he might just do that!
If ever a new venue and punk rock peddlar needed your support then this is it - get your arse in gear for the next one.
review by OMD (23 Nov 2007)
Photos by Dean of Slit Records