With temperatures below zero and Manchester brimming with mindless shopaholics warped with Christmas fever only madmen would choose to booze on the streets of this manky city. Enter myself, Tim 'Punk4Life' Davies, Big Daz and Tez – hardy souls with a desire to share some bronze and construct our own merry festivities away from the fakery of stupidity of the oi polloi.

At 2pm prompt we 4 sherry swillers shared a brace of bottles of bronze on platform 7 at Manchester Piccadilly much to the bewilderment of passers by. Half an hour later we had moved on to the side of a frozen canal, lurking around, laughing and joking oblivious to the icy air and derelict scenery.
Davies receiving drinking advice from Tez and my goodself with the cold taking its toll.
Within 1 hour another 3 bottles of bronze were caned and with glowing bellies we four headed to the Bulls Head for some beer. It was a weaving journey and with Tim already worse for wear and having a few close encounters with rushing traffic we were glad to arrive safe and sound. Upon our entrance we were asked to leave due to Tim's sudden collapse but we remained insistent that all would be well. Beer was ordered and sunk and Daz and Tez decided they would pop up to The Castle for an extra sherbet. With Tim face down I decided to have another swift scoop then hopefully get him mobile and meet the lads later. No such luck!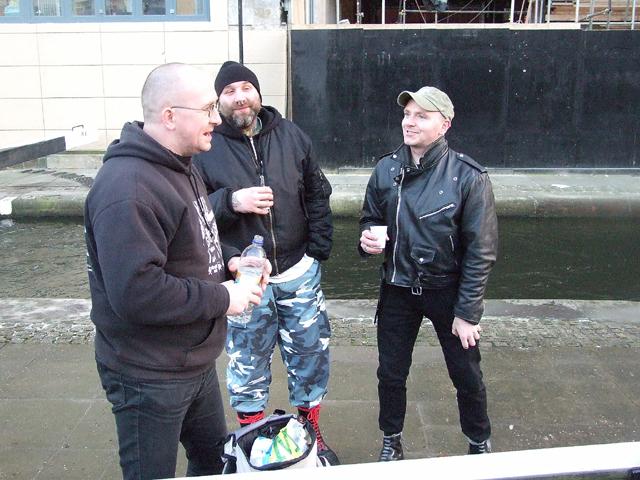 Still smiling but for how much longer
Another beer down and no movement from Tim I nipped to the bog for a quick Arthur Bliss and to brace myself to carry Tim across town to the next drinking establishment. Upon my return into the boozer Tim was being escorted out and I was also asked to leave. A brief disagreement and outside we appeared – blitzed and with Tim urinating up against the pub wall for all the crowds to see.
A call to Daz to come and give me a hand and in what seemed like an age he appeared and we escorted Mr Davies forth. Nearly hit by a tram and a bus we made it to Piccadilly where Tim babbled he had had enough and needed to head home. Bronze victim no 1!
After boarding a bus, being thrown off, re-boarding and immediately falling asleep it was with bleary eyes me and Daz waved Tim off.
Still only 5pm we headed for The Castle and compared to Tim we were remarkably sober. Another beer in The Castle and with Tez in jolly mood we found a sinister backstreet were we shared another 2 bottles with a complete stranger and a doorman. A bottle of Sherry (Amontillado methinks) and a choice red wine and within half an hour we agreed that food was in order and then to head for the gig.
From here onwards time went wild but we entered some greaseball friary but after receiving my order I realised Tez and Daz had disappeared. Shovelling down my pie and chips on shaky legs I realised customers were wondering who was this drunken deadbeat in their midst. Hey ho! I needed a piss real bad and the owner refused to let me use his public latrines – twat!
I staggered outside and headed for the back of the café where I could relieve the old bladder.
Here I found Daz – leant against a wall, belching and trying to maintain a foothold. I enquired of Tez's whereabouts and was met with 'Fuck knows I'm hammered'.
With bladder fit to burst I thought a quick riddle first and then we shall seek out our bronze partner. Trying to focus and make my way to the chosen back alley was a quest in itself but as I got closer to a chosen corner I saw two legs sticking out from a blackened doorway. 'Hey up', I thought 'Another pisspot'. Imagine my surprise when upon closer inspection I was met by the drunken face of Tez – totally ballooned, incoherent and incapable of walking. After the aforementioned piss I helped my comrade to his feet thus resulting in him vomiting forth a pool of choice wine and then collapsing in front of a car trying to make headway through the city's rat runs.
Still only 6.00pm Tez crawled to the roadside, Daz wobbled over from wall to wall and I laid back and rested – all 3 of us victims of a self-inflicted sherry alchoholocaust.
Feebly I mentioned the gig but it was obvious Tez and Daz weren't going to make it. Daz declared he was off home and Tez was mumbling something or other so I left them both in a doorway to recover and head for a suitable mode of transport.
Me – well I staggered through Manchester and back to the Bulls Head for another squirt. Here I met my mate and neighbour John and we both went to the Star and Garter.
Totally fuckin' drained, freezing and in need of a rest I sat down inside and met the faces that entered with a weary countenance. It had been a long day and in some respects a foolish one but it was Christmas!
Anyway the gig – well what I can remember that is!
Play Daisy opened and didn't do anything outstanding to make me suddenly be revitalised with bursting energy and vigour. They have some good tunes though and this did appear like an embryonic performance so improvement may well be had with more gigs and rehearsals. It was far from bad but nothing special so another viewing will be needed.
MDM were fuckin' excellent and even in my washed up state I had enough about me to recognise a damn good performance. All the old sing-a-long faves were there and the band seemed to enjoy it too. 16 years ago I saw this outfit and thought 'what a bag of shite'. But like a good wine they have matured into a steady outfit with an abundance of great tracks. This was the best I have seen them and the whole set is really confidently delivered and one can just sense the band are at complete ease with one another which transcends across into the crowd. Great stuff and just what this tired old bugger needed.
Next Steroid Kiddies and I only saw two songs before heading downstairs for a rest and some coke. What I did see was pretty good but the band needed my full concentration and I just couldn't give it. The previous time I saw them I had enjoyed it so I shall leave it there.
And finally – Eddie and The Hotrods – a band flying under the punk banner who in truth are nothing of the sort. What I did see is a good pub band similar in some parts to Dr Feelgood. The 'good pub band' tag shouldn't be taken as a slight on the band's name because the songs I witnessed were professionally delivered but I feel as though this is the scene where they will thrive and do their best. On a bigger stage it wouldn't work and the intimacy with the crowd would be lost.
Anyway that's the opinion of OMD – this time corrupted through exhaustion and many a fine snifter. At the end of the day it's a review and I made it to halfway through the headline band before realising enough is enough.
A good day with some good drinks served with some good people albeit turning a little sour towards the end. The one's that said they would come and didn't – well you missed a great laugh and hopefully we shall see ya at the next one.
review by OMD (23 December 2007)