I left work early and got the trains from Hazel Grove to Manchester then to Bolton in weather conditions that did little to lift the spirits. The grey skies of Bolton, the gathered politicians from London being photographed and feigning interest, the moron filled Oi Polloi and the persistent drizzle really got me down and after meeting Tim 'Punk4Life' Davies and visiting the local Sainsbury's for a case of Carlsberg we headed for The Alma Inn, the venue for the nights punk rock gig. My 55th gig in fact in 3 years of manic promoting and one I was certainly looking forward to despite my pissed wet feet (split boots and rain are not the ideal combination for keeping ones plates 'o' meat dry).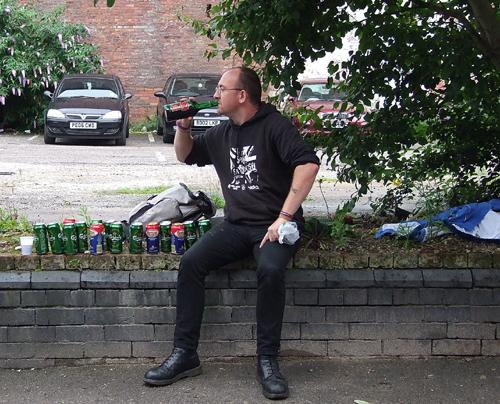 A few snifters before the gig
Anyway a quick sherbert and myself and Tim headed for some local waste ground where we could set about polishing off a dozen cans and a bottle of the bronze legend – QC. The rain abated and we chatted about this and that and downed the ale. 3 hours later, a trifle squiffy and yes pissed wet through due to the clouds releasing more water we headed back to the Alma and drunk our way through a few extra pints.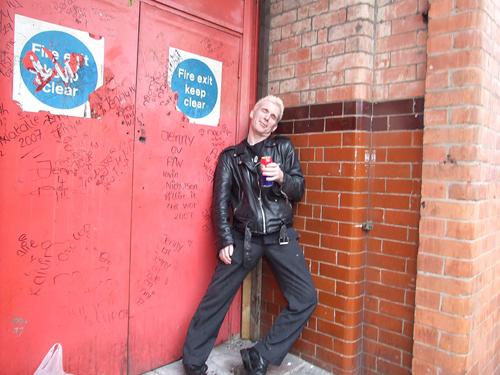 A less than sober Mr Davies before the chip incidents
The bands started arriving and things went as smooth as a sandpapered buttock and the time flew with Global Parasite opening up the night's proceedings.
Global Parasite are a new band on the circuit with drummer Dudley Dave Cox at the helm and main point of contact. Top bloke this lad with a good attitude to the scene and always willing to put his ass on the line for bands and mates. What I expected was a really crust 'n' rust affair but in truth this had more to offer than that and was a real treat. The sound wasn't half bad and the mixing of vocals was a nice touch that may be unoriginal but worked well here. This was very promising stuff and there will be gigs aplenty coming this bands way and with Dave's attitude methinks not many will be turned down. Good stuff.
Next one of my fave bands of the moment, namely Flat Back Four. A real polished outfit this and one of the most underestimated bands on the circuit along with Most Likely To Fail who in fact are on next so keep reading ya buggers.
Anyway Flat Back Four did what they do best. That is play one solid song after another and break it all up with excellent guitar riffs, some great sing-a-long moments and an avalanche of enthusiastic energy. 'Thatto Heath' is a pure winner, 'I Told You I Was Ill' just rocks and the finale of 'Psalm 23' (one of the best songs I have heard over the last few years and one what highlights what a talented group FBF are) this was one stunning set that really set a high standard for the following band and a set also that really inspires one to believe that punk rock at street level is truly alive and kicking despite what the addled headed nostalgia nuts say. Quality in all departments - good music, good attitude and good company – now that's punk and that's what the scene needs. Class.
Talking of 'class' well any other word wouldn't do the next band justice. Most Likely To Fail are another personal fave of mine and a band that just compliment Flat Back Four perfectly and vice versa. This was a fuckin' stunner and to me it seems that these two bands are really dragging each other to new highs as the level in performance is just getting better on both fronts. Musically and lyrically what MLTF bring to any gig is an accomplished sound that pleases all and sundry in attendance. Best set to date for this lot and believe me that's some compliment and some standard but this was awesome. 'Innocent Eyes' is another one of the best tunes I have heard lately and goes against the moronic punk grain in that it is an articulate and moralistic gem that breezes along on sheer skill and insight alone. All Coppers Are Bastards my arse. The 11th gig that MLTF have played so far and a real warning to so-called bigger bands. 'Killing Time' is outstanding and the two covers they throw in, TSOL's 'Code Blue' and Bad Religions 'American Jesus' are in fact better than the originals – a fact I have stated on numerous occasions but one which just needs specifying so as to ram home to the doubters what a fuckin' great band this lot are.
The Bastard Son Of Charlie Brown were next and having spoken to Karl over the phone I was taken with his down to earth attitude and likeable character so why not give em' a gig. This was my first viewing and it was mighty fine indeed. Erring towards the metal side of things this was a good test for them having to follow 3 fuckin' good bands and to their credit they did just great and looked entirely unfazed and in complete control of their set and delivery. I enjoyed it as did the crowd which was becoming more excited as the gig went on and was growing into quite a decent turn-out. The songs were well polished and rammed out in excellent style with a speed and incessant rush which was pleasing to see. Jobs a good un' lads and definitely worthy of more gigs.
Lastly the Scottish wild men known as MAFAFI or to the more curious of mind Make A Fist And Fuck It. Well whatever they do it certainly ends up in a good fucking of your eardrums as this maniacal mess of hard-edged hardcore really is a special brew. Hyped up and out of control the sound Mafafi give off coupled with their wonderful spirit and unlimited fervour is truly special and I personally think this is a very good band indeed. The singer really pours all his heart into the performance and the 3 musicians behind him do a sterling job keeping this runaway train on track. One screaming fit after another and no sooner had this musical melee started and it was over. A real good night.
A quick chip shop visit (second of the night) and home drunkenly reflecting on a great night of punk rock by a bunch of 'erberts who really love their stuff.
The only mishap tonight was Mr Davies spilling his first chippy visit all over the gaffs dance floor and his second lot all over the street. Now that's not bad for a punk gig.
One thing that did come out of tonight is that Flat Back Four and Most Likely To Fail will go on to better things and should really start making a name for themselves real soon. Global Parasite will do OK for themselves and TBSOCB should hold their own wherever they play. Mafafi and my long lost son Jamie should really make some giant strides on the hardcore circuit and that would be most pleasing to see.
All the punks who go watching the same old shit year in, year out had better wake up to this new breed of quality because it really is worth the time and effort. Punk is dead - yeah - long live punk.
POST- GIG E-MAIL from Steve of Flat Back Four - thanks again for having us last night mate. It's not ever gig that I get to wrestle the promoter in a beer soaked clinch on the floor, haha...and I'm coming to believe that it's not a proper gig unless Tim is there spilling chips! QUALITY!
review by OMD (21 July 2007)