The weather for today's gig was stickier than a sticky thing covered in stickiness and doused in a layer of sweat - fuck it. After last weeks long 10 bander now I was looking down the barrel at a 13 act showcase that, in truth, I was looking forward to (ooh that perverted sonic streak of mine). The gig today was held in a small back street Socialist Club and after a few wanky turnings we eventually found the tucked away establishment whereupon I entered and my wife buggered off home to have a long rest away from the Fungalised lunacy (I presume but know full well she loves me - I am a lucky old fruit). The idea behind today's gig was for it to be a warm-up for the main Digger's Festival, which is a free annual Open Air Festival commemorating Wigan born Gerrard Winstanley (1609-1676) & the 17th Century "Diggers" movement. Time for a wikipedia quote methinks:- 'Gerrard Winstanley (19 October 1609 – 10 September 1676) was an English Protestant religious reformer and political activist during The Protectorate of Oliver Cromwell. Winstanley was one of the founders of the English group known as the True Levellers or Diggers for their beliefs, and for their actions. The group occupied public lands that had been privatised by enclosures and dug them over, pulling down hedges and filling in ditches, to plant crops. True Levellers was the name they used to describe themselves, whereas the term Diggers was coined by contemporaries'.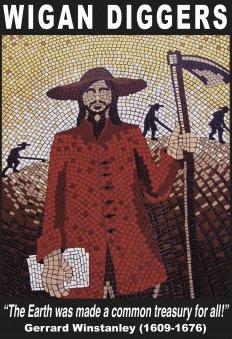 I like this, the support for a rebel who wouldn't sit back and take the shit from the grabbing, take-all bastards who are driven by profit and power - good stuff. So after purchasing a few bevvies (essentially chilled) I went upstairs to the seated snughole and got ready to partake of the first offering from today's mixed bag. Oooh what a heated oven it was, I wondered if you could bag perspiration and sell-it - I'd be loaded already at this stage!
First up and the delicately blown vocal fronds of Mr Don Parry, a one man plucker who uttered his lyrically waxed and wandering message via carefully attended to cables and soft, erudite wordage. A non-too young gent, with much insightful questioning and a charming manner to magnetise the onlookers. His wire wobbling did have the odd hiccup, his utterances the odd slip up but in truth it doesn't really matter - the guy was up, opening the day and doing it with humble, unaffected spirit that had much to ponder - not a bad start with much DIY necessity – nice gloves sir.
The Bolton Clarion Choir next and an almost abstract inclusion into the Fungalised trek for new vibes and varied acoustic trembles. I have no restrictions and so took to this in my usual unbiased way - all honesty, up front, no idiot shackles restraining the concentrated lugs. This was a 16 part composite that trilled and rallied against the ever-present oppressive and capitalist giants who tread underfoot all in their path. The delivery was almost pseudo-Christian in affect with a yearning for a resurrection and a complete overspill of love and thoughtfulness which was very sincere indeed. I may be a spiked and awkward git but I ain't too foolish to realise there ain't enough genuine affection in this world that arises from selfless motives. Here I did make note that the dividing line between social sincerity and Stepford lunacy is fine but thankfully this bunch of harmonised hollerers convinced me of the former stance - phew - a lucky escape. The pick of the pops was the Chumbawumba song against homophobia - an exceptional moment that rose the levels of liquidity and overall resistance - good stuff.
Oh me sweaty arse.
Next up and 3 poetical punchers puking up the worded meanderings to a crowd ready to duly absorb their lyrical leakages regarding themes such as war, school ties, demonic neighbours, football, public services, sex, love, MP's and fracking. First up was Ian 'Frack Off' Whiteley a bandana-wearing hero who blended comedy and sharp acidic observations within his structured textual twistings that shone with working class reality. Harsh in parts, cute in others, this was a nifty opening gambit to the trio of trumpeting wordsmiths. Chris Bambridge followed with a more earthy, patriotic style with still the thread of comedy thrown in. The tongue was indeed poking at the old cheek on many occasions but this didn't deflect from the bloke in the pub mode that was honest and insightful and gave a good kick back against the ruling pricks. Rapid and to the point with only a little more fluidity needed to complete the package – keep on waffling. The defiant finish was well received by all. Dave Puller brought the curtain down on the three card utterances with terse cutlets of whispered angularity that were separated by longer bouts of muttered wandering. Acute 4 liners and not much else were posted our way with the small gathering in attendance very much appealed to. This smaller circle (one of many) which rotates within the all consuming bigger circle is functioning and although insignificant to the masses it is still a viable and very much alive beast that has unity, one mind may I add, and the right spirit to keep niggling the knackers of the complacent. This was a pleasurable quickie (just like the text messages I hear this guy sends) and was lapped up by the thinking onlookers with the yarn against the 'Help for Heroes' campaign a somewhat controversial snippet this cantankerous old cunt can certainly applaud.
A brief respite outside, a salutation to the days workhorse and organiser Jeff Dawson (fine work sir) and back in for Galivantes, a studenty based, and supported, band that brought much 'full of the joys' tittering to the welcoming arena - you gotta love em' or hate em' ha, ha. The 1st song crawled on bended knees and spasmed with seeming uncertainty with a similarity to tossed about commune offal not fully prepared to consume. When injected with pace the song crumbled and I was reluctant to actually put critical pen to awaiting paper at this point but honesty must dictate or there really would be no point in anything. The song about the 'Fab Cafe' was a much more palatable affair and was a robust sing-a-long winner full of rewarding essences to sniff at. The sound guy at this stage looked to be having 'one of those days' and gave a good visual representation of the word 'flummoxed' with his tampering digits and fretful eyes all adding to the bewildered look. The crew carried on regardless with a sweet lilt delivered from the lead lasses gob box, a further bluesed up injection boosting the quality 10 fold and the cool skanky route an episode that surely the band must concentrate on further. The short set got better and judging the opening burst against the final strums one did wonder if this was the same band. The Italian closure was lapped up and my final reflections were of a fair crew in their own groove with feet to be truly found - not bad though and in keeping with the thread of the day.
Venture next - one of those bands, as per, that has me on the outside looking in and enjoying it. A far from dangerous band, a routine unit with a decent undercurrent of passion, I stay intrigued. The vocals were initially drowned in a swirl of sound with the skanked edge just lacking that visual gusto and inner driving force to make it a finished product. Tribal rolls came, the guitar neck was readily masturbated, the bass plodded and filled the gaps but work needs to be done. The second song had more gumption, more zest and as a result helped the band to thrive more - something to ponder. There was an articulation to the noise, a commercialised accent that may serve them well but with feedback invasions and a distinct sonic imbalance today they didn't get the best deal. Think on though - work on the visuals and grab the punters by the throat - there are some real lazy buggers out there. The question remains for me as to where can a band of this ilk go if they stay as they are? I know not as I reek of different vibrology but the most commercialised sickly sweet number was noted as the best and although I remained indifferent the fresh and youthful style and closing gambit wasn't wasted on me - keep adding the sugar.
Petrova next, a healthy looking lass ready to pluck and fuck her soul wrenched noise and spill it onto the laps of the punter. The opening sub-sexist lilt of 'I Need A Man' was a cutey with the need for a domestic slave more apparent throughout. The tonsilised lilts were enchanting and led into the long-winded 'Countdown' with a pure aroma. This 2nd song was overstretched for me, fractured with fissures of uncertainty and marred by the constant speaker emitted hiss - darn those electric serpents. A pace injection would be advisable, as would a groin grabbing inclusion of loose rhythms but these are just personal thoughts from a humble noise enthusiast - it is all I can do. The set picked up though with lullaby tones tattooed through with tranquillity and serenity that assisted these mood-laden moments to have greater impact. There are some sweet vocal glides that have much success here - be interesting to see where this lass goes if she flexes her musical muscles and just fuckin' goes for it.
To counterpunch proceedings we were given the new wave political ravings of Bug next, a style of band I have seen over and over again through the ages and one who ticked all the criteria of certain sub-scene boxes and gave the day a good old injection of life. A self appointed punk band this lot highlighted peoples primitive need for the more noisy basics with riff and roll a good old winner, especially if you bare yer bollocks too. 'Rest Of Your Life' and 'The Age Of Chivalry Is Dead' pounced and the aforementioned Galivantes crew reacted and danced away in acceptable style with faces of glee and innocent bliss. Masterful bassism, great guitar unity, regular but understated tympanics won through as well as songs with passions high such as 'I Won't Sign My Name' and 'Take The Money And Run'. It is noise of its own niche, will never be anything else and in truth need not be. If you enjoy it, do it, the rest is all a bonus. My punkage these days is DIY Pure, I am an acoustic arsehole sniffer on a rampage for angles but I still can't resist your regular spikiness (it is in the blood) and very much enjoyed this. The crew fucked off with 'Let's Go' a number that reflected their well-rehearsed, well-perspired and well grafted output.
Alun Parry next with assistance from Emma, a keyboard, tube blowing lass with the gentlest vocal applications. Mr Parry himself donated the main gobbage, his six-string weavings and the odd muster of marf organ. '1200 Miles' was a swaying corn success, sun kissed, sweet and embracing - the crowd indulged. 'Dirty Thirty' was an historical masterpiece as was the pearl known as 'If Harry Don't Go', two soothed eruptions of passion and stubbornness with the talented melody purely uplifting. The songs were well spiced, the melancholic streaks contrasting and counter-balancing the general zest. The song about immigration gave a camp-fire security and was surely the most convincing offering of the day with a genuine professional cadence throughout. Points to be pondered, points to be not always agreed with came and resonated from a set that was a terse joy. Note to self - seek out and absorb again.
The main support band came under the banner of 'The Dave Rowley and Black Country' and issued forth traditional slightly popped folkage with rich veins of in-scene spirit and accurate musicianship. Wilderness emotions blew through, were further wafted by double harmonised gifts that enchanted and enhanced relentlessly. Every number was a peach, the Big Country cover (Chance) was a isdeal, so fragile, yet so firm, so transparent yet so acoustically opaque, so fuckin' wonderful. A ditty about depression was gorgeously inspiring with its 'Don't Be A Stranger' chorus and the Slade cover was a subtle success that was folked up and not fucked up. Sandpapered gobbage swam well in the lightly stewed broth with numerous nutritious lumps of rhythmic goodness to get fat on. The best set of the day thus far? I think so and a crew, if I can, to get booked on a Fungal venture amid the DIY dinnage I thrive in.
And finally, the band that had me waiting all day to see, a crew who have tempted me aplenty with an album to adore, a gathering of players I expected oh so much from - oh what a disappointment this could be! So up and at it these Stoke folked punkers got and nailed, what I can only say, was an absolute storming bout of saturated sincerity and kick arse passion that puts so many so called punkier crews to shame. The frontman was ablaze throughout, the corrugated cacophony was delivered with such textured attention and complimentary precision that it was a matter of course that this was set for a stunner. 'A World Away From You' was concrete; 'Fanatics' a restless whip lashing energy fizz, 'Paper Flowers' an emotive soul shredder that tore at the heart, stretched the levels of passion and spirit to new arousing boundaries and as a result blew any rhythmic restrictions you may have out of the fuckin' water. Panged, pained, anti-war - boom - hat-trick achieved - marvellous. 'Mississippi Burning' was another perfect offering, a warning against the incendiary situation all around us that is built on nothing more than prejudice and idiocy - the set continued to be faultless. Harmonica inclusions implored your attention to be nothing less than 100%, numerous military rolls added structure, an abundance of melodic perspiration was sprayed - can we resist? 'Killing Me America' is an agitated gem that foams then ascends to scrumptious zeniths of musical political Utopia. The set closed too soon but ended on the classic that is 'Flatline Town' a gratifying giant in this overloaded musical mire and one to carry the band further and further into the awaiting minds of the uninitiated. Headsticks are behemoths on a very believable roll and everything I do and say in this sonic pit is worthwhile if I keep uncovering crackin' acts such as this. I can't be everywhere, I can't do everything but I try and get out there and do my bit and at some point eventually catch up with some purely magical bands - here's one, get on em'.
So time was up, a long and very rewarding day was done and one that highlights that by sitting in your so destructive comfort zone you are really missing out on what is happening out there and how many different fights are going on. You will miss out on so much if you don't mooch and stretch your sonic wings. Do it and put something back in too you lethargic bastards.
So thanks to all especially the players, the punters, the gaff and particularly Jeff Dawson and the sound guy John for his tireless efforts. Great work. The main event for this one is on 13th September in Wigan I believe which I would love to make but am leading a Fungi Walk in South Cheshire - hey ho - like I say I can't be everywhere. If you do get the chance though please get to any of these events and support a decent group of folk doing things with a passion. Agree, disagree but admire the energies and willingness to have a go. Up the Diggers.
review by Fungalpunk/OMD (20 July 2014)