Ant and Jan of One Man Stand picked me up at 6'ish whereupon we went and got the third member of the band, Chris the bass, and headed for The Retro Bar. It had been a few months since I last saw this tidy, ever-improving outfit so Ants offer of a lift to and from the gig was leapt upon with eager anticipation. The fact I was going anyway just made other logistical hitches slightly less problematic.

We arrived at the venue nice and early, lugged gear, chit chatted and then moped about watching a few sound checks and awaiting OMS to kick off the night's entertainment. The Retro Bar doesn't seem the same place without Mr Michael (The Winkle picker) Wong in attendance and as if by magic, he appeared again, enthusing about the forthcoming bands and other such music related stuff.

So One Man Stand kicked into action and jabbed their way into the audience's consciousness with 'What's Going On' and 'Break Down'. Two solid tracks that relied heavily on all 3 components being in acoustic alignment and swelling the overall sound. 'Lights Out' raised the bar several notches and as if that wasn't enough 'Riding Could' was a new track and was the best of the lot so far. A bit more confrontation by frontman Ant would help in making this a visual masterpiece but nonetheless the song stood out strongly from a healthy bag of belters. 'Black Hole' was a one time fave of mine and I do still love the song but now it has some stiff competition from several other rattlers and 'Take Your Chances' and 'Time To Go' put it firmly in its place with some powerful riffage and darn good song writing. The three trick finale was well attempted with the middle of the bunch the best, namely Grover's 'Front Door'. The end song 'Safe Home' didn't having the finishing power this set so deserved but other than this I thought the whole outing was a success. Still more polish on the turd of tuneage needed but this three cornered crew are raising the level all the time and despite having to deal with the drinking depravities of their drummer I can see them just getting better and better ha, ha.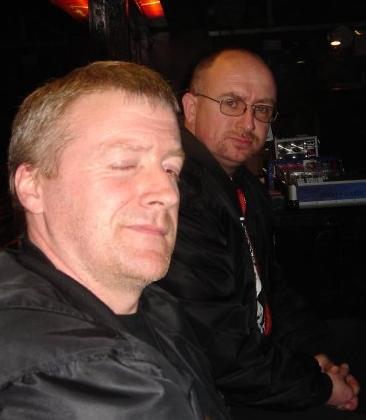 Chris the Bass and yours truly

The Freezing Fog came with the myspace descriptive tag of 'Alternative, Rock, Classic Rock' which immediately puts me on the back foot as regards a review. Look everyone I am a punk and punk is my bag so for fucks sake gimme a break when it comes to reviewing other generic ditties. All I can do is give my personal opinion and the neutral stance as I would deem it. Like it or loathe it it's Fungalised so there. Right here we go! For me the band struck me as very, very talented and are a crew who know their style and deliver it with such a tightness and attention to detail that one couldn't help but admire it. 'Eagle', 'The Freezing Fog' and 'The Dweller On The Threshold' all had some good booming moments and the crowd seemed well taken by this retro rockin' routine. For me (repeat:- and this is my opinion) the songs dragged on too much and if it would have been Black Sabbath or Deep Purple on the stage I would have still said the same. This isn't my choice of listening matter but fully applaud the band on talent and song writing. Fair enough hey!

Finally Nothing Cool. Hailing from San Francisco and California and with Brit Will Farley (producer of One Man Stands cracking last album) on guitar this was a feisty affair full of fruity pop punk played with slick alertness and tight melodic mayhem. The songs just whipped by with that fun time feel which is most essential to this brand of punkology. A definite Lillingtons/Ramones/Parasites hybrid with gushing flavours of potent riffs and whizzed up inflection there really was nothing to criticise here and having a real soft spot for pop punk I thoroughly enjoyed it. The front guy setting fire to his own genitalia at the end was a great finale and seeing him crawl away in a ridiculous posing pouch was one of those moments that scar the mind forever.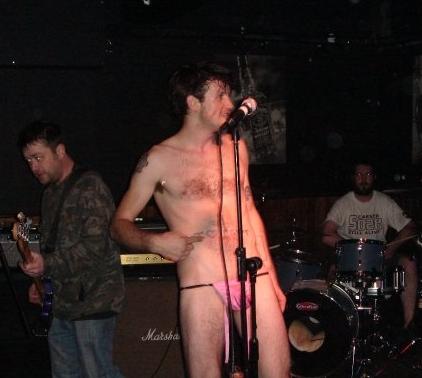 Nothing Cool - and in a few moments time it was far from chilly around the nether regions

Overall then a mixed bag and a good interesting night that for a Tuesday in downtown Manc was pretty well attended. Whoever promoted this must get praise for the willingness to mix and match the styles, the best way to push gigs and sounds to different audiences.
review by OMD (18 March 2009)