A batch of Oleander Hawk-Moth larvae had arrived at my brothers address and I needed to get em' before they ran out of food but...I had a gig to attend - decisions, decisions! If you can help the insects survive a little better away from man's destructive hands then why not? Food stuff sorted, my bro' shall perform the feeding duties until tomorrow so another gig at The Star and Garter it will be - I may as well just live there! The young un' was dropped off at karate and I arrived at the gig a good half hour before the first band. A few faces already in and the build up of yet another different crowd. The amount of non-crossover at gigs is amazing and the numerous sub-generic pits to be tapped into is bewildering and one does wonder how much potential is out there to pull off a really humdinger of a show with the right combination of bands. Also, it is a real gripe when you see so many gigs of lesser known bands empty when realising how many music fans are out there - the mystery continues!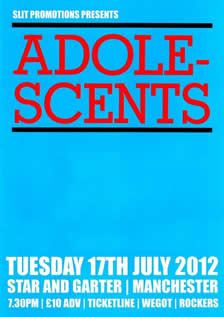 So after chits and chats about the usual shits and shats, twits and twats the time came to head upstairs for the first bands terse and taut set. Throwing Stuff were a new outfit for me to ponder (that's 40 all time newbies again this year - yeah) and came with the attitude to offer forth a right old torrential tirade of fun-fuelled hardcore that saw the frontman pop and ping about as though his genitals had been dipped in brandy and the crew at the rear hold things together with some bold, blistering riffage and almost off the cuff discordance. The masters of the nob-rot noise (which is a compliment by the way) poured in a good level of passion and in parts some sincere strong cacophony was achieved. The stick guy was particularly noteworthy tonight has he rolled around his kit with utter gusto. The set was indeed terse, and that is how to play hardcore of this ilk I reckon, with nice interruptions made by two guest singers (mates) who really threw themselves into the onslaught and made for that extra fascination factor. A good opening assault - ones to watch again.

A beer, a swift read regarding Renoirs work entitled 'On The Terrace' - more chatting with my chums Trev McTucky, Graham 'OCD' Norris and Babs and back upstairs for H/C maestro's Curahee.

Unlike the opening act Curahee offer a darker, more focussed kind of hardcore with an intent to hurt and bowl completely over. The hooded frontman had a sinister edge to his delivery and this was very much a scowling set loaded with fist pumping action, resonant riffage, well constructed and quite technical tunes plus some high accuracy. Again we had on our hands a shortish set from a band apparently packing it in after a few more shows. Shame but there you go. I thought the crowds reaction overall to the outpouring tonight was slightly frosted but a few keen 'erberts at the fore kept all encouraged and towards the latter end joined in with some vocal assistance (good on em'). Curahee however do it their own way and produced an outing that was best described as steady and consistent which, like the last time I saw them, was just what they do. A reliable outfit and if you get chance to track em' down before they wrap up then please do.

Another beer (why not), a potter outside to air off (not literally) and back in once more for the final outfit of the night. Suddenly the gaff was loaded and for a Tuesday night you gotta appreciate the size of the crowd. Funny though that a couple of weeks prior, on a Monday evening at the same gaff, for half the price, 4 bands who were not from the USA and not as famed pulled in a crowd of 9 payers - very punk indeed! Anyway that's how it is - no matter what - the Underdogs always suffer. And so to The Adolescents and what a fuckin' good crack it was. Hailing from Fullerton, California this mighty fine outfit have been around since 1980 in various formats with the odd hiatus in between not taking anything away from the bands quality. This was a well drilled sub-hardcore retro racket with much relevance, much melody and, most importantly, much approachability. The delivery of the tunes was wonderfully sanguine with a most excellent front gob (prolific and accomplished Tony Cadena) proving once again that this punk sphere holds some real talented dudes who have great insight and great desire. Did ye know this guy writes poetry, is a vocal advocate for the rights of people with autism and aspergers and allegedly started out his musical career at the age of 16 playing Tupperware, pots and pans and an octagon organ (see Wikipedia for more). Fuckin' hell - that's what we want - arse in gear! Anyway like any good group - the frontman needs his players and all and one threw in a darn good effort (once more the sticks stuck in the mental cavity) and gave a mesmeric performance that the entire crowd seemed to absolutely adore. Each and every tune flowed easy and was picked up by the punter without fuss. The incessant segueing between many tunes could have made for a tedious faux pas but the accomplished style and standard of songs would not let this happen and we were treated to an absolute belter. I don't say this much but I do hope this crew return quite soon as I need another dose - NOW! A great finale to a fuckin' mini classic!

Alas I missed the last tune and a half due to needing an Arthur Bliss and chatting to a local face I know as Dave. A knowledgeable 'erbert who passed on a couple of names for me to check out which, in my eternal madness and positive enthusiasm, I will surely do. Cheers man.

So yet another visit to the Star and Garter (it is convenient), yet another gig from Dean Diggle (why not support a good sprout who is catering for the many and producing some high quality) and yet another grand do all round (as expected). A fine result is the verdict and another example of the sheer brilliance out there. We just don't realise how lucky we are - from bottom to top - there is much to fuckin' relish so - indulge, indulge, glutton, puke it up and indulge once more. Music is the food of life - play on and on and on and...do a little bit yerself!
Arriving home and the caterpillars had been delivered so a quick nip out for their food plant and a bowl of rice for me. Not a bad end to a fair evening!
review by Fungalpunk/OMD (18 July 2012)