I wrote this review the day after the event in a car that was being shaken to buggery on Britain's wanky roads after spending a day with my fine lasses mooching for various wildlife treats. We had full sunshine, hit the target species for the day (Northern Dune Tiger Beetle and Short Winged Conehead) and after 11 hours outdoors I was crummy, content but as usual, unable to settle. So what of the gig the previous night...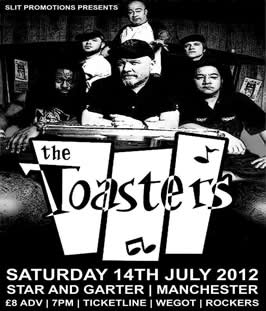 On time, I entered the gaff, picked up two bottles of lager (one for Diggle) and entered the upstairs room of rhythm to be met by Pressure Drop just completing their first outburst. Wot no Digeridoo? Apparently not - such are these wayward urchins - shit happens, confusion arises, jobs still need to be done. Despite the lack of didge the crew produce a good clean set of war torn skankiness played with absorbed attention and complimentary changes of pace. Good vocals plus sound and steady musicianship straight through to the end and when pace and rhythmic bounce combined the set ascended and displayed the tidy forethought injected into each piece. Earthy, catchy and of a perfect punk skank balance - yeah - Pressure Drop do it for me!
Next up and a band called Bad Transmission. I hadn't seen this crew before so expected fuck all and what I got was a fun-filled talent package that rammed the stage and soundscape with beautifully organised skankiness and sweet, sweet enjoyment. The smiles of the players were echoed back by the crowd and it said so much about the atmosphere created by such an 'in-form' unit. The said crowd indulged in the dance floor and appreciated what they were being given with the racket makers at their pinnacle when a good dosage of speed was had. Bad Transmission fuckin' rocked the rafters and created a sonic ambience very rarely achieved these days. Point must be made of the excellent vocalist who projected himself with utter positivity and who succeeded in ploughing through a fair vocal range with strong revved up spirit! Choice. In truth though all the players deserve high compliment for serving up an amazing show the result of which convinces me that this was one of the best offerings I had seen this year - yeah! Best track 'Another Gig' – combining chilled, carefree and slightly tetchy elements – why not?
Lastly - The Toasters. With comfortable class, a bundle of instantaneously big hitting tunes, a free footed feedback from a merry crowd many bands would kill for, a great reaction of sound, an ideal venue for such intimate skankage and a perfect challenge set by the support acts The Toasters had it all on a plate which was there to spill and leave the gig ending on one truly bum belly tits up flop. But...this band are no fools, this band know their tools and when called upon pull the two tone rabbit out of the acoustic topper and give you musical magic to savour. A solid set with many highs - my particular faves being the obvious 'Two Tone Army' and 'Don't Let The Bastards Grind You Down'. Pure zeniths! This delivery rounded off one of the gigs of the year for old Fungal here with skank proving once again to be a unifying noise that brings together a whole host of music lovers. Tonight was a prime example of skanks magnetism and bonding style with skins, straights, retro punks, part-time perusers, the young, old and ugly, eclectomaniacs and peripheral players all thrown together and all having a good time at this embracing gathering. A big up to all I'd say!
Time for home then - happy - you bet, fagged out - ain't I always, skanked out - no way. Here is to more of these jolly jaunts and cheers to the Star and Garter, the sound dudes and Mr Diggle - yo ho and never think of stopping without contemplating dropping.
review by Fungalpunk/OMD (15 July 2012)