Well after some hit and miss gigs at The Gasworks myself and owner Max decided that tonight was shit or bust. 6 bands for free was a last ditch attempt to try and offer the punks something to support in this northern town aching for a punk resurgence. The bands on show were varied enough and at such a cracking gaff as this with a nice selection of cheap beer there was little else we could do to make this a real bargain night out. If Bradford really was a punk ghost town tonight would be proof enough.
I arrived with my good lady and equally good little 'un at 7.10pm and with the first band due to be on at 10 minutes ago this was far from a promising start. No bother though as all concerned know the crack so finishing in good time should be no problem. In attendance already were Sounds of Swami (complete with drums already set up) and Bad Day at Black Rock. A few salutations and a wander around the gaff and SOS were requested to get the evenings entertainment underway.
Sounds of Swami, for me, are not easy to categorise. Hardcore punk cum metal cum americanised punk cum etc. etc. Its a right mish mash of sounds but I like this band alot due to their decent attitude and lively, on-stage performance that is splitting at the seams with concrete riffage and rabid ravings. I take real pride in knowing that the scene in which I dwell has some fuckin' decent young chaps who love their music and throw their entirity into it for nothing more than the thrill of the sound. These lot once again put in a cracking effort and it was a great way to open a 6 band show. 'Identity Crisis' stood out but this was a consistent thrash attack and the crowd appreciated 4 good musicians plying their trade. They work hard during their performance and its a right hornets nest of activity that enhances the whole visuals no-end. Once again a recommendation to all.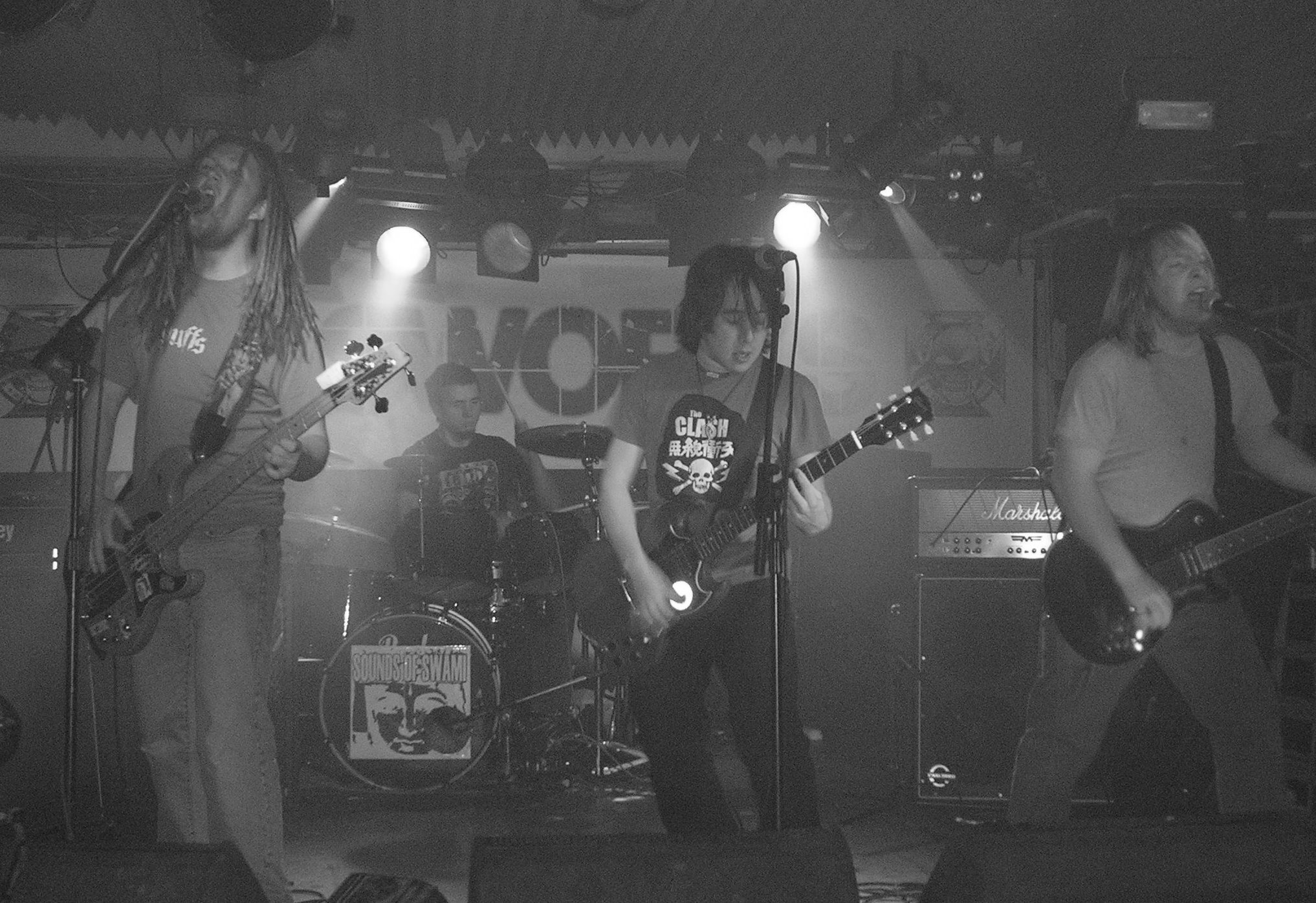 A ball-bursting opener from hard rockin' Sounds of Swami
Bad Day At Black Rock hit the stage armed with a 6 song repertoire which was in itself quite fortunate as time was running late. If you check this lots myspace some geezer by the name of Ed is quoted as saying they sound like 'Being sicked on and cum over at the same time'. A trifle nauseating methinks! Tonight there was plenty of spunk from the front lass but the set was one of two halves. The first half was trashed due to the guitarist forgetting his guitar pedal - silly bugger - but they soldiered on and did OK. The last 3 songs really picked up a bit and despite a few hiccups they got by on grit and determination alone. They have a nice rhythm about them and the new bassist slotted in well. The drummer is nice and solid and the guitarist provides some good moments with more unorthodox touches. Frontlady Leanne looks the rock chick part and has an assured ambience about her. There is a bit to come from this outfit as it's still early stages with the current line-up. They arrived in good time and stuck around for most of the evening too which always gets my vote. There will be more gigs coming their way as far as I am concerned as I like the nice, somewhat primitive difference they offer to a good old punk gig.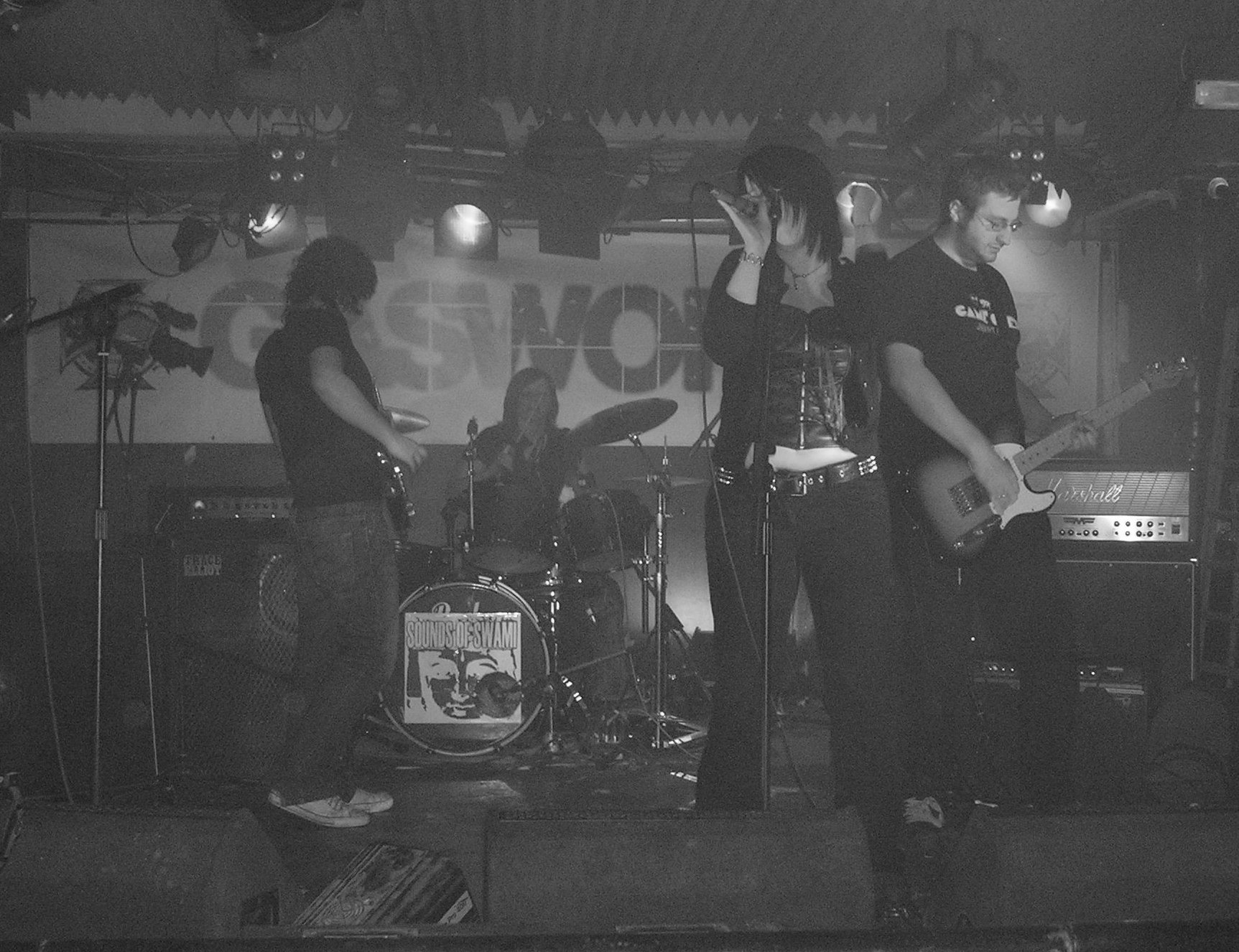 Bad Day At Black Rock - a set of two halves
Local 3-piece No Eager Men were up next with their quality pop punk, an offering that once again went down a treat and added a new dimension to the nights proceedings. A bubblegum-chewing bop party here with 3 good musicians providing a light and heady mix of choice punk ditty's. 'The Way You Are' and 'I'm Bored' were the two highs with SLF's 'At The Edge' a neat cover. My little un' and missus enjoyed this too and No Eager Men are a band definitely worth checking out and throwing on a few more heavier punk gigs. Flowing and saturated with melody there is a nice sensation to this output and hopefully this talented trio can start getting a bit more exposure. I for one will be assisting the cause.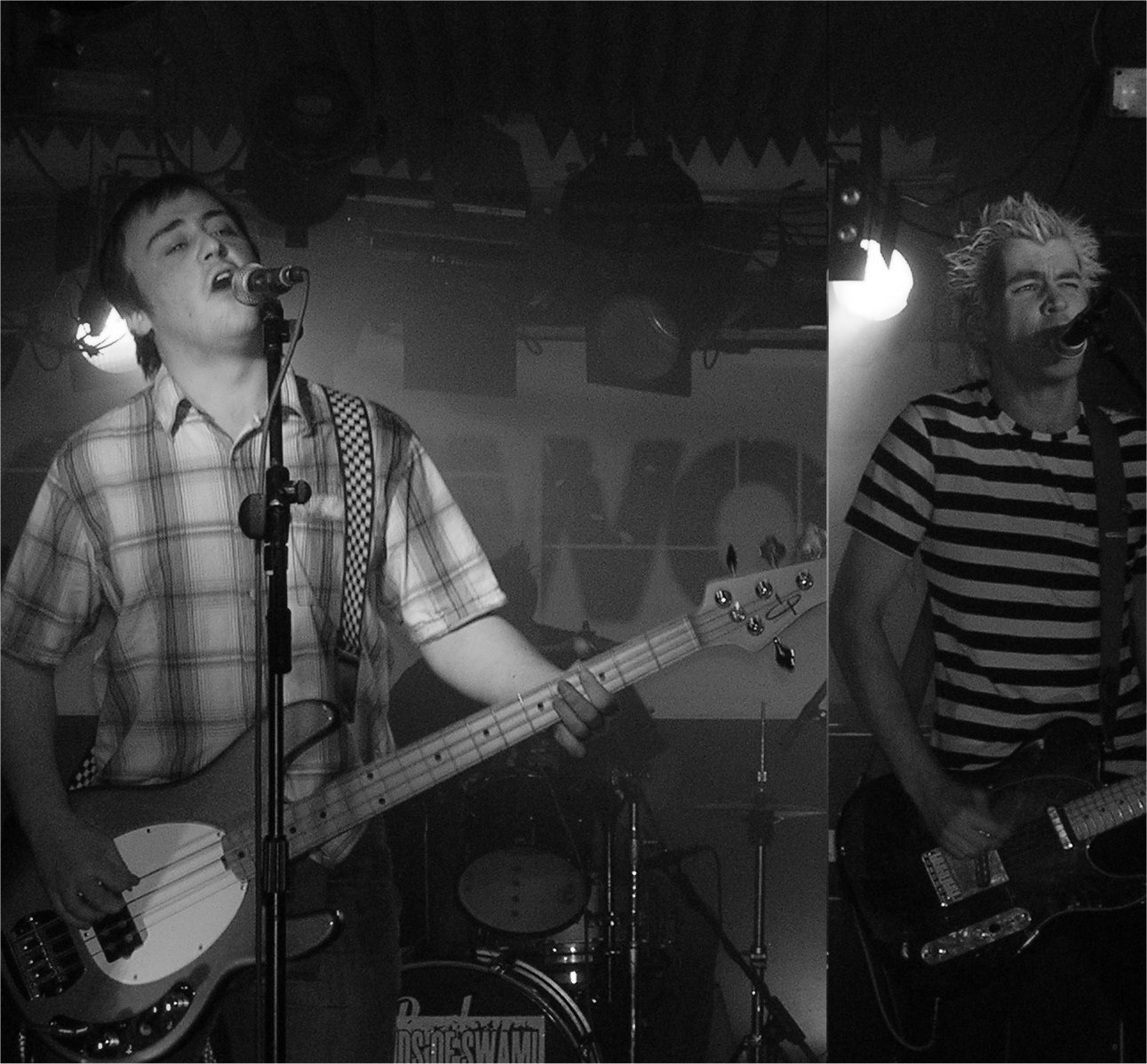 No Eager Men - simplistic pop punk at its best
Penrith punkers The Scabs next and this was the best showing to date with a few new songs in the mix, an injection of much needed pace and the inclusion of one new, improved drummer. It was a confrontational cock sure performance from the bald boisterous frontman but unlike times before this felt as though he had (and indeed did) a major force behind him. Guitar, bass and drums have all picked up their game with a few new tweaks and twangs here and there and the set is looking completely revitalised as a result. 'Gutterscum', 'Sexual Deviant', 'Police Brutality' and 'Night Of The Living Dead' as well as the classic 'Blades Beat Fists' were all hammered out with aggressive determination and its nice to see a band I favour move up a couple of gears with apparent ease. Great stuff and more of the same please!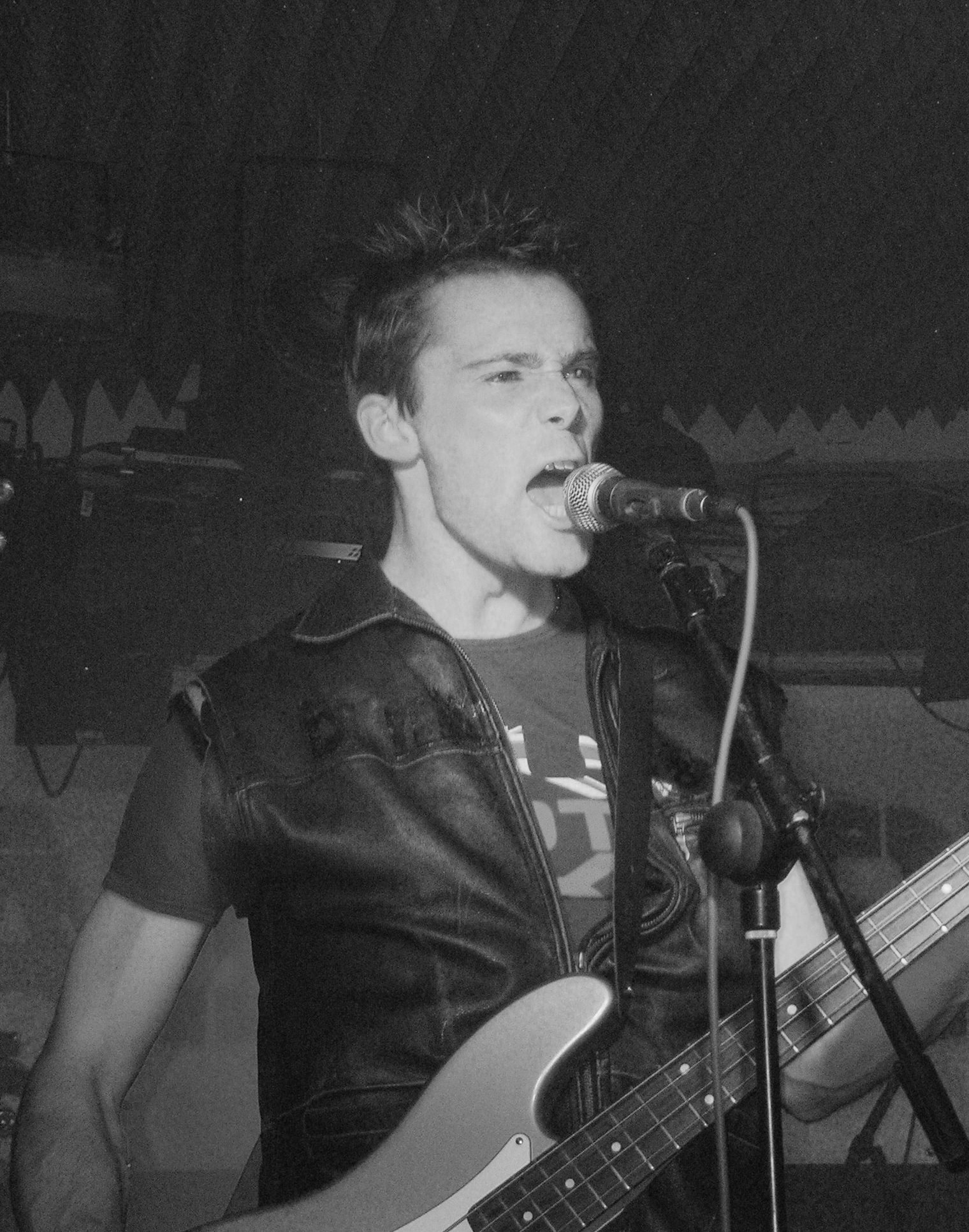 Mike Scab adding his own aggressive touch
The Jesters from Belgium were a new outfit to me and from start to finish this entirely absorbed my attention with one class song after another. Really up and at em' stuff and full of confident choruses and rocking melody. A hard working band this with few too releases as the skill and obvious talent on show was worthy of an abundance of more recorded produce. Really classy delivery and plenty of bollocks on show with ramming tunes aplenty. 'A Jokers Gift' was the pick of the crop but hey - there was no crap on show here. All top notch brilliance and a band I will surely keep tabs on in future. How could headliners Holy Racket possibly top this...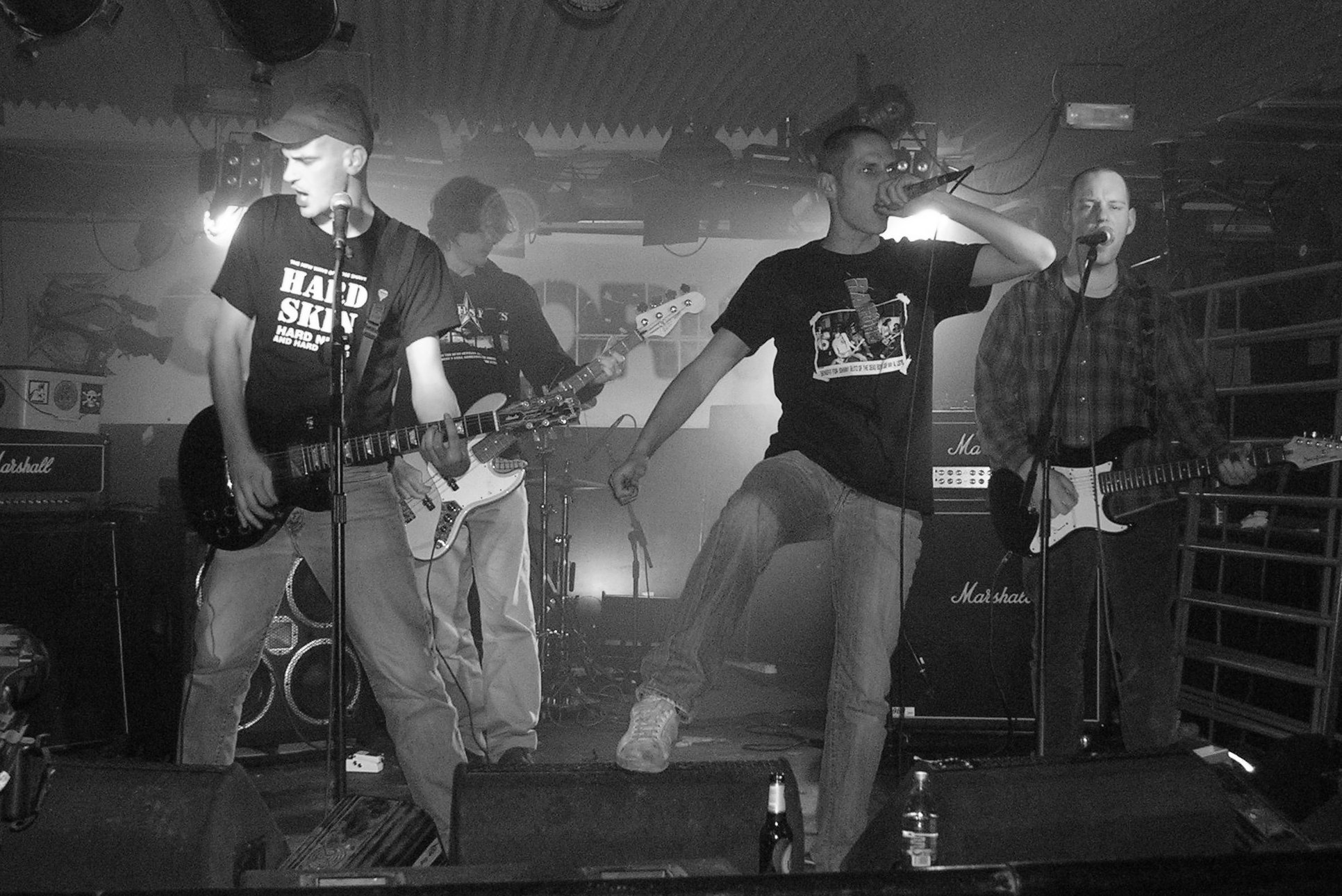 A blast from Belgium with The Jesters
Well in fact they definitely equalled it with a performance that reeked with rehearsal and professionalism. This was a genuine crafted showing by a band who obviously put a lot of work into their trade. Very fuckin' efficient in all departments and subtly slick and well oiled producing a fine end to a great evening of pure punk rock. 'North Rebel Radio' and 'East Side Story' were the best but once again where on earth was the dud? I couldn't find one and if I have any criticism I shall certainly amend this review but don't hold yer breath.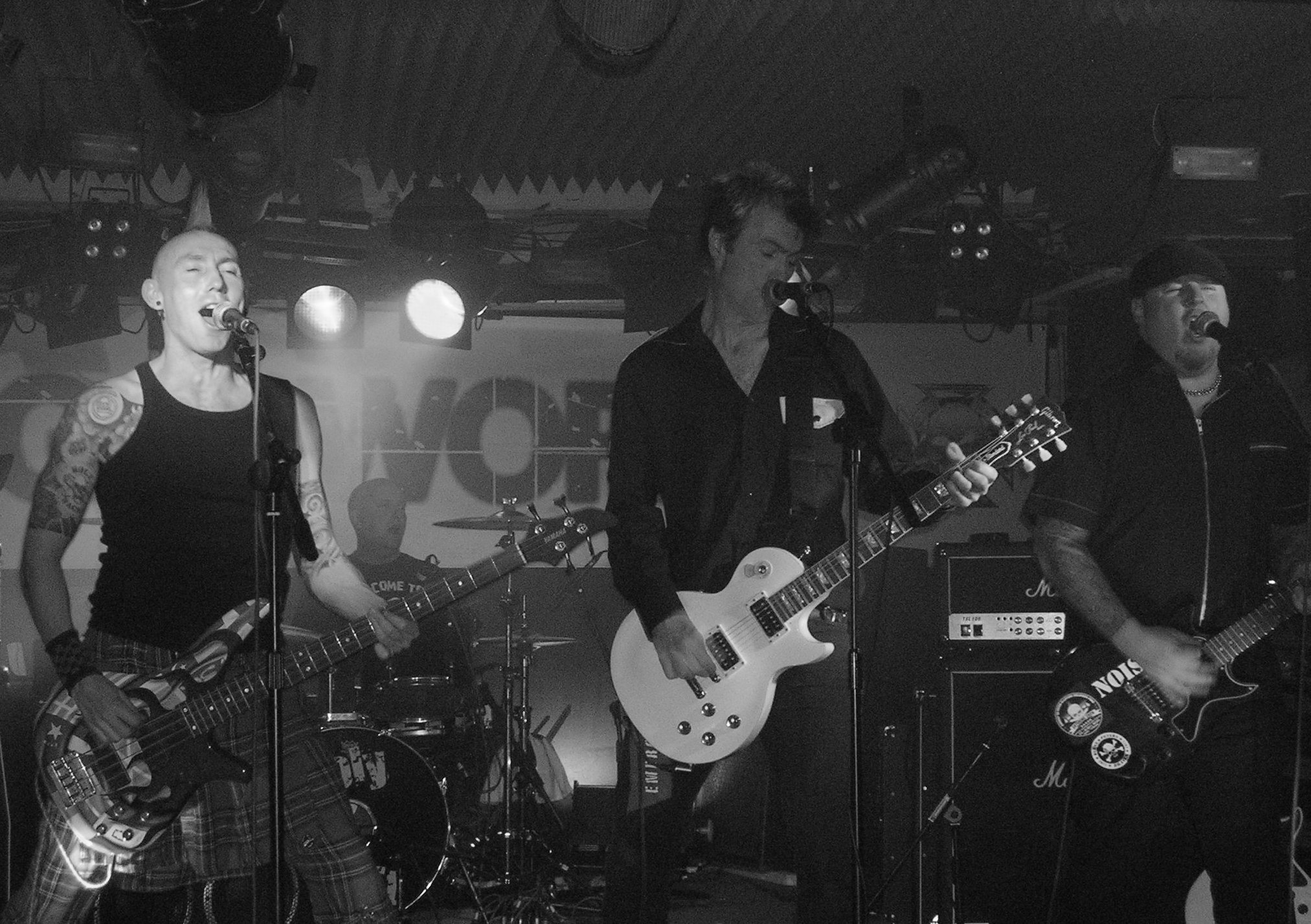 Holy Racket - a class act to end a great night of punk
A class end to a great nights punking once again sadly overlooked by the idle masses. The 40 to 50 or so who did attend enjoyed it thoroughly and all feedback was positive each bands contributing their bit.
Thanks goes to all bands and the people who did make the effort including Tino of The Negatives, Dave, Paul and Sean of Most Likely To Fail and Steve from Phoenix Radio.
Its been a good run at The Gasworks and Max has been a pleasure to work with but without more considerable support there is no option but to pull the plug on the punk venture. You can't keep throwing good money away with no return and bands derserve more. Maybe a few non-paying freebies in the distant future may rekindle the almost dead flame, I for one hope so.
A real joy tonight and a venue worthy of support. 'Put a covers band on' were a few of my parting words to Max and he nodded in an accepting yet defeated way. That's were the money is and for me that says a whole lot about todays music fans!
review by OMD (14 December 2007)