A busy morn catching up with household chores after a long week that sees me buggered out (as per). Snacks packed, maps at the ready, off we set at 12.30pm for another bout of Fungalised promotion this time in cahoots with that honourable gent Andrew Rossi (one of the best). One traffic jam, only one small wrong turning and the 1 hour plus journey of perspiration was done - ooh missus what a clammy arse I do have. First things first and a bit of scram to appease the groaning guts and then salutations to the early birds ready to peck at some silent worms. Decent chats with some fine stalwarts were enjoyed and the atmosphere set was one of calm, 'let's just do it and piss in the wind' determination. This was a 2 venue venture with bands alternating throughout the day from one pit to the next. The first venue (The Clothier's Arms) was a small back street gaff, the kind I adore, up close, personal and very real. The second (Cobcar Sports and Social Club) was a larger affair, almost like a 70's social club were one expects Colin Compton to ring his bell and dish out his accented diatribe. A bizarre contrast indeed but this is DIY, this is music for the punter with no illusions, noise needs to be in every nook and cranny. More peddlers of sonic shizzle arrived, the temperature pushed everyone's anal heat levels to the max, this was gonna be a wet and hopefully worthwhile day - fingers and toes crossed, and ring-pieces plugged.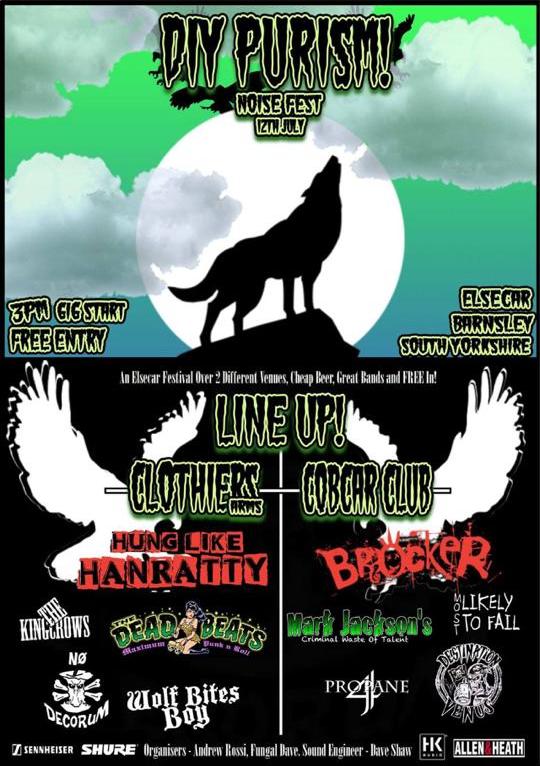 Back to the first venue, equipment in place, a holler for the first rockin' retailers to ply their trade - step up Hospital Food. I have dealt with these guys a few times over the years, watch them swap and change clientele, seen them fall victim to key tapped lunacy and also witnessed them not giving in, grow in confidence and fire back at the doubters and negative shouters with a consistently improving set. Today they jumped on at the last minute and opened the 10 band fiasco with a solid, well-routed sound that had more liquidity then when I last saw them and a darn sight more quality 'ooomph'. The first two tracks walloped the attention and all sensors were aroused with the third burst, namely 'Internet Warrior' cementing initial thoughts of this promising to be a concrete encounter.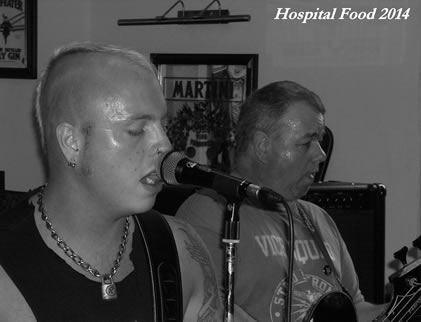 The next offering swapped vocals, and saw bass man Ben wobble his wires and pass the gobbology to string manipulator Nathan who held his own and added a choice change to the flow. We had a wholesome throbbing rhythm to meet our dinned desires, a more cultured approach to the output with many songs ascending nicely to admirable peaks - tasty. 'Stalker' was a memorable gift, menacing with raping weight that unclothed the resistance and trembled one to the marrow with the new found conviction. A ditty about hating 'Man U' was fun and the 'Jeremy Kyle' upchuck maintained the street earthiness and once more saw a double mouthed delivery that shook up the interest levels. We scootled to the finale with a bit of punk preaching, a cover in honour of the death of the last Ramone (RIP), 'Punks Not Dead', a stubborn piece to reinvigorate jaded beliefs and a track called 'Jimmy' another effort in this musical pit about this unknown 'erbert that gets his fair share of publicity ha, ha. Overall this was a scrummy entree to a 10 course meal to get fat on.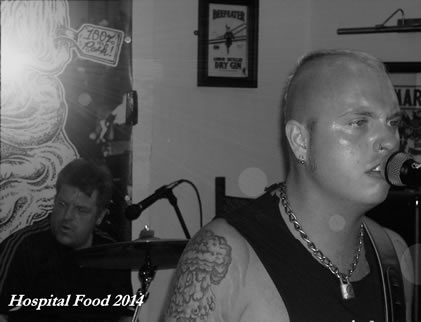 A walk down the hill, this would be a regular occurrence as would walks back up the hill - ooh me boiled eggs.
Destination Venus next, a band I very much believe in and one of those units that gets me so disgruntled with the scene. Why is this pop soaked produce not getting a bigger reaction from the lovers of the sweet enthusiastic rhythms? Quite baffling! Today, once more, was the usual tip top tuneage and as I picked up my assessing cocktail stick and plucked out several morsels to scrutinise more carefully I found myself rewarded over and over with pure scrummy gems. 'Billy No Mates' was a powerchug, it provided the palate with an opening mouthful to chomp hard on and to swallow in one almighty lump. 'Let's Go' is a delightful droplet of lemony uplifting vibrology that has appealing zest, a fizzing encouragement and a crushing chorus that makes one wanna poing. 'Crazy' is a delectable winner with a honey lush lilt that copulates with rife ravishing riffage and robust rhythms thus giving birth to an overall flavour to savour. 'My Best Friend' is more powerful, it hammers at the acoustic oral enamel and has a chorus with muscular comfort that may result in a few fillings required. 'UFO' flew in via sub-comic strip fun with the set getting silkier by the second. The tunes kept pouring forth, front man Shaun did his utmost to shake the ferret from his kecks, it made for helpful visuals and enhanced the appetising essences proffered - ah if we only had more diners within this tucked away dingly dell. Never fear, those that were there had no complaints and my belch of appreciation was proof in the pudding of another wonderful serving.
Back up the slope!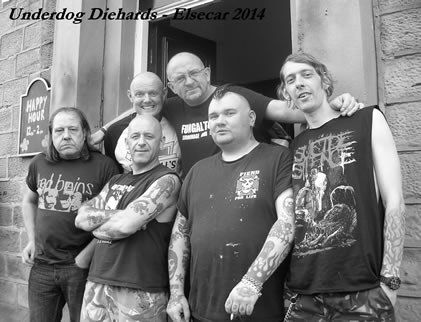 A new band for me, Wolf Bites Boy, but with members whom I know and trust. A three-piece, a loud and tight assed squadron of passionate pilots happy to crash in any old desert where their music may get heard. Second time out this I believe, fuckin' hell, frightening the talent out there. 'Don't Let The Bastards Grind You Down' was a message given early, it kind of set a scene, an attitude, a stance and this tidy crew rammed out their dinnage in numerous compact packages that blew up here and there in a sonic shower of perspired intent and well stretched consistency. The melodies were rife, the collision of pace and style ideal, the unity of the trio eye-catching and obviously beneficial to the end racket. My daughter (16 and with 10 sonic years under her viewing belt) considered these to have flavours of one of our fave live crews, namely Airbomb. I considered and saw the slight comparison, which in truth is all complimentary - Airbomb were fuckin' great tha' knows. Anyway this was power-blinding, with the bassism posted in our gaping gob boxes with gusto'ed sincerity and hurtful disembowelling intent - sexy or what? 'Against The Grain' triggered my interest for obvious reasons and was the most sonically varied and emotively happening cutlet whilst 'I'll Be There For You' was anthemically skanked, rabidly reggaefied, worked in such a away to surely win much praise. 'Rise Again' full stopped the set, the defiance in-built wasn't missed by yours truly and I found it a fitting closure to a meaty set that will bulldoze many in its path - I am right behind ya chaps.
Downwards we went but not in spirit - think on. The cider began to flow!
The grapevine grew around my feet, it sent tendrils up to my todge of tuneage, the tickling vibes received were all positive as regards the next crew to hit the stage, namely Propane 4. A CD was reviewed, it brought much satisfaction, I chatted with the members outside, what gents they be, I wished them well as they went under the Fungalistic spotlight - unlucky buggers ha, ha. I restrained my expectations to maintain a fairness to the textual assessment, the bastards are not having me so easy (wink wink), and went forth into the fray as neutralised as one can hope to be. The first striking aspect I uncovered was the cool dude melody that cascaded from the stage as 'Everyday' paved the way in its simplistically honest way for the rest of the set. Very hygienic and retrofied with the clear rinsed out and accented vocals playing a major role in creating the mode and mood. In the flesh the band give this oral utterer big toned assistance and have a surprising power that gives a more robust and rugged feel to the vomit expelled. The snarl factor is neatly squeezed in between the main buttocks of reverberation and within the crack of the acoustic arse the sound of well clashed guitars, that have breaking glass undertones, come readily and seem liable to rupture any hindering haemorrhoids the more picky muso perverts may find problematic (pedantic gits). The segue of songs early in the set was satisfying and accentuated a belief I had of a very professional crew whom are well versed and in synch with one another's desires (dirty devils). Clobbering with subtlety is never an easy thing to do, harmonising with clarity and clout is equally difficult but this lot did it in their own way and hit the noised nail on the awaiting head each and every time. The skins were well spanked, the Polyfilla bassism exact and in truth the only gripe I could scrape together was of the spacious venue not being fully complimentary to the bands style. A smaller gaff would have been apt but the cookie crumbles many ways and you gotta just ride over the crumbs and make best of the offering. I have that 'in yer face' mentality in my blood and maybe I am biased but I am more than convinced that in a neat and tidy shithole (paradox alert) this would have thrived so much more. Nevertheless I liked this a lot, with 'Tough Shit' a documentary styled delivery that had a kitchen sink drama reality to ponder and with much monochrome emotion throughout that was coolly tattooed with streaked and grinding greys. 'Bullingdon Boys' was another particular high, a sharp assed piece created around a simplistic structure but given pure life and vitality by the exact tones for the subject matter - those power drenched pirates who seem devoid of feeling and crush all in their path. The set eventually came to a close, I walked away very satisfied, I feel a few bookings coming along the way and reckon this lot can do alright for themselves. Here's hoping!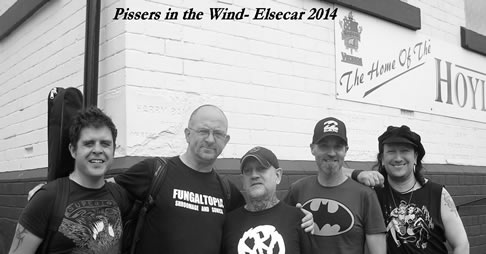 Upwards again - in all ways and with the right attitude.
The Dead Beats - a band once more in its early days - 2nd gig again I believe. A gathering of entities I know, appreciate and am happy to support - now what would we be given today? What we had was a horrified upsurge filled with fantastical tales of the accursed, the zombified and the devourers of the deceased. The souls of the onlookers were under threat, the sanctity of the flesh in danger of noxious infection as this collected five piece of nasty pluckers and fuckers did their B-movie bit. This embryonic spillage slipped from the vaginal void of nowhere and thrived on a stage where sweat, sonica and scary motives bloomed - aagghhhh! My hair, all 5 strands, did indeed stand on end at this superior sinister set with the upchuck of deviant and sable material hitting my reactors and inducing a positive response. The closet in which we found ourselves shook with wholesome tuneage ideal for the loser, lout or loon who just wants to switch off and rock the fuck out. Creeping skin crawls were plentiful, thrusting throat grabs abundant, the necromanic attack relentless and despite the aforementioned B-movie thread this was A-class produce. These well worn wankers (compliment indeed) know their stuff, have a gorgeous passion to lust over and highlight what spirit and insight can actually achieve. This is no corpse, this is no feeble has been, this is a new beast looking for life and already they have one new convert. I need more to thoroughly get to grips with the emitting pleasure but for now I will leave you with a comparison - if you loved those early Pan Books of Horror that gathered many fascinating tales of horror into several chilling tomes and you love good rock and roll music then you'll fuckin' adore this. The Dead Beats - remember the name and get ready to glut on the gore.
Phew - are we nearly home yet - hope not, this is wonderful stuff.
Mark Jackson next and his Criminal Waste of Talent brigade - love that name. During this set I was distracted several times by problems with the following acoustic act so apologise in advance if any pertinent and outstanding points were missed - ooh the life of a mithered mucka. Anyway this was a perfect addition to the days proceedings and kept the variation flowing, something I am always keen to uphold. This was ready salted, dented can, pock marked arse, mangy dog music filled with everyday abuse and soiled honesty and I like it no other way. The content of the cacophony was awash with relatable yarns and reeked with a rewarding reality and tongue-in-cheek poke at life's nuances. 'Dumped By Text' was an apt example of the spillage with its modernised wordsmithonian leanings and catchy social club approachability. Another ditty that struck a chord was 'Real Men Have A Shed' which kind of Northernises the whole shebang, gives it grit and adds a somewhat pigeon fanciers slant that can be only seen in wastelands of transparency here and there. The punters sat around and watched this whilst I tootled between problems and tones and took in as much as I could. I glimpsed visions of yore, a town waiting to be converted, a frontyard, backyard trap that needed life - we need to keep on, to get this noise further afield as well as to keep ploughing away locally - the fight is a bastard. I chatted with my 2 good lasses after the show and gathered their thoughts - both enjoyed it which for me shows that this lot have more capability than what they may deem. I shall be trying to push their boat to distant shores. Thank you indeedy! Up the variation, the many angles we can throw in, the ones with no delusions.
Most Likely To Fail next, down to a two piece due to in band commitments and other such goings on. The PA wasn't designed for tonight's 2 strummers and options were had as to pull, play or pluck off their wares in the other venue than the one allotted for. Back and forth a potential decision was batted until the original plans were stuck to - by heck, it is a good job I love these dudes. Pinball problem over, what was all the fuss over. The set was perfect for today and once more wandered down a different avenue and brought in a welcome low key cutlet to admire. I am a fan of MLTF, I have never ever seen them in their acoustic 2 piece attire - it seems I have been missing out. 'Tomorrow Never Comes' came first, it seemed as though the song was made for this 12 string style, 'Vicious Circle' pursued, another old classic laid bare and competing with the original in all areas. I was highly impressed despite the non-co-operative sound system which was somehow manipulated into being quite complimentary. The lads had got up, dealt with the DIY situation and for me, and the onlookers, did themselves fuckin' proud. Note to you both - never doubt, never give in - do it and do it with your heart - anything else is a matter of course for the ones who know. The two tremblers became more comfortable as underdog classic after underdog classic got peeled away and was given a new breezed out airing. 'Killing Time' was a peach, the delicate guitar trimmings shining bright, 'One For The Kids' a cultured construct acute with articulation inspired by idle sell out fuckwits who sleep with the devil and claim purity - bastards. The major moment though came in the form of 'Bittersweet' with fine gent and long term giro-cheque examiner Paul 'labourless' Green getting up and doing the vocal stint. This guy is a God amongst the lethargic, a mere behemoth in the world of the relaxed and duly rose from his life-style of inertia to do a stunning stint on oral duties. As the ex-lead singer of the band and a grandfuckin' chap it was good to meet up with this gent again and see him strut his stuff - it brought back memories of some sweet times - cheers Paul, sincere heartfelt thanks but on we must go. The set for me peaked and eventually closed with a boom - this was a quality moment only the bottom feeding enthusiast can admire - keep on keeping on me detritus guzzling comrades - we are doing it the real way.
The Kingcrows next and after frontman Phil's previous stint with The Dead Beats and several encounters with the ale I was wondering if this excellent chap could hold up for the set. No worries, the guys a gem and this lively rock and rolling band took to the impressive stage and really rocked off their knackers with more than satisfying aplomb. I have followed this lot for a while, gladly pointed them in varied directions and seen them take off and create some good fan bases. All fully deserved, all fully worthy of a band who play it well, play it with their hearts on their sleeves and throw into the mix some real storming tunes. As I say, the stage tonight was showy, made for bands of stature and The Kingcrows looked very much at home. Each member pours in their all, does it with complimentary precision and such mouth-watering passion and I for one would fight this bands corner over and over again. They never fail to do the business, they have a visual appeal that can transcend many genres, they have that innocent streak that relies on good wholesome sonica and attention to presentation we surely can't resist. I was a trifle shagged out at this moment in time but every cell within this Fungalised carcass was re-injected with life as the crew bombarded me with pleasurable moment after pleasurable moment. They just seem to get better and better and leave me always wanting more and I still believe there is more in reserve to come - quite frightening hey? The song that shone tonight was the opener 'Friday Night Heroes', a tune that grabbed the testicular sack of silence, tore it open and let loose an avalanche of sonic seeds to get pleasurably impregnated by. You set of bastards, my gut is laden with your magnetic offspring, and yet I'll keep coming back for more. Brilliant.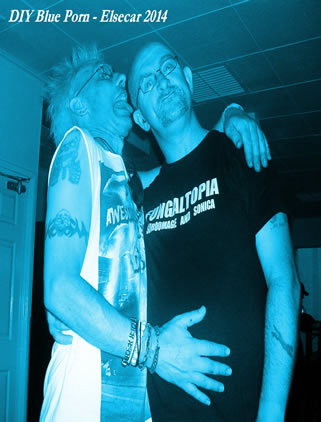 Next and to the headliners of the day at the opening venue - The Clothiers. Hung Like Hanratty had been around all day, supporting the bands, talking bollocks and proving themselves to be a right set of decent buggers. The lass on the stall stuck at her duties, the erbert's in the band wallowed in the musical mire - I hope they could deliver after a long, long day. I had seen them the week before and witnessed a fuckin' real happy go lucky vulgarised treat and was hoping for more of the same - and that is what we got. Any waning warriors were woken up with a bombardment of pertinent points, piss arse vulgarity and absolutely fun-filled, crowd seducing tunes you really can't resist. Don't get too distracted by the verbal effluence though, this lot can play and stick to their sonic guns with a granite accuracy. The songs came thick and fast (a bit like Benny from Crossroads when bombed on whizz and Viagra) and the crowd lapped it up. Gyppos were given the treatment via 'Scrap Metal, the bleached blond deviant we all know so well was dealt with via the superb ' The Ghost Of Jimmy Saville', those anal based canine loving litterbugs were called upon to 'Clean Up Your Dogshit' via a tremendous bout of viable commentary, sex change dabblers were niggled by the verbal vulgarity of 'Danny The Tranny', and gluttonous obese wheelchair users were given a kick in their idle arses via the solid mania of 'Human Pig'. It was all highly charged, volatile but of course provocative fun of the most classic order and the closure of a 'A Very Quick Song' came all too soon. The small crowd was mixed, long term soniceers, a family or two, young and old but, all got this, lapped up the looned point making and enjoyed the fine noise spilled - all I can say is I should know fuckin' better but alas, I don't and for that I make no apologies. The whole attitude shown today by this lot (as well as the crack of one of their arses – ooops wet wipes please), their good company and finishing product forces my hand - check em' out, enjoy em', encourage em' to keep it on the cusp and make sure they don't stagnate and become a wrap-a-round farce that is a frequent occurrence with some of these less serious acts. This lot have weight, good spiked hearts and I want em' beating with a relish. Thanks chaps - love ya.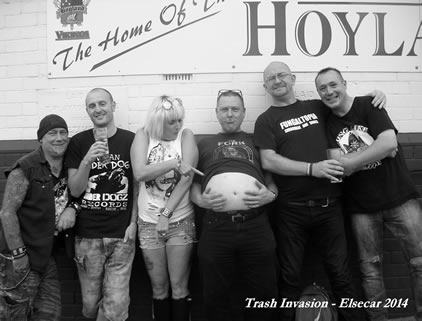 And at last, the finale, the chance of Brocker to do their ever convincing bit. This band are perhaps one of the most gifted and under-appreciated trios out there and have their fine art manipulated, under control and delivered with a precision to behold. Their offering tonight was a stunner, force fed into out addled heads and insisting we stay alert. Brocker ooze class, just look at each individual component and admire. Guitar is deliciously masturbated and groomed with finger-fucking relish and so produces orgasmic vibes that shudder, tickle, titivate and unnerve. Complex, crafty, almost on the edge of collapse but always keeping within the structure and splashing its fruitful seeds in exactly the right places. The bass is a lesson of cable trembling to behold - very keen, very varied and with a somewhat hectic precision doused in weight and commanding delivery. Drums are nobbed to buggery, with skin strokes, cymbals slaps, other tympanic thuds all multi-tumbled into your face with alarming activity. Bring all these elements together, compact them tight, shine until dazzling, add a good dose of trained class and you get a package that is utterly complete. The songs hit hard, they have an irresistible speed and effect to get breathless by, they come at you with such startlingly good sincerity - fuckin' fan-'effing'-tastic. Brocker rock, Brocker do it big time and equally important Brocker are fuckin' nice guys. Anytime, any place gents - you make it all worthwhile.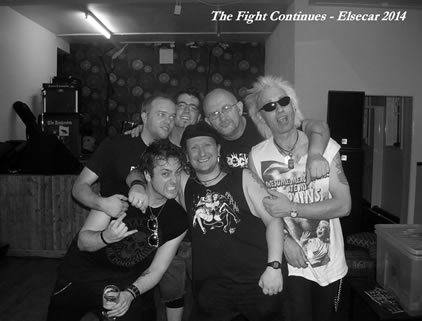 And that, once more, was that. A very long day, 12 hours 30 minutes from leaving home to getting back and when combined with the sapping heat I was a little more than jaded afterwards. I complete this review next day however still fucked and still seething with the general indifference to new, feisty noise but more than happy that the scene below the radar is filled to excess with quality and will not be going away anytime soon.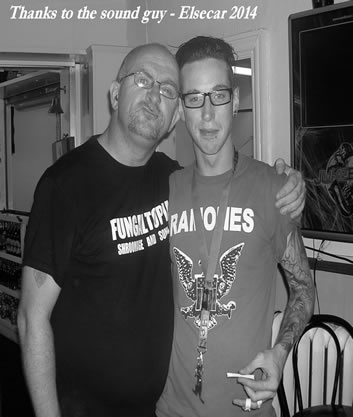 To all the bands - thank you, to Dave Shaw and his manipulation on the sonics - cheers my man, to Andrew Rossi my partner in crime - anytime mate, it has been another pleasure and to the venues who gave us a chance to push this din - sincere thank you. And of course to my supportive lasses who help this wayward lover of din keep going - love ya both, never lose faith in this stubborn sod.
Reviewed by Fungalpunk/OMD (13 July 2014)
Photos by Katie HT