Transport sorted weeks in advance with my two great lasses and then the little un's busy schedule fills up all dates again. Karate and guides take priority I am now destined for a QC session on the train - it could get messy. But...and a but laden with kindness - Stu Taylor offers to give Fungal a lift to the gaff so at 5pm prompt on the Saturday evening I hop into the back of the car with Stu with Sam on driving duties and Babs in a navigator cum coffee slurping role. A clear run, a wag of the jaw, a small portion of the cud pie was chewed and we arrived at the gaff in super good time.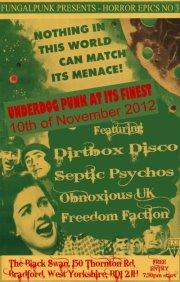 All mikes and stands set up, a new PA and a sound guy in attendance - well, well, well - what's all this then? A beer, a natter with the first few arrivals and eventually bands, gear and more punters arrived. The old ticker decided to have a mad un' and so a restless hour was had (I am a cranked up old soul trying to take things easier and stay more relaxed but I'll never be the worlds greatest socialite - such are a few of my many demons I have to live with). Settling down, and with time approaching the kick off, the opening unit Shatterhand arrived with 20 minutes to spare before going on stage - no sweat! Their first night on tour after a long stretch from Falkirk I hoped the band would get a good reception and do themselves justice - I needn't have worried as this lot have a fair bit of experience under their spiky belts.
The opening band had a one or two moments that could have been regarded as a minor blips but rode them through well and made this a really solid start to the nights proceedings with plenty of good riffs, a fair few technical switch arounds and characterising inclusions as well as some essential frantic speedbursts and welcome sing-a-long ditty's. The winning ingredients that captured my favour (and may it be said - most of those present) were the big slapping drums, the drilling bass lines, the sharp alterations of the guitar and the focus and attitude of the frontman. These aspects along with a general hunger (the band are starting on a 9 day tour so should be slightly ravenous for the rhythmics) made this a good treat and with songs like 'Buckfast Country' and the Rut's cover (that was well played and nicely given their own touches) they should do alright for themselves on the forthcoming gigs (I certainly hope so). A grand start and let's hope we can do it again sometime.
Eyelicker thrash it up a bit and are an acquired taste some will have patience with, some will immediately turn away from, some will lap up and some will just take for what it is. Variety is the spice of the scene for me and combine this with the bands approach I was quite delighted to have em' jump on board tonight. The whole concoction is generally harsh and screamoid with lighter strummed up, rather than scummed up, moments thrown in to keep things contrasted. The songs were scorching and led forth by a tireless front chap whose only serious error was in not confronting a somewhat reluctant crowd. This music is made to be in yer face and when it is early in the evening and the crowd are still not ready to play ball then sometimes you have just got to go and give it to em'. Having said this there were a few sonic stalwarts and cracked zealots who enjoyed the racket and appreciated the change in tones. When the band power chord together they do it well and that is the area where most success will spring from. Result - a fair do with more in the tank and of course with the attitude shown - more gigs from Fungal! Cheers chaps!
Obnoxious UK are a class act and a band I am particularly fond of - so why has it been 4 and a half years since I put em' last on? Mad how time flies and how certain niggles conspire to make these untimely errors occur. Purely my loss but what I can say with hand on jumping heart is - 'the wait was well fuckin' worth it'. Obnoxious UK are nice chaps and I keep in touch with Jacko on a fairly regular basis and get updated on what transpires and how the band are moving on. Jacko had promised me much tonight (no not that way ye foul beasts) and, being the true twisted sceptic that I am, I wondered if he could back up the claims. No question at all - the band came with the usual plan - to deliver good structured songs that were laden with melody, own style and good approachable riffage - bang on the mark. The new guitarist looks the part and indulges with passion, the drums are neatly attended to with some bloody good rhythm given whilst the bass sees Jacko stabilising all and popping in some reliable 4 string drive. The frontman and second guitarist is a fuckin' good musician who sings rather than hollers and it pays big, big dividends. The best part of the set though was the fact the band didn't fuck about and nailed song after song with little fuss - really gave proceedings a somewhat professional finishing gloss that won many a new admirer. Best songs - where to start - all and one where fuckin ace if you ask me - 'Cadava Doll', 'Ginger Is A Werewolf', 'Amelia', 'Conformity' and The Cottage Strangler' were all superb highs amongst many zeniths and one thing I wondered after the show is that surely this is one of the most overlooked outfits on the scene? Well we'll try and sort that lads - now is the time!
Next up and another band I regard highly led by a flourishing frontman who is either hepped up on goofballs, bombed like fuck on drugs or...just a loveable punk rock zealot (as indeed are the rest of the band). Chiz is the man at the fore (known as Paul Shakespeare (on Sundays and at gala luncheons) and the band is the ever impressive Septic Psychos. The band has played a few shows for me over the years and are always fuckin' welcome as I love the noise and the bands attitude. Tonight was more of the usual quality with extra nobs added and a whole dollop of passionate cream on top - the best yet I thought! Having come in a mini-bus with a few heads (sincere thanks chaps) the band were up for it and boy didn't it half show! Classic song after classic song poured forth culminating in a finale where pride was taken in drinkin' with the punk rock family - superb touch. Throughout energy, attention to scorchin' riffage and just downright punk zeal were delivered by the bucketload and one or two punters really started getting into things - as well they might because this was irresistible. For me I always get the feeling that if I was an outsider to this music and hated the whole shebang I would still be applauding the racket making and spirit the crew so obviously pour in. They are a fuckin' delightful down to earth band (even if the guitarist and bassist can't remember where they are from one week to the next ha, ha) and I would recommend each and every promoter to drop these in on a few shows whenever they can. Utterly reliable, purely pleasurable and always raises the hairs on the back of my neck by the sheer love they have for their noise - love it!
And at last we come to Dirtbox Disco, the band of the moment, a solid unit of entertaining noise that is there to be just fuckin' enjoyed and not over analysed. This isn't punk and why should it be - it is pure unadulterated fun-time music making with many loveable aspects you just can't resist. The fact that the band dress-up and love a bit of tomfoolery could, (and does in any cases) deflect from a non-too sturdy collection of songs but... and this is the meat of the matter, the veritable fist in the doubters face - the band have one helluva concrete collection of easily digestible, utterly catchy and totally believable ditty's to just fuckin' bathe in. Forget the clichéd touches, forget the sometimes predictable rhythms this lot have so much more and are in truth a nice bunch of level headed blokes as well (keep it that way chaps). I can't fault em' and again their application, ability to please the crowd and the way in which the place became so vibrant is all key to the way they go about their noise making. Song after song hits the rights spots and even when they become 'punked' rather than cheesily spunked they are spot on the mark. The only blip tonight was a string on the guitar bursting but with a fat fuckin' amateur on guitar what can one expect ( I love ya really chap and appreciate your lovely manner - means a lot)! Again how can I pick a best song - the set is rammed with em' - Ok the last two - both new and off the forthcoming album - very nice indeed - bastards!
So there ya go - another Bradford jaunt done, dusted and a bloody good do at that. In the gutter, bread and butter at a good gaff trying to do their bit (sincerely appreciated). To the regular followers of the Fungal gigs and cause the thanks is eternal and you know how much it means - really big thanks indeed. To the punters in general who came, considered and enjoyed again sincere thanks - without you the gigs are pointless - keep the faith. To the sound guy a big shout and lastly to the STP crew - thank you kindly for your support in a cantankerous old sod who tries to keep things a little too ideal I suppose and a little too back to basics (it is what I am though and thank you for taking me with warts and all) - utter, utter thanks.
Back home for 2.00am, fluttery, tired, aching legs, £30 lighter as I paid the opening act out my own pocket (and in truth worthwhile it was - I'll be buggered if I'll see a band lose a date on tour and travel all that way for nowt) and with a bad headache (the start of a cold I reckon - not had one for 12 months so the law of averages are playing fair) I sat on the couch, had 4 crisp butties, a swill of fizzy pop, went to bed and snuggled up to my darling wife, read a short tale of horror and nodded off happy with the fact that the Underdog holds the best noise around, there are a few gems out there who piss in the wind and I am still clinging on in there for the right reasons (hey and I didn't upset no-one tonight - bonus - well spotted Chiz ha, ha).
The word of advice today is - stick with your beliefs, accept all criticism, look after the ones who matter, keep your feet on the ground, avoid all ego trips and...yes you guessed it...keep it fuckin' real!
review by Fungalpunk/OMD (11 November 2012)