First outfit up tonight (on an evening which some bizarre geezer had billed as International, Hardcore and Punk Evening lol), were Boston's own, The Poor Geezers, who have been best described (by Dave HT) as "Patchwork Punk". After a rant about the plight of Indonesian punks (by the bloke in this duo who plays nothing) the geezers kick into an acoustic rendition of 'Warhead' (yes thee Warhead) which goes down well but is their only cover of the evening. They proceed to eclectically chuck several genres together (only of real music of course, happy house is difficult to perform on an acoustic guitar, single drum and gob iron-all played by the same bloke obviously) and perform songs about death appearing in the greenhouse, the beach and even the confession box (The Reaper), killing an ex-lover and burying her under the patio, Anti War Songs, religiopolitical songs, songs about hope, but no Smurfs, flies or even right wing deep fat fryers appear tonight. Hmmm, curious. Well received by the small gathering.
Next up, No Contest, despite the small turnout on this first Tuesday after Easter, these Grimsby (no fish jokes, they are sick of em, possibly, although you could send some to their facebook page) chaps, make a full on, no holds barred, hardcore punk melodic noise, kind of sing-along, if you dare. With a liking for the more hard edged Fatwreck bands, tuneful but muscular. With titles which included, Deathcard, Memento Mori, Manipulated etc, one could be forgiven for thinking these bearded, baseball capped chaps have no sense of humour, but to prove you wrong, they have some fun banter with the 'crowd' and finish with a Katie Perry number, 'Fireworks'. Shades and shadows of Fatwreck and Epitath bands knocked into shape by a much harder edge. Likes it me does.
Minus Tree come all the way from Italy to play in a town which once had a famous/infamous, thriving punk scene, now sadly greatly reduced by migration and apathy. Yep many punky types have moved to pastures new the past few years but the small market town probably has more tattoo and piercing shops to square inch than Jakarta has motor vehicles. Now rant over, back to review. Italian hardcore, post hardcore, whatever, subgenre, divide, conquer; IT'S STILL PUNK TO ME, only ever been 3 types of music, punk, pre-punk and post-punk. These kids rocked, jumped about, screamed, shouted, twiddled, chucked out quality sound and attitude. From Bari, Italy, and made up from other bands, young but experienced, excellent combination, kicked ass solidly and tight. Plenty of seriously hard, complex riffage and elements of melodic guitar and raw hardcore vocals, fairly frequent rhythm changes that keep things engaging and interesting. I am an old punk geezer who easily gets bored, naff attention span and too old to be prescribed medication for it, but these boys kept me well entertained, at least for thirty minutes, in which they did six songs, 'A Journey', 'Bridge To Nowhere', 'Deadweight', 'Nothing But Hope', 'Despite The Sun', 'Kingdom Come'.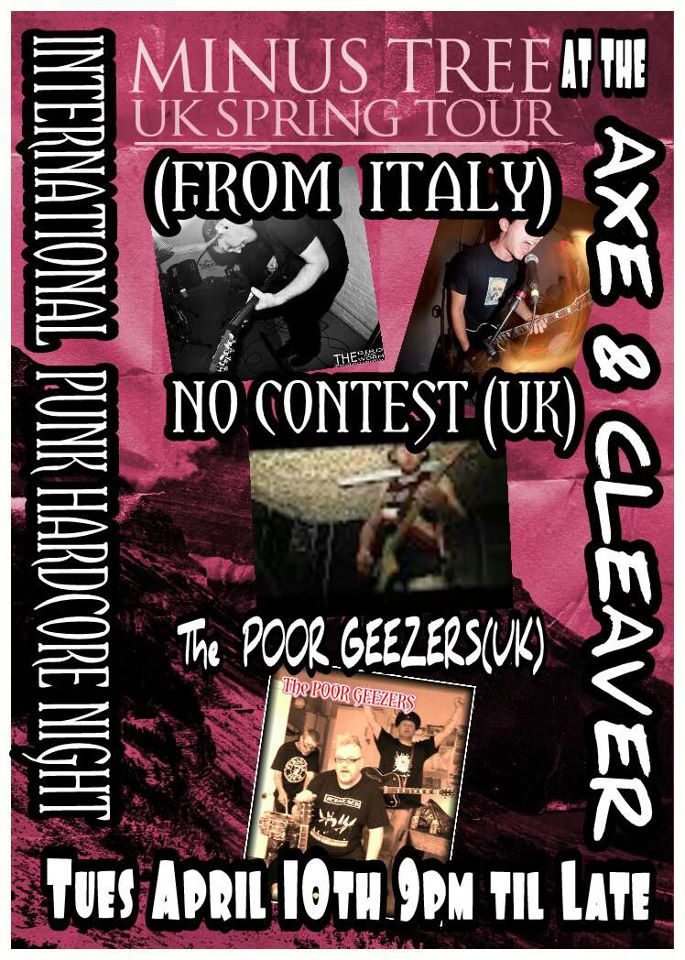 So good night overall, great venue with a great sound. Not many folk in attendance but it was a Tuesday night after a long weekend and "I have long since come to believe that people never mean half of what they say, and that it is best to disregard their talk and judge only their actions". (Dorothy Day, catholic anarchist).
review by Gary Eagling (14 April 2012)