1. Hey up lads and firstly introduce us to yourselves and tell us a little bit about the bands history so far?

Gain: We are Joey Terrifying. I am Mike (Gain to everyone else) the guitarist in the band. We have been on the go since summer of last year, just writing and playing tunes that we enjoy but also trying not to sound too bland.

Ben, Deeker and I started playing in a band together about 11 years ago, we drifted apart for a bit and it was surprising to be in a band with these guys
again.
Deeker: I am Deeker, lead vocalist of Joey Terrifying. I tend to write most of the lyrics and am the one that spends most of the time online trying to sort us shows! Beans plays the mad bass and sings too. Papa Gain is the Shredmeister general and Plooms (Kev) holds the whole thing together with his crazy drumming. I feel most blessed to not only be creating music with some of my closest friends, but that those friends absolutely rip on their instruments. We've all been involved in the underground punk scene for a long time now and have played in numerous different bands over the years including Tearjerk, 13 Broken Fingers, Dizzybite, MAFAFI, The Try Hards and many more. Personally speaking, this is the band I've been waiting my whole life to be in and most certainly the happiest I've ever been in a band.
Joey Terrifying formed in August 2008. We had jammed together and played a show as The Cowpunk All-Stars for a local festival up here, but that set consisted mostly of my solo songs beefed-up and a few covers. It was good times, but obviously not something that we wanted to actively pursue in that form. With that, we decided that we should form a totally fresh band and write a new set of songs. 'Troubled Times' was, I think, the first one that we wrote together and then things took off from there. We played our first Joey Terrifying show in November at The 13th Note in Glasgow with Fake Problems, then played in Dundee before playing Book Yer Ane Fest in Perth. After that, we recorded 'The First Demo' and have played around 50 shows between November and now. We did our first UK tour in March and took our travelling circus to many places I'd never been before, and in some cases, had never even heard of! We've been taking a little break from gigging as Gain is due to become a father for the first time, but we'll be back gigging in June and will be undertaking our second UK tour of the year in September. If anyone out there can help us with a show or two, please give us a shout!

2. I am always interested when an underdog band goes on tour to what their thoughts are a few weeks later when time has been given to digest all that transpired. So go on - how was it?

Gain: Ace, can't wait to get back out on the road again. The last tour was my 4th full UK tour and it was the best by far.As with the previous 3 the first day back is weird as there's nothing to look forward to and while it's nice to have a bath and a bed part of me always wants to do one more week.
Deeker: The March tour was the longest period of time I've been constantly on the road, so it was a very eye-opening experience. I have been on tour before; both with my other bands and by myself, but these have generally been short and sweet ventures. Touring in Scotland takes like a week at the very most, and even then ye are somewhat scraping the barrel when it comes to places to play, given that Scotland consists of five cities and a lot of wilderness. That's not to detract from the smaller towns, as they are always great fun to play, but you can play anywhere in Scotland and still make it home a few hours later, so it doesn't really feel like a tour as such, insofar as you can always make it back to your own bed.

The tour was pretty intense and I've never played so many shows in such a short period of time. I ended up playing a couple of acoustic sets before Joey Terrifying played too, as there were a couple of occasions where local openers pulled out at the last minute, so my voice took a bit of a pounding. It's only by doing these things and having these experiences that you learn to pace yourself and not kill yourself every night. That said, playing live is entirely what the whole Joey Terrifying experience is about to me, getting up in peoples' faces and sharing thoughts and ideas. It doesn't matter if you are playing The Balcony Bar or the Barrowlands, to 10 or 10,000 people, shows are shows and you've got to perform like it's your last chance. The shows make the other 23 hours in the day worthwhile. It's not an illustrious life when ye are sleeping in service stations and eating the 'ham'n'cheese, cheese'n'ham' diet constantly, so that half hour on stage is where all the pent-up frustrations come out. It's a cathartic process. Obviously, after being cooped-up in the van with your band mates and living in such close proximity, it takes a bit of readjustment when ye get home, especially when ye have to go back to working shitty jobs. I for one was super-bummed about a week after tour, like real life is a comedown. I was happy to see my lady again though!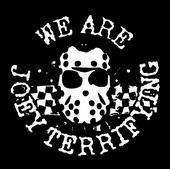 3. If doing another tour what changes would you make to the initial planning?

Gain: Make sure we had the van finished before booking the tour ;-)
Deeker: Well, we're booking our tour for September as we speak. As the March tour was our first, we just pretty much took whatever shows we were offered. We were fortunate insofar as people, on the whole, were very accommodating of us and helped us out a lot, and our routing wasn't too erratic. Word of mouth spreads incredibly quickly these days, so we had a lot of promoters personally recommended to us by friends who have been on tour before us. Our initial planning was pretty good I think. We borrowed a van from our friends in The Hijacks, had a big box of t-shirts and CDs and hearts that were raring to go. If there was one thing that I'd do differently, it would be to try and raise a little more awareness, like having all the gig posters and tour posters pimped out a little further in advance. Beyond that, I really have no complaints whatsoever, as we knew what we were getting ourselves into.

4. Where are the best places you have played and the best gaffs to sell merchandise. Come on reveal all as I am sure there are a few of us out there who would like to know where we can shift our stuff?

Gain: Sheffield was good. Rob was really organised and we sold a shirt before we went on. Colwyn Bay was rowdy; a small room but lots of characters. We sold a load of stuff there too. Exeter was great; we were treated superbly and can't thank the guys and girls there enough. To be honest every show had its good points and we were grateful that there were people who took a punt and put us on.
Deeker: The first venue that immediately springs to mind from the tour is The Cavern in Exeter. I don't get treated that well when I go and see my mother, so to be so well taken care of after such a long drive and a shitty day was greatly, greatly appreciated and a most pleasant surprise. We were fed, watered, paid and accommodated, even though we left after the show to spend another night in a car park en route to Birmingham. The sound in The Cavern is so crystal and spot-on, and the guys from The Cut-Ups took such good care of us. That place has such a palpable sense of punk rock history and we were truly humbled by the whole experience. We also managed to blag a show on our only off-night, thanks to Zoe in Colwyn Bay and Stiv from Acid Drop, who managed to blag us a slot in Leeds. Rob from Mosh'n'Go in Sheffield went above and beyond the call of duty to help us out. Our friends in The Emos sorted us out with Bolton and were impeccable hosts. Locally, my favourite place to play is probably The Balcony Bar in Dundee; it's like my second home as I've played there so many times in so many different guises that I couldn't put a number on it. Make-That-A-Take holds our monthly pre-club shows there and we have a great relationship with the staff and the management, and they seem to trust us to do a good job of promoting and running the shows. Other cool venues we have played would have to include The 13th Note in Glasgow, the Redhouse in Sheffield, the Prince Madocs in Colwyn Bay and The Brudenell Social Club in Leeds. Venues are one thing, but it's definitely the people and the bands that make the shows, not the specifications of the PA or whatever.
Merch-wise, I don't really know! I think the best way to pimp your merch is to not constantly bang on about when you are onstage, but by standing at your table after your set, speaking to people and generally getting involved, even if that means walking around the venue with a handful of CDs in return for donations. Engaging with people and playing your heart out, with honesty, is without doubt the best way of getting people interested in your band, not continually banging on about how ye have t-shirts and records for sale. Not continually banging on about Myspace during your set is a good thing too. I've seen far too many bands talking about myspace on stage. Myspace is a great tool, no doubt, but there's more to underground punk than that, you know? I recently saw a touring band playing in Dundee and after throwing their toys out of the pram due to audience indifference to their sub-Gallows hardcore, they alienated the crowd by being utter dickheads and then tried to sell them their £12 t-shirts. That is not the way to do it in my book. Obviously, it's great to sell stuff and make some money towards continuing the tour, but it's not the be-all and end-all. I'd rather someone took something positive emotionally from a show. That said, we did sell quite a lot of merchandise when we were on the road, so I have absolutely no cause for complaint.

5. How would you describe the bands style and what other bands compliment the way you sound? Add to this also what bands you would love to play with given the chance?

Gain: Erm.........we sound like every other band you've ever heard, just with a Scottish twang ;-) I'd love to play with Strobing Goat personally.
Deeker: Anti-punk skunk'n'roll-core! It's all punk rock to me, but we definitely have elements of ska, reggae, hardcore, rock'n'roll, you know? I'd say the band is a manifestation of all our different influences, thrown in a pot and served up fast, loud and passionately! We all listen to a lot of different stuff in divergent directions, but there are definitely bands where we meet too. Off the top of my head, I'd probably say that our main influences are progressive, forward-thinking bands; Propagandhi, The Specials, The Clash, Bad Religion, Dead Kennedys, etc. The most obvious Scottish band that compliments our sound would have to be The Hijacks, a 6-piece ska-punk band from Aberdeen. We've been friends with them for a while now and they do an amazing job with Good For Nothing? Records and have been very supportive of what we are doing. I'm a big fan of mixed bills so would also add the likes of The Black Rat Death Squad from Glasgow, Taking Chase from Edinburgh and Fragile from Fife as bands that we like playing with, as it creates a great mix of styles and people and can make for a great atmosphere. As far as people I'd like to play with goes, I'd love to tour with Propagandhi, as it means I'd actually get to see them for once in my life. I was kicked out of the show last time they played in Scotland and they haven't been back since. The time before that I was bed-ridden with illness, so that's something that needs to be fixed! Obviously, getting on tour with any touring American band is never going to do you any harm!

6. How is the scene up your neck of the woods and tell us about some of the exciting bands around the area?

Gain: The scene up here is pretty much like everywhere else; lots of apathy but still lots of bands willing to put up with it and put on great shows time and time again.
Deeker: I guess it's probably much the same as everywhere else. The fads come and the fads go, but those with a genuine and honest passion for punk rock will always be there. There are folks like Jacko out in Fife who have been putting on punk shows for almost 30 years with no regard whatsoever for whatever is popular, and they've put on some of the best shows I've ever played. We try and do as much as we can for the local scene in our area on the east coast by putting on shows in both Perth and Dundee, but this can be pretty hit and miss. It's always a little disheartening when ye put on a touring band that you really care about, do all you can to promote the show and get the word out, put together a great bill of local supports and still end up with only 20 folk coming through the door. As I said before, we have great relationships with the two venues that we generally use (The Balcony Bar, Dundee and Mucky Mulligans, Perth), so that makes things a little easier for us, as they are well aware of our history and the effort we put into putting on our shows. I think each city in Scotland has a handful of really dedicated and passionate collectives that are keeping the flag flying for DIY punk rock in Scotland – This Is Our Battlefield and The Wrecking Pit in Glasgow, Cold Dead Hands and House Of Crust in Edinburgh, Fudge Fanzine and Good For Nothing Records in Aberdeen. The people are there, you just need to dig a little deeper to find the gems, ken?
With regards to Scottish bands, I think everyone has their own particular favourites. Mine would include Mesa Verde, an amazing epic post-rock/screamo band from Glasgow, our friends The Hijacks from Aberdeen who have the most energetic live show, The Black Rat Death Squad, Torturo Nervosa from Perth, Kaddish and Inches From The Mainland in Dundee…the list is quite a long one! The scene is really quite healthy at the moment, it's just that there's a lot of shit to wade through too, as is the case in most places I'm sure.

7. 'Make Ya Ane Fest' seems to becoming a bit of a set thing at the mo. elaborate please?

Gain: I'll let Deeker give you the standard press splurge for this.

Deeker: Haha, it's 'Book Yer Ane Fest' organised by Make-That-A-Take Records. I should really work on getting some snappier titles! Anyways, Book Yer Ane Fest happened last November and was the first time that we've put on an all-dayer. A fest wasn't really what we initially intended to happen, we were just trying to sort out a show for our first run of Joey Terrifying shows, but the whole thing started to grow arms and legs, mostly my own doing, so we decided to make it an all-dayer and invite as many of our favourite Scottish bands to play as we could possibly squeeze into one day (13 bands in total!). We decided that we wanted to do it as a charity fundraiser for Safe-Tay, a water safety charity based in Perth that was set up following the tragic death of popular Perth musician Graham Motion in 2006. Motion played in the hardcore band Allergo who were undoubtedly one of the finest underground bands Perth has ever produced. His friends organised Motionfest in 2006 and 2007. I spoke with those guys and they weren't going to do another one, so I thought it'd be a nice gesture to put any money we made towards Safe-Tay, as it is a charity that we all support and is close to our hearts. In no way are we trying to replicate Motionfest, but if we can raise some money for such a good cause whilst enjoying some of the finest underground bands that Scotland has to offer, then all the better. Lisa, chair of Safe-Tay, has been very supportive of our endeavours and the first Fest was a success, so we decided that we'd do another one this summer to coincide with the launch of Safe-Tay's summer safety campaign. Essentially, it's a celebration of the Scottish DIY punk scene in one place for a day, playing half-hour sets and leaving the egos at the door. We may expand in the future, but as of right now it's a celebration of life and a chance to hang out with friends we haven't seen for a while, play some punk, sing, dance and raise some pennies for a cause that is close to us, geographically and metaphorically!

8. With some of the lowly turn-outs at gigs these days how do you keep yourself motivated and hungry to tear it up?

Gain: Turn-outs down south were actually better than I remember, certainly the promoters were more organised. Bear in mind that we have played to nobody other than a sound man and Kev's girlfriend while everyone was next door listening to some pap murdering Adam Ant on the karaoke. We get pretty animated at practice so if nobody else is there or interested, I hopefully still look interested.
Deeker: After playing in bands for over ten years, ye get used to playing to crowds of all different sizes, so it doesn't matter a jot to me whether there are 10 or 100 people there, I'll still give the show everything I've got. If there are only 10 people at the show, those are 10 minds that are there to be blown! Don't show disrespect to the people who have bothered to come and see you play; they've made the effort to come and see an unknown touring band on say, a Tuesday night. They didn't have to come out, but they did, so you owe it to these people to play the very best set that you can. As I said before, it doesn't matter if it's the Balcony or the Barrowlands, shows are shows and you've got to give it your all. I've seen far too many bands getting pissed off and upset that no-one came to see their band but, as far as I'm concerned, being on tour is a privilege, not a right. To be able to tour around the UK playing your music and sharing your thoughts and ideals with other people in places you have never been to before is something to be savoured, enjoyed and digested, not mocked, scorned or moaned about. If an audience is unreceptive to your music, you have to work harder to try and get these people onside. There will always be people who don't like your band, anybody who thinks otherwise is an idiot, but it doesn't mean you just give up and treat a gig that's not going entirely your way with disdain and contempt. I find that the best shows tend to be the ones where the audience can almost literally taste the sweat coming from the stage. A show doesn't have to be sold out to be amazing, it's what you do with what you've got that makes the occasion a success or a failure. We've played to crowds big and small and I wouldn't change a thing about it. Of course, we'd love it if every show we played was absolutely rammed, but that doesn't mean that we will treat the shows any differently if they're not. I'd rather be on the road sharing my music with people in far-flung places than sitting at home doing a job that I hate. Aside from leaving loved ones, there is nothing that would stop me from spending my life on the road. Unfortunately, little things like jobs, relationships, families, paying the rent and hard graft can get in the way of these best-laid plans! That said, there's nothing I'd change about how we've gone about things thus far. Yes, it would be great to be signed and making a living from our music, but the fact that we're not isn't going to deter us in any way. Once we're locked in and the four of us are onstage together, it's going to go off one way or another. It's the release that's important, not how many people come through the door or how many people leave with a shirt.


9. Are there any political angles within the band that we should know about or are you of the camp that thinks politics should be left outside?

Gain: I'm pretty politically minded but try not to put my views over all the time I save them for a political arena. Certainly the band don't portray my political beliefs (until we write a tune called "Make Gain the PM and he'll fucking sort it") Also I'd like to think the tunes we have written have been more subtle than the usual direct "Fuck Bush, he's a Dick" sort of stuff, but then I am crap at remembering lyrics so we may well have a tune like that.

Deeker: I think everything that you do is political in a way, from the shirts that you wear to the food choices that you make. I wouldn't want to speak for everybody else in the band but I'd say we probably come from the 'common sense' school of political thinking. We are anti-racist, pro-peace, anti-war, pro-choice, you know? I think any straight-thinking person would think along similar lines. Personally, I come from a slightly politically conflicted background, insofar as my father was a Regimental Sergeant Major in the Royal Artillery and my mother was a hippie protest-song singing folky! After my dad left the army, he started working for the Trade Unions, so I guess my politics have always been on the left. Obviously, like any young punk, I was attracted to the day-glo image of anarchy presented by the 'old' punks, but I didn't really find anything of particular substance in the sloganeering. I'm more into bands that offer a critique of the problems we face as a human race. Politics and punk rock go hand-in-hand, but I'm not your mother or your wife so I'm certainly not going to tell you what to do. However, if I disagree with you I shall say so and if I think you are being an ignorant, bone-headed fool, I'll certainly tell you! Healthy debate is the only way to try and progress ideas I think. After thousands of years of war, we're still no closer to peace, so I don't see how more wars are going to solve anything, you know? I'm not nearly qualified enough to make a particularly articulate argument about where I stand politically, but I know the political choices that I make in my own life. I also once wrote an anti-war song called 'Nazi in the White House', so does that mean I've thrown my hat in the political ring? I'm not sure this rambling response particularly answers your question.

10. Lets have all your personal opinions on - The good, the bad and the ugly about todays scene?

Gain: Good - Still loads of bands willing to go all over the country to play and still some people who put the effort into shows. Still people willing to take a chance on an out of town band who could very well be crap and ruin a night. There will always be someone who's trying something a little out of the ordinary

Ugly - Tour Vans....they are all awful after about a day. Every band gets a little grouchy on the road.

Bad - still too many bands that are disorganised and demanding excessive riders. Cash from the door is fine but I hate bands asking for beer at every show, you'll never drink it all. Real touring bands ask for some food and a shower.
Deeker: I am conflicted about the 'scene'. As I said earlier, there are many great people and collectives to be found doing exceedingly good and productive work within the punk scene, but there are also always chancers, part-timers and piss-takers, so it can make the whole thing somewhat frustrating. I absolutely applaud and support everybody who takes an active role within the scene, whether it be putting on shows, putting out records, writing zines and reviews, coming to shows, supporting bands and the like. We have been fortunate that people have been willing to take a chance on us, an unknown band from the middle of nowhere, so I can't thank those people enough. It's heartening to know that there are people still willing to give hard-working bands a chance. So long as there is something to get angry/excited about, there will always be shows to be found.
Things that really get my goat are over-inflated and unjustified egos, bands who show up at gigs with no gear and expect that it is going to be cool to use someone else's, the plethora of faceless and frankly pish-poor bands that inevitably clutter up your myspace inbox and people who do nothing but moan about the state of the scene, yet never try to do anything about it themselves. It's not difficult to get involved in the scene and try and contribute something positive. On the whole, I try not to worry too much about what other people think of what we're doing. Obviously, you are aware of it, but as soon as trying to satisfy and constantly cater to other people becomes your main focus, the battle is already lost. We run our little collective and like to think that we do what we can to help out other bands from our area, as well as bringing some cool bands to town that wouldn't normally play in Dundee or Perth. There are other people out there doing the same thing as us, at least spiritually, and to these people I give the utmost respect and gratitude. There are, unfortunately, those out there that are simply taking the piss when it comes to the underground scene - chancers looking for a pay-day by exploiting DIY-friendly venues and image-conscious bands acting like rock stars with ideas above their station. That's before ye get to the liars, bull-shit artists, part-timers and piss-takers.

Maybe it's just me, but I thought being in a band and making music was about communicating, about exchanging ideas and trying to make the world a more positive place to be. There have been a few instances recently where I've felt that some bands/people have just been utterly taking the piss, paying lip-service to passions felt whilst simultaneously burning the bridges that they've built. Keep the bullshit out of the scene please. I was in high school ten years ago and I wasn't that keen on it back then. Fuck the playground politics and have some strength in your convictions.
On the whole though, I think the scene is in rude health!

11. Finally tell us about where we can contact the band, merch available and any forthcoming stuff we should know about?
Gain: Deeker can do this, he is the PR man.
Deeker: Well, we've just made some practice room demos and we're going to be going into the studio to record these songs properly very shortly. We're going to have our first EP ready for August (it is out now) and will be touring the UK in September. We have a few exciting shows coming up over summer including Book Yer Ane Fest 2 which is happening at Mucky Mulligan's in Perth on Saturday 6th June. We are also very excited to be playing with New Bruises from Florida on June 8th in Dundee. We're playing some shows with Gandhi's Cookbook and Public/Refuse, who are two punk bands from Dubai who will be in the UK in August and we're really looking forward to playing some shows with them, as we are to playing with World/Inferno Friendship Society in Glasgow on August 11th. Beyond that, who knows where this madness will all end! If anyone can help us out with a show or two, please don't hesitate to get in touch. We shall bring the rukus anywhere!
As for merch, we are totally out of copies of 'The First Demo' but it is readily available online = new CD out now too. Ye can get your hands on one of our first run of T-shirts by visiting www.teesontap.com. They really are most stylish! The most obvious places to get in touch with us are through our website at www.joey-terrifying.co.uk, myspace at www.myspace.com/wearejoeyterrifying or email at wearejoeyterrifying@yahoo.co.uk
Ye can also check out the collective online at www.myspace.com/cowpunkrecordingsuk
FOOTNOTE: This interview is published later than expected and was initially meant for the on-line magazine Distorted. However since the aforementioned magazines demise rather than waste the textual matter it has been agreed to publish it here - hope you still enjoyed it - Fungalpunk/OMD