1. I understand you have a new CD released entitled, "Generation of Today," on Impact Records. What makes this CD different from the other 3 albums? (I understand you guys added a tribute song from Cocksparrer, 'Runnin' Riot,' to the CD).
Dave: We've definitely progressed over the years and this album is a good representation of our music over the last 11 years. The difference is of course, different songs and the addition of Matt and AJ to the line up since the last album. As far as Cocksparrer, they have always been a favorite of mine since I was 15 and we had covered that particular song at shows for some time. I think it's important for bands like us to carry the torch of the working class and let our fans know where our roots are.
ROB: Well, I'd say it's pretty much the best album you've heard since last week. I think that's when it came out. We really like Cocksparrer. I'd say the only other reason we didn't do another Cocksparrer song is we don't know any other ones. I mean, we used to, but we've been drinking since then.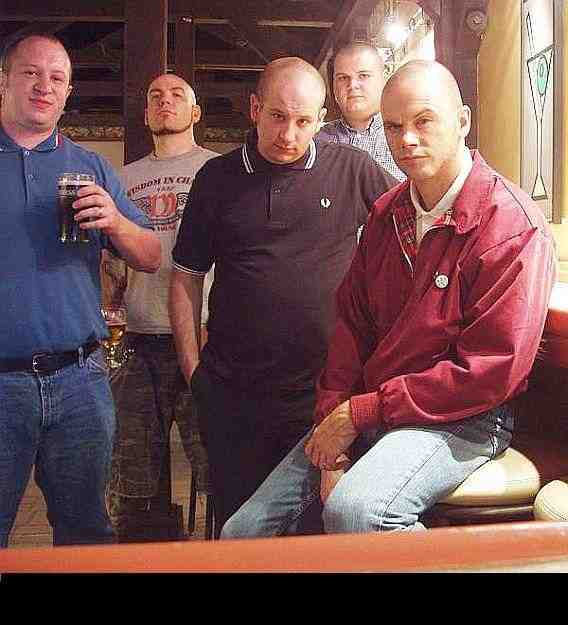 Working class OI - to the core
2. Where can I purchase your CD and is it available for those in the UK?
Dave: The easiest way to get the CD would be to type "The Traditionals-Generation of Today" into a Google search on the web and go from there. There are tons of shops in Europe that carry it.
ROB: You can purchase direct through us. We've got 'em. Come out to a show, and I bet you can get one. If you want the thrill of going in to an establishment, you can come over to my house, I'll make up some name like you're really walking into a store, and then accuse you of stealing something even if you're not. No, really, you can buy 'em from www.interpunk.com, http://www.impact-records.de, or you can send us an email at www.thetraditionals@hotmail.com or message us through our myspace page at http://www.myspace.com/thetraditionals. I'm sure there are other places, too. Google it.
3. Is there ever any discussion about an East Coast tour? Curious…
Dave: We'd love to tour more, but gas prices, reality, our jobs, and all that keep us grounded. If someone is willing to pay us what it costs to do the shows we are up for it, otherwise we're not in a position to do this stuff at a loss. We are all guys that work paycheck to paycheck and don't have much more.
ROB: We talk about a lot of things. For instance, we love sliced meats and often talk about the latest sandwich down the deli. Touring…..we've definitely talked about that; nothing soon however, probably next year. We'd like to try to get to the western side of the continent.
4. What is the current line up? How long have you guys actually been together?
Dave: Rob Faulkner - vocals, Dave Harris – guitar and vocals, Joe Harris – drums and vocals, AJ Falcione, "The Madcap" – guitar and vocals, Matt "Peter Grif-skin" Janitor - Bass and vocals.
This line up has been in place since 2006. We've been together for 11 years. My brother Joe and I started this up in 1997 and have had a lot of fun along the way!
ROB: This line up has been around for a few years. The Traditionals, we've been ploughing through the music scene for 11 whole years now. We are gluttons for whatever happens at our shows.
5. Are there any plans for a new release of material in the near future perhaps by the end of this year?
Dave: We do have some new songs that we are working on for our next project. We will probably release that in '09 or 2010. 'Generation Of Today,' was released this year and we will probably wait a year for another.
ROB: The future…ah the Nineties. Wait, that's already happened??? Oh, I mean the year 2000 where there will be flying cars and meals are in pill form. Just whatever happens, do not turn beer into powder. That would piss me off. That's the title to our next project. It's due out in the year 2000.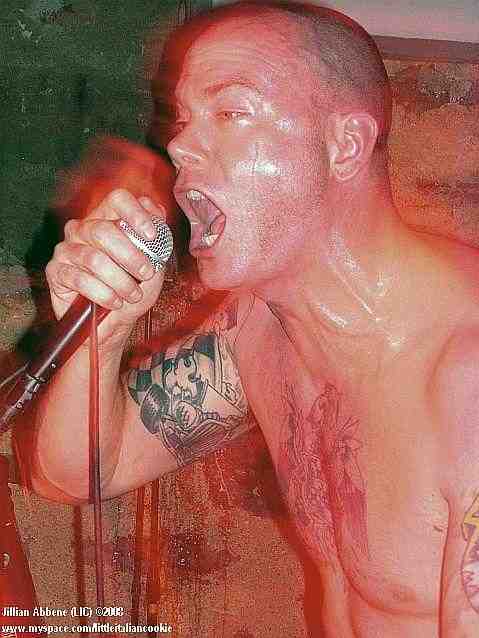 The Traditionals - 110% intensity
6. What are your musical influences?
Dave: Classic and new Oi! and punk rock like The Business, Sham 69, Motorhead, 4 Skins, Templars, Oxymoron, One Way System, Infa-Riot, Perkele, Cocksparrer and stuff along those lines.
ROB: We hate music. We only listen to books on tape. We can't afford CD players or IPODS, they are for snobs.
7. What is your most memorable show? Where? Why?
Dave: My personal favorite would have to be 'Holidays In The Sun' in New Jersey in 2002. We met a lot of our influences and had a great time. We also had a terrific time in Germany in 2006. Leipzig was my favorite show over there.
ROB: I'd have to say the most memorable show was this one time we played at some stupid country bar in the middle of PA. There were a whole lot of pissed off yuppies who were pretending to be bikers. You know who they are because they have retarded hair cuts and really nice leather. It's like they went to the cleaners before they went riding. Anyway, they kept yelling at us to play some Skynard except they were really serious. They threatened to fight us, but didn't. We took some money from them and then drove back to Pittsburgh, where there are still yuppie pretend bikers. They don't really have the balls to say anything to us in town though. Our favorite shows were the shows in Germany. I love Europa.
8. What are the band's plans for the rest of 2008?
Dave: There are plans underway for a tour in Europe in December. We're not sure of the details as of yet, but should find out soon. Other than that, we are just gonna keep playing, drinking and having our say!
ROB: We plan on playing a few shows here and there. I'd give you more details, but then I'd just have to answer more questions.
9. What was it like to play at the East Coast Oi Fest?
Dave: It was a lot of fun. Reminded me of the Oi! Fest in 1994 in DC. Glad to see that American Oi! still has a large following. Bigger than ever if you ask me.
ROB: Fun.
10. "Generation Of Today," song has many elements of reggae, Oi, and punk. What inspired this sound? And who came up with the ending of 'skinheads' chanting at the end?
Dave: Well… as your humble narrator here is an explanation. The roots of punk rock and the working class movement AKA 'skinhead scene' have it roots in Kingston Jamaica in the late 60's. The working class youth in Britain adopted reggae and ska music as their own because of the working class lifestyle that these Rude boys would live. We wanted to illustrate this because the song, "Generation Of Today," is about a 40-year history of the working class movement. We over-dubbed our voices on the skinhead chant because it is a typical thing we would do at a reggae dance here in Pittsburgh all of these years later.
ROB: That song is actually an old reggae tune by The Hot Rod All Stars called, "Skinhead Speaks His Mind." We were loaded and really love old reggae. I said hey let's put this on here. Dave said let's put the other song up at the beginning of the song. We all agreed to put both of them on. It's democracy at its finest or worst or whatever. Actually, we had 3 samples but decided after we sobered up to cut it to the intro, which is, "Reggae Fever" by The Pioneers.
11. Is there any time in your life (lives) that you can remember as a turning point that made you realize that punk is not a phase, but a lifestyle?
Dave: Yeah, when most of the "crew" that was around me in 1991 were gone and I was the guy teaching the younger generation about the scene. You start to realize that this is a way of life for real after a while. I always like to think that guys with mullets still cut their mullets with pride well into their fifties and beyond, they still listen to Molly Hatchet and live the "lifestyle" they grew up in. We are no different, just because the media stamped it as a phase doesn't make it true. I know many people who are in it 'til the end.
ROB: Yesterday.
Thanks a lot Jillian for the interview! We had a great time talking with you in Allentown. See ya soon! -Dave