I had the privilege to attend one of TV Smith's Washington DC appearances at The Black Cat and was thrilled to not only see TV Smith live, but have an impromptu interview afterwards. Most would be familiar with TV Smith's background as being the forefront runner of The Adverts and TV Smith and the Explorers. Snagging Tim right after the gig, we sat down in a quiet room. It felt as if I was going to sit down and have tea than conduct an interview enabling me to feel comfortable in the interview process.
1. Is this your first time performing in the USA? Are there any comparisons between the American audiences vs. the UK audiences?
Tim: This is my 4th time here. I played here at The Black Cat 3 or 4 years ago. As far as the USA audience - I couldn't have asked for more. They get into it. Some of the gigs in the past have been low-key, but I think now they've got it.
As far as the American audience, I try to work against the cliché that American people are dumb. [Pursing his mouth in disapproval] This only adds prejudice. It's really all about the establishment for the people, no matter where. There is no 'us' or 'them.'
People are always looking for someone to blame. The government doesn't represent the people, and has successfully tarnished the whole country - despite the fact that it has nothing to do with us.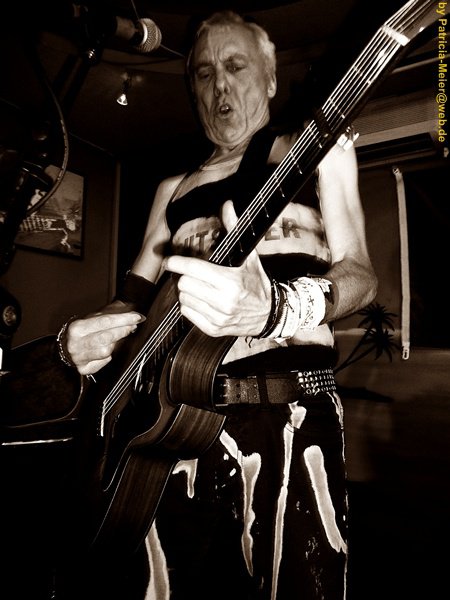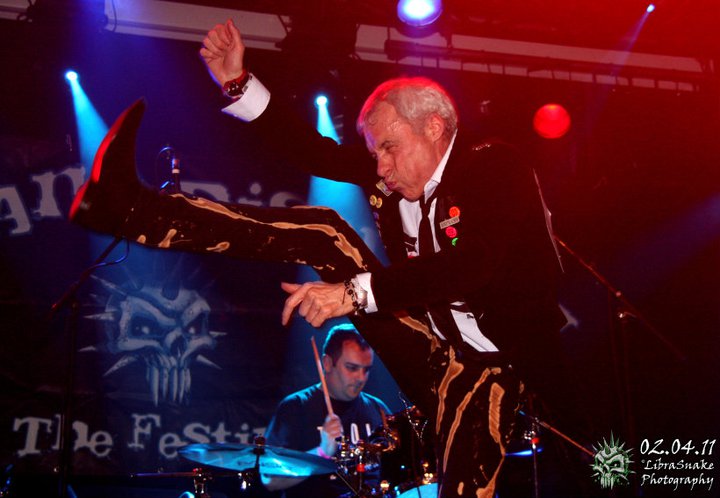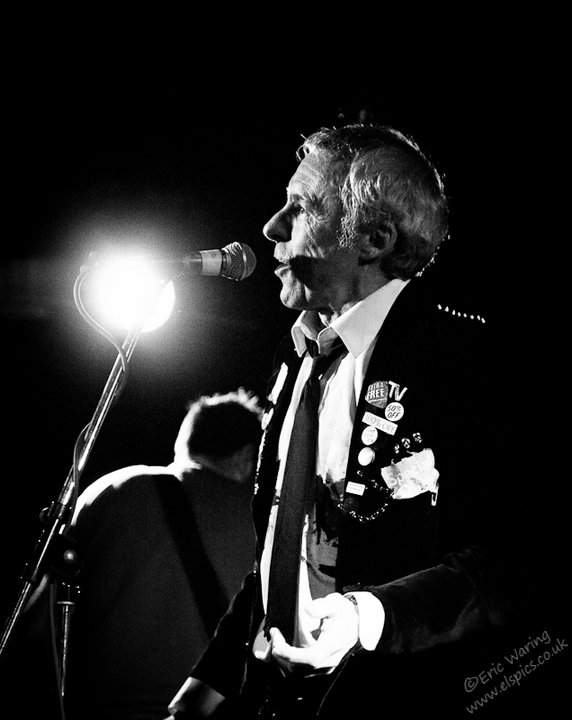 TV in action - switched on, tuned in - are you receiving?
2. What are your thoughts on the current state of the UK? (i.e. inflation, massive unemployment, pronounced government corruption and injustices…,) is it any different from the UK in the 1970's?
Tim: The downfalls, I believe, comes and goes in waves. Sometimes they are more intense than others. None of us really should be surprised by the corrupted UK government - it's been the same for years. The only difference is that now the corrupted officials are being called out on it. The media has exposed what really isn't a secret. It's all still the same - the rats eating the rats.
3. Do you recall when you initially felt the urge to write your personal political statements/observations in lyrics?

Actually, no - I never intended to write anything political, per se. An example is first-hand personal experience. When Margaret Thatcher was voted in her third term, everyone hated it. [i.e. the 1970's riots] Everyone thought we were in a safe pair of hands. However, there were so many poor people who ended up suffering.
4. Out of all the songs you've written, what song do you think is the most poignant to YOU? Why?
Yes, "Not In My Name." It's off my newest CD, "In The Arms Of My Enemy." It is clearly stating an issue that transcends time and generation. Further, as for the new CD is on its way and you can expect the same consistent types of songs that all move in the exact same direction.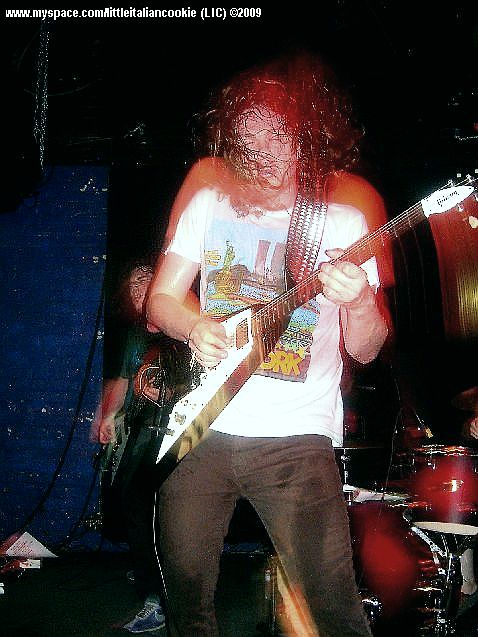 Jay Reatard - RIP - one of many artistes to play with TV Smith
5. Your latest book, "The Art Of Being Human," is your second book-can you touch on some highlights that the reader (including myself) can expect?
After The Adverts and going solo, I wanted to write about my experiences - which are not about the same old life. I am not interested in the rock and roll cliché.
You can order my book at Arima Publishing - on my web site. Also, I sell them at gigs.
6. Any last comments?

Yes. It's what YOU believe is not right - not what THEY believe they think is wrong. You can't shake off the past...I have stayed punk to its core - it's the rest that has changed.
After touring Brazil, Germany, the UK with Goldblade, Europe, and fairly recently playing for the Gary Critchley Benefit [www.justicefor garycritchley.org], Tim lined up a number of tour dates with The Valentines [Italy] to do the best of The Adverts. Having had set his sights on producing his newest CD entitled, "Coming In To Land," it will be released this month.
So as long as there are government atrocities inflicted on the defenseless poor, hypocrisies within religious sects, commercial popular pop culture that has no significance to the real world, Tim will have a never-ending grab-bag of subjects to write about. In the souls of those in attendance, Tim burns a hole, leaving his distinctive trademark - which is his message behind.
As a one-man band, he is unplugged and sincere, and with his vulnerable yet gutsy style, he has earned respect - one live gig at a time.
Photos by Patricia Meier/Libra Snake/Eric Waring/Jillian Abbenne