FUNGAL SIGHTINGS
News from within and outside the area.
25 November 2007 - Chorlton WP; G. Manchester - Not much around at all with the cold snap having really taken its toll. Auricularia mesenterica; Tyromyces Caesius and Crepidotus mollis were the best finds.
17 November 2007 - Mere Sands Wood; Cheshire - Ischnoderma benzoinum; Xylaria hypoxylon; Clitocybe nebularis; Trametes versicolour; Scleroderma citrinum; Hypoxylon fragiforme; Nectria cinnabarina; Hypholoma fasciculare; Mycena galericulata; Piptoporus betulina; Phallus impudicus; Heterobasidion annosum; Lepista nuda; Boletus badius; Russula ochroleuca; Trametes gibbosa; Panellus serotinus; Bjerkandera adusta; Coprinus micaceus; Clitocybe fragrans; Coprinus atramentarius; Merulius tremellosus; Laccaria laccata; Calocera cornea; Gymnopilus penetrans; Hirschioporus abietinus; Chrondostereum purpureum; Mycena galopus; Hygrophorus hypothejus; Rhytisma acerinum
3 November 2007 - Tatton Park; Cheshire - Rhytisma acerinum; Mycena galericulata; Lactarius quietus; Grifola frondosa; Russula atropurpurea; Scleroderma citrinum; Laccaria amethystina; Dacrymyces stillatus; Phaeolus schweinitzii; Hirschioporus abietinus; Tyromyces caesius; Stereum hirsutum; Hypholoma fasciculare; Bjerkandera adusta; Trametes versicolour; Psilocybe semilanceata; Tubaria furfuracea; Bolbitius vittelinus; Mycena galopus var Nigra; Laccaria laccata; Xylaria hypoxylon; Lactarius subumbonatus; Trametes stiptica; Crepidotus mollis; Calocera cornea; Collybia butyracea; Ganoderma adspersum; Merulius tremellosus; Scleroderma verrucosum; Mycena arcangeliana; Lepista flaccida; Datronia mollis; Trametes gibbosa; Schizopora paradoxa; Meripilus giganteus; Gymnopilus penetrans; Collybia confluens; Psathyrella piluliformis; Russula vesca; Russula ochroleuca; Entoloma conferendum; Hygrocybe pratensis; Gymnopilus junonius; Nectria cinnabarina; Armillaria ostoya; Coprinus micaceus; Chrondostereum purpureum; Boletus badius; Clitocybe fragrans; Piptoporus betulinus; Clitocybe metachroa; Rickenella fibula; Mycena olivaceamarginata; Auricularia auricular-judae; Lactarius rufus; Stropharia semiglobata; Hygrocybe vitellina; Hygrocybe chlorophana; Hygrocybe quieta; Clavulinopsis helvola; Clavulinopsis luteo-alba; Hygrocybe reidii; Hygrocybe coccinea; Cystoderma amianthium; Amanita rubescens; Hygrocybe unguinosus; Russula amoenolens; Mycena pura; Pleurotus ostreatus; Stropharia aeruginosa; Cordyceps militaris; Daedaleopsis confragosa; Hypoxylon fragiforme; Tremella foliocea; Lycoperdon perlatum; Pluteus cervinus; Pholiota squarrosa; Calocera pallido-spathulata; Fistulina hepatica; Ischnoderma benzoinum; Mycena epipterygia; Hygrophorus hypothejus; Psathyrella corrugis; Ossicaulis lignatilis
28 October 2007 - Moore NR; Cheshire - Piptoporus betulinus; Daedaleopsis confragosa; Trametes versicolour; Armillaria mellea; Stropharia aeruginosa; Mycena galericulata; Ascocoryne sarcoides; Auricularia auricular-judae; Hypoxylon multiforme; Clitocybe nebularis; Amanita muscaria; Russula fragilis; Russula ochroleuca; Cordyceps militaris; Cystoderma amianthinum; Amanita rubescens; Hygrocybe psittacina; Stereum hirsutum; Diatrype disciformis; Armillaria gallica; Dacrymyces stillatus; Collybia maculata; Scleroderma citrinum; Collybia butyracea; Lactarius quietus; Collybia confluens; Rhytisma acerinum; Hypholoma fasciculare; Calocera pallido-spathulata; Rickenella fibula; Coprinus micaceus; Laccaria laccata; Coprinus atramentarius; Flammulina velutipes; Exidia nucleata; Crepidotus variabilis; Daldinia concentrica; Xylaria polymorpha; Bisporella citrina; Lepiota rhacodes; Lycoperdon perlatum; Nectra cinnabarina; Pleurotus ostreatus; Lepista flaccida; Coprinus comatus; Inocybe geophylla; Scleroderma verrucosum; Lepiota procera; Calvatia excipuliformis; Lactarius glyciosmus; Hygrocybe nigrescens; Tyromyces caesius; Trametes gibbosa; Mycena oortiana; Laccaria proxima; Clitocybe fragrans; Calvatia gigantea; Clavulinopsis helvola; Mycena epipterygia; Anthracobia melaloma; Entoloma sericeum; Skeletocutis amorpha
22 October 2007 - Gore Heath; Dorset - Clitocybe nebularis; Grifola frondosa; Laccaria amethystina; Laccaria laccata; Tricholomopsis rutilans; Scleroderma citrinum; Inocybe geophylla var. lilacina; Amanita rubescens; psilocybe semilanceata; Paxillus involutus; Boletus parasiticus; Russula amara; Gymnopilus penetrans; Russula sardonia; Russula emetica; Lactarius quietus; Amanita citrina; Flammulina velutipes; Trochila ilicina; Fistulina hepatica; Hypholoma fasciculare; Lacatrius deterrimus; Auriscalpium vulgare; Suillus bovinus; Leccinum scabrum; Amanita muscaria; Tricholoma fulvum; Russula ochroleuca; Boletus erythropus; Lycoperdon perlatum; Clavulina cristata; Clitocybe brumalis
21 October 2007
- Rufus Stone; Hampshire - Schizopora paradoxa; Pleurotus dryinus; Russula ochroleuca; Calocera cornea; Antrodia albida; Boletus badius; Russula cyanoxantha; Inocybe geophylla var. lilacina; Mycena pelianthina; Clitocybe nebularis; Mycena rosea; Amanita rubescens; Boletus piperatus; Piptoporus betulinus; Leccinum scabrum; Grifola frondosa; Lactarius cimicarus; Hydnum repandum; Leccinum varicolour; Hydropus floccipes; Biscogniauxia nummularia; Phlebiella sulphurea; Hypoxylon rubiginosum; Xylaria polymorpha; Boletus edulis; Skeletocutis vulgaris; Russula valenosky; Tricholoma sciodes; Ceriporiopsis gilvescens; Mycena galericulata; Coniophora puteana; Phallus impudicus; Phleogena faginea; Galerina marginata; Amanita spissa; Lactarius vietus; Lepista flaccida; Mycena galopus; Cordyceps militaris; Rhodotus palmatus; Pleurotus cornucopiae; Phellinus ferreus; Tubifera ferruginosa; Lycoperdon pyriforme; Xerula radicata; Pluteus umbrosus; Skeletocutis nivea; Laetiporus sulphureus; Fistulina hepatica; Lentinellus ursinus; Gymnopilus penetrans; Trametes versicolour; Oudemansiella mucida; Ganoderma australe; Armillaria mellea; Armillaria gallica; Lactarius blennius; Coprinus micaceus; Cortinarius pseudocolor; Hypholoma fasciculare; Bulgar inquinans; Amanita citrina; Lycoperdon perlatum;
Phlebia tremellosa;
Hypoxylon fragiforme; Collybia butyracea; Pluteus cervinus; Lactarius vellereus; Gymnopilus junoninus; Pholiota aurivella; Pholiota alnicola; Boletus pruinatus; Dacrymyces stillatus; Mycena acicula; Xylaria hypoxylon; Tubaria furfuracea; Laccaria amethystina; Laccaria laccata; Lactarius quietus; Russula fragilis; Lactarius chrysorrheus; Neobulgaria pura; Cortinarius paleaceus; Bjerkandera adusta; Hemimycena tortuosa; Tricholoma sulphureum; Russula atropurpurea; Panellus stipticus; Daedaleopsis confragosa; Mycena haematopus; Trochila ilicina; Hericium coralloides; Russula fellea; Clavariadelphus junceus; Crepidotus applanatus; Trametes gibbosa; Auricularia mesenterica; Pluteus chrysophaeus; Gloeohypochnicum analogam; Mycoacia uda; Mycoacia nophofagi; Mycena pura; Psathyrella piluliformis; Pleurotus ostreatus; Chlorociboria aeruginascens; Leccinum aurantiacum; Collybia fusipes; Stereum subtomensum; Pluteus salicinus; Exidea nucleata; Amanita citrina var. alba; Cantharellus cibarius; Crepidotus cesatii; Mycena speirea; Lactarius subumbonatus
19 October 2007 - Hazel Grove; Cheshire - 1 Hygrocybe nivea was found whilst walking home from work.
14 October 2007 - Etherow CP; Cheshire - A public walk, not a bad list compilaed:- Coprinus atramentarius; Coprinus comatus; Scutellinia scutellata; Ganoderma australe; Trametes gibbosa; Armillaria mellea; Rhytisma acerinum; Bjerkandera adusta; Daedaleopsis confragosa; Cortinarius hemitrichus; Piptoporus betulinus; Xylaria polymorpha; Collybia butyracea; Xylaria hypoxylon; Nectria cinnabarina; Lactarius blennius; Leotia lubrica; Laccaria amethystina; Lactarius glyciosmus; Clavulina cristata; Clavulina cinerea; Hypholoma fasciculare; Clitocybe nebularis; Helvella lacunosa; Scleroderma verrucosum; Hebeloma crustuliniforme; Coprinus plicatilis; Mycena inclinata; Trametes versicolour; Coprinus lagopus; Mycena galopus; Calocera pallido-spathulata; Pluteus cervinus; Russula ochroleuca; Calocera cornea; Collybia maculata; Heterobasidion annosum; Gymnopilus penetrans; Paxillus involutus; Peziza badia; Boletus chrysenteron; Amanita muscaria; Hypomyces chrysosperma; Scleroderma citrinum; Mycena pura; Coprinus micaceus; Galerina mutabilis; Auricularia auricular-judae; Dacrymyces stillatus; Tyromyces caesius; Crepidotus variabilis; Crepidotus mollis; Pholiota squarrosa; Amanita crocea; Amanita rubescens; Suillus grevillei; Inocybe geophylla; Inocybe geophylla var. lilacina; Bolbitius vitellinus; Exidia nucleata; Flammulina velutipes; Collybia confluens; Xylaria longipes; Daldinia concentrica; Hyphodontia sambuci; Cordyceps militaris; Lycoperdon pyriforme; Russula atropurpurea; Trochila ilicina; Stereum rugosum; Calocera viscosa; Leccinum scabrum; Tricholoma fulvum; Lactarius pubescens; Clitopilus prunulus; Coprinus disseminatus; Lactarius torminosus; Clavariadelphus junceus; Boletus piperatus; Clitocybe infundibuliformis; Cystolepiota aspera; Auricularia mesenterica; Nectria peziza; Lycogala epidendrum.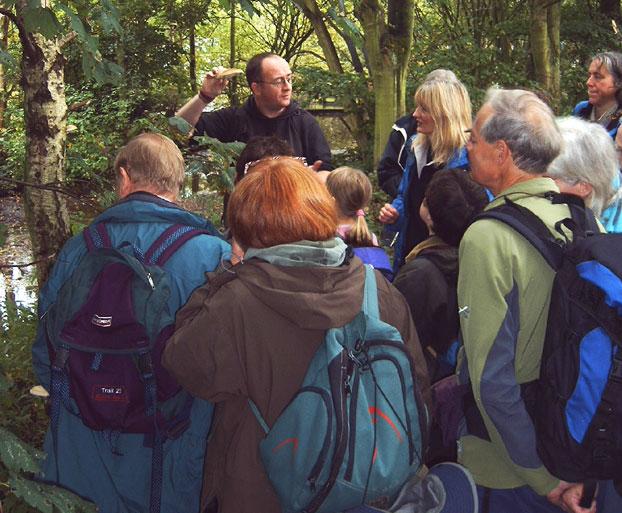 13 October 2007 - Chadkirk Chapel; Cheshire - Rhytisma acerinum; Coprinus plicatilis; Russula mairei; Oudemansiella radicata; Phallus impudicus; Laccaria amethystina; Lactarius blennius; Nectria cinnabarina; Laccaria laccata; Lycoperdon pyriforme; Boletus chrysenteron; Stereum hirsutum; Trametes versicolour; Ustulina deusta; Ganoderma australe; Armillaria mellea; Clitocybe nebularis; Xylaria hypoxylon; Russula ochroleuca; Collybia butyracea; Auricularia auricular-judae; Pholiota squarrosa; Lycoperdon pyriforme; Laccaria laccata; Hypholoma fasciculare; Lepiota rhacodes; Trametes gibbosa; Bjerkandera adusta; Hypomyces chrysosperma; Lepista flaccida; Hypoxylon fragiforme; Pluteus cervinus; Merulius tremellosus; Clitocybe odora; Galerina mutabilis; Ascocoryne sarcoides; Neobulgaria pura; Scleroderma citrinum; Mycena acicula; Russula foetens
6 October 2007 - Dunham Massey; Cheshire - Psathyrella obtusata; Panaeolus acuminatus; Inocybe napipes; Boletus chrysenteron; Entoloma conferendum; Clavulinopsis helvola; Laccaria proxima; Russula amoenolens; Russula aurora; Boletus cisalpinus; Psathyrella piluliformis; Oudemansiella mucida; Inocybe geophyla var. lilacina; Stropharia aurantiaca; Psathyrella candolleana; Collybia dryophila; Exidia truncata; Polyporus varius; Ganoderma australe; Merulius tremellosus; Mycena arcangeliana; Armillaria lutea; Trametes gibbosa; Ganoderma applanatum; Gymnopilus junoninus; Scleroderma verrucosum; Peniophora quercina; Hygrocybe reidii; Fistulina hepatica; Mycena galopus var. nigra; Grifola frondosa; Russula fragilis; Russula cyanoxantha; Lycoperdon pyriforme; Diatrype disciformis; Pluteus cervinus; Lactarius subdulcis; Russula atropurpurea; Coprinus lagopus; Clitocybe clavipes; Polyporus badius; Russula nigricans; Pholiota squarrosa; Scleroderma citrinum; Hypoxylon fragiforme; Stereum hirsutum; Russula parazurea; Russula ochroleuca; Bjerkandera adusta; Russula subfoetens;Coprinus micaceus; Boletus pruinatus; Lycoperdon perlatum; Amanita rubescens; Lactarius quietus; Cortinarius flexipes; Ciboria batschiana; Laccaria amethystina; Trametes versicolour; Daldinia concentrica; Rhytisma acerinum; Mycena galericulata; Laccaria laccata; Nectria cinnabarina; Meriplius giganteus; Coprinus leiocephalus
3 October 2007 - Davenport; Stockport; Cheshire - Loads of Leccinum scabrums were making the annual appearance as well as several fruiting bodies of Clavaria vermicularis (White Spindles).
30 September 2007 - Ainsdale EN; Lancashire - Rhytisma acerinum; Crepidotus mollis; Hypoxylon fragiforme; Tyromyces stipticus; Scutellinia scutellata; Sleroderma verrocosum; Stropharia aurantiacum; Xylaria plymorpha; Bisporella citrina; Geastrum triplex; Hirschioporus abietinus; Collybia maculata; Russula sardonia; Russula sanguinea; Pluteus cervinus; Tricholomopsis rutilans; Hygrocybe nigrescens; Lycoperdon perlatum; Laccaria laccata; Mycena galopus; Coprinus micaceus; Russula ochroleuca; Hypholoma fasciculare; Pluteus umbrosus; Collybia confluens; Gymnopilus penetrans; Bovista plumbea; Lactarius hepaticus; Russula persicina; Cortinarius trivialis; Paxillus involutus; Lactarius controversus; Bjerkandera adusta; Trametes versicolour; Polyporus betulinus; Leccinum scabrum; Laccaria amethystina; Boletus badius; Russula amara; Rickenella fibula; Amanita muscaria; Cystoderma amianthium; Amanita rubescens; Ganoderma australe; Heterobasidion annosum; Stereum hirsutum; Daedaleopsis confragosa; Pholiota squarrosa; Tremmela foliocea; Polyporus squammosus; Lacatrius deliciosus; Hebeloma collariatum; Citocybe ditopus; Inocybe impexa
22 September 2007 - Chadkirk Chapel; Cheshire - Kuehneromyces mutabilis; Russula ochroleuca; Russula vesca; Russula nigricans; Collybia confluens; Pleurotus dryinus; Bjerkandera adusta; Trametes gibbosa; Daldinia concentrica; Armillaria gallica; Laccaria laccata; Helvella crispa; Coprinus comatus; Lycoperdon pyriforme; Mycena gelericulata; Hypholoma fasciculare; Rhytisma acerinum; Ganoderma australe; Xylaria hypoxylon; Stereum hirsutum; Nectria cinnabarina; Trochila ilicina; Schizopora paradoxa; Peniophora quercina; Hypomyces chrysosperma; Boletus cisalpinus; Coprinus micaceus; Pholiota squarrosa; Hypoxylon fragiforme; Auricularia auricula-judae; Mycena inclinata; Trametes versicolour; Laccaria amethystina; Coprinus lagopus; Mycena galopus; Scleroderma verrucosum; Scleroderma citrinum; Neobulgaria pura; Ascocoryne sarcoides
16 September 2007 - Etherow CP; Cheshire - First Fungal Friends Foray of the year - Trametes gibbosa; Ganoderma australe; Bjerkandera adusta; Laccaria laccata; Pluteus cervinus; Russula fragilis; Meripilus giganteus; Schizopora paradoxa; Laccaria tortilis; Lactarius quietus; Scleroderma verrucosum; Scleroderma citrinum; Exidia nucleata; Russula ochroleuca; Rhodotus palmatus; Coprinus micaceus; Agrocybe erebia; Psathyrella candolleana; Trochila ilicina; Heterobasidion annosum; Rickenella fibula; Amanita rubescens; Hypholoma fasciculare; Trametes versicolour; Calocera pallido-spathulata; Phallus impudicus; Amanita muscaria; Boletus badius; Lycoperdon pyriforme; Lactarius pubescens; Clitopilus prunulus; Collybia confluens; Paxillus involutus; Leccinum varicolour; Amanita fulva; Tricholoma fulvum; Daedaleopsis confragosa; Cudoniella acicularis; Polyporus betulinus; Rhytisma acerinum; Hypomyces chrysoperma; Xylaria polymorpha; Boletus porosporus; Boletus rubellus; Coprinus lagopus; Inocybe margaritispora; Geastrum triplex; Russula atropurpurea; Entoloma cf politum; Boletus luridus.
9 September 2007 - Curlew lane; Nr Martin Mere WWT; Lancashire - After sending a specimen to M. Jordan at the ABFG it has been confirmed that the clump of fungi growing on a Poplar tree were indeed Agrocybe cylindracea. Thanks again to Michael for his kind assistance.
9 September 2007
- Mere Sands Wood; Lancashire - 2 specimens of Ear-pick fungus (Auriscalpium vulgare); a few Lactarius tabidus; Tricholoma fulvum; Trembling Rot (Merulius tremellosus); Marasmius ramealis; Tawny Grisette (Amanita fulva) and some fine specimens of Bay Bolete (Boletus badius) were picks of todays brief foray.
8 September 2007 - Styal CP; Cheshire - Calocera cornea; Daedaleopsis confragosa; Chrondostereum purpureum; Pluteus ostreatus; Scleroderma verrucosum; Paxillus involutus; Diatrype disciformis; Russula ochroleuca; Rickenella fibula; Hypomyces chrysenteron; Trametes gibbosa; Nectria cinnabarina; Bulgar inquinans; Tyromyces caesius; Scleroderma citrinum; Phallus impudicus; Auricularia auricula-judae and some young specimens of Oudemansiella mucida were all that was seen from a dried out area. Late addition to this list after confirmation by M. Jordan is Boletus pulverulentus.
7 September 2007 - Torkington Park; Stockport; Cheshire - 46 Gymnopilus junoninus found growing on rotten stump.
29 August 2007 - Hebden Bridge; Yorkshire - Bone dry and hopeless with a nice crop of Oak Maze-Gill (Daedalea Quercina); a few dried out Red Cracking Boletes (Boletus chrysenteron) covered with Hypomyces chrysosperma and 1 solitary Plums and Custard (Tricholomopsis rutilans).
26 August 2007 - Fernilee Reservoir; Derbyshire - A duff day at what has been a good location in the past. A few Amethyst Deceivers (Laccaria amethystina); 1 Brown Birch Bolete (Leccinum scabrum ); 1 Tawny Grisette (Amanita fulva); 1 Aniseed Toadstool (Clitocybe odora); 3 Russula claroflava and a few new specimens of Larch Bolete (Suillus grevellei) were a poor return indeed. Agrocybe erebia has been later identified and added to this list.
21 August 2007 - Hazel Grove; Stockport - 3 specimens of Stubble Rosegill (Volviarella gloiocephala) were found growning on woodchip at the roadside. Also an addition to the finds at Tatton Park on the 16 August is Tier Tooth (Hericium cirrhatum) a pretty rare find. Micheal Jordan of the Association of British Fungus kindly provided the final identification for which many appreciations are sent.
16 August 2007 - Tatton Park; Cheshire - Beefsteak Fungus (Fistulina hepatica); Stinkhorns (Phallus impudicus) and a Hericium species that I am so far unable to nail. A very exciting find and one that needs more work. Maybe Mr Jordan can help on this one (again) - I certainly hope so.
4 August 07 - Arne RSPB; Dorset - Loads of White Helvella (Helvella crispa); Parasitic Bolete (Boletus parasiticus) growing as expected on Common Earthball (Scleroderma citrinum) and Yellow Brittlegill (Russula Ochroleuca) were good finds especially the rare Bolete that only turns up once in a blue moon.
4 August 07 - Upton CP; Dorset - The Sickener (Russula emetica) was located benteath Silver Birch.
28 July 07 - Formby; Lancashire - Bovista plumbea was in good condition with the resemblance to a boiled egg quite uncanny.
28 July 07 - Mere Sands Wood; Lancashire - Bulgar inquinans (Black Bulgar); Helvella lacunosa (Black Helvella; Fuligo septica (Flowers of Tan) and Gymnopilus penetrans were the few fungus on show on a day when I expected more.
22 July 07 - Etherow CP; Cheshire ; Stockport - Pseudotrametes gibbosa (Lumpy Bracket); Coprinus disseminatus (Fairies Bonnets); Coprinus micaceus (Glistening Ink Cap); Collybia confluens (Clustered Toughshank); Leotia lubrica (Jelly Babies) and a few Amanita rubescens (Blusher) added fungal interest to a butterfly walk.
15 July 07 - Wasdale; Cumbria - 3 princely specimens of Agaricus augustus were located whilst driving down a winding country lane and were a new discovery for us.
14 July 07 - Wastwater; Cumbria - Boletus badius; Coprinus micaceus; Amanita rubescens and Hygrophoropis aurantiaca.
12 July 07 - Hazel Grove; Stockport; Cheshire - Russula pectinatoides was seen growing in a churchyard beneath Lime. Identification fully given by Michael Jordan.
8 July 07 - Bentley Wood; Hampshire - Amethyst Deceiver (Laccaria amethystina); Red Cracking Bolete (Boletus chrysenteron); Plums and Custard (Tricholomopsis rutilans) and Yellow Stainer (Agaricus xanthoderma) were all in fine fettle at this excellent reserve.
7 July 07 - Howardian NR; Cardiff - Plenty of Blackening Waxcaps were found in the damp meadow areas.
3 July 07 - Stockport; Cheshire - On the way to work Coprinus plicatilis and Coprinus lagopus were standing proud in the showery weather - brave souls as well as a small troop of Laccaria Laccata (The Deceiver). On the way the local park and surrounding area produced 3 Xerocermus chrysenteron (Red Cracking Bolete); a few Paneolus ater; an abundance of Coprinus disseminatus (Fairies Bonnets) and 1 Lacrymaria lacrymabunda (Weeping Widow). If the weather keeps up as it is we could be in for another bonanza year.
24 June 07 - Abney Hall; Cheshire - Amanita rubescens; Crepidotus mollis; Marasmius rotula; Ganoderma adspersum; Nectria cinnabarina; Stereum hirsutum; Pleurotus cornucopiae; Polyporus squamosus; Pluteus cervinus and Jews Ear Fungus
16 June 07 - Delamere Forest; Cheshire - 3 Blushers; some rejuvinated Hairy stereum and 126 Stinkhorns were the results of the recent downpours.
4 June 07 - New Forest; Hampshire - Paneolus semiovatus and Orange Peel Fungus (Aleuria aurantia) were early but in exceptional condition.
25 May 07 - Davenport; Cheshire - Coprinus atramentarius and Russula betularum were good spots on the way to work.
9 Apr 07 - Mere Sands Wood; Lancashire - Strobilurus tenacellus and Reticularia lycoperdon (myxomycete) on pine. Thanks again to M. Jordan for the formers confirmation.
7 Apr 07 - Gait Barrows; Cumbria - Peziza repanda was found on woodchip at this fine reserve. The species was fully identified with the help of Michael Jordan.
12 Mar 07 - Etherow CP; Cheshire - A myxomycete was found - namely Trichia botrytis. Fairly common but always worth looking for. Also Diatrypella quercina was seen which I am guilty of overlooking more often than not.
7th January 07- Dunham Massey; Cheshire - Nice troop of Split Gill's (Schizophylum commune). An abundance of Winter Polypore (Polyporus brumalis) and 1 Scarlet Caterpillar (Cordyceps militaris) which was a great find for the time of year.
3rd January 07 - Chorlton Water Park; Cheshire - A couple of Wood Blewits (Lepista nuda) caught the eye as they were in fantastic condition.
2nd January 07 - Marbury CP; Cheshire - Several Blueleg Brownies (Psilocybe cyanescens).